My Favorite Things To Buy At ALDI
This post may contain affiliate links. Please read my disclosure policy.
Today I'm sharing an updated list of all of my favorite things to buy at ALDI!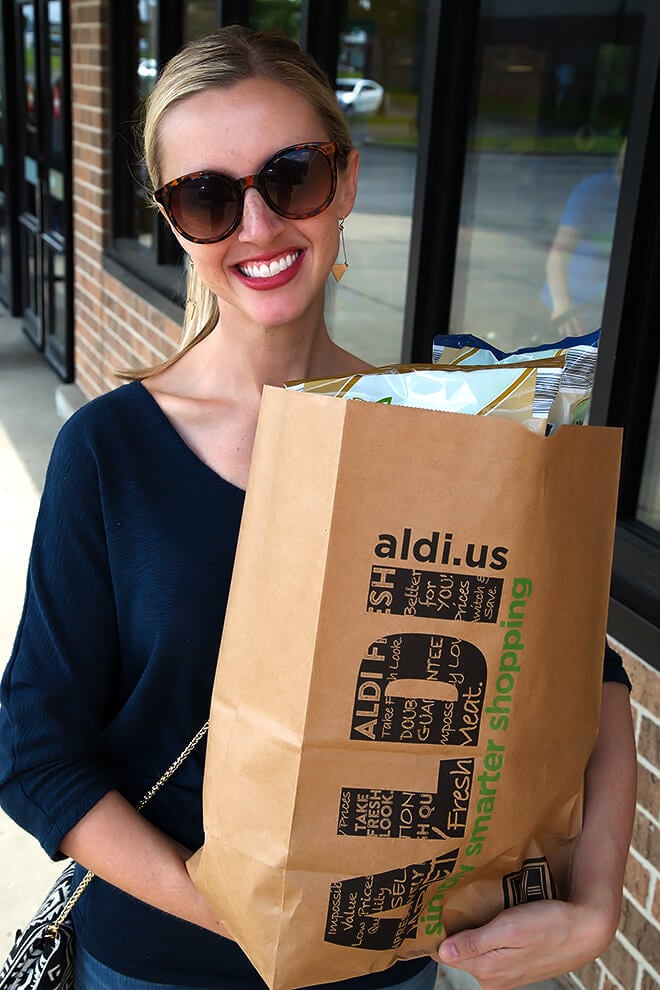 Hey friends! I thought I'd take a break from our regular recipe posting today, and instead, share with you all about the favorite things in my cart lately at one of my favorite places — ALDI!
Those of you who have followed this blog for any number of time probably know that I'm a total fangirl of ALDI. It was really the first grocery store where I shopped regularly once I started teaching myself to cook (especially when I was on a tight non-prof budget), it's the closest grocery store to my loft, and it's still just one of my favorite places to go grocery shopping. As Barclay says, I have "ALDI" feels about ALDI. ?
For any of you who've never been to the store, I actually did a little ALDI 101 mini-series here on the blog years ago (including Why I Shop At ALDI, How To Shop At ALDI, and What To Buy At ALDI), which I'd highly recommend reading before your first trip there. But in a nutshell, ALDI is just a cool discount grocery store that has come up with some creative ways to cut store costs and keep prices way down for customers. (My favorite examples of this include having customers pay for their own grocery bags, having customers check out and return their own grocery carts so that they don't have to hire a staff member to chase them down all day, and having a zillion bar codes hidden on item packages so that the cashiers can scan them at ninja-fast speeds!)  But more than anything, I just love shopping at ALDI because I love their stuff. It's definitely not a one-stop-shop every time, since their stores are small and the selection is purposely limited (another cost-saving measure). So I usually hit up ALDI about once a week, and then supplement those trips with a visit to a full-selection grocery store once or twice a month in between. But I always stock up on the basics at ALDI. And I love how they continue to expand their organic offerings, and clean up their labels, and bring in new items week after week.
So, since ALDI's inventory has changed significantly in the 3+ years since I wrote those initial posts, I thought it would be fun to pop back in today and tell you about the items in my cart lately. There are, of course, hundreds and hundreds of other items available at ALDI, including those in their Special Buys section which rotates in new items weekly. So don't think that my list below is an exhaustive list of the store's selection — it's simply just a few of the everyday stuff that I like to buy. You know, my basics. So if you're considering going to ALDI for the first time, or just looking for some new items to try, I hope that this list might be helpful to you!
For what it's worth, I'd like to say that these are just purely my own recommendations — this post isn't sponsored in any way by ALDI. Also, items change weekly there, and different stores stock slightly different inventory, so 100% of these items might not be the ones carried at your local store. Also, prices change weekly at ALDI, so don't expect the numbers I listed below to always be the same. I just thought it might be helpful to give you a ballpark on how much things cost, in case you'd like to do some comparison shopping.
Alright, let's get on to the good stuff! Here are my favorite things to buy at ALDI! ♥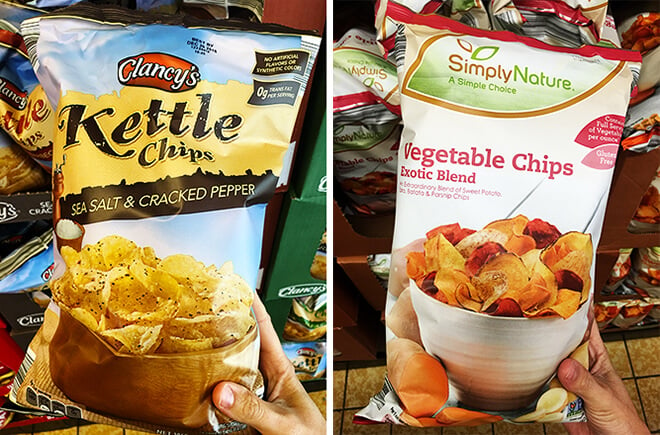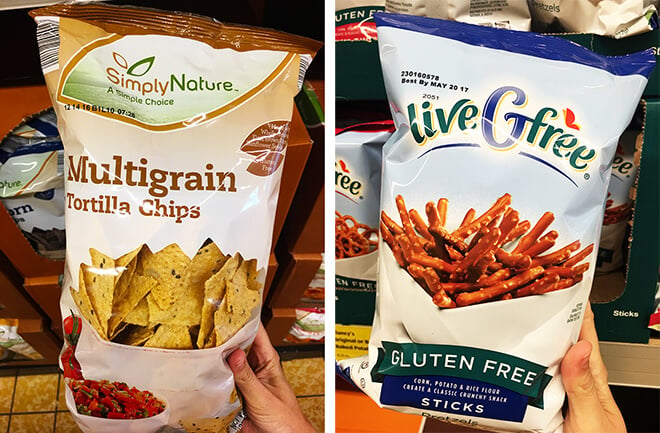 Chips & Crackers
Ok, I'm just going to list my favorite items in the order that I find them while walking through my neighborhood ALDI, starting with what I'm greeted with when I first walk in the door — chips!  ALDI has a fantastic selection of chips, including just about every size and shape of corn tortilla chip you could ever want (which I didn't list out here in full) and some awesome root vegetable chips. They also carry an awesome GF line of pretzels and crackers, which I actually prefer to their non-GF counterparts. Just look out…once you start out on those Sea Salt & Black Pepper Kettle Chips, you're never gonna want to stop. Here are a few of my favorites:
Kettle Chips — Sea Salt & Black Pepper, Original, Jalapeno or Mesquite BBQ ($1.79 / 8.5 oz)
Exotic Blend Vegetable Chips ($2.79 / 7.5 oz)
Sweet Potato Chips ($1.99 / 7 oz)
Multigrain Tortilla Chips ($1.69/9 oz)
Gluten-Free Prezel Sticks or Minis ($1.89 / 8 oz)
Gluten-Free Multi-Seed Crackers — Sea Salt or Rosemary & Olive Oil ($1.49 / 4.25 oz)
Chocolate
Alright, so I've gotta confess that I'm the rare bird (ahem, woman) who's not super into chocolate. I know, I know. So if you happen to be an ALDI chocolate-lover, please chime in and share your favorite recs in the comments! But that said, ALDI is widely reputed for stocking some of the best (and most affordable!) imported German chocolates around. So I regularly buy their chocolate bars as gifts, and also love baking with their 70% and 85% dark chocolate bars (which are delicious). If you love chocolate, this section of the store is definitely worth visiting. ? Here are my faves:
Moser Roth Premium Chocolate Bars — 85% Cocoa, 70% Cocoa, Milk Chocolate, Toffee Crunch, Chili, Mint, Orange, Almond ($1.99 / 4.4 oz)
Schogetten — Caramel Brownie, Alpine Milk Chocolate with Almonds, Cookies & Cream, Dark Chocolate & Other Assorted Flavors ($0.99 / 3.5 oz)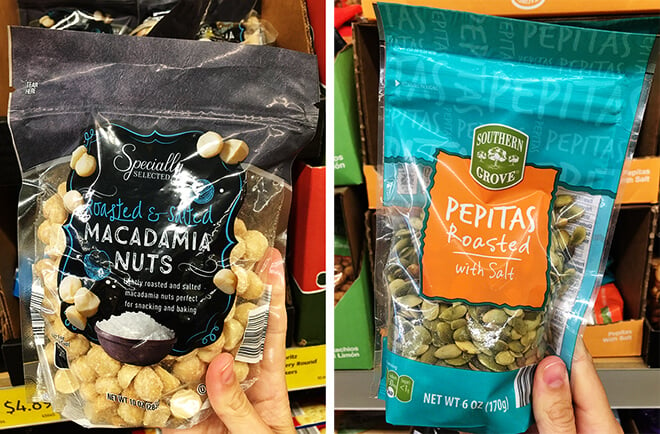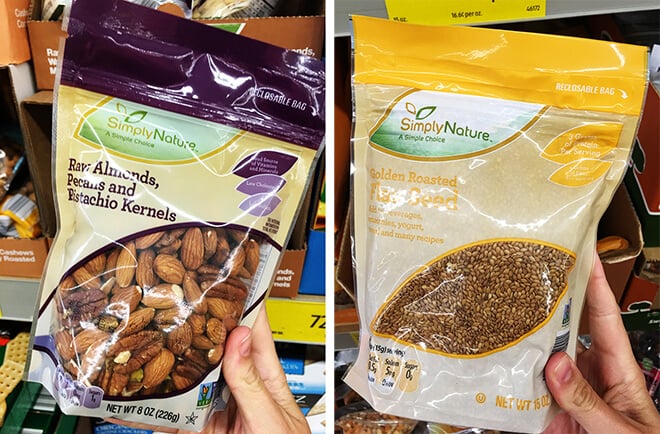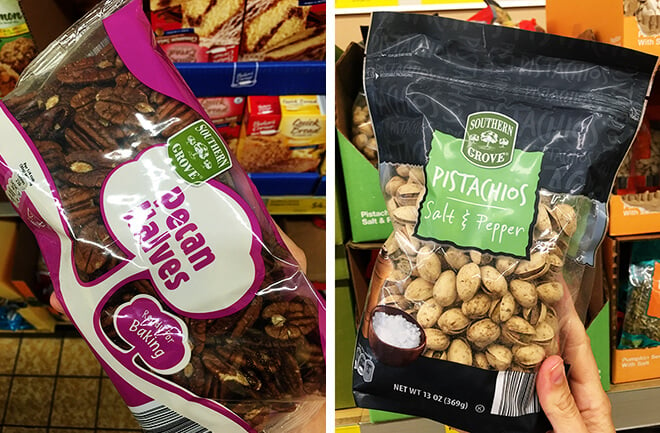 Nuts & Seeds
So I buy tons of nuts and seeds at ALDI, because they have an enormous selection and they are outrageously inexpensive compared to most other stores. Like, seriously, I think these may be some of the best deals in the entire store. I'm loving that they have expanded their selection to include pumpkin seeds and pepitas this season, and that they also now offer raw nuts blends as well. And oh my goodness — love, love, love those Salt & Pepper Pistachios. Here are my favorite nuts that I buy regularly (so many!):
Oven-Roasted Almonds — Sea Salt, Unsalted, Wasabi Soy, Cocoa or Smoked ($5.79 / 12 oz)
Cocktail Peanuts ($2.39 / 16 oz)
Dry-Roasted Peanuts – Salted, Unsalted, or Honey-Roasted ($1.99 / 16 oz)
Mixed Nuts ($2.79 / 10 oz)
Cashew Halves ($2.99 / 8 oz)
Shelled Pistachios ($5.99 / 6 oz)
Unsalted Pistachios ($5.29 / 10 oz)
Salt & Pepper or Chili Limon Pistachios ($7.49 / 13 oz)
Roasted Salted Pistachios ($7.99 / 16 oz)
Roasted Salted Macadamia Nuts ($7.99 / 10 oz)
Salt & Pepper or Chili Lime Cashews ($4.69 / 10 oz)
Pepitas with Salt ($1.99 / 6 oz)
Pumpkin Seeds with Salt ($1.99 / 6 oz)
Flax Seed ($2.49 / 15 oz)
Roasted Sunflower Seeds, Salted or Unsalted ($1.99 / 10.5 oz)
Deluxe Whole Cashews, Salted or Unsalted ($10.99 / 1 lb 14 oz)
Deluxe Mixed Nuts, Salted or Unsalted ($11.99 / 1 lb 14 oz)
Raw Cashews, Walnuts & Macadamia Nuts ($4.99 / 8 oz)
Raw Almonds, Pecans & Pistachio Kernels ($4.99 / 8 oz)
Pecan Halves ($5.79 / 10 oz)
Chopped Pecans ($4.59 / 8 oz)
Sliced or Slivered Almonds ($2.99 / 6 oz)
Shelled Walnuts ($4.99 / 16 oz)
Chopped Walnuts ($2.99 / 8 oz)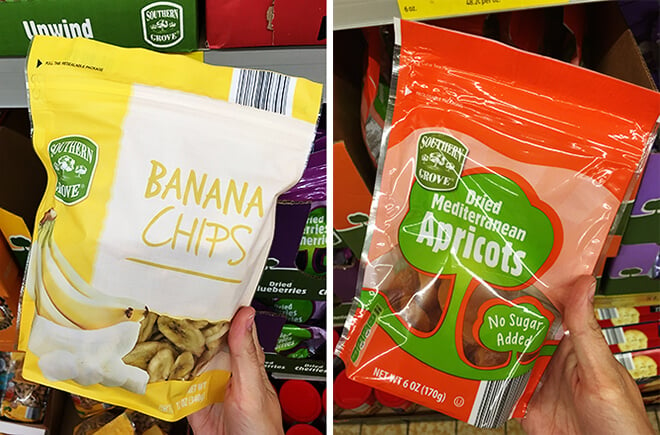 Dried Fruit
You can also always count on ALDI to have a good selection of various dried fruit at really great prices. Here are a few of my faves:
Dried Berries & Cherries ($2.45 / 3.5-5 oz)
Dried Cranberries ($1.29 / 5 oz)
Dried Apricots ($2.89 / 6 oz)
Banana Chips ($2.19 / 12 oz)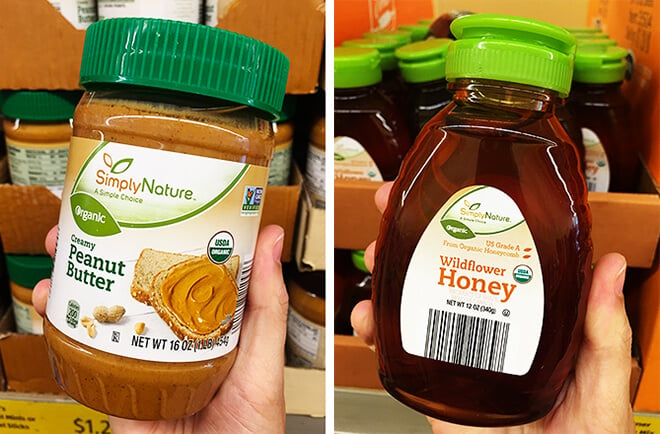 Nut Butters & Honey 
ALDI also has an extensive selection of various nut butters and honeys, which are also great deals compared to some regular store brands. These three are my favorites!
Organic Creamy Peanut Butter ($3.99 / 1 lb)
Creamy Almond Butter ($5.99 / 12 oz)
Organic Wildflower Honey ($3.49 / 12 oz)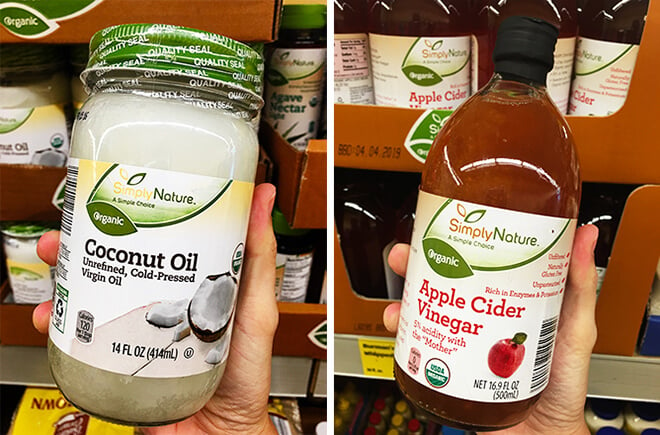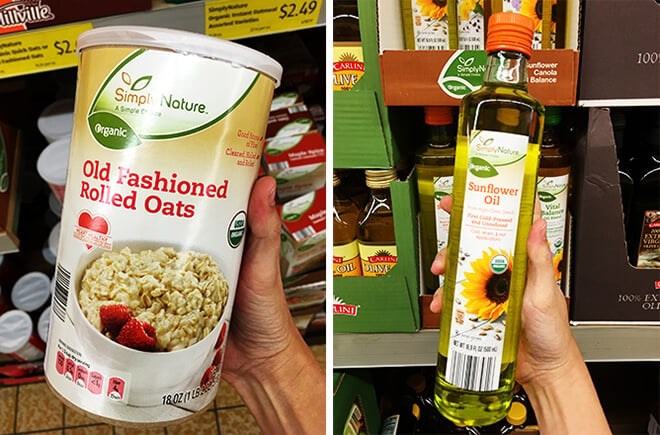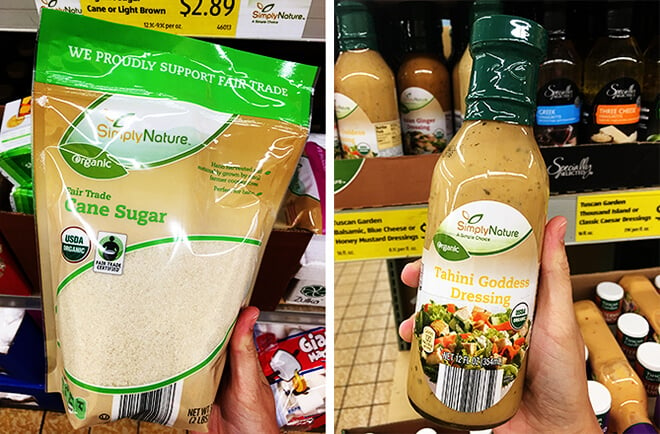 Pantry Essentials 
I'm a big believer in trying to buy organic pantry essentials when possible, so I'm thrilled that each of these organic options are now available at ALDI. They also have a handful of organic salad dressings now (all with clean labels!), but that green goddess dressing is by far my fave. Here are the items I buy regularly:
Organic Fair Trade Cane Sugar or Brown Sugar ($2.89 / 24-32 oz)
Organic Quick Oats or Old Fashioned Rolled Oats ($2.69 / 18 oz)
Organic Agave Nectar ($2.99 / 11.75 oz)
Organic Coconut Oil ($3.99 / 14 oz)
Organic Sunflower Oil ($3.99 / 16.9 oz)
Organic Apple Cider Vinegar ($1.99 / 16.9 oz)
Organic Tahini Green Goddess Dressing ($1.99 / 12 oz)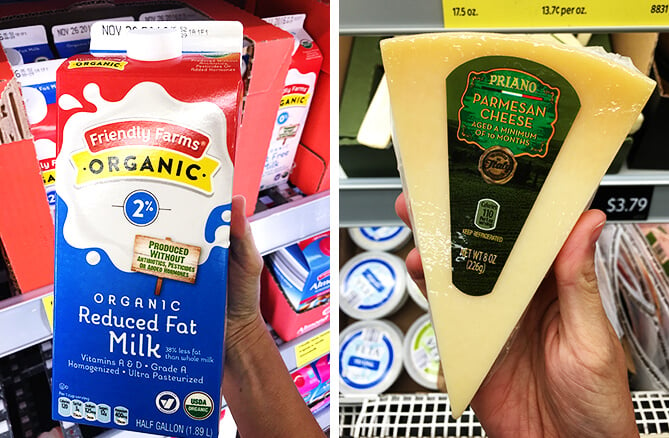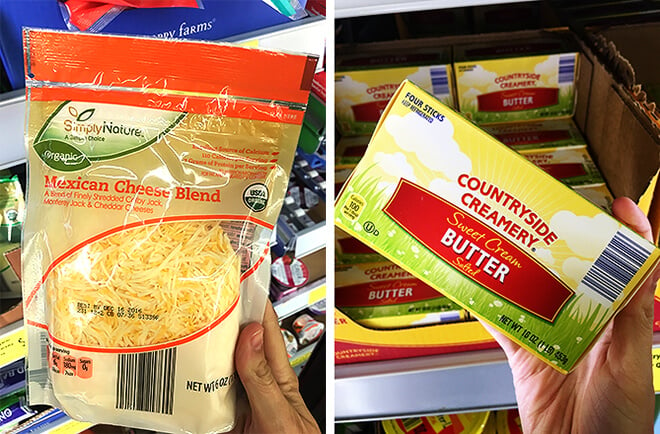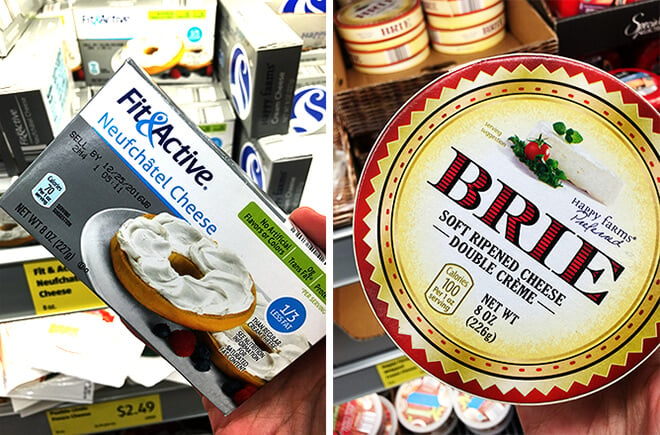 Dairy
I also do most of my dairy shopping at ALDI nowadays, especially since they have expanded their organic offerings with milks and cheeses. I'm also a big fan of their big (and inexpensive) wedges of Parmesan, all of their soft cheeses, and their queso fresco (also priced low). That said, if you're a cheese lover, you absolutely MUST check out the "special buys" section of cheeses whenever you visit ALDI. They bring in fun new limited-edition kinds of cheeses each week — often seasonally-themed — and my friends and I love trying them out together. Here are my faves:
Organic Milk — Skim, 2% or Whole ($2.95 / half gallon)
Organic Shredded Cheese — Mozzarella or Mexican-Blend ($2.99 / 6 oz)
Organic String Cheese ($3.49 / 6 oz)
Butter — Salted or Unsalted ($2.89 / 1 lb)
Parmesan Cheese or Asiago Cheese Wedge ($3.79 / 8 oz)
Fresh Mozzarella Cheese Ball ($2.69 / 8 oz)
Blue Cheese Crumbles ($1.99 / 5 oz)
Feta and Reduced-Fat Feta Cheese Crumbles ($1.79 / 4 oz)
Goat Cheese Logs — Plain, Honey, or Garlic & Herb ($1.99 / 4 oz)
Queso Fresco ($2.49 / 10 oz)
Double-Cream Brie Round ($2.99 / 8 oz)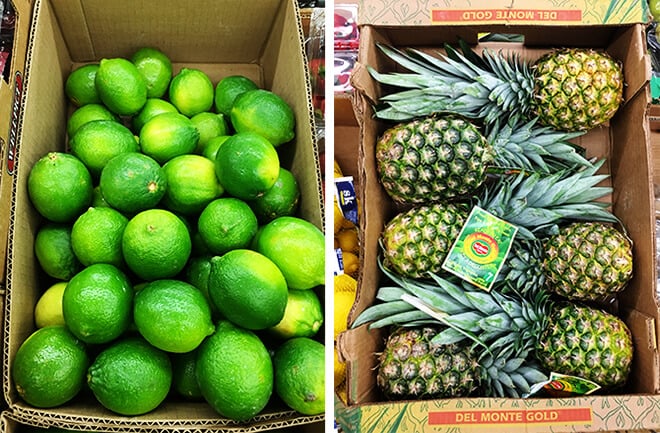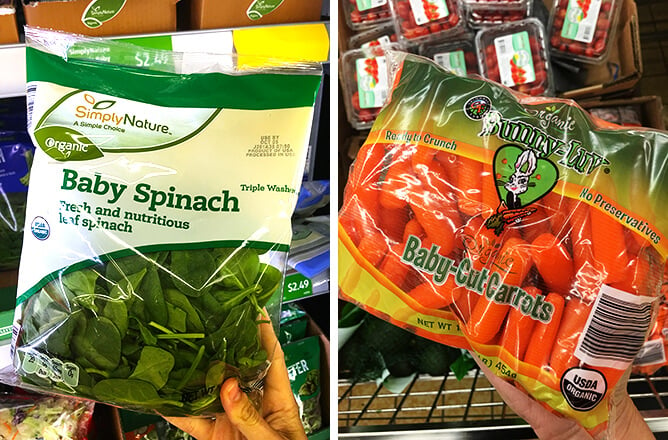 Produce
I feel like ALDI's produce section has gotten a bad rap over the years, because occasionally some items are a little over- or under-ripe. But that happens at regular grocery stores too! So as always, use common sense and check the item before you buy it to see if it will be ready to use when you want it. (For example, their avocados usually take at least a few days to ripen, while their limes are usually nice and soft and ready to go.)
But that said, I will be the first to say that I love ALDI's produce section. You can find some incredible deals there, which I think is hugely important if you're trying to incorporate more fruits and veggies into your diet. And they're also introducing more and more organic options each month.
Granted, I definitely don't do 100% of my produce shopping at ALDI. Their selection is limited, and I generally prefer to buy all of my thin-skinned produce organic if possible (which I often source from my local farmers' market or CSA). But, I definitely buy most of my thick-skinned produce from ALDI, and I always pick up a bag of organic greens each time I'm there, and have loved trying out the rest of their organic line as well. And of course — as you longtime readers may remember — I always, always pick up a pineapple each time I'm there (#tradition?). Here are my favorite produce items lately:
Whole Pineapple ($1.99)
Limes ($0.25)
Organic Baby Carrots ($1.69 / 1 lb)
Organic Bananas ($0.59 / lb)
Organic Apples ($5.99 / 3 lbs)
Organic Avocados ($3.49 / 4-pack)
Organic Tomatoes On The Vine ($2.69 / 1 lb)
Organic Grape Tomatoes ($2.49 / 1 pint)
Organic Greens — Baby Spinach, Baby Arugula, Mixed Greens ($2.49 / 5 oz)
Bulk Organic Spring Mix ($3.27 / 16 oz)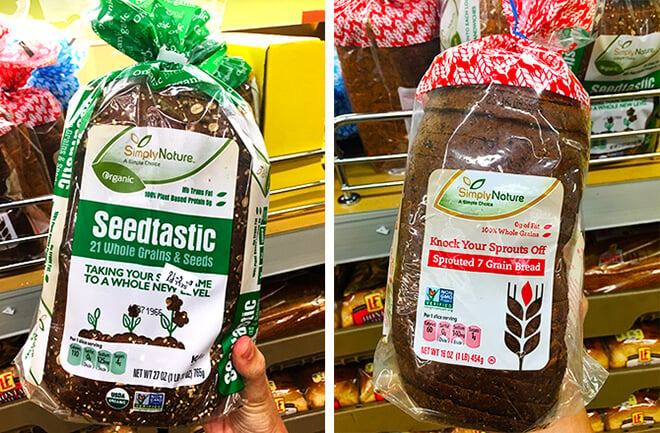 Bread
As I mentioned in my post last Friday, it's pretty rare that I buy or bake bread nowadays, mostly because I can never seem to get through an entire loaf on my own as a single person. But when I do have the bread craving, I really like ALDI's new seed-ier breads. And I love their garlic naan, which does happen to freeze well.
Organic Seedtastic Bread ($3.49)
Knock Your Sprouts Off Sprouted 7-Grain Bread ($2.99)
Naan — Original or Garlic ($3.49 / 4-count)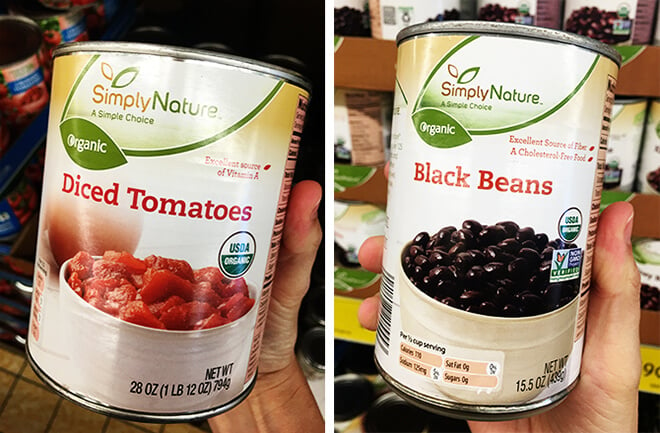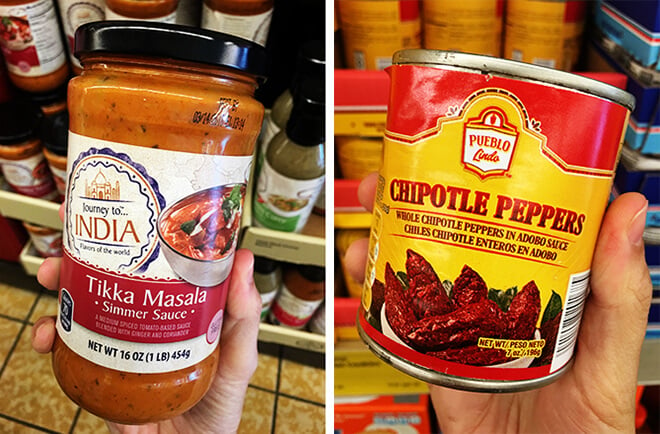 Canned Veggies & Jarred Sauces 
Ok, I'm feeling like a bit of a broken record touting all of ALDI's organic options. But you guys — they finally started carrying organic beans and tomatoes! Even better, I even found organic fire-roasted tomatoes in the store the other day, which are my absolute favorite. So excited! I've also recently tried out some of their new Thai and Indian sauces, and they were awesome.
Organic Beans — Black, Kidney or Garbanzo ($0.79 / 15 oz)
Organic Diced Tomatoes ($1.69 / 28 oz)
Organic Fire-Roasted Tomatoes ($1.29 / 15 oz)
Chipotle Peppers in Adobo Sauce ($0.99 / 7 oz)
Organic Tomato Basil Pasta Sauce ($1.89 / 24 oz)
Thai Curry Sauce, Red Or Green ($1.99 / 13 oz)
Indian Sauces, Tikka Masala or Korma ($1.99 / 16 oz)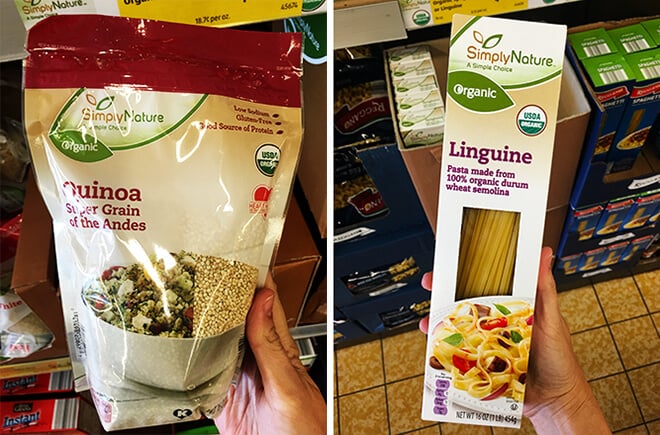 Grains, Rice & Pasta 
ALDI carries an impressive assortment of all of these things, but again, their organic line is what I seem to be purchasing nowadays. So good…and so affordable! (Especially that quinoa!!)
Organic Brown or White Rice ($3.29 / 28 oz)
Organic Quinoa ($2.99 / 28 oz)
Organic Red or Green Lentils ($1.99 / 16 oz)
Organic Spaghetti or Linguine ($1.29 / 16 oz)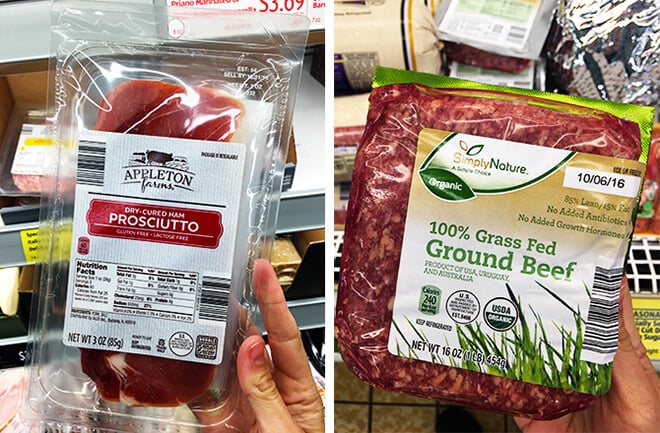 Meats 
ALDI has been a little slower to incorporate organic meat into their store, so right now I mainly only buy their grass-fed beef. But, I do really enjoy their Italian-style deli meats. And when the bacon craving hits, their center-cut bacon (and occasionally some of their other speciality bacons) is really good and affordable.
Organic 100% Grass-Fed Ground Beef ($5.49 / 1 lb)
Italian-Style Deli Meats — Prosciutto, Sopressata or Capocollo ($2.99 / 3 oz)
Diced Pancetta ($2.49 / 4 oz)
Center-Cut Bacon ($3.49 / 12 oz)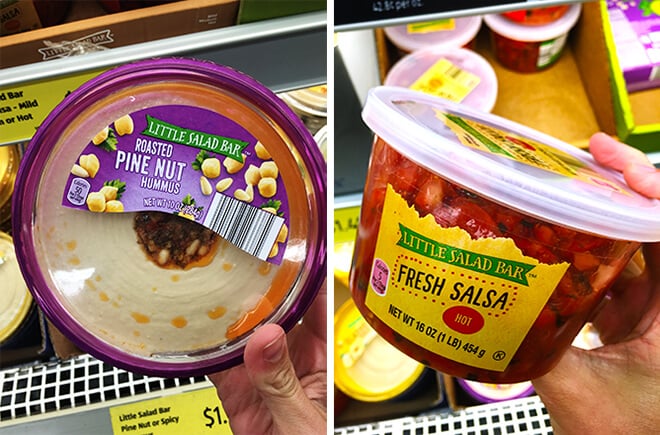 Refrigerated Dips 
If I had a dollar for every time I've shown up at a party and been served ALDI hummus… Let's just say that my friends are major fans of this stuff. Their flavors change out occasionally, but they're always about $2 and taste just like their name brand equivalents. (Their new "Significantly Spicy" flavor is my favorite…and is true to its name!)  Also, I'm a hard salsa grader, and their line of fresh salsas are actually really good.
Hummus — Original, Pine Nut, Roasted Red Pepper, Significantly Spicy ($1.99 / 10 oz)
Fresh Salsa — Mild, Medium or Hot ($2.49 / 16 oz)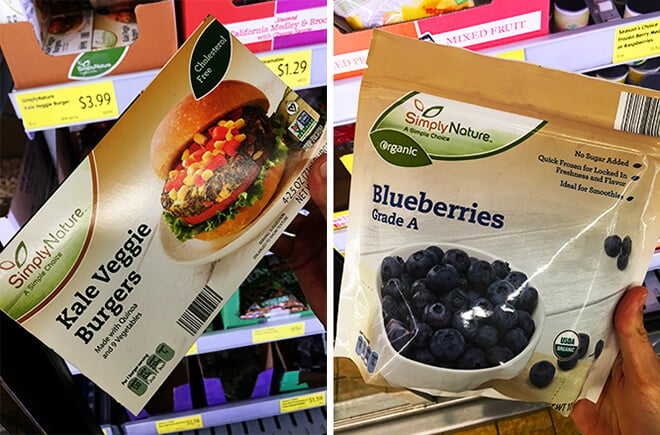 Frozen Foods 
I really don't buy too many frozen foods at ALDI…probably because I don't buy too many frozen foods in general. But they carry most of the typical frozen foods available in larger grocery stores, including all kinds of frozen veggies and fruit. I do enjoy buying their various veggie burgers, and they have some killer deals on frozen organic berries.
Kale Veggie Burgers ($3.99 / 10 oz)
Organic Strawberries and Blueberries ($2.79 / 10-12 oz)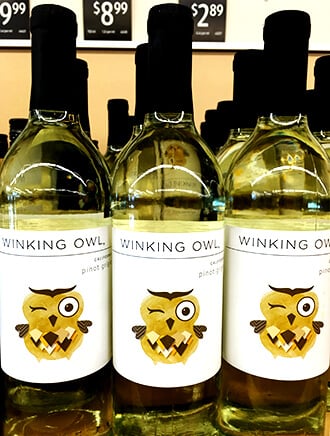 Beer & Wine 
If you live in a state where selling alcohol in grocery stores is legal, your local ALDI may carry some beers and wine. (Some of our stores in Missouri do, some don't.)  I've found their selection to be hit and miss, but I have friends who rave about various labels they've found that they enjoy, so it's worth exploring if you're interested. The one thing I do stock up on regularly is their famous "Winking Owl" wines — which are what my friends fondly refer to as ALDI's 2-Buck-Chuck. They're decent wines, and I like having them on hand for cooking and making sangria.
Winking Owl Pinot Grigio ($2.89)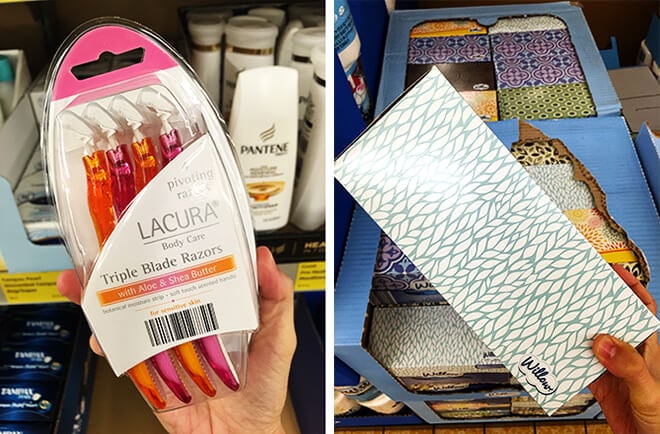 Household Stuff 
ALDI also has an extensive section with various household products, ranging from bath/beauty products to paper towels to batteries to laundry detergent and more. I don't shop that section very often, but I do buy my razors from there (which are half the price of the exact same razors I've found at other stores). And I often pick up things like facial tissue (their boxes are cute), and other random things for the kitchen like aluminum foil, sponges, storage bags, etc.
Women's Triple-Blade Razors ($2.99 / 3-pack)
Facial Tissue ($1.09)
Gallon Storage (40-count) or Freezer Bags (30-count) ($1.99)
Non-Scratch Scrub Sponges ($1.29 / 3-count)
Alright, those are all of MY favorite things to buy at ALDI. Now it's your turn — please share YOUR favorites in the comments below!