The BEST Sangria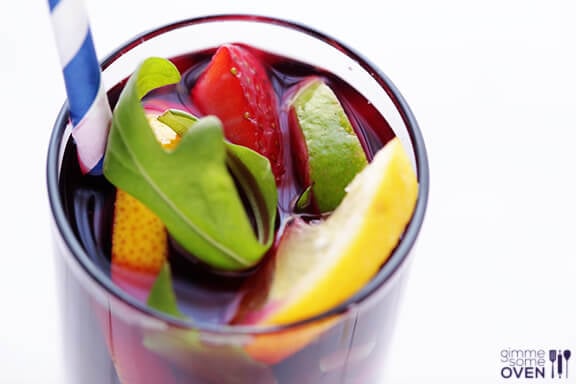 I know.  Bold recipe title coming from a passionate (and opinionated!) sangria lover.  But I'll stand by it.
This really is the best sangria recipe I have ever tasted so far.
And it's all thanks to one secret ingredient….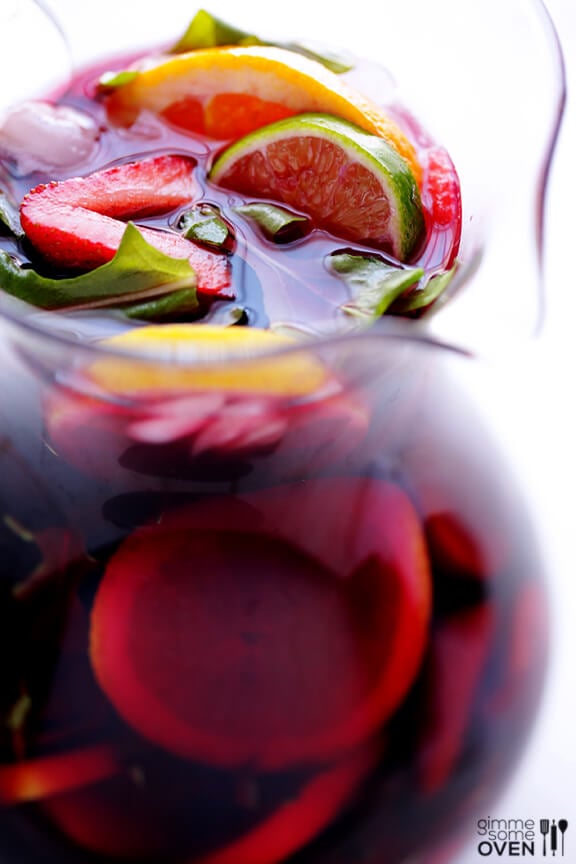 Can you spot it floating in there?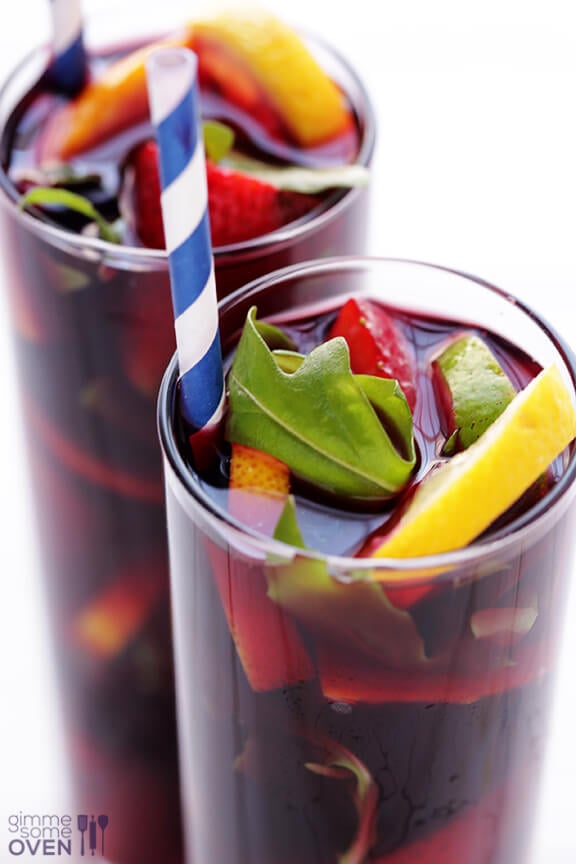 Yes, you do spy with your little eye something "green" — ARUGULA!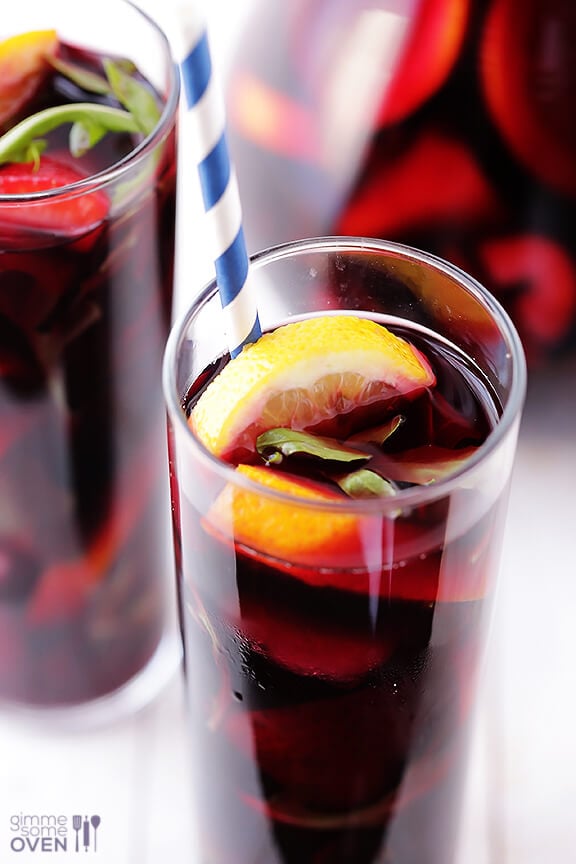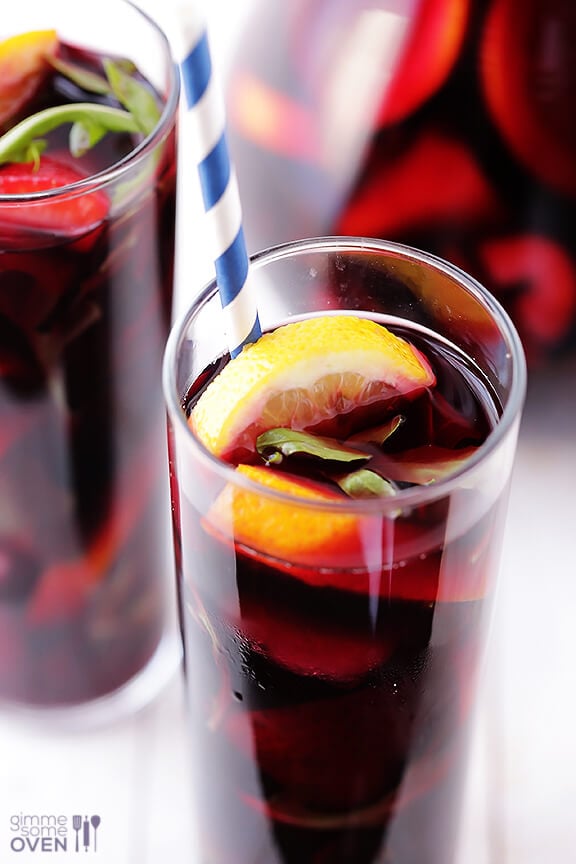 I have to admit that I did a double-take too when I saw my favorite green floating in a beautiful pitcher of red sangria on my recent trip to California with Dole.  Other than herbs, I had never before even considered adding greens to my sangria.
But since I am slightly obsessed with arugula, and sangria is my drink of choice in the summer, I had to investigate.
Sure enough, it was brilliant.
So good, in fact, that I had to come home and make it for my friends.  And then make it again the same week for another group of friends.  And I may make it for some others next week.  Everyone loves it!!!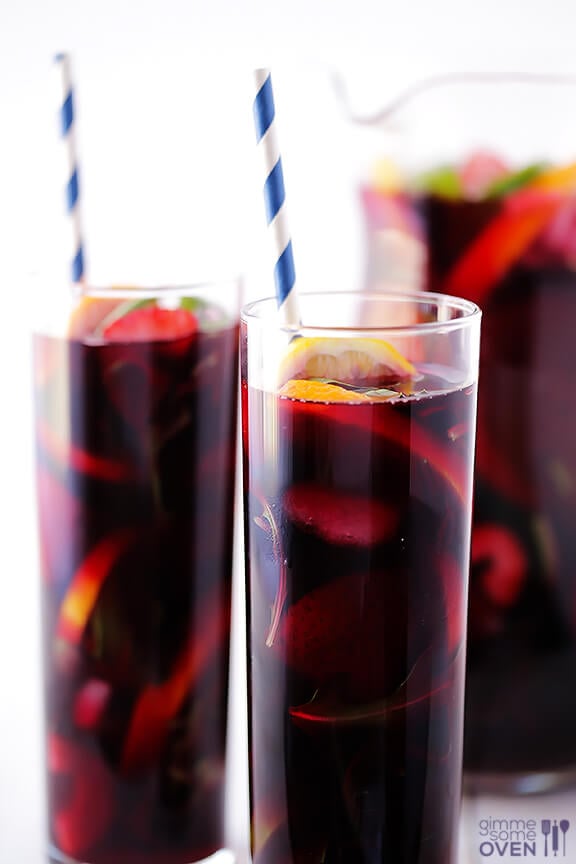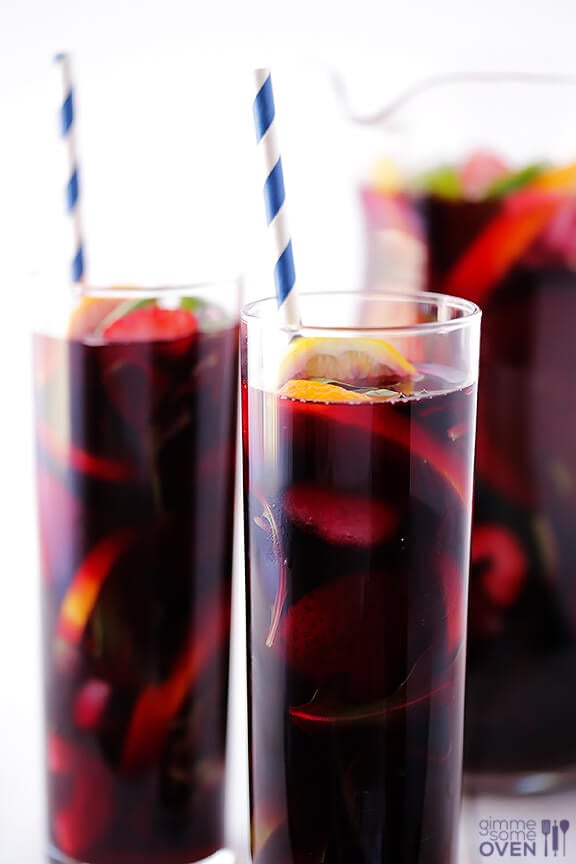 For sure, the addition of fresh arugula was definitely a conversation topic.  Everyone eyed it with curiosity, but once they tasted the sangria, they were sold.   The number one question, though, was how exactly one goes about using arugula flavor the sangria.  I imagine you could probably just stir it into the sangria and let it sit with the fruit for a few hours.  But what Dole did, and I what I totally recommend, is to muddle it (I just did so with a spoon) along with the fruit to release extra flavor.
The result?  A fruity sangria made all the more wonderful with a subtle peppery kick of arugula flavoring each sip.  In my opinion, it was the perfect balance, and it also made for a beautiful colorful appearance!
I experimented with serving it three different ways — completely strained (sans fruit in the glasses), strained with a little fresh arugula in the bottom of glasses and a lime on top for decor, and then filled with lots of fruit and arugula.  Different people have their preferences, but since sangria is so fun and colorful anyway, I like to show at least a little of the fruit when I'm serving it.
However you make it, I just highly recommend inviting a bunch of friends over and trying it soon.  Without a doubt, this arugula sangria will be happening at my place often this summer.  Enjoy!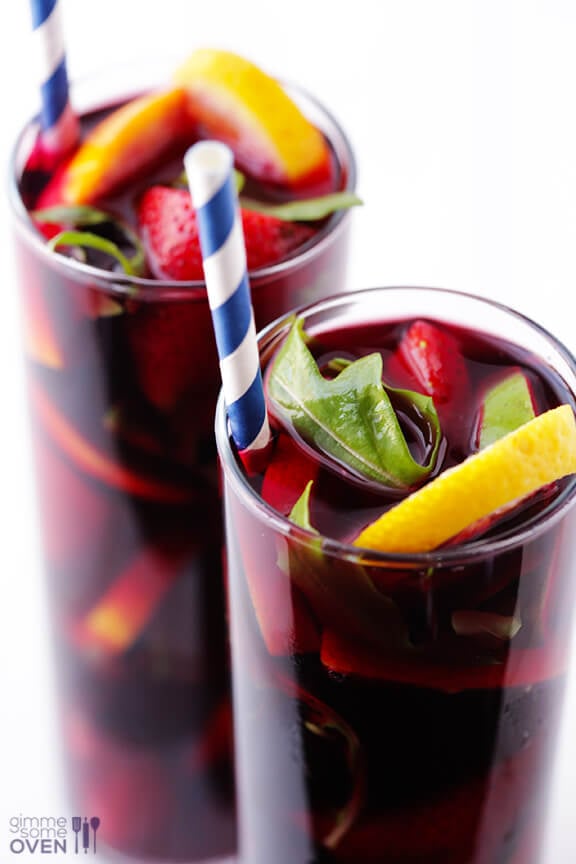 Thanks to Dole for the great recipe inspiration, and all of the other great Spanish recipes they are sharing right now with their Taste of Spain campaign.  To learn more, check out my post coming later today with a big photo roundup of my time with Dole.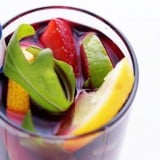 The BEST Sangria
Arugula is the star ingredient in this delicious red sangria!
Ingredients:
2 (750 mL) bottles dry red wine, such as Cabernet Sauvignon or Merlot
1 cup brandy
1/3 cup sugar
1/4 cup orange liqueur
1 pound DOLE strawberries, hulled and halved
3 oranges, thinly sliced
3 limes, thinly sliced
2 lemons, thinly sliced
4 cups DOLE fresh arugula
(optional) 1 can lemon-lime soda
Directions:
Stir together wine, brandy, sugar and orange liqueur in large pitcher, until sugar is dissolved. Stir in the arugula, and use a wooden spoon to mull (crush) the arugula so that the flavor is released. Add strawberries, lime, lemon and orange to the wine mixture, and lightly mull the fruit to release juices.
Cover and refrigerate for anywhere from 2-24 hours. Stir in soda if desired, then strain and serve over ice.
*If serving to a large group of people, I highly recommend making a double batch.
Recipe slightly adapted from Dole.
All images and text ©
If you make this recipe, be sure to snap a photo and hashtag it #gimmesomeoven. I'd love to see what you cook!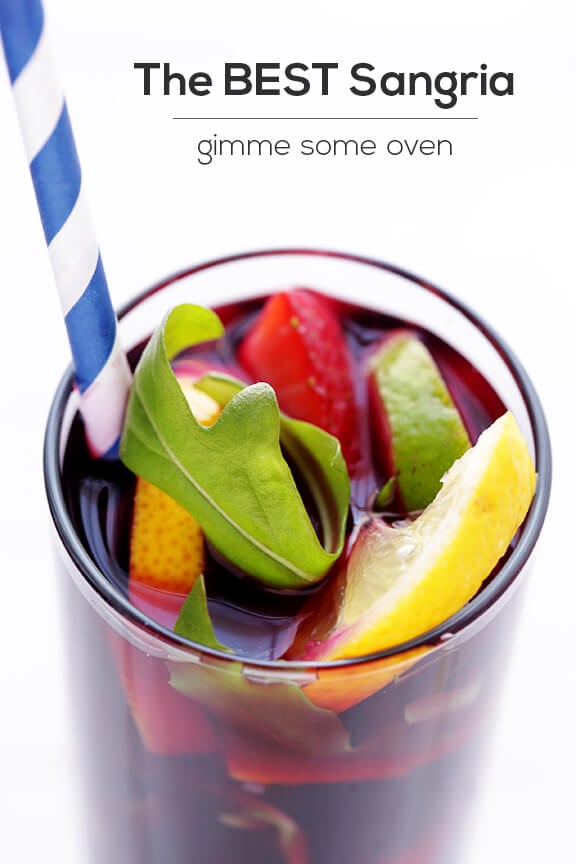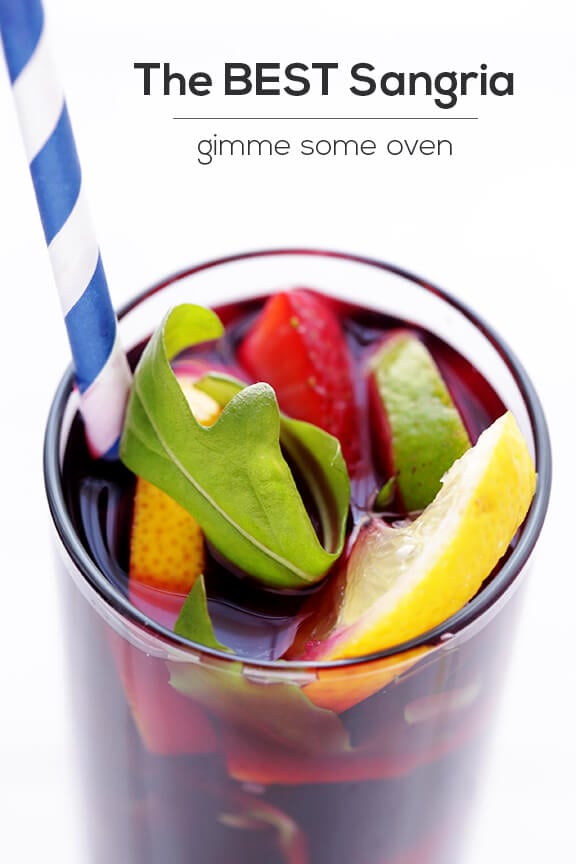 Be sure to check out these other great sangria recipes too!