My Visit To ALDI Headquarters
This post may contain affiliate links. Please read my disclosure policy.
This is a sponsored post with ALDI.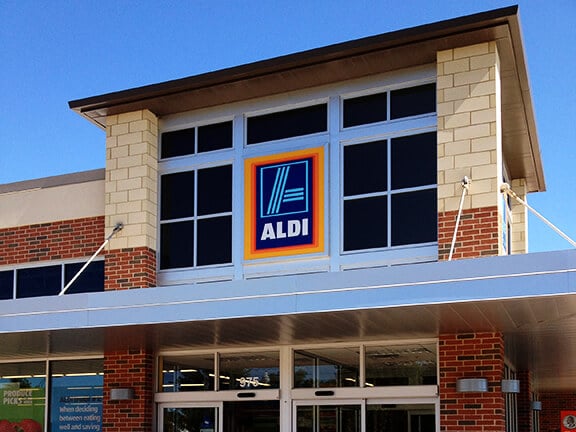 I constantly find myself amazed and overwhelmed with gratitude for some of the crazy cool opportunities that have come in my life as a food blogger.
But I have to say that one of my favorites thus far has been getting an invitation to visit the U.S. headquarters of one of my all-time favorite stores — ALDI!!!
For those of you who are new to my blog, I am a huge ALDI fan. I began shopping at the store years ago, and instantly fell in love with the quirky-ness of this store and the great selection they offer, and I grew to really respect and admire them for their innovative business model that keeps overhead down and prices low around the world. I probably do about 70% of my grocery shopping there, and love helping my friends go shopping at ALDI for the first time, or text each other when we discover a new favorite item there. As far as the blog goes, I even wrote a little series this past year about Why I Shop At ALDI, How To Shop At ALDI, and What To Buy At ALDI. (I probably need to update that last one, since I find new favorites all the time!)
So it goes without saying that I was pretty stoked when ALDI invited me to come and attend their Test Kitchen event this summer at their headquarters outside of Chicago. I joined a handful of other lifestyle and food bloggers for the experience, as we spent time in the official test kitchens and even took a behind-the-scenes tour of a local store.
I have to be honest. When you love a store or brand that much, sometimes I worry that these experiences might be a bit of a letdown, or that you'll learn some of the "inside" secrets that aren't so positive. But I came away from this event genuinely loving ALDI all the more. Their team could not have been more welcoming, the experiences we had were fun and great, and I learned some great inside scoop about what ALDI is up to right now that made me all the more excited to see where the brand goes in the future.
So without further ado, join me as we head behind the scenes at ALDI!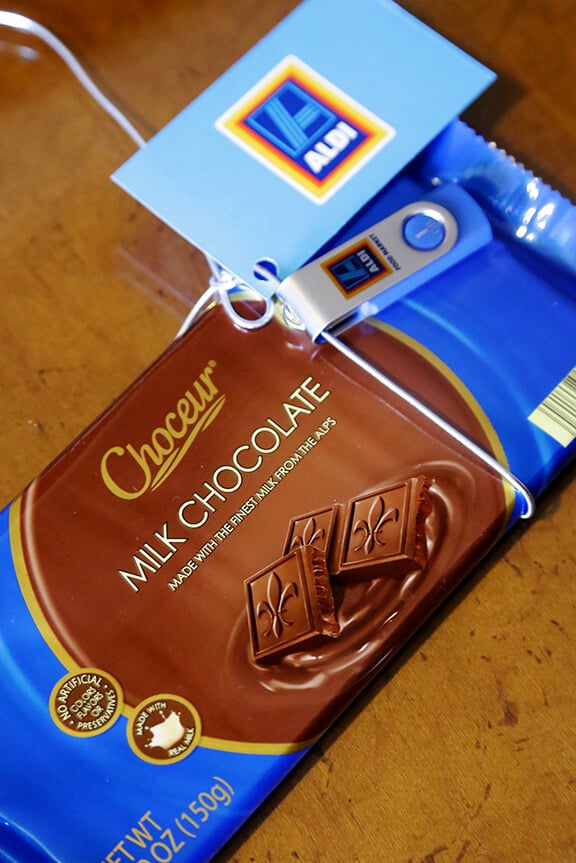 Ok, this is a small detail, but I have to start at the very beginning. When I arrived at the Herrington Inn and Spa, I was immediately enamored by the absolutely beautiful hotel with its picturesque river views, gorgeous rooms, and epic bathtubs.
But my eyes immediately went to the little welcome gift from our hosts — ALDI chocolate.
For those of you who don't know, ALDI is headquartered in Germany. And one of the many perks that comes with that is some seriously good German chocolate in all of their stores. I give it out as gifts all the time. And even my most picky gourmet-chocolate-loving friends always love it.
The perfect welcome to our ALDI event!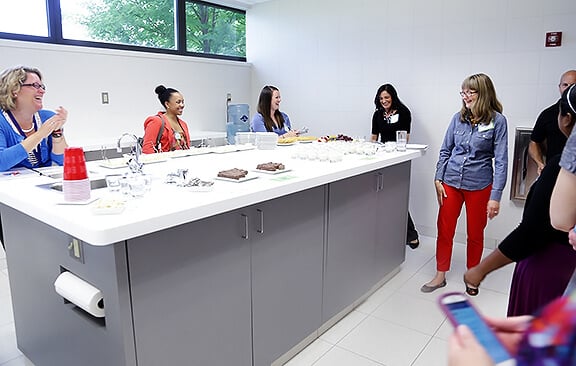 Next, all of the bloggers met up and we traveled a few miles away to ALDI's U.S. headquarters in Batavia, Illinois — a suburb of Chicago. We all gathered together to begin our tour in their famous test kitchen, where all of the magic happens.
Actually, after talking with a few of the professional chefs who run the kitchen, it sounds like the "magic" they do is actually lots of recipe testing, and lots of taste testing. About 90% of the items you will find at ALDI are sold under their exclusive brand. So they spend lots of time testing their products to be sure that they offer the ones that consumers will like most. Sounded like a great job to me!
So I was excited when they told us bloggers that we would be getting to try our hand (or more accurately — our tastebuds) at taste-testing in the ALDI kitchen!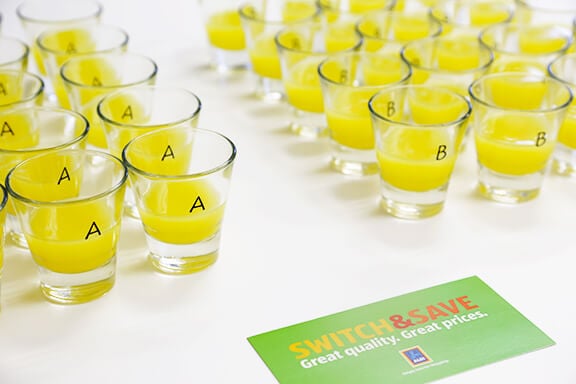 They had laid out samples of all sorts of different ALDI products side by side with their name brand competitors. And we were invited to taste each, and give our votes for which was best. We began with breakfast foods, taste-testing blueberry muffins and orange juice…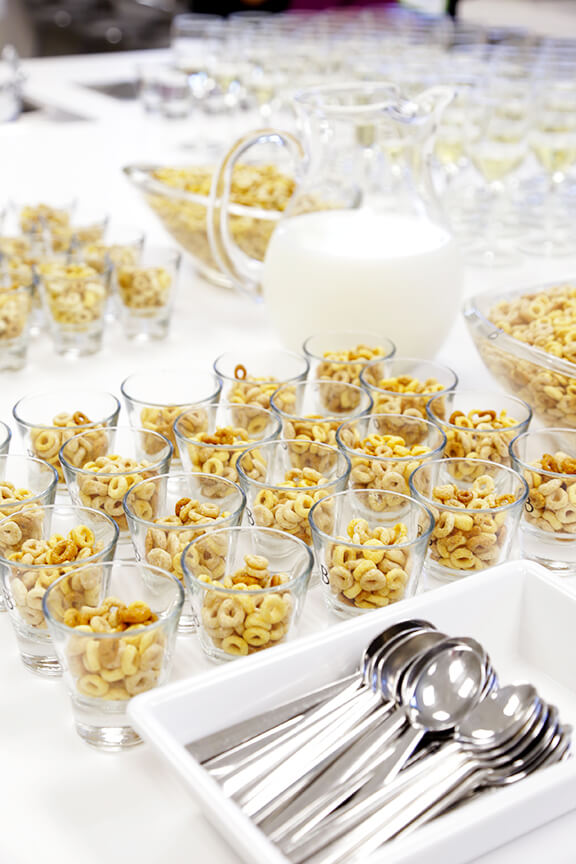 …and the ALDI version of a certain multigrain cereal.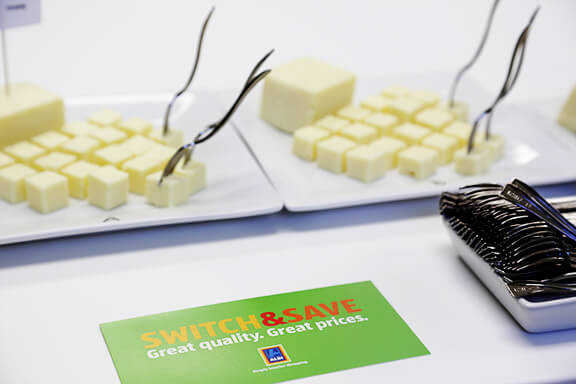 Then we moved onto soy milk and yogurts. And then came one of my favorite food groups — wine and cheese!!!
ALDI's cheeses have long been some of my favorites. I especially love their jalapeno cheese, fresh mozzarella ball, and their new blueberry cheddar and cinnamon cheddar (both in the "Special Buy" section right now). They are seriously so much cheaper than other stores, and the quality is fantastic. I accurately chose the ALDI cheeses on each!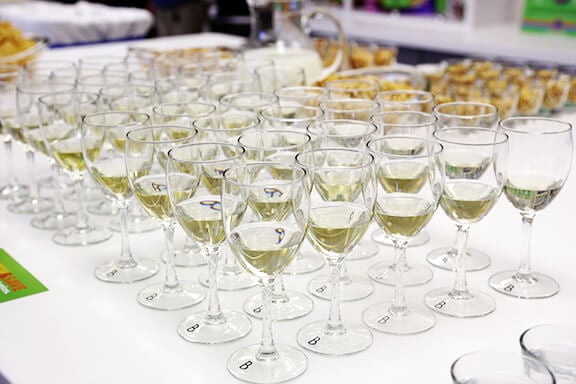 I have also enjoyed trying new ALDI wines this year. I've always heard that many of them are "award-winning", and not to be fooled by the low pricetags since — once again — ALDI's policies to lower their overhead results in lower prices, even on wine. And it turns out that many of them really are great!
The group was divided on this taste test, as the name brand was a little sweeter and the ALDI version was a little drier. But I like dry whites, so I happened to be a fan on that one.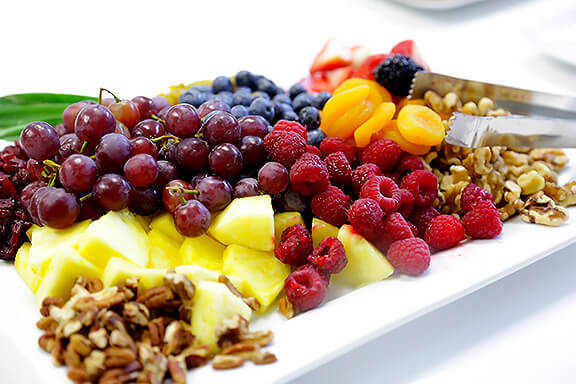 We also had the chance to sample some delicious ALDI produce, including the item I always buy when I visit an ALDI — their pineapple! An entire beautiful pineapple is usually priced somewhere between $0.99-1.99, depending on the week, and they make me so happy. I love me some fresh pineapple.
I'd also like to give a shout-out to their nuts. Located in the baking section and in the snacking section (be sure to hit up both areas for different selection), I buy pretty much all of my nuts for baking and snacking at ALDI. Again, they are really delicious, and the price is unbeatable.
Finally, we finished up with some crackers, chips and guacamole. And then it was on to some more test kitchens across the hall…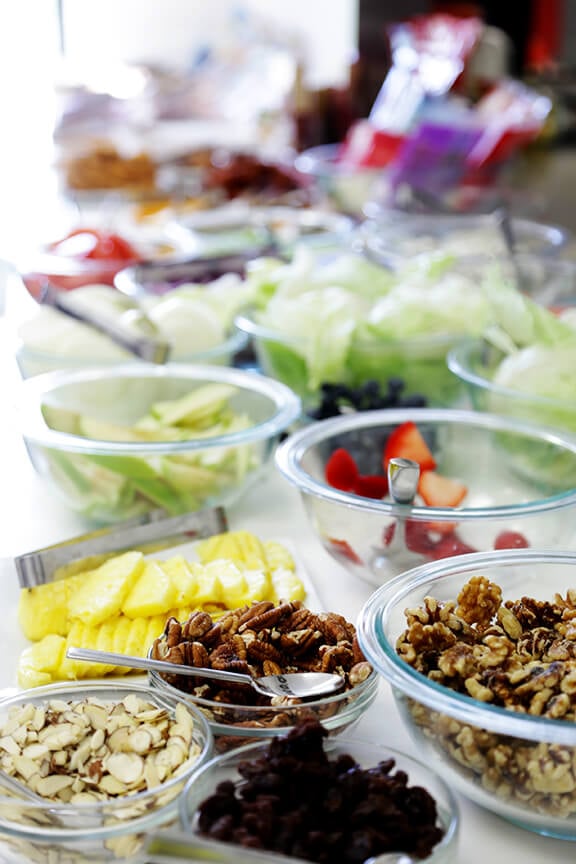 …where we found out it was now our turn to cook!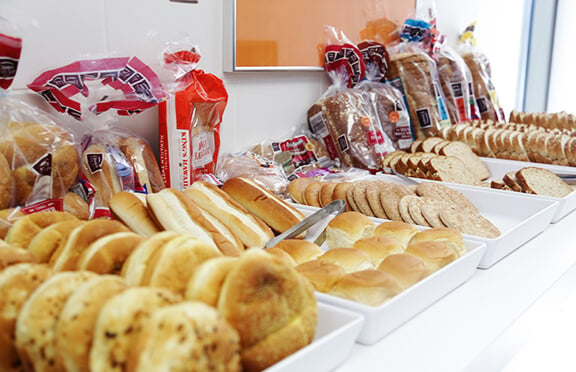 The test kitchen chefs had laid out an incredible spread of ALDI ingredients for us. And we were given the challenge to create a creative "back-to-school" sandwich that kids would be excited to eat. So we all split up and began assembling our masterpieces.
Most of the bloggers in the group were also moms, and you could tell that they had more than a little experience in this area. I learned so much from them and their cute ideas to make food fun! One blogger made a fruity yogurt teddy bear sandwich with cookie cutters. Another rolled up some tortillas to make mini sandwich "sushi" for kids to pack in lunch boxes. Jenny and Amanda made a chocolate-hazelnut s'mores panini.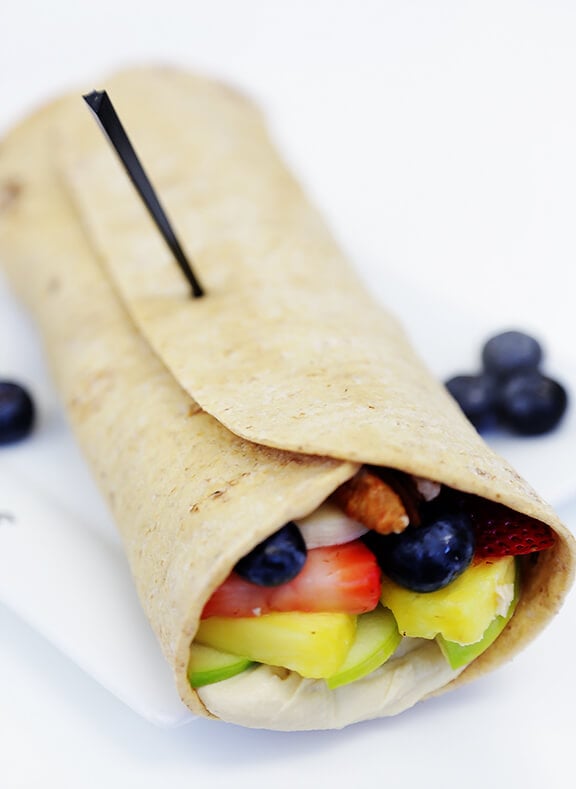 And Yours Truly decided to make a rainbow wrap with one of my new favorite combos — hummus and fruit. I love that savory and sweet. (And of course — COLOR!)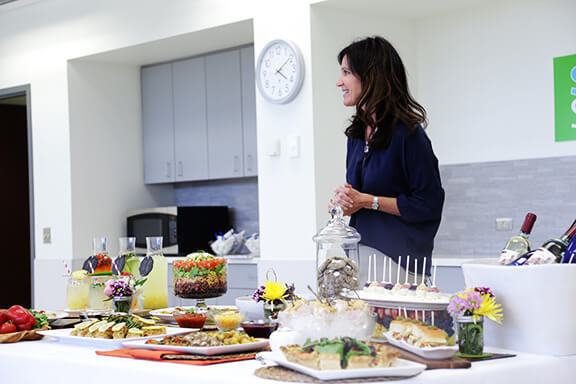 Afterwards, we all headed into our final room in the ALDI test kitchen for dinner and a demonstration from food stylist, Janice Stahl.
Talk about a talented, inspiring, hard-working, and kind woman — Janice was amazing! She lives in Chicago and has worked for some of the biggest names in the biz, including styling for Tyler Florence, Oprah, Extreme Home Makeover and more. But she was completely wonderful to be around, and it turns out that she is also a super fan of ALDI!
I have learned over the years that one of the trademarks of a true ALDI shopper is their eagerness to share with you their tips and must-buys. And Janice had many! She clearly knows that store backwards and forwards, and it sounds like she gets just as excited about the "Special Buys" section as I do. Oh ALDI shoppers… :)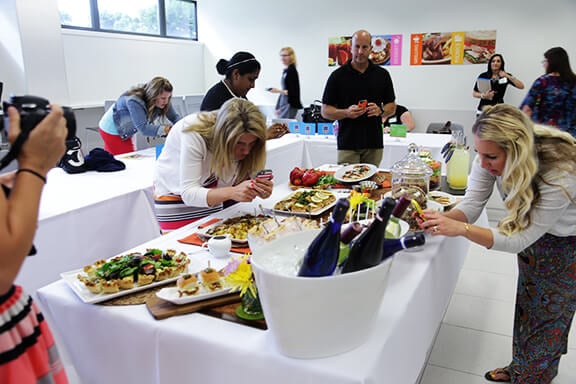 Speaking of food styling, though, it was a good thing she made the food look pretty because the blogging paparazzi loved her spread!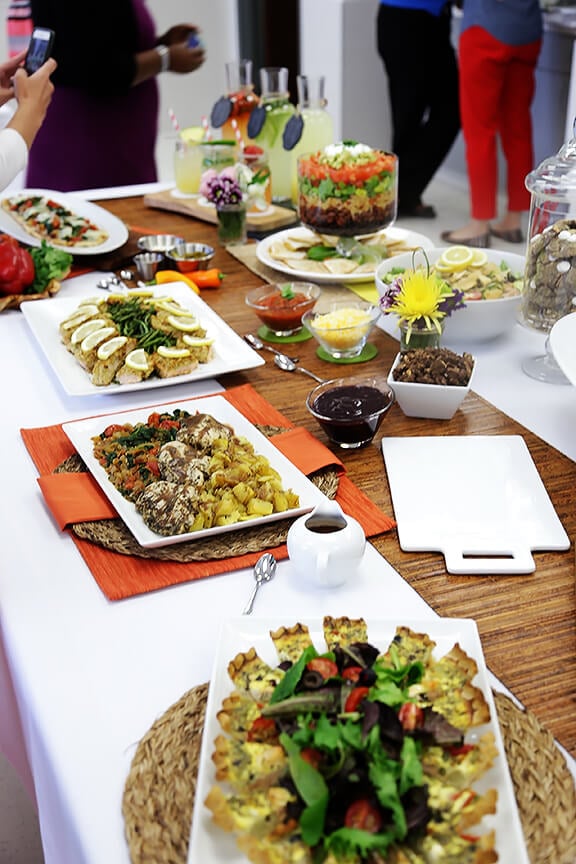 Janice and the Test Kitchen chefs had prepared an absolute feast for us.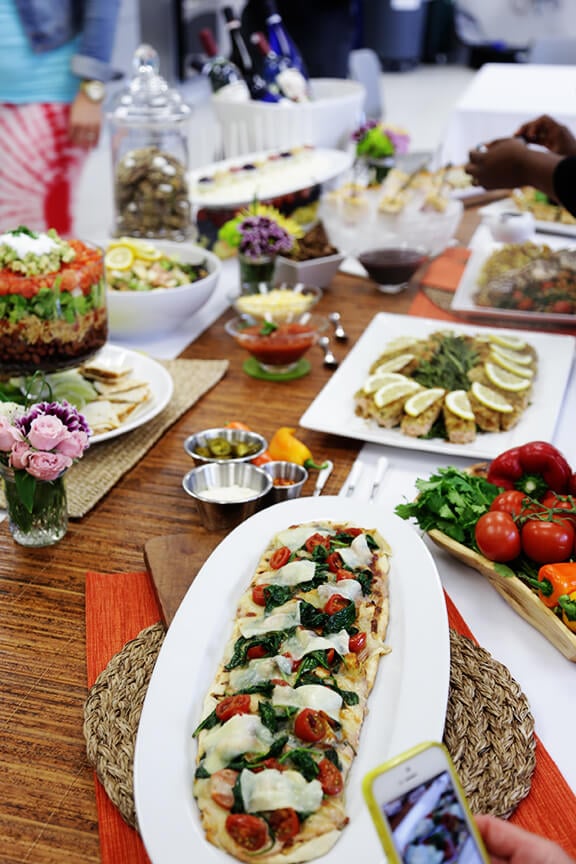 And the fun part is that all of the dishes were designed with leftovers in mind! Delicious salmon filet leftovers could be transformed into salmon quiche the next day. Or a pork tenderloin could turn into spicy pork quesadillas.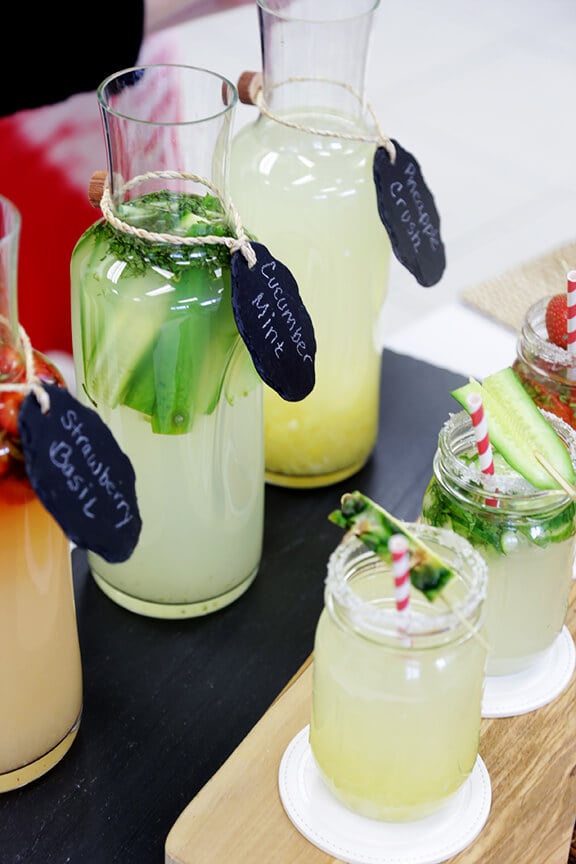 I think one of the unanimous favorites was the beautiful drink bar. Janice had mixed some fresh herbs and fruits with some ALDI lemonade to make these delicious fruit juices. So tasty, and a great semi-homemade shortcut.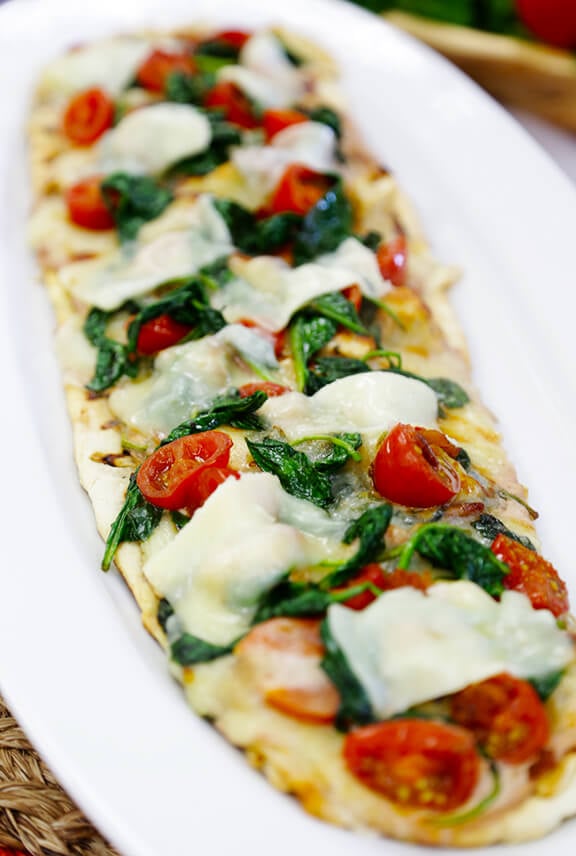 I loved this fresh roasted tomato, spinach and Parmesan flatbread. It just screams summer, yes?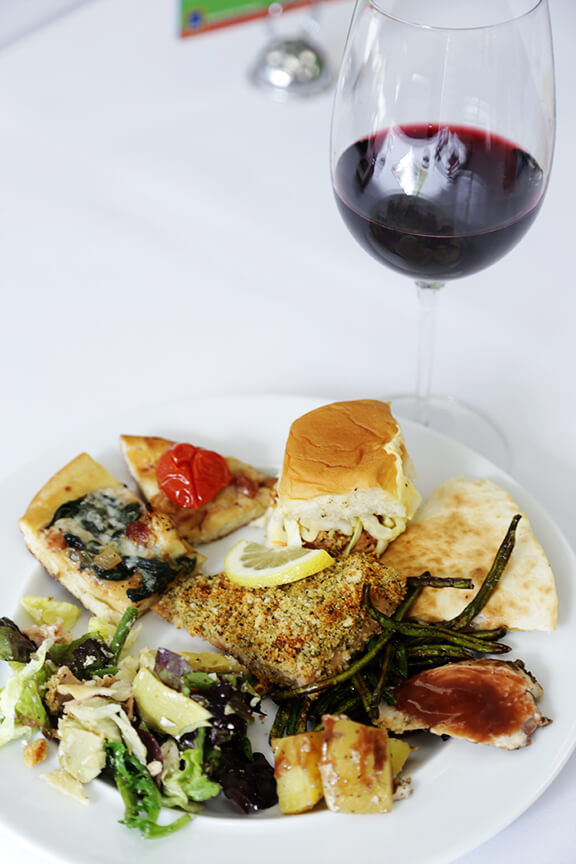 I worked up an appetite in that test kitchen. ;)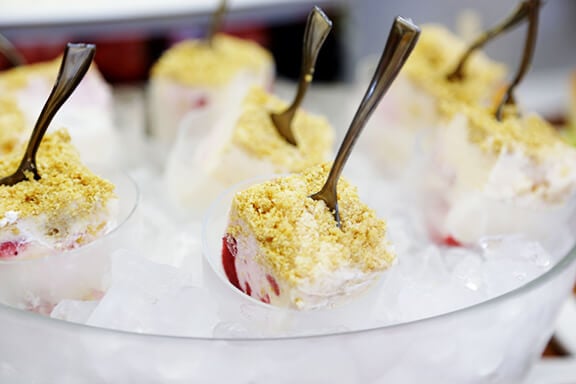 Dessert was also a treat. I especially loved the creative strawberry cheesecake pops and the s'mores cookies!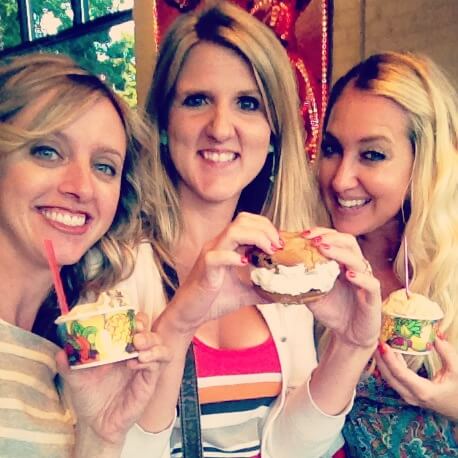 After dinner, we all returned to the Herrington Inn & Spa, and decided to explore the town of Geneva before the sun set.
The two other food bloggers on the trip — Amanda and Jenny — happen to have a bit of a reputation for always knowing where to find the best sweets wherever they travel. And sure enough, Amanda had already done her homework and scoped out the town for sweet! So after walking around town to tour the open sweet stores, we ended up deciding on the All Chocolate Kitchen.
As we were standing in line waiting to order our gelato and ice cream sandwiches, we happened to glance at the enormous tree in the middle of the restaurant and notice that the sign said it was made entirely of chocolate!
A 23-foot chocolate tree!!!!
They weren't kidding when they named it the All Chocolate Kitchen.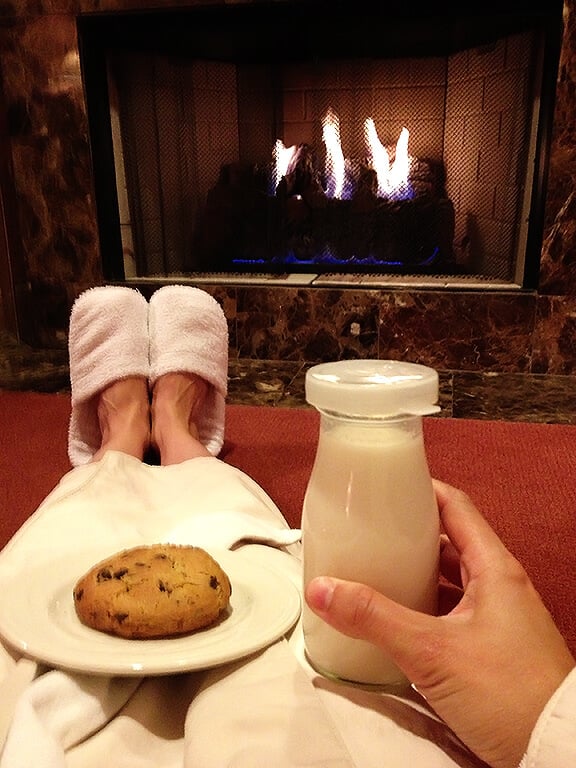 And then, as if the ALDI dessert bar and my peanut butter fudge gelato wasn't enough, we arrived back to the Inn to see that our turndown service had arrived with ice cold milk and a warm chocolate cookie.
Plus warm, comfy slippers.
Plus a beautiful fireplace.
This is my kind of happy camping. :)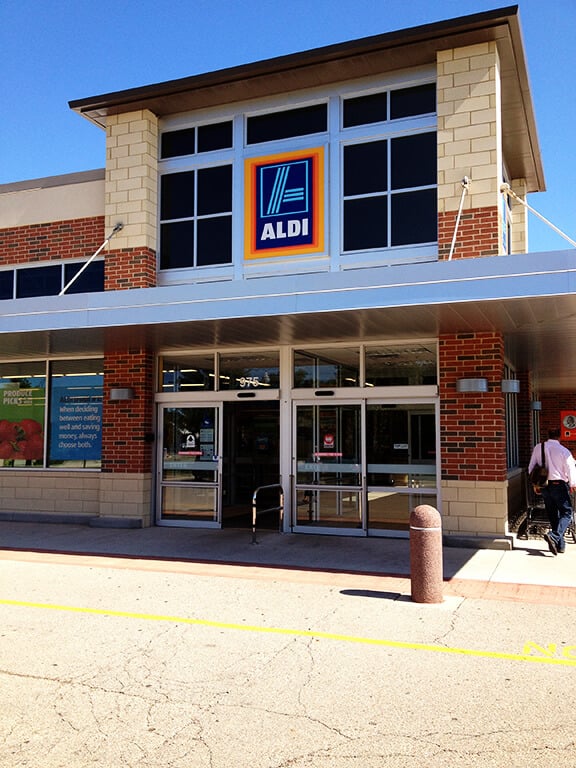 After a good night's sleep, we all awoke the next day to breakfast at the Inn. Then we headed to a nearby ALDI store for a behind-the-scenes tour.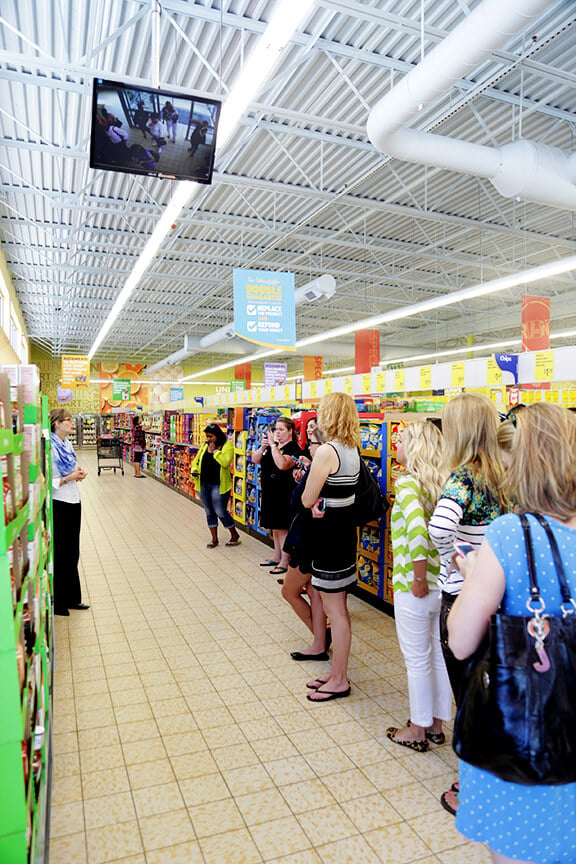 Our wonderful friend from ALDI, Liz (who was in the cute red pants the day before!), narrated our walk up and down the aisles of the store. She explained more in detail ALDI's business model, and about the many many steps they take to keep overhead costs down so that prices can be lower for the consumer.
I talk more about this in my posts on Why I Shop At Aldi and How To Shop At Aldi.  But it was fun to learn a few more things along the way!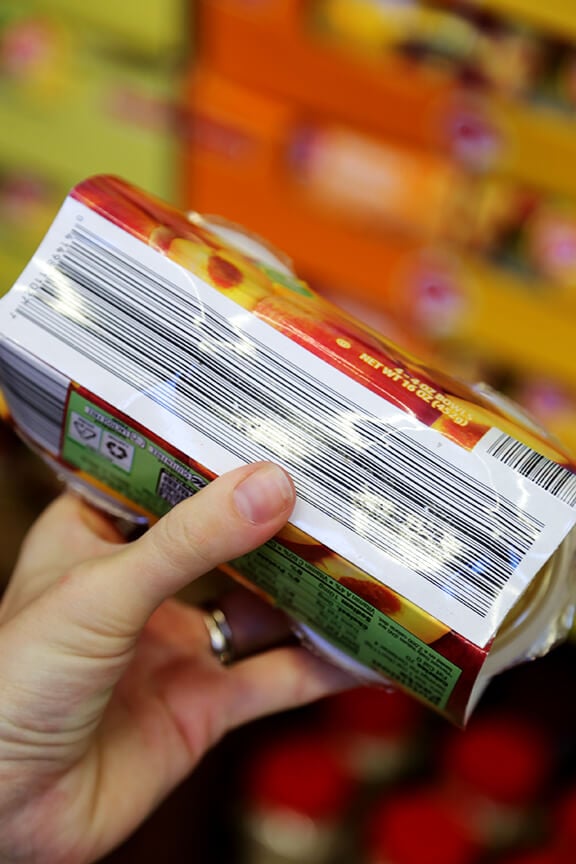 For example, I had always noticed that ALDI products have an extra bar code or two on them for easy and efficient scanning at the checkout. But Liz said that their products have an average of five barcodes on their packaging! And some even have an enormous one like these fruit cups.
You would never notice it just looking at the products on the shelf, but next time you're at ALDI, count them for yourself! Pretty cool.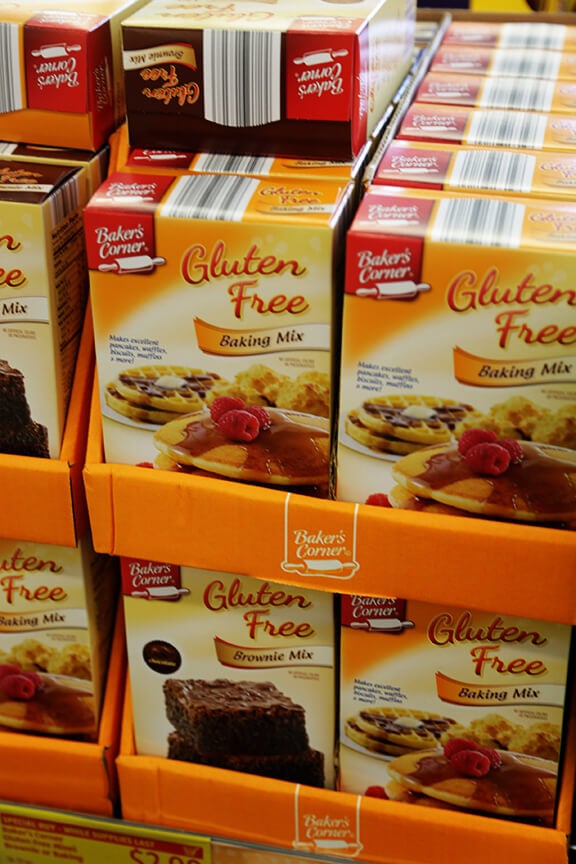 I was also pleased to see that ALDI is offering a new gluten-free baking line.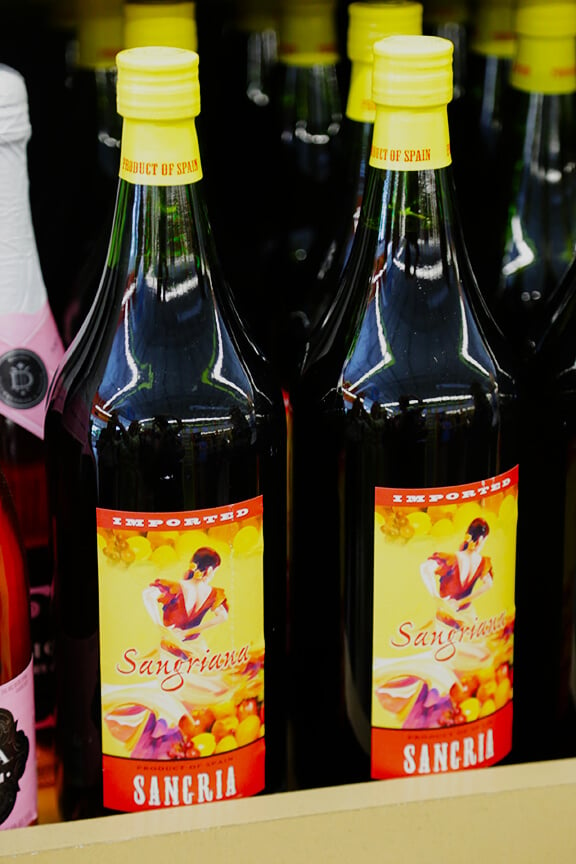 And my favorite summer sangria is in season! (Stock up — this stuff doesn't last long and is SO good and inexpensive!)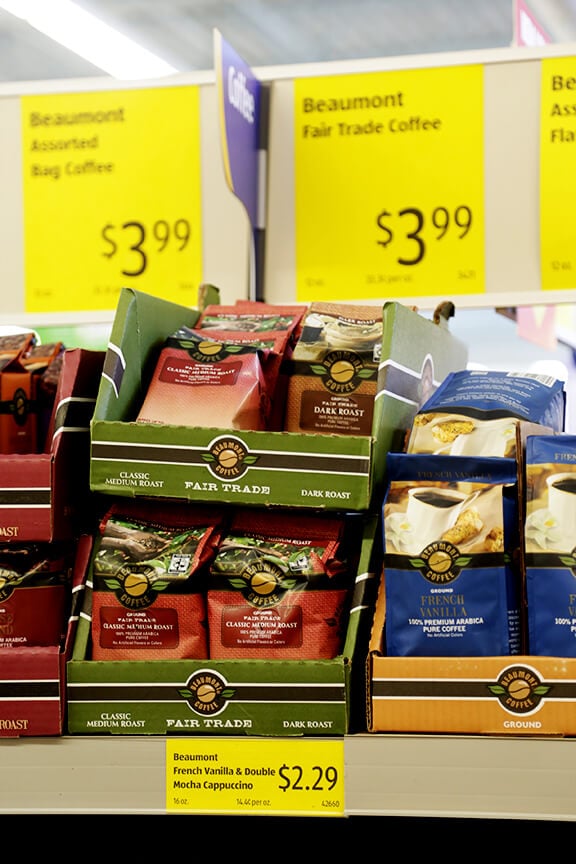 Liz also showed us some of the fair-trade coffee that they sell.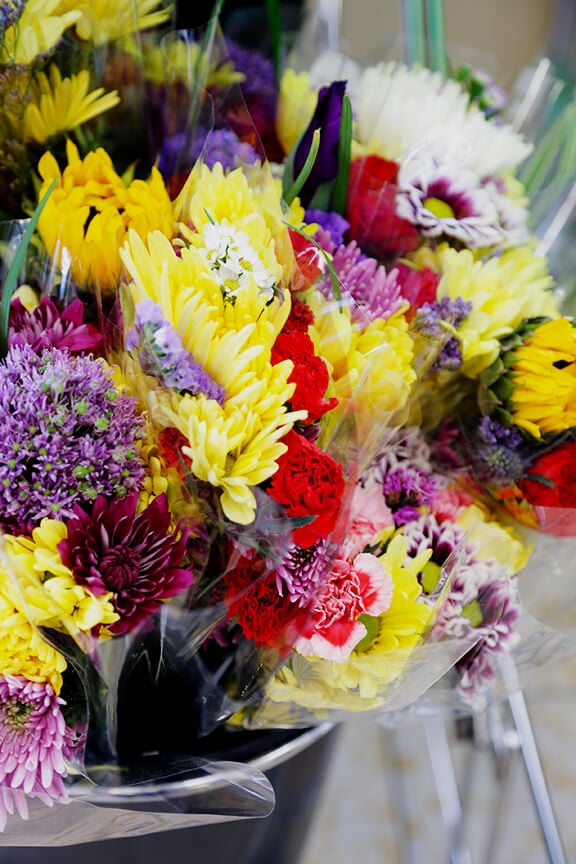 And of course, you can't miss the beautiful bouquets!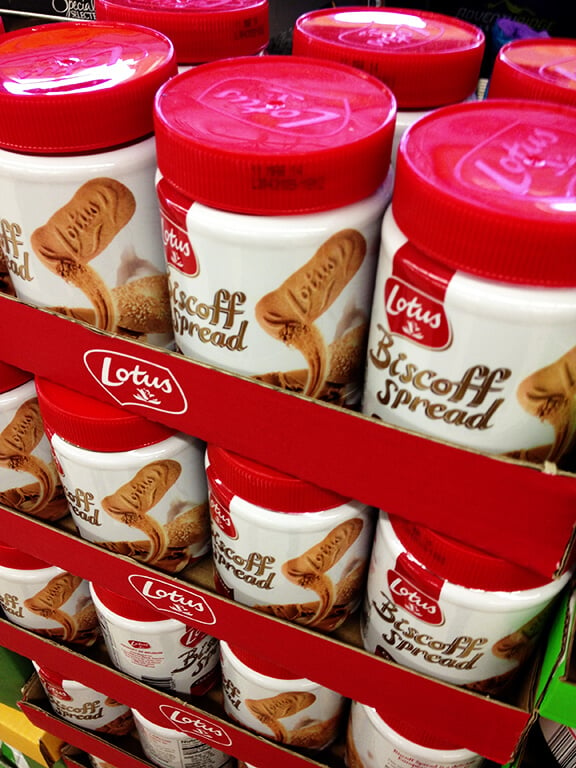 But without a doubt, one of my favorite discoveries was seeing a certain "Special Buy" being sold right now — Biscoff Spread!!!
You will often find some fun name brands cycling through in the "Special Buys" section. And then ALDI also offers some name brand products year-round that they know consumers want to buy, such as Diet Coke and Honey Nut Cheerios.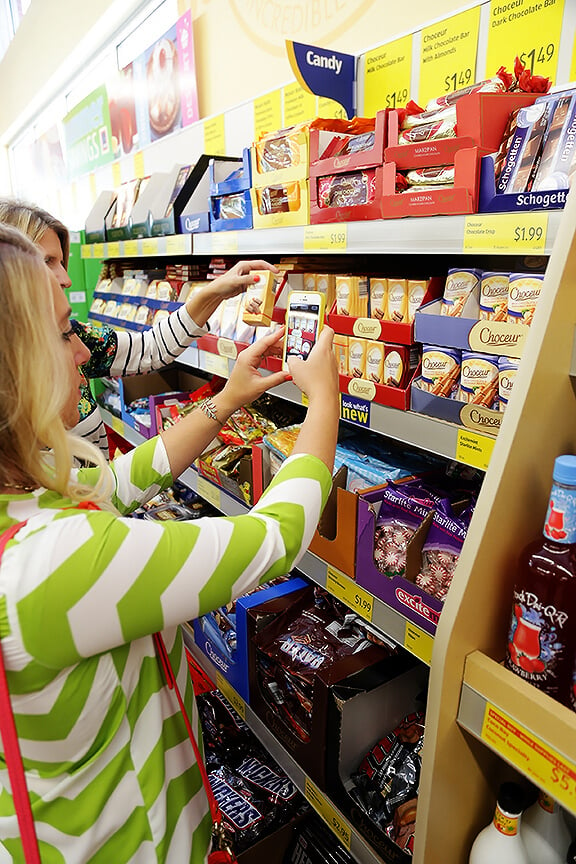 Of course, I think our group spent the most time in the chocolate section.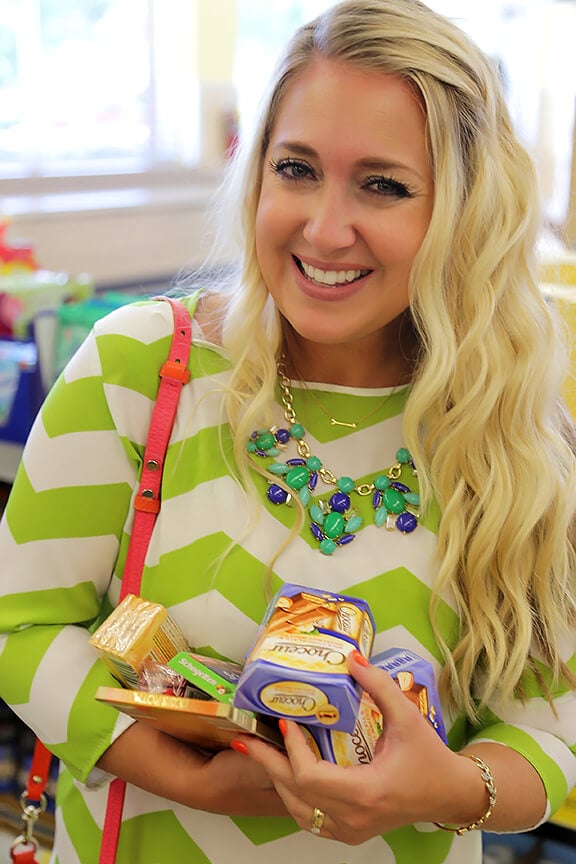 This was Jenny's first time an ALDI, so she was wise and stocked up!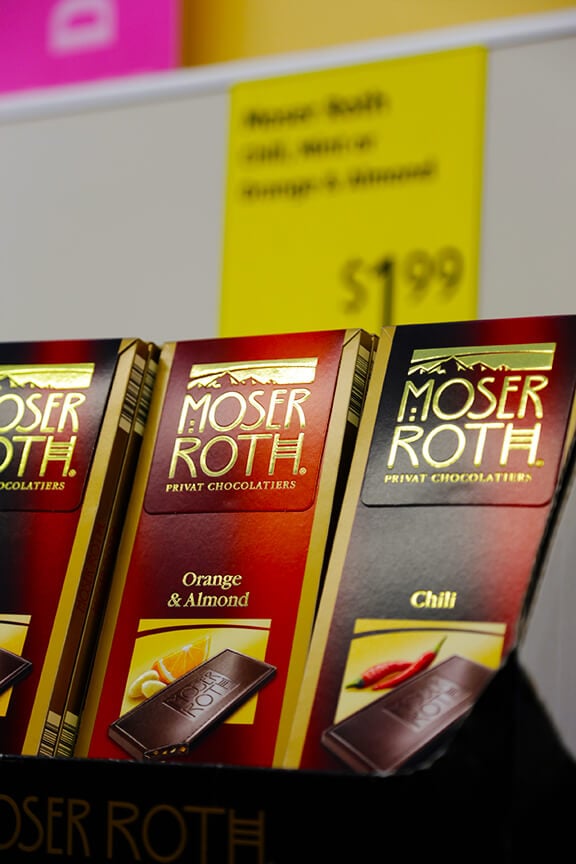 I found my favorite Chili chocolate bars.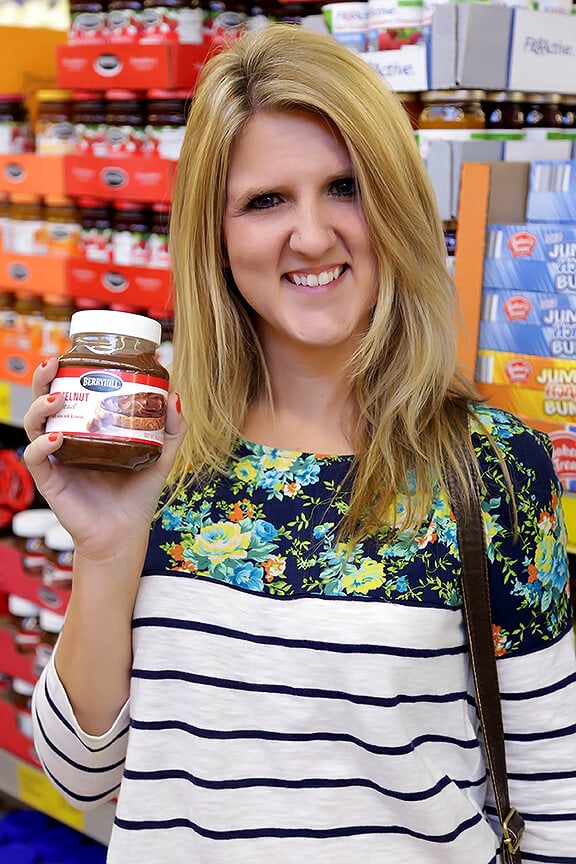 And Amanda spied the chocolate-hazenut spread that we had discovered the day before in the Test Kitchen. You should try it!!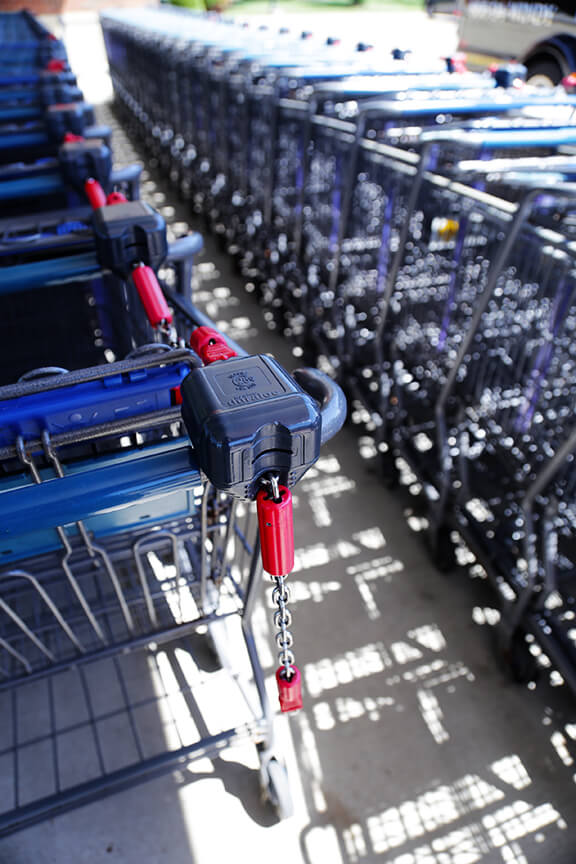 We also took a little walk outside so that the newbies could see the cool quarter checkout system for the carts.
For those of you who haven't been to an ALDI before, you literally "rent" carts there by placing a quarter in the slot which will release the cart. Then when you return it, you get your quarter back. This pretty much eliminates stray carts in the parking lot and the need to pay an employee to go round up carts.
And if you can spare the $0.25, I recommend being a "quarter fairy" and leaving it behind as a surprise for the next person. Occasionally when this happens to me, it always makes my day. :)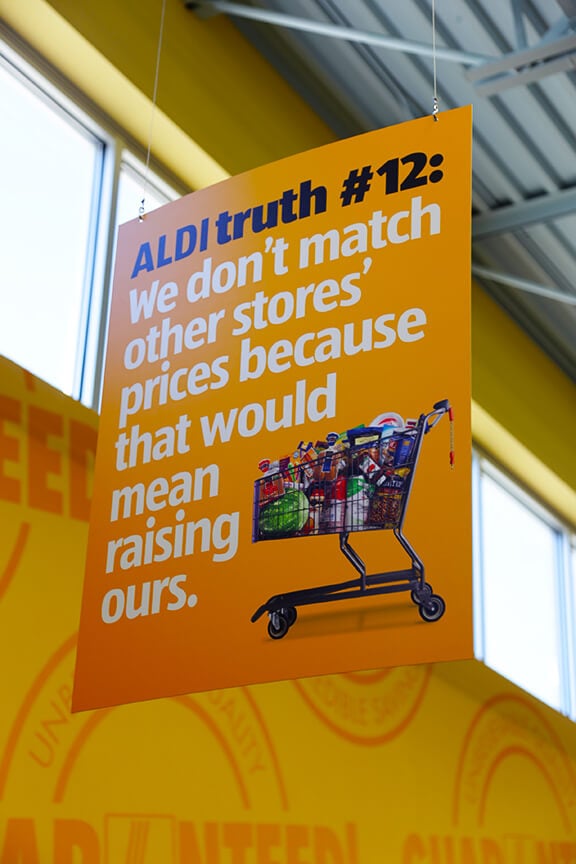 Finally, our tour came to a close.
I think I was mostly excited just to have a group of people to walk through the store and geek out together about our favorite ALDI products and stories about shopping there for years. But I was also just really encouraged to hear about the brand, and their commitment to their employees, and the steps they are taking to really ensure more quality and awesome selection in the years to come.
Those of you who saw my Creamy Mexican Chicken Pasta recipe heard me talk about the new line of organics that ALDI is rolling out in stores, including organic chicken and grass-fed beef, and a great selection of other organic goods. Apparently these are still spreading across the country, but should hopefully be in all stores by the beginning of 2014, so keep an eye out!
As someone who's always interested in the business side of things, I was just also encouraged to hear that ALDI is expanding and on the rise in the United States right now. It seems like more and more people are catching onto some of the "ALDI Truths", as they call them, basically understanding that low prices does not equal low quality. But rather, ALDI has just pioneered a business model that creatively reduces tons of the overhead costs of traditional grocery stores. So they have been able to streamline their practices and turn those savings over to consumers in the form of low prices.
I think that's pretty cool. And I think ALDI's pretty cool. So it's safe to say that I found this event VERY cool, and am so grateful to ALDI for the chance to participate!
I'll leave you with a little video of my favorite part of the store tour. I have to admit — one of my bucket list items in life has been to sit behind the ALDI cash register and check someone out.
If you've never been to an ALDI, let me just tell you — these clerks are lightening fast!!!! They can scan your entire cart full of items before you even get that debit card out to pay, and greet you in the process.
I tend to think of myself as a pretty observant and efficient person, so I've always wondered if I'd be able to do it. So as we were leaving the store, they surprised me and let me pop behind the register to give checking out a try!!! If you can't tell by my smile, I was g-i-d-d-y. :-)
Too, too fun.
(Although I may need a little more practice to reach ALDI speed!)
Thanks so much for reading along! Hope that you have fun shopping at your local ALDI!
Disclaimer: This is a compensated  post from ALDI. ALDI sponsored my trip to Chicago to participate in the Test Kitchen event, and I am partnering with them to help spread the word about the store I love. All opinions are 100% (and enthusiastically) my own, as always.