Nutella Cupcakes
This Nutella Cupcakes Recipe features some delicious Nutella-filled chocolate cupcakes, topped with a heavenly Nutella frosting.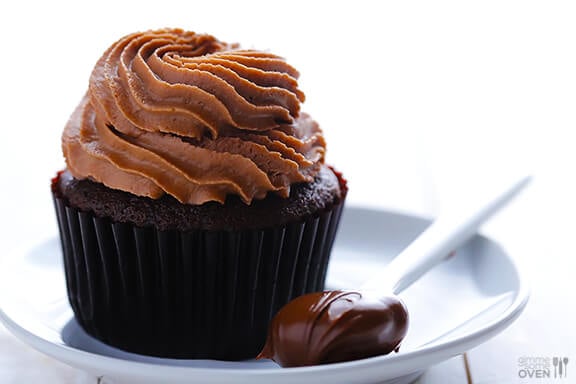 A few weekends ago, I woke up on a Saturday morning and just felt like baking. My calendar was open, the day was cloudy and cozy and cool, and I had a new jar of Nutella that was calling my name.  So I padded to the kitchen in my slippers to make a warm cup of coffee.  And then perhaps for the first time in a long while, I decided to actually take my time baking this batch of Nutella cupcakes. It was wonderful. I don't know about you, but so often when I'm in the kitchen, I find myself falling into extreme-efficiency mode.  And for better and worse, I've become pretty darn good at it.  I can whip up a batch of fudge, saute a pan of fajitas, play fetch with my dog, return a few emails, and watch an episode of "Friday Night Lights" at the same time, and somehow things usually (miraculously!) turn out ok.  But in the rush and chaos of it all, I too often miss out on some of the simple joys of cooking. So I decided that this particular Saturday morning would be different.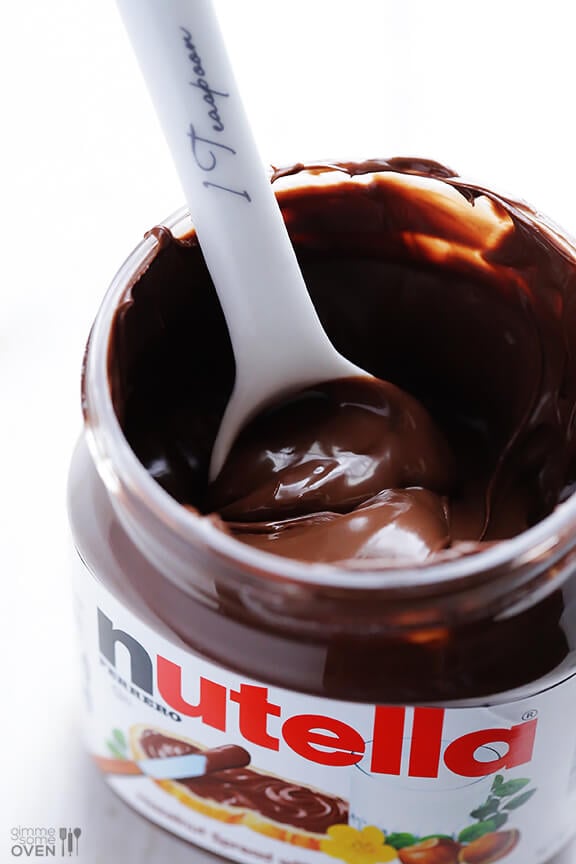 As I cracked open that jar of Nutella, I remembered the first time I tasted Nutella on a trip to Europe in high school.  And then the sheer delight when I first found discovered that it could be purchased at my grocery store back in the States.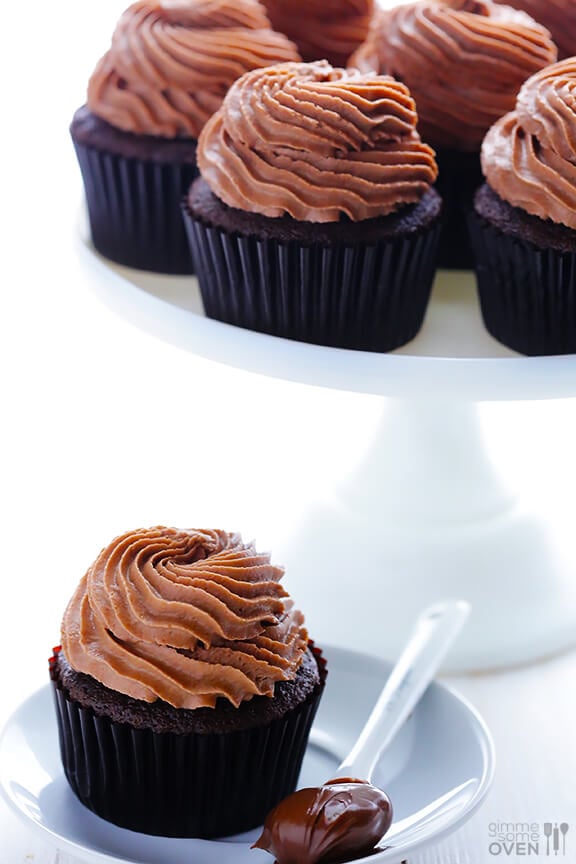 And I of course had to dip in a finger for a sweet taste before the jar disappeared into the filling for the cupcakes and the Nutella frosting.  ;)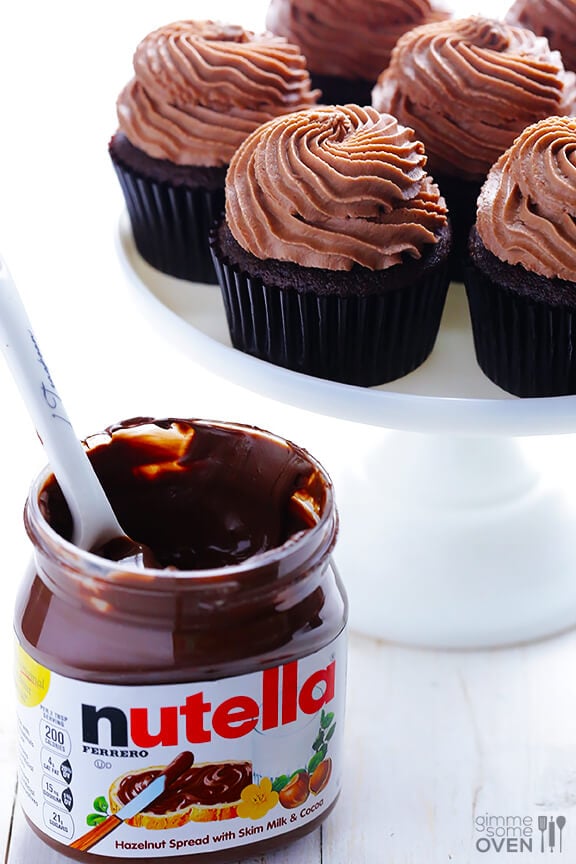 I was reminded of the awe of a simple chocolate batter coming together — step by step — as delicious butter and cocoa and vanilla combined with other simple ingredients to make the beginnings of these cupcakes.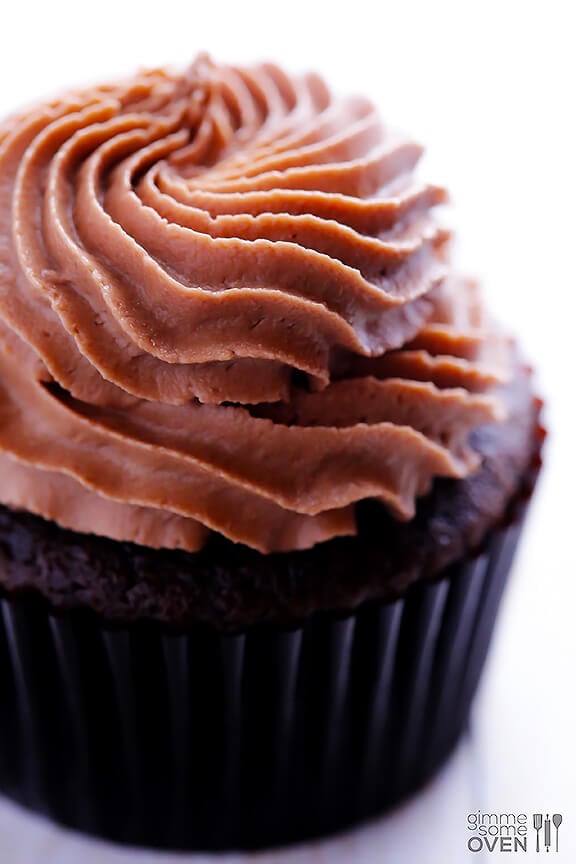 I pulled out my favorite ice cream scoop to transfer the batter to my favorite brown baking cups, loving the confidence that it brings in knowing that the cupcakes will be just the right size and not overflowing.  
Once the warm cupcakes were out of the oven, I scooped out a little spot in the middle to make a home for a little extra Nutella.  This step is optional, but the surprise inside is always so fun with friends!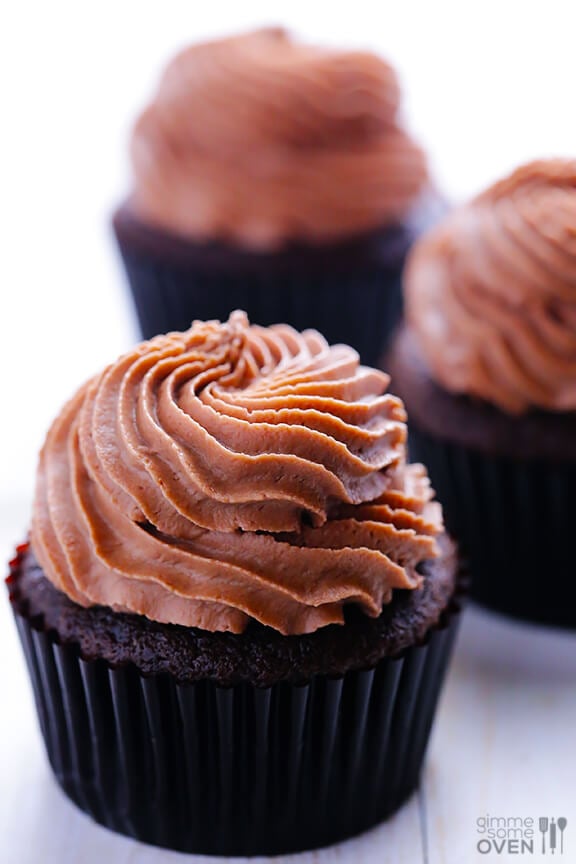 And then I used my second (yes, second) jar of the famous chocolate hazelnut spread to make some dreamy Nutella frosting.  So often when I'm in a hurry, I get annoyed when the powdered sugar poofs up and leaves a layer of snow on my counter.  But for some reason that day, it made me think of a magic trick. (And….poof!  Magic Nutella frosting!) I then laid out all of my piping tips in a row.  And after tasting the delicious frosting, it seemed only fitting that these cupcakes be extra "starry".  So I swirled on the extra sweetness, and behold, these Nutella cupcakes were born.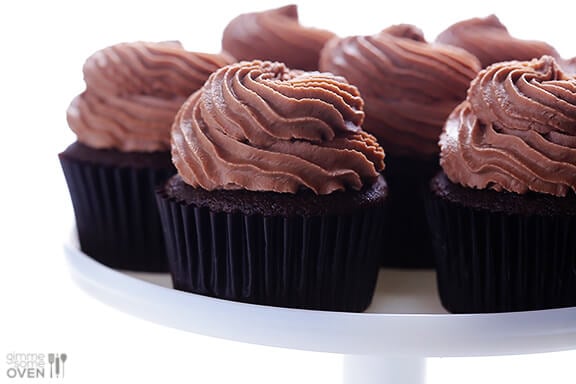 I ended up taking them to share with my book club that evening.  And everyone there gave them two Nutella-covered thumbs up.   :) But I have to say that for the first time in awhile, I was happy to realize that I genuinely enjoyed making them as much as eating them.  Sure, I know that most of my cooking in life may not happen on a lazy Saturday morning.  But even in the chaos that is usually my kitchen, there are always little moments to stop and savor.  And lick the beaters.  ;)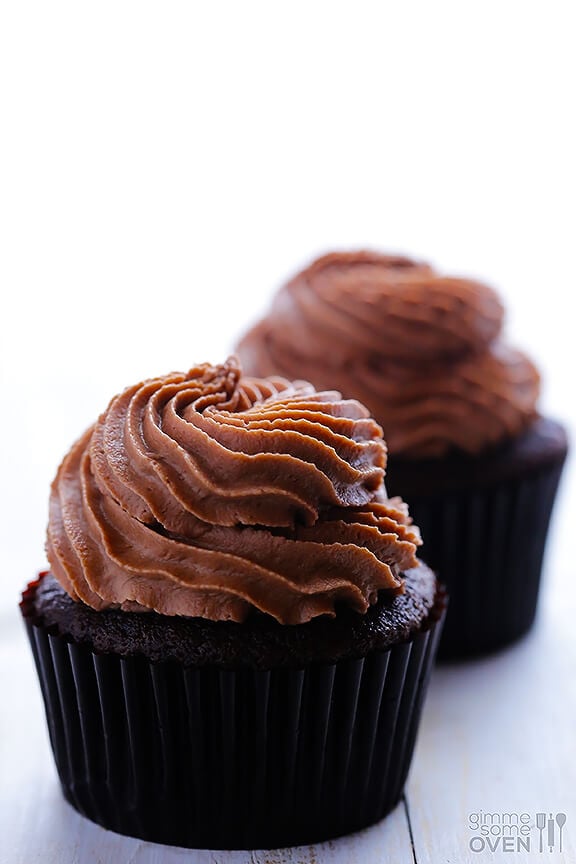 This recipe contains affiliate links.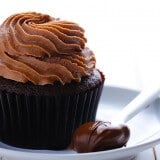 Nutella Cupcakes
These Nutella Cupcakes are made with delicious chocolate cupcakes, filled with Nutella, and topped with a simple Nutella frosting.
Ingredients:
Cupcake Ingredients:
1/2 cup (1 stick) butter, softened
1 1/2 cups granulated sugar
2 eggs
2 tsp. vanilla extract, store-bought or homemade
1 1/2 cups all-purpose flour
1/2 cup dark chocolate cocoa powder (or any unsweetened cocoa powder)
1 tsp. baking soda
1/4 tsp. salt
1/2 cup buttermilk
1/2 cup coffee, lukewarm (you can use decaf coffee if desired!)
1 (13-ounce) jar Nutella, to fill the cupcakes (you may or may not use the whole jar)
Nutella frosting
coarse sea salt, for sprinkling
Nutella frosting Ingredients:
1 cup (2 sticks) unsalted butter, room temperature
1 cup Nutella 
2 tsp. vanilla extract
4 cups powdered sugar
pinch of kosher salt
2-3 Tbsp. milk (or heavy cream)
Directions:
To Make The Cupcakes:
In the bowl of an electric stand mixer, cream butter and sugar until light and fluffy. Add eggs, one at a time, beating well after each addition. Add in vanilla.
In a separate bowl, whisk together the flour, cocoa, baking soda and salt until combined. Then in an additional separate bowl, stir together buttermilk and coffee. Add dry ingredients to creamed butter mixture alternately with buttermilk and coffee, beating well after each addition.
Line baking pans with about 24 paper baking cups, and fill each two-thirds full with batter. (Here is my tutorial http://www.gimmesomeoven.com/how-to-fill-cupcake-and-muffin-liners/ for filling cupcake liners.) Bake at 375° for 15-20 minutes or until a toothpick inserted near the center comes out clean. Cool for 10 minutes before removing from pans to wire racks to cool completely.
Once the cupcakes have reached room temperature, use a melon baller (or a small spoon) to scoop out a small portion from the middle of the cupcake (about 1 teaspoon). Fill the empty space with a teaspoon or so of Nutella. Then top the cupcakes with the Nutella frosting (recipe instructions below.)
To Make The Nutella Frosting:
Using an electric mixer, cream butter and Nutella together on medium-speed until smooth. Add in vanilla and beat until smooth. Reduce speed to low and gradually add powdered sugar until incorporated. Add milk until you reach the desired consistency** (see note below), then increase speed to medium-high and beat for 1 more minute. Pipe or spread onto cupcakes, or cover and refrigerate in a tightly-sealed container for future use.
**If your buttercream is too thick, add more milk/cream. If it is too thin, add more powdered sugar.
All images and text ©
If you make this recipe, be sure to snap a photo and hashtag it #gimmesomeoven. I'd love to see what you cook!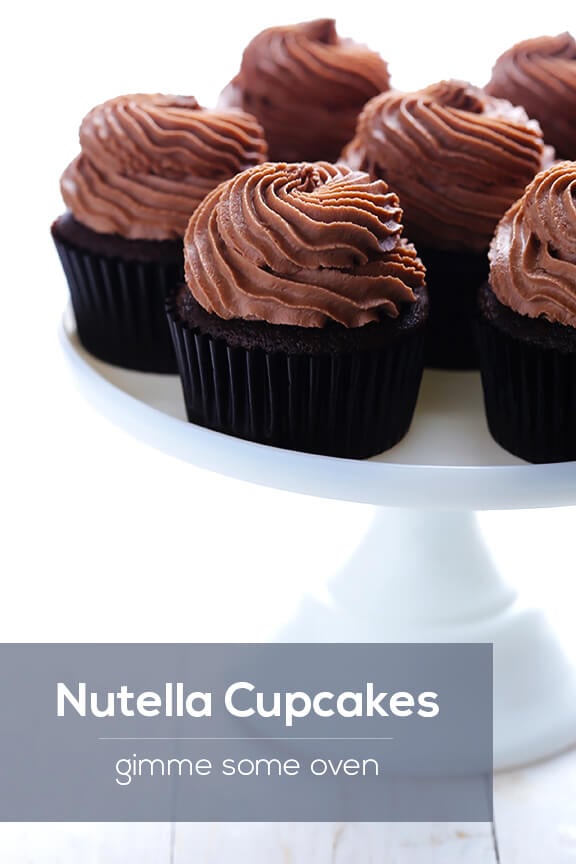 Disclaimer: This post contains affiliate links.  I receive a small commission on items purchased through this page, which helps to support this site.