Oatmeal Cookies with Dried Apricots and White Chocolate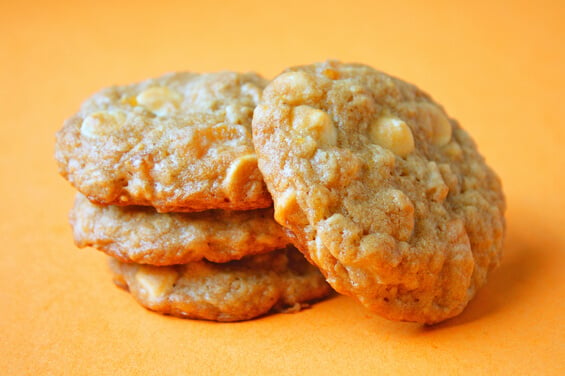 A few months ago, in an apparent moment of indifference about my forever-overflowing email inbox at work, I subscribed to Martha Stewart's "Cookie-of-the-Day" email.  And sure enough, every day since I've received a lovely recipe and picture (the far more persuasive of the two for me!) of creative recipes begging to be cooked.  I have to hand it to her — the woman knows her cookies.  :)
Having long been a fan of classic oatmeal cookies, but not a huge fan of raisins, this recipe definitely caught my eye.  I've loved dried apricots since I was a kiddo, and of course believe anything's better with some white chocolate!
Thus, after months of sitting in my inbox, I finally gave this recipe a try, and was very pleased by the outcome!  (A little too pleased, judging by how quickly they disappeared…)  As I imagined, the apricots and white chocolate paired together fabulously, and the texture of the cookies was soft and chewy — just as I like it.  I did add in some cinnamon, just to give throw in a little spice, and loved its mild accent in the background.  Will definitely be making these again!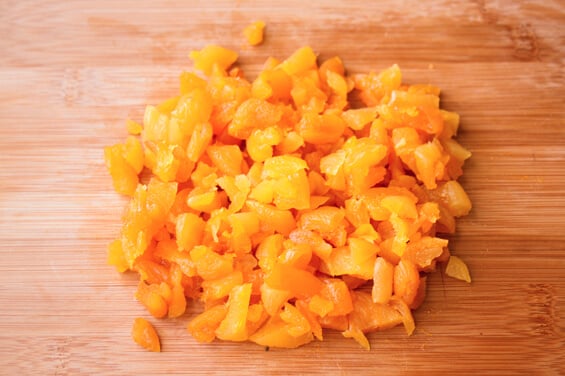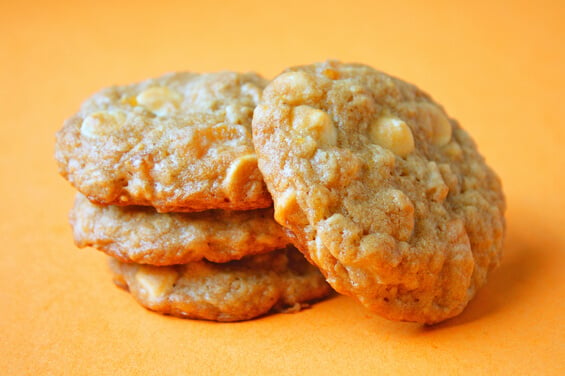 Oatmeal Cookies with Dried Apricots and White Chocolate
These oatmeal cookies have dried apricots and white chocolate — a match made in heaven!
Ingredients:
1 1/2 cups all-purpose flour
1 1/2 cups old-fashioned oatmeal
1/2 teaspoon baking soda
1 cup (2 sticks) unsalted butter, softened
1/4 cup granulated sugar
1 cup packed light-brown sugar
1 teaspoon salt
1 teaspoon cinnamon
1 teaspoon pure vanilla extract
2 large eggs
1 1/2 cups (8 oz.) white chocolate chips or chunks
7 ounces dried apricots, chopped (1 1/2 cups)
Directions:
Preheat oven to 350 degrees. Mix flour, oatmeal, baking soda, and cinnamon in a medium bowl. Cream butter and sugars with a mixer until light and fluffy. Reduce speed to low. Add salt, vanilla, and eggs, and beat until well combined, about 1 minute. Add flour mixture gradually, beating until just combined. Stir in chocolate and apricots. Cover, and refrigerate until cold, about 30 minutes.
Drop heaping tablespoons of dough onto parchment-lined baking sheets, spacing 2 inches apart. Bake until cookies are golden brown around the edges but still soft in the center, 11 to 14 minutes. Let cookies cool on baking sheets for 2 minutes. Transfer cookies to a wire rack; let cool. Cookies will keep, covered, for up to 1 week.
Since butter has a relatively low melting point, it's always a good idea to refridgerate the dough of cookies that use butter for at least a half hour before baking.  This allows the butter to cool down and firm back up a bit, and will help the cookie better retain its shape.
If you make this recipe, be sure to snap a photo and hashtag it #gimmesomeoven. I'd love to see what you cook!