Parmesan-Crusted Shrimp Quesadillas
Whenever my coworkers ask where I'd like to go to eat for lunch, about 9 times out of 10 my reply is a way-too-enthusiastic vote for Mexican.  Yeah, it's kind of the office joke.  This food blogger could absolutely live on Mexican food.
But being that we work clear out in the 'burbs, authentic Mexican food can be a little hard to come by.  Thankfully the closest local Tex-Mex chain happens to have some of the best chips and salsa in town, plus one of my all-time favorite dishes — Parmesan-Crusted Shrimp Quesadillas.
Yes, I admit, the first time I saw them on the menu, I did a double-take. Parmesan-Crusted?  With sun-dried tomatoes?  At a Mexican restaurant?!?   YES.  And apparently these quesadillas are one of their most popular dishes, with good reason — they are are muy, muy, muy delicioso.  Seasoned shrimp is paired with fresh avocado, sun-dried tomatoes, lots of melted cheese, and then of course, sandwiched between parmesan-crusted tortillas.  Ridiculously good.
So now after seven years of ordering them at the restaurant, the lightbulb suddenly went off and I decided to try making them at home.  Why I waited so long?  I now have no idea.  These were a complete, Parmesan-y success. Do yourself a little favor, and make some today.  :)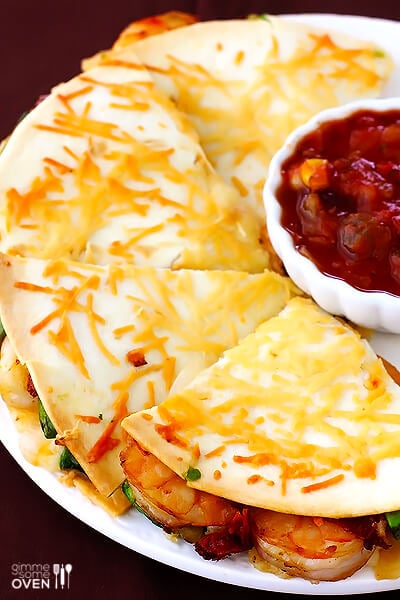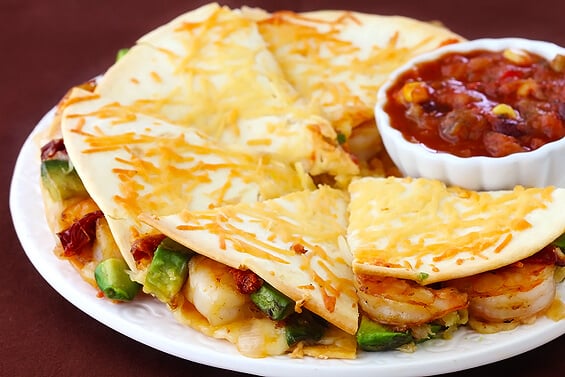 Parmesan-Crusted Shrimp Quesadillas
You will love this Parmesan-Crusted Shrimp Quesadillas recipe. Such a flavorful way to enjoy one of your favorite traditional Mexican foods.
Ingredients:
1 lb. shrimp, peeled and deveined
1 Tbsp. cumin
sea salt and freshly-ground black pepper
3 Tbsp. olive oil, divided
1 white or yellow onion, finely diced
1 jalapeno, stemmed, seeded and finely diced (**use more or less for desired level of heat**)
6-8 medium tortillas
1 avocado, peeled, pitted and diced
1 cup sun-dried tomatoes
3 cups shredded Monterrey Jack cheese
1 cup grated Parmesan cheese
Directions:
Heat oven to 350 degrees.
Sprinkle shrimp evenly with cumin and a generous pinch of sea salt and freshly-ground black pepper.
Heat 1 Tbsp. olive oil in a large skillet over medium-high heat. Add shrimp and cook for about 2 minutes per side, or until shrimp is pink and no longer translucent. (Depending on the size of your shrimp, they could take more or less time to cook.) Remove shrimp from the skillet, and heat an additional tablespoon of olive oil. Add the onion and jalapeno, and saute for 5 minutes or until the onion is cooked and no longer translucent. Remove skillet from heat and set aside.
Lay out three tortillas on a baking sheet (or two if need. Sprinkle each tortilla with about 1/2 cup of Monterrey Jack cheese. Then layer on the avocado, sun-dried tomatoes, shrimp, and the onion/jalapeno mixture as evenly as possible. Sprinkle each quesadilla with an additional 1/2 cup of Monterrey Jack cheese, and then top each with another tortilla. Brush (or mist) the remaining tablespoon of olive oil onto the top of the three tortillas, and then sprinkle evenly with Parmesan cheese.
Bake for 10-15 minutes on the middle oven rack, or until the Parmesan is golden and the Monterrey Jack cheese is melted. Remove, and use a pizza cutter to slice quesadillas into sixths. Serve immediately with salsa.
Ali's Tip: If you don't like shrimp, these would also be delicious with chicken, steak, sausage or even mushrooms.
All images and text ©
If you make this recipe, be sure to snap a photo and hashtag it #gimmesomeoven. I'd love to see what you cook!