Pasta with Easy Roasted Red Pepper Sauce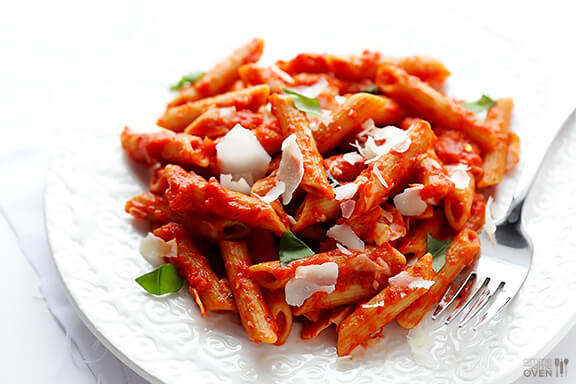 I am soooo over snow days.  Kansas City was essentially shut down for about 4 days last week, and then with yet another snowfall yesterday, I think it's safe to say our entire city is probably snow day-ed out.
BUT.
I have to admit that there is one value that seems to come from being snowed in for multiple days in a row: the obligatory snowed-in pantry cleaning/scavenging.  I found all sorts of little treasures hidden in my pantry this week that I had forgotten about, notably enough beans to last half a century, yet again!  (Get ready for more bean recipes coming soon!)  But the first little treasure I had to put to use was a jar of roasted red peppers.  I always throw a few in my cart whenever I see them on sale because they're pretty much good in everything.  Yes, yes, I know that you can make homemade roasted red peppers.  But the jarred version is pretty darn convenient, and pretty darn good if you ask me.
So I decided to make a simple roasted red pepper sauce to pair with my surplus stash of whole wheat pasta.  It is one of my favorite quick and easy sauces to make for pastas, veggies, lasagna, you name it!  I love adding in whatever veggies or protein I have on hand (shrimp and chicken are definite favorites).  But, um, I had nothing "on hand" this time and didn't feel like venturing out in the snow.  So you get the classic pasta version, which can also be made vegetarian, vegan, or gluten-free (if using GF pasta) as well.  It takes less than 30 minutes, so grab some roasted reds and come join me!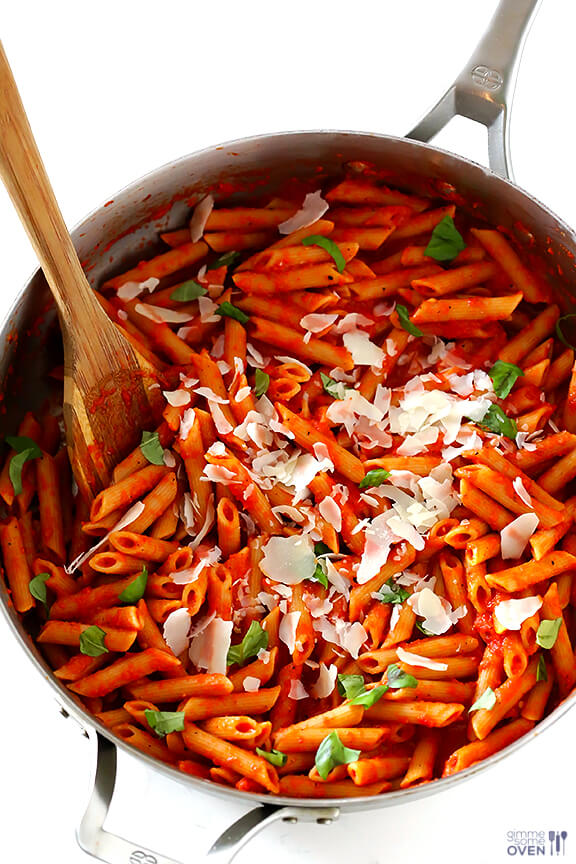 First of all, can we talk about how red this sauce is?!?  It is seriously one of the most vivid sauces I make, which makes me just a little giddy.  I love colorful food!!!
But the better news is that this vivid sauce is super easy to make, just as easy to customize (if you like it spicier or smokier or sweeter), and mmm-mmm-good.  Here's the how-to…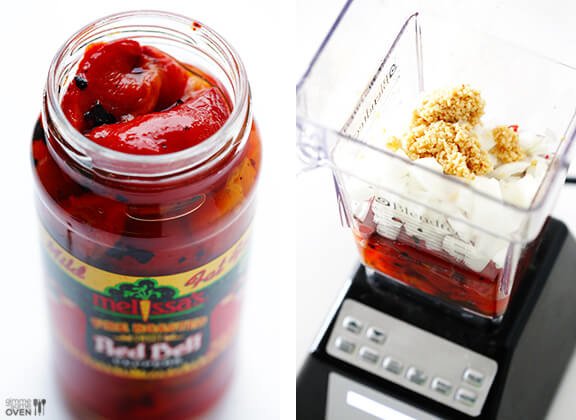 Begin with the star ingredient — your roasted reds.  You can either use the store-bought jarred version, or earn an extra star and go homemade.
Pop those babies in a blender or food processor along with some garlic and onion, and puree them to smooth perfection.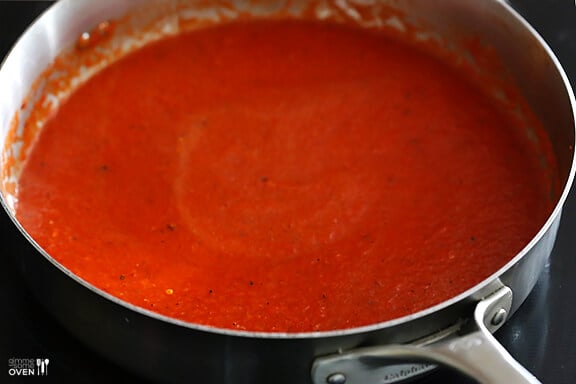 Then heat some oil in a skillet, add the pureed red pepper mixture and the remaining sauce ingredients, and bring it all to a simmer.
While the sauce simmers, add your pasta to some (well-salted) boiling water and cook it al dente.
When the pasta is ready, drain it and then add it to the sauce, which will be nice and flavorful after simmering.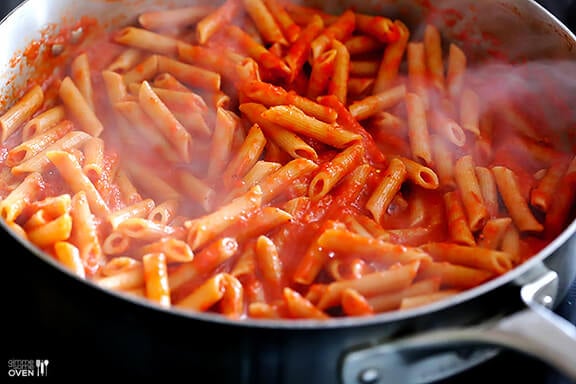 Give it a good toss, and admire that bright RED!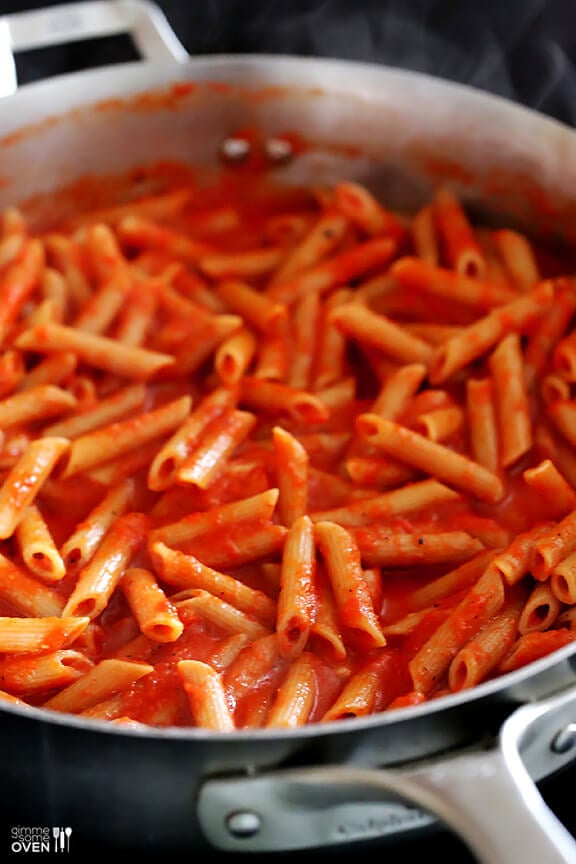 So pretty!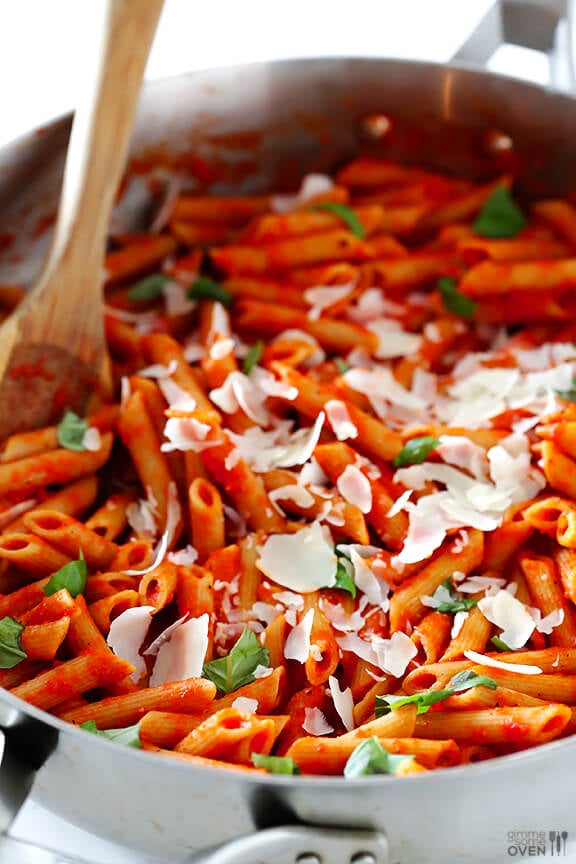 You can either eat it plain, or if you want a little extra color and loveliness, top it with some extra Parm and fresh basil.  Then serve it up and enjoy every last bite.  I definitely did.  :)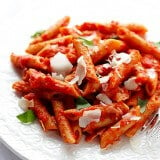 Pasta with Roasted Red Pepper Sauce
This pasta with roasted red pepper sauce recipe is simple to make and full of that great roasted red pepper flavor we all love!
Ingredients:
Pasta Ingredients:
1 pound (16 oz.) pasta (I used whole-wheat penne pasta)
roasted red pepper sauce (see below)
(optional toppings: extra chopped fresh basil, Parmesan cheese, toasted pine nuts)
Roasted Red Pepper Sauce Ingredients:
1 jar (15.5 Ounces) roasted red peppers
1 small white onion, diced (about 1 cup diced)
4 cloves garlic, minced
1 Tbsp. olive oil
1/2 cup chicken stock (or vegetable stock)
1 Tbsp. honey
1 tsp. salt
1/2 tsp. crushed red pepper, more/less to taste
1/4 tsp. freshly-ground black pepper
1/4 cup roughly-chopped fresh basil
1/4 cup shredded or grated Parmesan cheese
(**see optional add-ins in note below**)
Directions:
Cook pasta al dente in a pot of generously-salted boiling water, according to package instructions. (See below for optimal timing suggestions for cooking the pasta and the sauce.)
As your pasta water is heating up to a boil, make the roasted red pepper sauce. Using a blender or food processor, add roasted red peppers (with juices), onion and garlic and pulse until combined and smooth.
Heat olive oil in a large saute pan over medium high heat. Pour in the roasted red pepper mixture, and saute for 5 minutes or until the sauce begins to simmer. Stir in the remaining sauce ingredients (stock, honey, salt, crushed red pepper, black pepper and basil), and bring back to a simmer. Reduce heat to medium-low, and let the sauce simmer for another 5-10 minutes or until your pasta is done.
(Timing-wise, I typically add the dried pasta to the pot of water to begin cooking once my sauce has reached a simmer. That way the sauce gets to simmer for the amount of time it takes to cook the pasta.)
Once your pasta reaches al dente, drain it and transfer the pasta to the saute pan of sauce. Toss to combine. Serve immediately, garnished with extra toppings if desired.
**Sauce Alternatives**
Want to make your sauce spicier? Add an extra half teaspoon (or whole teaspoon) of crushed red chili flakes.
Want to make your sauce smokier? Add a teaspoon of smoked paprika.
Want to make your sauce sweeter? Add an extra tablespoon or two of honey.
If you make this recipe, be sure to snap a photo and hashtag it #gimmesomeoven. I'd love to see what you cook!