Pasta with Dark Chocolate Marinara Sauce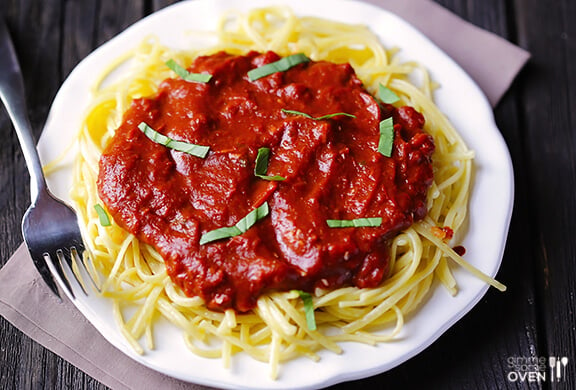 Ever since finding out that I was going to get to meet my favorite chocolatier yesterday, and tour his magical chocolate factory, I admit that I have had chocolate on the brain.  (And…the oompa looma theme song.  Go figure.)  :)
But when it comes to chocolate, I feel like I always use it to make chocolate desserts and sweets.  So as a challenge, I decided to get creative and try to come up with a new savory dish.  In the past few years, I have really grown to love adding a hint of cocoa powder to my fresh tomato salsas.  Thus, I began to wonder if chocolate might have the same effect in a tomato sauce.
And thus, this Pasta with Dark Chocolate Marinara Sauce was born.
And it is good.  Like, really good.
I ended up adding actual chopped dark chocolate to the sauce.  It's not overpowering at all — just a subtle, warm hint that rounded out the acidity of the tomatoes perfectly.  I kept the sauce simple with some fresh basil, but if you're into spicy, I think this would also be fantastic in a spicier sort of diablo sauce.  However you make it, it is really simple, vegetarian and vegan, and is sure to be the talk of your dinner table.
And of course, it's an excuse to add even a little more chocolate to your life.  :)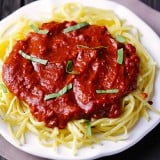 Pasta with Dark Chocolate Marinara Sauce
A hint of dark chocolate makes this marinara extra special!
Ingredients:
12 ounces dried pasta (I used linguine)
1 Tbsp. olive oil
4 cloves garlic, minced
1 (28 oz.) can crushed tomatoes
1/4 cup roughly chopped fresh basil leaves, loosely packed
1 ounce dark chocolate, chopped
1 tsp. sea salt
1/4 tsp. dried oregano
1/4 tsp. crushed red pepper flakes
optional garnishes: additional julienned fresh basil and Parmesan cheese
Directions:
Cook pasta in generously-salted water al dente according to package instructions.
While the pasta is cooking, heat oil in a medium skillet or saucepan over medium-high heat. Add garlic, and saute for 1 minute, stirring occasionally. Add the remaining ingredients, and stir to combine. Reduce heat to medium-low, cover, and simmer for 10 minutes.
When the pasta is cooked, drain the water. Then serve the pasta with the sauce ladled on top, or stir together the pasta and sauce and serve with additional garnishes, if desired.
All images and text ©
If you make this recipe, be sure to snap a photo and hashtag it #gimmesomeoven. I'd love to see what you cook!