Peach Bourbon Pie
There's peach pie.  And then there's Peach Bourbon Pie.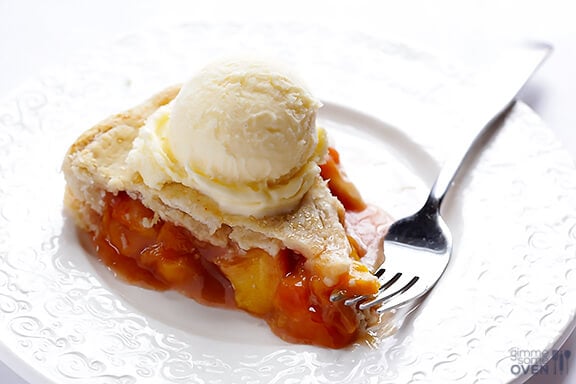 When I set out last week on my own little pieathon, my goal was to learn how to make a rockin' homemade pie crust and six pies.  I had vowed to pass up on any funky flavor combinations and just go with the classics – Key Lime Pie, French Silk Pie, Pecan Pie, Blueberry Pie, Coconut Cream Pie, and Peach Pie.
But on the night before our big pie party, I was telling some friends about the pie menu and mentioned that I was going home afterwards to bake up the final peach pie, and they got pretty excited.  Then I mentioned that I'd considered adding in a splash of bourbon, and they got really excited.
So I strayed from my purist pie goals just a bit, and decided to make this classic with a little "kick".   And I'm so glad I did.  Allow me to introduce you to my favorite pie of the night:
Peach Bourbon Pie.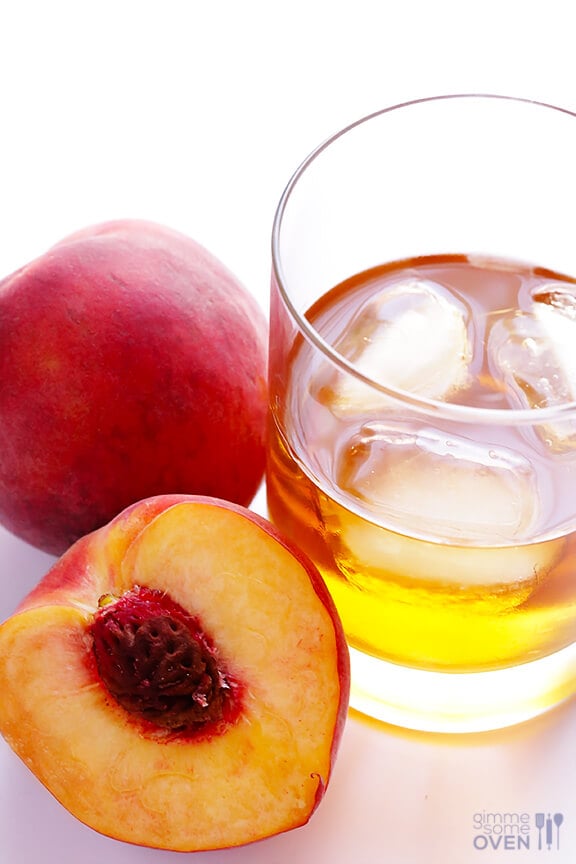 There were a few things notable about this Peach Bourbon Pie during our party:
1) It was the only vegan pie.  Many of the others had cream and/or an all-butter pie crust.  But since there are a few foodie vegans in our group, I decided to make this one with a shortening crust sans cream.  And it was fantastic.
2) It was the fastest pie to disappear.  Maybe it's the word "bourbon".  Or arguably the word "peach".  Or the fact that it was just ridiculously delicious.  But at the end of the night, this pie plate was practically licked clean.
3) It was the only pie that I insisted people try with ice cream.  I had some rich creamy vanilla ice cream on hand, along with some vegan vanilla ice cream, and let me tell you — this peaches and cream combo really is a must-try.  So good.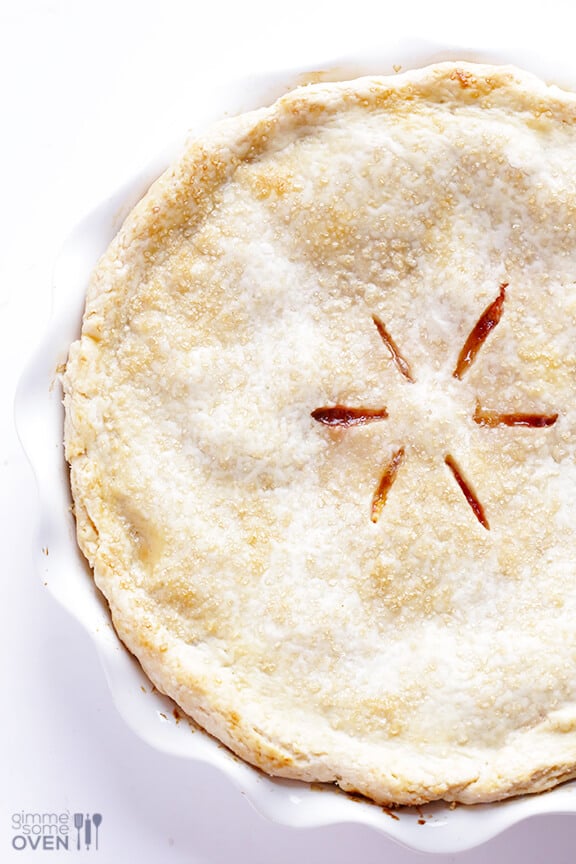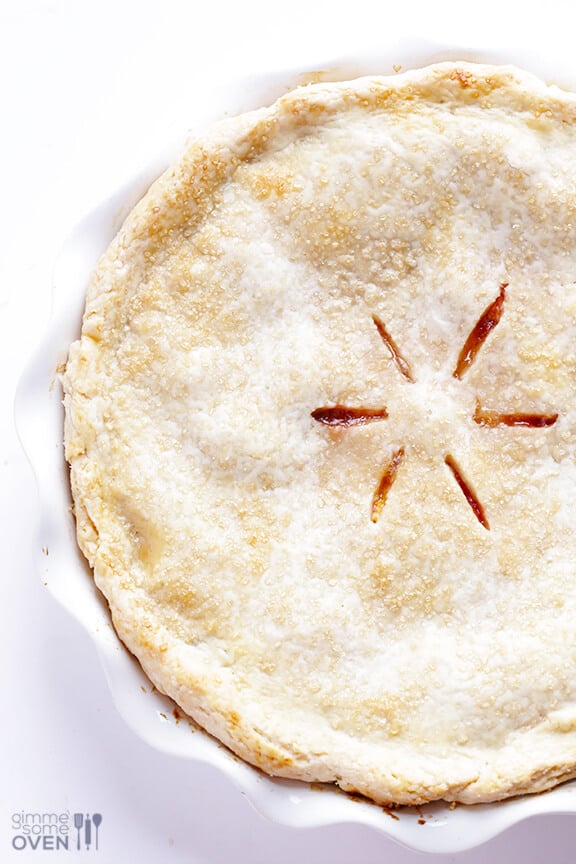 This was also the only pie I made with a full double crust.  Although I went for a cheap brand of shortening (for the vegan crust), and it didn't cooperate as well as Crisco and I couldn't quite get it to roll out as beautifully as I'd hoped.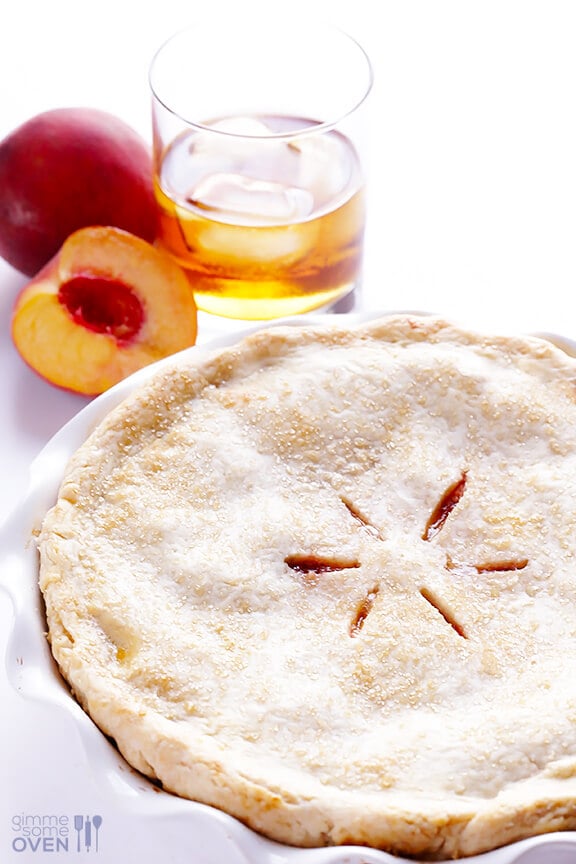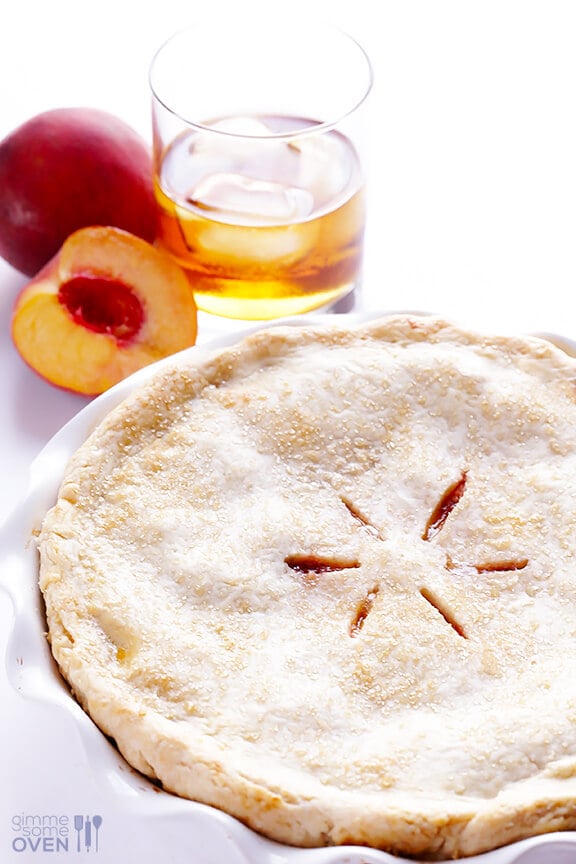 But as much as I love pretty desserts, a few bumps and cracks seem much more my style.  :)
And regardless, the best part of this pie is hands-down that peach bourbon pie filling.  It was sweet, thick, and included just the right amount of bourbon so that it was present but not overpowering.
You'd better believe we took our spoons and scooped up every last bite!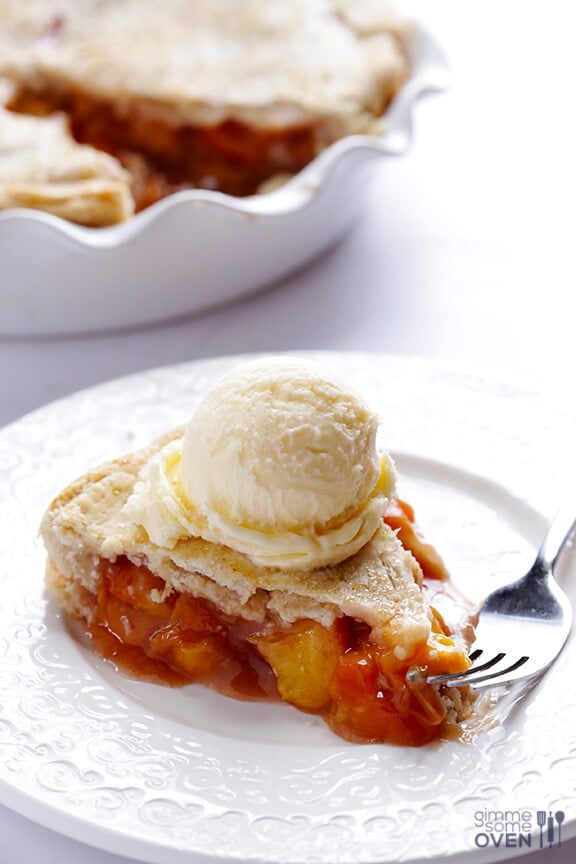 I will definitely, absolutely, 100%, undoubtedly, for sure, decidedly, obviously be making this one again soon.
And so should you.  ;)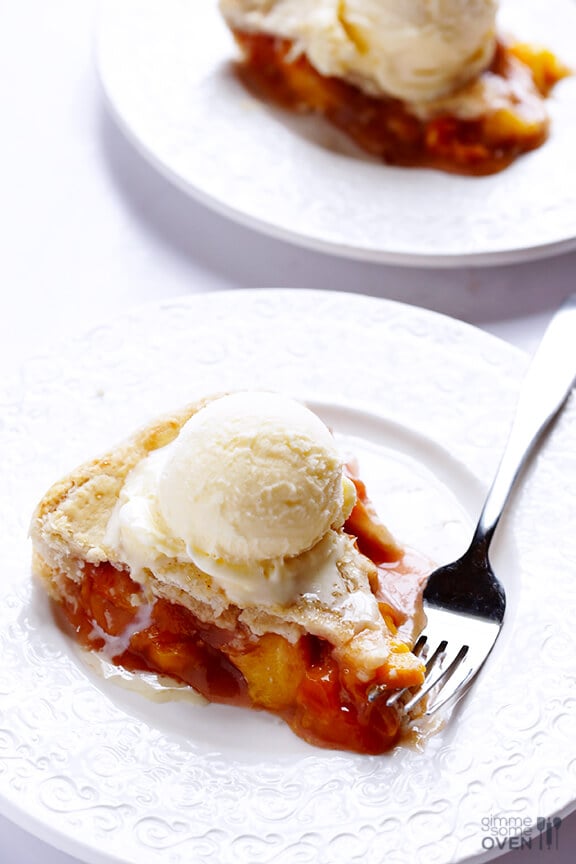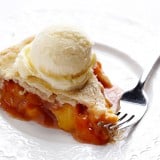 Peach Bourbon Pie
A classic peach pie, with an extra special hint of bourbon!
Ingredients:
5 cups thinly sliced (and peeled, if desired) peaches (about 6 or 7 medium)
1/2 cup white sugar
1/2 cup brown sugar
1/2 cup flour
1 tsp. ground cinnamon
1/4 tsp. salt
pinch of nutmeg
2 tsp. lemon zest
1 tsp. lemon juice
1/4 c bourbon
1 Tbsp. butter
milk and sugar, for crust
1 chilled double (unbaked) pie crust recipe and instructions here http://www.gimmesomeoven.com/how-to-make-a-pie-crust-recipe/.
Directions:
In a large mixing bowl, whisk together flour, white sugar, brown sugar, cinnamon, nutmeg, salt and lemon zest. Add the peaches and toss to combine. Add the lemon juice and bourbon, and toss until evenly coated.
Roll out the bottom half of the pie dough on a floured surface into a 12″ circle and put into a 9″ pie pan. Pour the peach filling into the pie crust, and gently smooth the top into a (mostly) smooth surface. Cut the butter into small pieces and sprinkle evenly over the peaches. Then roll out the second half of the dough and place it on top of the pie for the upper crust. Pinch the edges of pie together, and shape into a ridge and scallop, if desired. Then brush the crust with a tablespoon or so of milk, and sprinkle with sugar. Use a knife to cut a few slits in the middle of the dough for baking. (These instructions are for a covered double crust. You are welcome to make a lattice crust or whatever floats your boat instead!)
Bake at 400 degree F oven for 30 min. Then reduce the heat to 350 and bake for an additional 25-30 minutes, until crust is golden brown and filling is bubbling. If the crust begins to brown too much, loosely cover it with aluminum foil while baking.
Serve with whipped cream or vanilla ice cream.
If you make this recipe, be sure to snap a photo and hashtag it #gimmesomeoven. I'd love to see what you cook!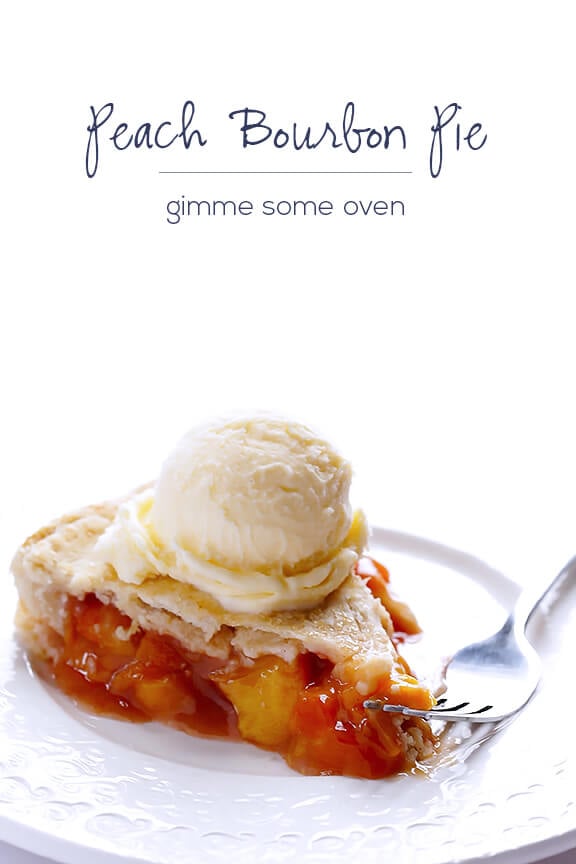 Disclaimer: This post contains affiliate links.