Peppermint Mocha Cupcakes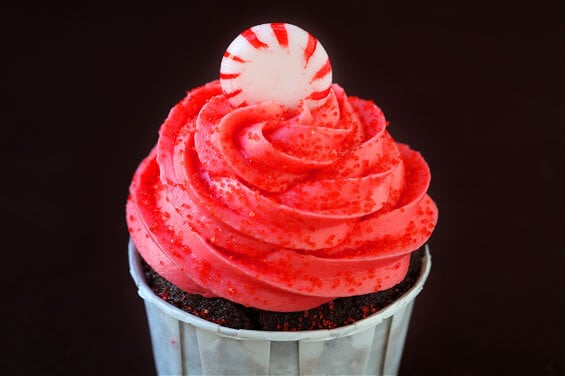 I may not be a huge fan of Christmas music in November.  Or Christmas merchandise hitting stores in October (ughhh).  But there is one holiday tradition whose early arrival I always look forward to — peppermint mocha season!!!  :)
I know, I know that coffee shops can mix these up year-round, but there's something much more special about when it's the featured drink of the season…and when they break out the cute red sprinkles and crushed peppermints to top them off.  YUM!!
Somehow this week, though, it occurred to me that I'd somehow never thought of translating the mocha-pepperminty goodness into a cupcake form!  So I found a mocha cupcake recipe (that called for coffee instead of espresso, since I don't have a machine at home!), and added some peppermint cream cheese frosting on top (was a little skeptical about the cream cheese + peppermint combo, but loved it!)….and voila!!!  Behold, my new favorite holiday cupcake.
From now on, peppermint mocha season will now be doubly delicious!!!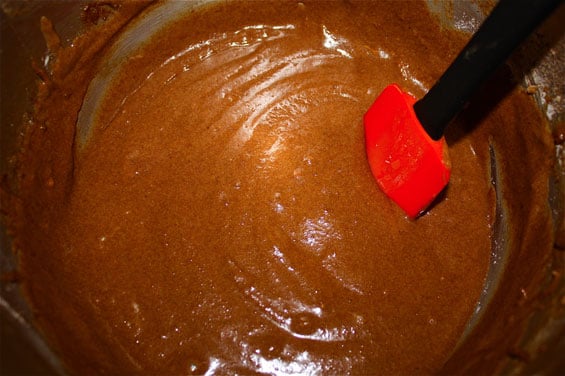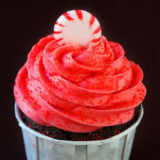 Peppermint Mocha Cupcakes
Your favorite drink — turned into a delicious and simple cupcake! Detailed photos and recipe included.
Ingredients:
Mocha Cupcake Ingredients:
1 1/3 cups all-purpose flour
1/3 cup unsweetened cocoa powder
1 tsp baking powder
1/2 tsp baking soda
1/4 tsp salt
1/2 cup whole milk
1/2 cup strong brewed coffee, at room temperature
1/2 cup (1 stick) unsalted butter, at room temperature
1/2 cup granulated sugar
1/2 cup firmly packed light brown sugar
1 large egg, at room temperature
Frosting Ingredients:
8 oz. (1 brick) cream cheese, softened
3-4 cups powdered sugar (depending on the thickness you'd like)
4 Tbsp. butter, softened
1/2 tsp. vanilla extract, store-bought or homemade
1/2 tsp. peppermint extract
Directions:
To Make Cupcakes:
Position a rack in the middle of the oven and preheat to 350°F. Line a standard 12-cup muffin pan with paper or foil liners. (Or if using nut cups, as pictured above, lay them out on a cookie sheet.)
Stir together the flour, cocoa powder, baking powder, baking soda, and salt in a bowl. In a measuring cup, combine the milk and brewed coffee.
In a medium bowl, using an electric mixer on medium-high speed, beat the butter and sugars together until light and fluffy, 2-3 minutes. Add the egg and beat until combined. Add the flour mixture in 3 additions, alternating with the milk mixture in 2 additions, beating on low speed until just combined; scrape down the sides of the bowl as needed.
Divide the batter evenly among the prepared muffin cups, filling each about 2/3 full. (Depending on how full you fill them, this recipe will make 12-16 cupcakes.) Bake until a toothpick inserted in the center of a cupcake comes out clean, 16-20 minutes. Let the cupcakes cool in the pan on a wire rack for 5 minutes. Transfer the cupcakes to the wire rack and let cool completely before frosting.
To Make Frosting:
In a medium bowl, using an electric mixer on medium-high speed, mix together cream cheese, butter, vanilla and peppermint extract. Gradually add powdered sugar, mixing well until it's all incorporated. Use immediately or refrigerate. The frosting will harden in the fridge, so plan on bring it back to room temperature if you must refrigerate it before frosting the cupcakes.
Ali's Tip:
To add a delicious, extra peppermint "kick" to the frosting and/or the cupcakes, would totally recommend mixing in some finely-crushed peppermints.  I added them the second time I made these, and loved the extra flavor and subtle crunch they gave these.  Absolutely delicious!!
If you make this recipe, be sure to snap a photo and hashtag it #gimmesomeoven. I'd love to see what you cook!