Peppermint White Hot Chocolate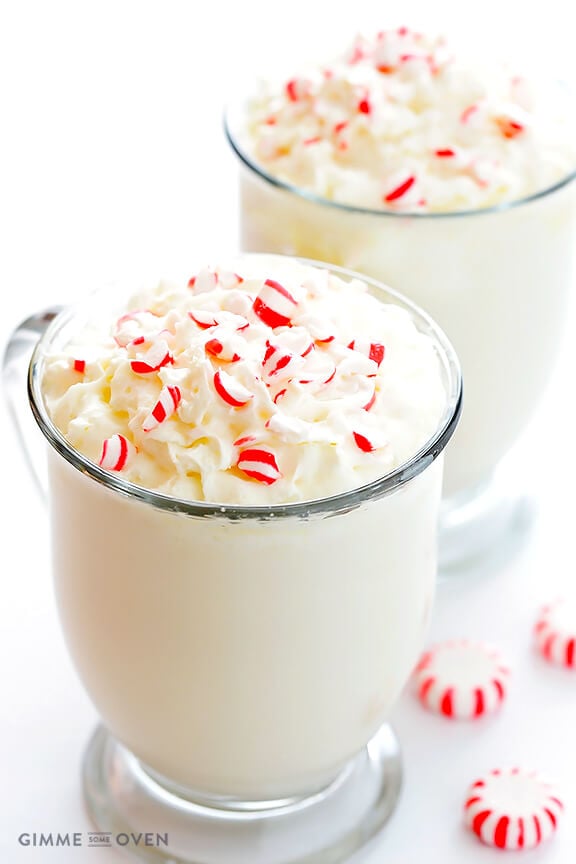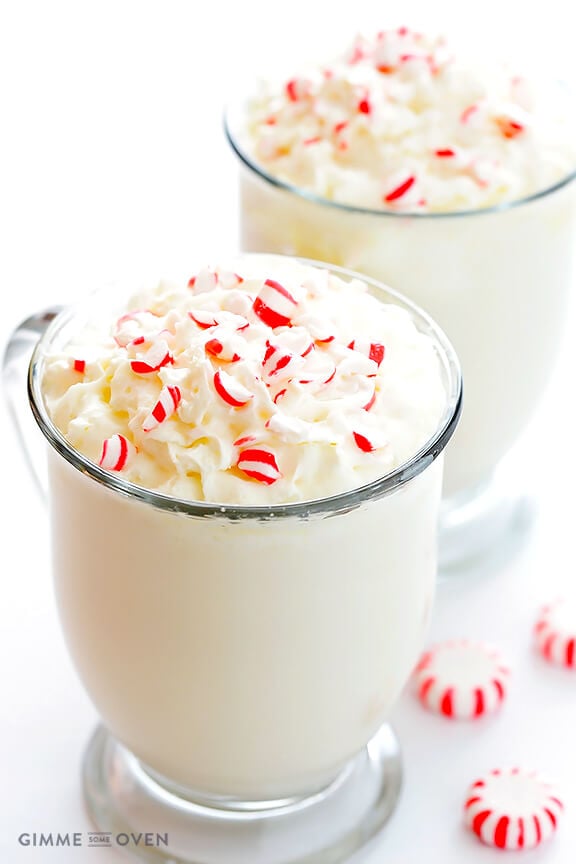 Baby, it's freaking freezing outside!
Seriously.  Once again, I am in the midst of my Very Serious Annual Introspection asking why on earth I still choose to live in a place where my hands go numb literally just walking next door to the coffee shop.  As The Weepies would say, I'm convinced "I was made for sunny days".  Or to be specific, I'm pretty sure I was made for sunny-and-80-degree-weather days.  :)
Still, over the past few years, I have adopted three essential ways of staying warm over the winter months:
1. Baths — Or, as my friend Heidi likes to say, "taking a tub".  I used to be a mega water conservationist, but I will confess, I have come to adopt the pretty much daily ritual of taking a tub instead of a shower when it is freezing outside.  And I enjoy every second of it.  Especially on those days when you feel frozen down to your bones and still can't warm up after having been inside for an hour, a bath is the most fabulous way ever to warm up.  And read a nice book.  Or, if you really want to kick up your tub time, prop up your laptop with Hulu near the tub, pop a batch of popcorn, maybe pour a glass of wine, and continue binge-watching House Of Cards.  Judge away.  (Although I know you're going to try it.)  ;)
2. A Ridiculously Puffy, Furry Coat — My friends finally talked me into this last year, and I swear that finally having a Serious Coat has changed my winter months.  I look like a cross between an eskimo and the kid from A Christmas Story when I go outdoors anytime it's below 40 degrees, but I could care less.
3. Hot Drinks — Hot tea, hot coffee, hot chai, hot toddy, hot cider, hot steamer, and of course, today's recipe for Peppermint White Hot Chocolate…I'll take them all, please.  Hot drinks are the most delicious way to warm up from the inside out.  And — bonus!! — they make excellent hand warmers too while you hold them close.  And if you feel like an extra warm kick with this recipe, you can always add in some peppermint schnapps to kick things up a notch.
Who's with me?!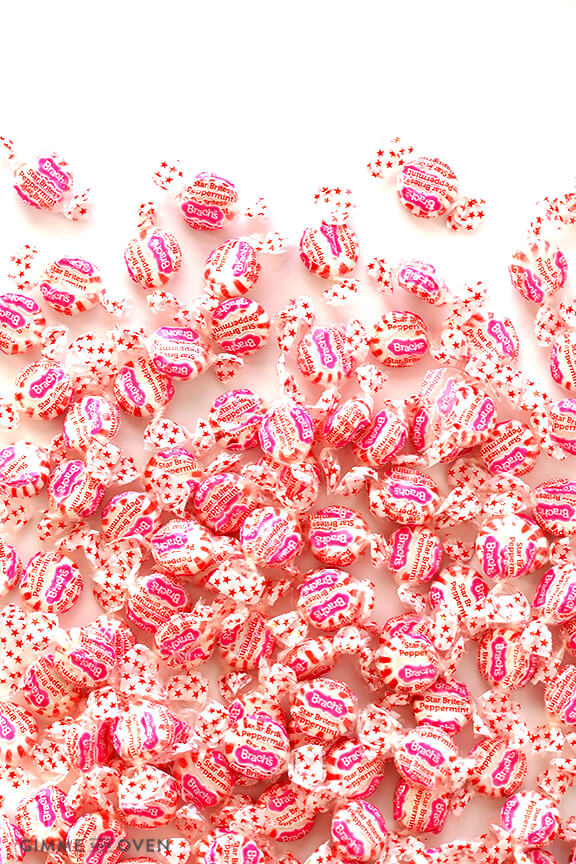 Ok, part of the honest truth behind why I'm posting this recipe?  For some reason, I bought a humongous bag of peppermints last year to make a recipe for a client.  And a year later, I'm still trying to use them up!  So. Many. Peppermints.
This may not be the last of them you've seen this season.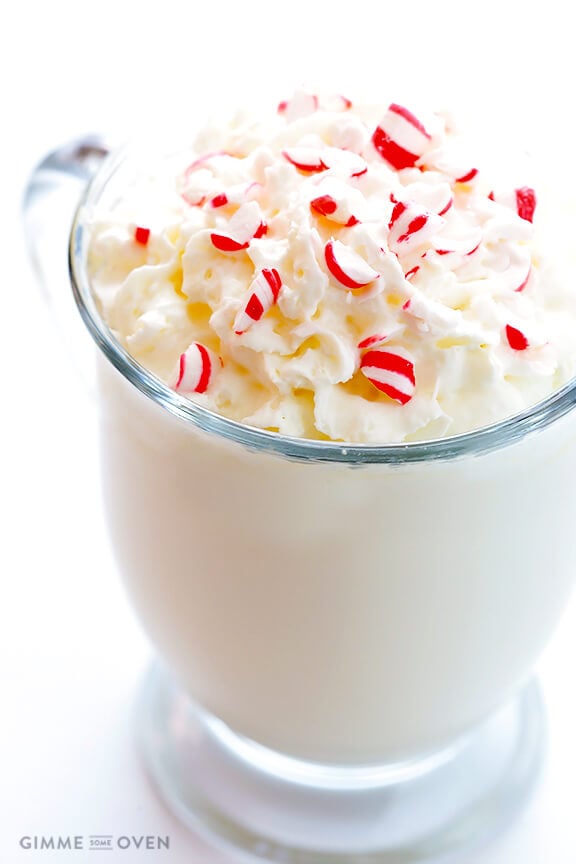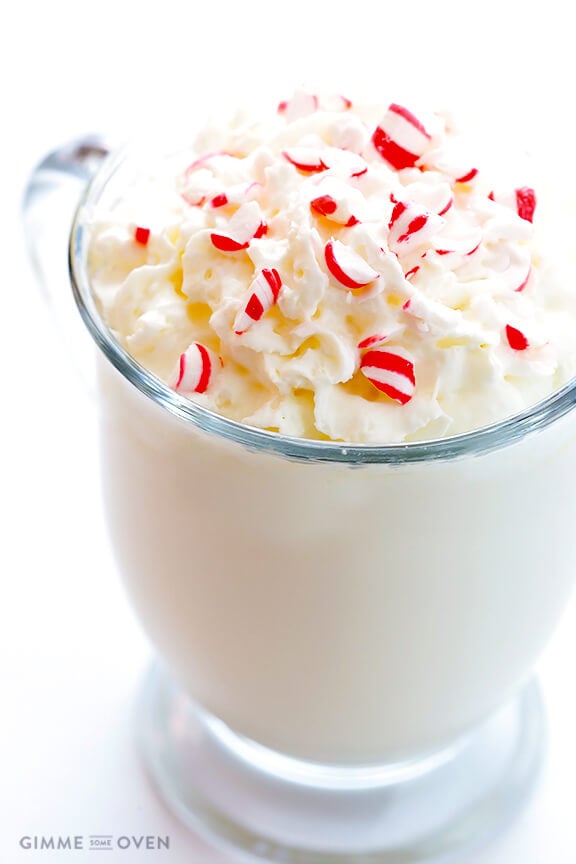 Still, I will admit that peppermint has been one of my favorite drink flavors since I very first began ordering drinks at a coffee shop.  In fact, I do believe that at a "chocolate peppermint steamer" was the first drink that I ordered in a coffee shop back in middle school, when my friend Maggie took me to a little hole-in-the-wall neighborhood place in Wichita called The Perk.  (Yes, it was during the time of "Friends".)  Ironically, Maggie now actually owns that coffee shop.  And I also still love chocolate peppermint steamers, although I now know that I was really just ordering peppermint hot chocolate.  When made with white hot chocolate, though, this drink still feels like a special treat.
All you need are a few minutes and a few ingredients to make it.  So if you love hot chocolate, I highly recommend giving it a try.  It will definitely help keep you warm all season long.  ;)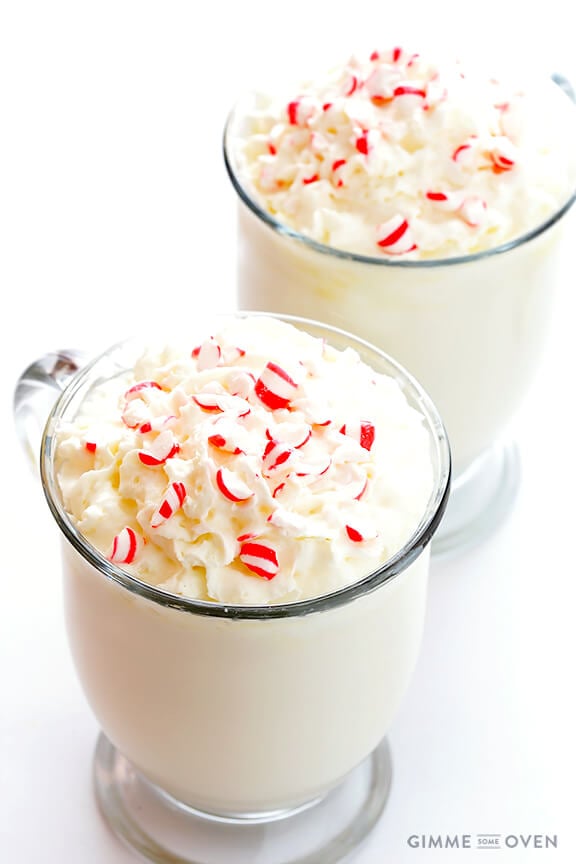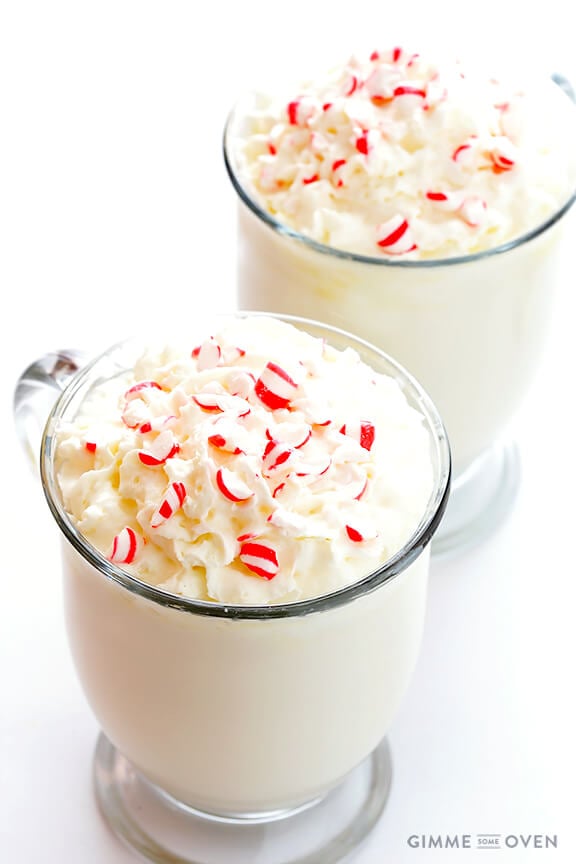 Peppermint White Hot Chocolate
This peppermint white hot chocolate recipe is simple to make, and perfectly sweetened with peppermint.
Ingredients:
4 cups of milk of your choice
8 oz. white chocolate, chopped into small pieces (or white chocolate chips)
1 teaspoon vanilla extract
1/2 teaspoon peppermint extract (or more/less to taste)
optional toppings: whipped cream, crushed peppermints, marshmallows
Directions:
Stir the milk and chopped white chocolate together in a medium saucepan.  Cook over medium-low heat, stirring occasionally, until the mixture comes to a simmer and the chocolate is melted.  (Do not let it come to a boil or let the chocolate burn on the bottom.)  Remove from heat and stir in vanilla and peppermint extract.
Serve warm, with optional toppings if desired.
All images and text ©
If you make this recipe, be sure to snap a photo and hashtag it #gimmesomeoven. I'd love to see what you cook!