Pesto Pasta With Chicken, Asparagus & Arugula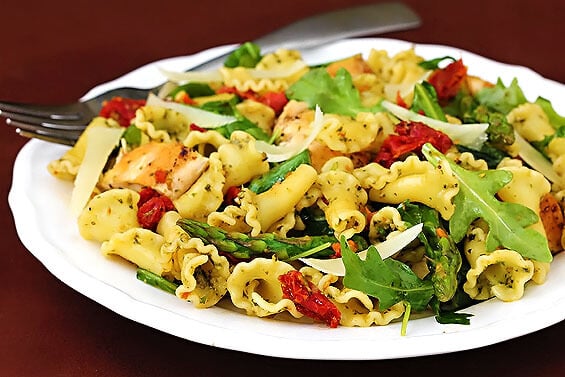 A few weeks ago, I asked the guys at work if they had any suggestions for a new blog recipe.  Without missing a beat, my coworker, Kevin, insisted that I must try their family's famous pesto pasta dish.  He claimed it was his absolute "favorite", and that it always disappeared pretty much instantly whenever it was made.
Of course, being the carb-loving girl that I am, I'm never one to turn down pasta — especially when pesto is involved.  So after he emailed me the recipe, I rounded up the ingredients and gave it a go!  Although, I did make one last-minute change at the grocery store, nixing the bell peppers the recipe called for (I'm weird – not a big fan of peppers in pasta), and instead decided to throw in some fresh baby arugula.  (But if you're a pepper fan, Kevin says that they are amazing!)  :)
Well, for any of you who might be doubtful (like I admittedly was) that this simple list of ingredients could yield such a home run….doubt no more.  This pasta is AMAZING!  For whatever reason, the ingredient combination totally just worked. The pesto of course gave everything a base of great flavor, but the asparagus, sun-dried tomatoes, and arugula combination sent this over the top.  Oh so tasty.  (Seriously, I'm not usually one to get excited about leftovers, but actually stretched this batch for 4 meals!!)  The fun thing is that this recipe also transitions perfectly into being a cold pasta salad.
So if you're looking for a super-flavorful, super-delicious new pasta recipe, I highly recommend giving this one a try!  Thanks, Kevin and Tracy!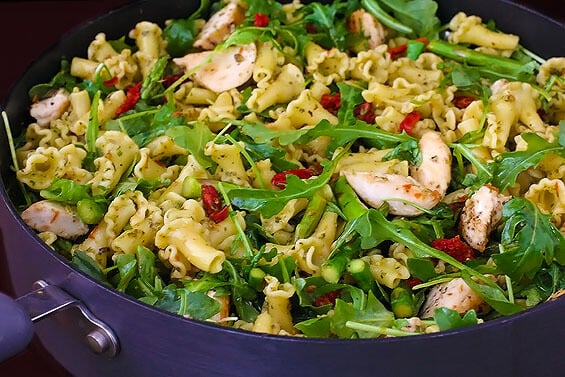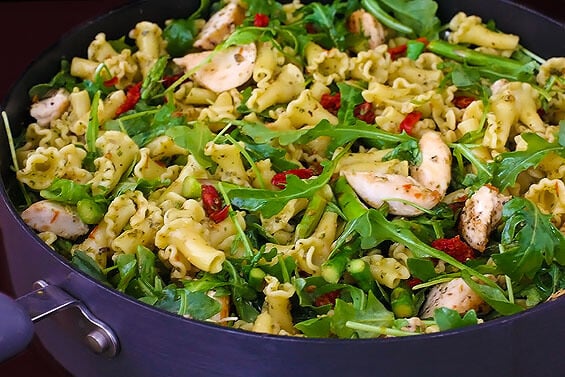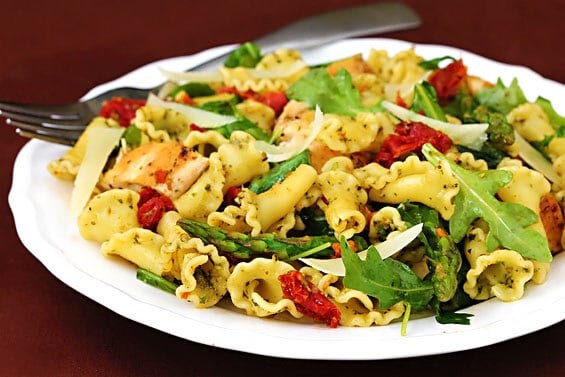 Pesto Pasta with Chicken, Asparagus & Arugula
Delicious, easy pasta dish with these ingredients plus sun-dried tomatoes and parmesan. You'll love this Pesto Pasta With Chicken, Asparagus & Arugula recipe.
Ingredients:
1 lb. pasta of your choice (I used campanelle)
1 jar of sundried tomatoes, drained (reserve 2 Tbsp. oil)
1 bunch asparagus, ends trimmed and cut into 2″ pieces
2-3 boneless, skinless chicken breasts, cooked and cut into bite-sized pieces
1/2 cup basil pesto, homemade or storebought
2-3 cups baby arugula
freshly-grated or shaved Parmesan
Directions:
Bring a large pot three-fourths full of generously-salted water to a boil. Then add the pasta, and cook until al dente, according to package directions.
Meanwhile, in a large skillet, heat 2 Tbsp. of the oil from the jar of sundried tomatoes (or you can use plain olive oil) over medium heat. When the oil is shimmering, add the asparagus and sprinkle with freshly-ground black pepper. Cook for 2 minutes. Then add in the (now drained) sundried tomatoes, and continue cooking for another 4-5 minutes, or until asparagus are done. Then remove from heat.
When pasta is done, drain the excess water from the pot. Then add in the asparagus/tomatoes, pesto, chicken, arugula, and pesto, and toss until well-combined. Sprinkle with shaved or grated Parmesan.
Either serve warm, or refrigerate and serve cold.
Ali's Tip:
This would be even better with some toasted pine nuts thrown in.  Yum!
All images and text ©
If you make this recipe, be sure to snap a photo and hashtag it #gimmesomeoven. I'd love to see what you cook!