Pineapple Guacamole
I realized the other day that it has been nearly a year — a year! — since I posted a guacamole recipe on the blog.
Highly unacceptable.  Especially considering that chips and salsa and guac are basically a food group unto themselves in mi casa, and make an appearance at least weekly (if not more).
Most of the time, I'm a purist with my guac and tend to stick to my classic recipe for perfect guacamole.  (I stand by the name — it's hard to beat!)  But for a fresh twist for spring this week, I decided to try adding some fresh pineapple to a batch of guac to share with my friends for our weekly neighbor night.  And oh man, the second I began chopping up that sweet and juicy pineapple, I knew that delicious things were ahead.
We loved this guac!!!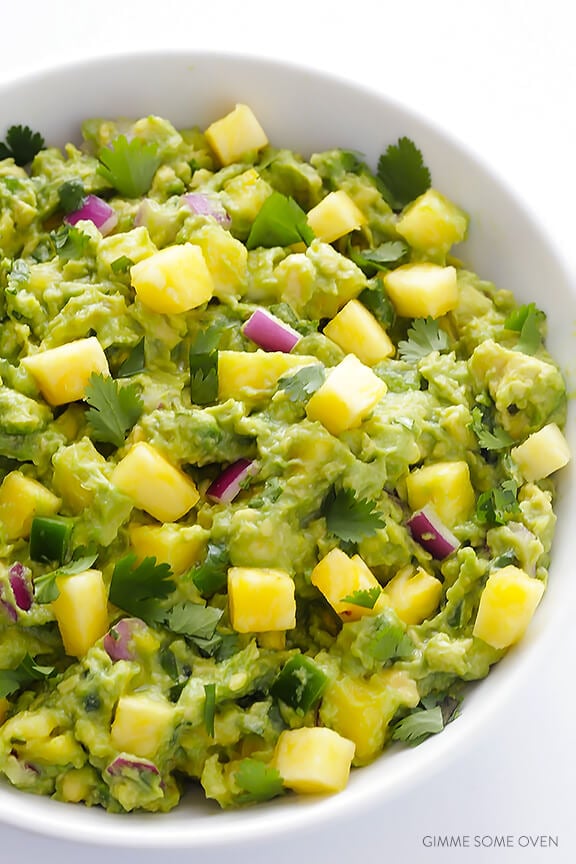 Ok, honestly I would have been shocked if I didn't love this recipe, because pineapple and guac are two of my favorite foods on earth.  But I had forgotten how much I love fruity guacamole recipes, especially when that extra sweetness pairs with the subtle (or you can make it not-so-subtle) kick of jalapeno.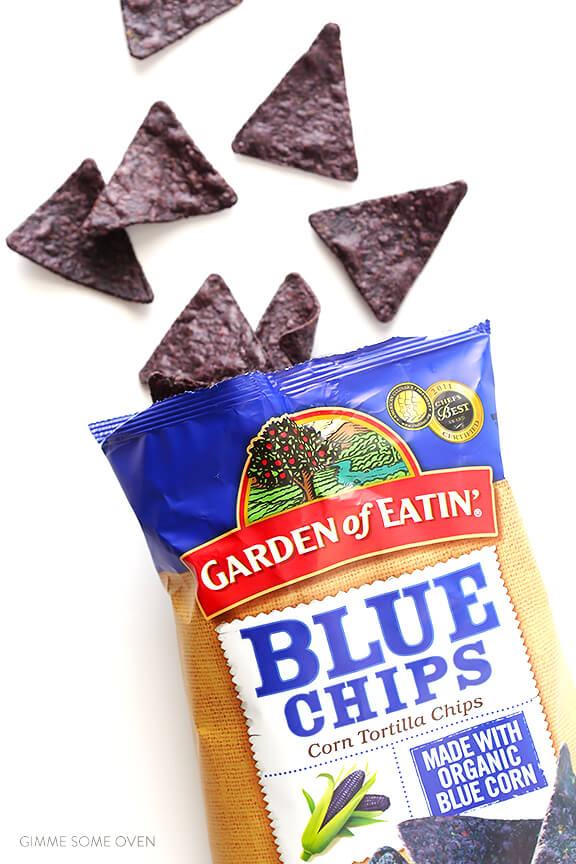 And even better, when that sweet + spicy + creamy combination can pair with some lightly salted, hearty chips.  And with as much salsa and guac as I consume, you'd better believe I have developed some opinions on my preferred chips, which is why I'm pretty stoked to be partnering with Garden of Eatin' for today's post.
This brand of chips has been one of my favorites for years, mostly because they taste great and are the perfect thickness to scoop up a good bite of guacamole without crumbling on you.  But I also love that they're made with organic ingredients, and just 3 simple ingredients at that (organic corn, oil and salt), plus they're certified gluten-free.  Win, win, win.
Oh, and I happen to think the blue corn tortilla chips look extra lovely when paired with this green and yellow guacamole.  Because anyone who knows me will vouch that the more colors in my food, the merrier this food blogger tends to be.  ;)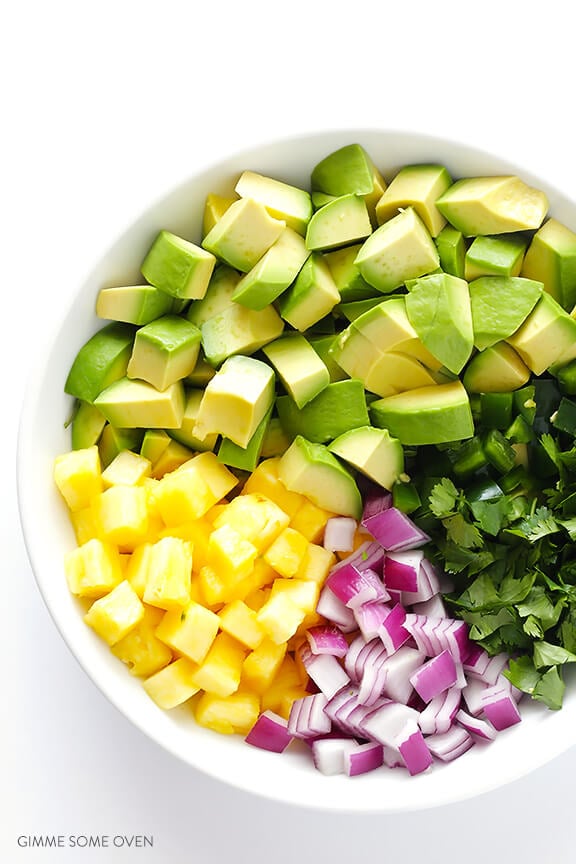 Speaking of color, check out the pretty rainbow of ingredients in this guac!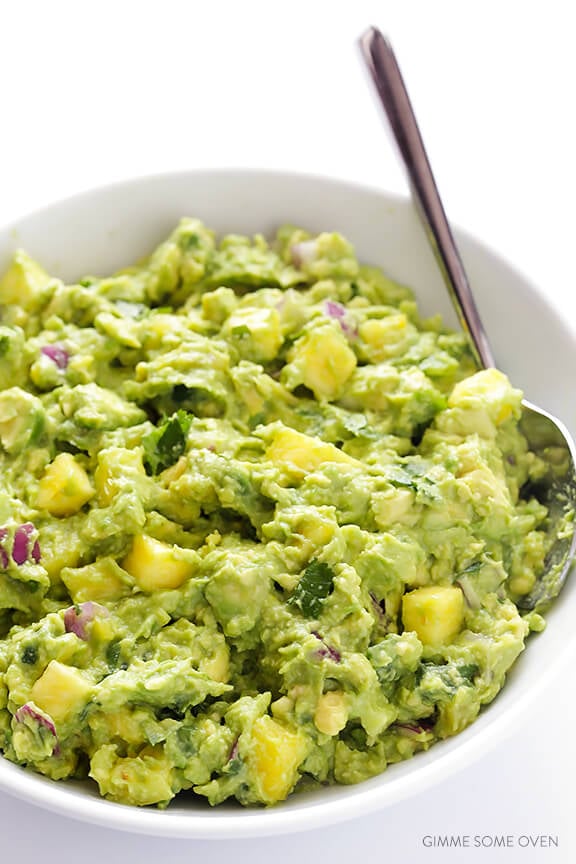 To make it, simply mash everything together to your desired level of chunky-ness.  (I like mine pretty chunky!)  And don't be afraid to mash up the pineapple a bit too, so that the juices infuse the guac.

Then dish it up!  I added some extra pineapple and cilantro on top for serving to make things pretty, and also because I apparently can't get enough pineapple in my life.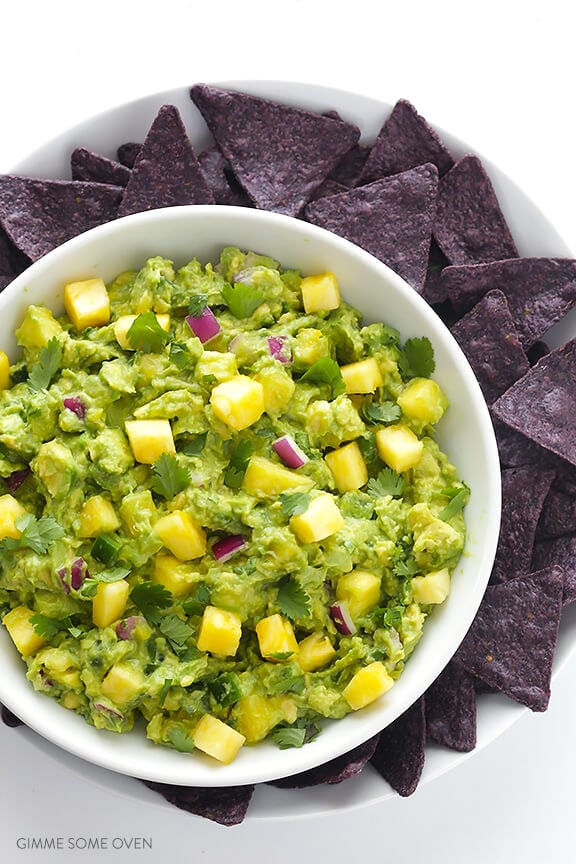 And then we dished this up for my neighbor night with friends.  I actually was coming from another happy hour with friends, and ended up strolling into my apartment at the same time as all of my neighbors.  So this was the perfect quick and easy appetizer to whip up at the last minute.  Everyone loved it, so I hope you do too!
So grab a fresh pineapple and some avocados, and let's guac and roll, baby!
How To Cut A Pineapple | 1-Minute Video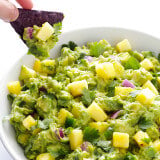 Pineapple Guacamole
This pineapple guacamole recipe is easy to make, made with fresh ingredients, and the pineapple gives it the perfect sweet and delicious twist!
Ingredients:
3 ripe avocados, peeled and pitted
1 jalapeno, stem and seeds removed, minced (add more or less to taste)
1 1/2 cups diced fresh pineapple, plus extra for topping
1/2 cup finely chopped red onion
1 Tbsp. fresh lime juice
1/4 cup fresh cilantro leaves, finely chopped
1/2 tsp. coarse sea salt
dash of cumin
for serving: Garden of Eatin' corn tortilla chips
Directions:
Mash together avocados, jalapeno, pineapple, onion, lime juice, cilantro, salt, cumin with a fork until well-mixed.
Serve immediately, garnished with extra fresh pineapple and chopped cilantro, served with corn tortilla chips.  Or cover the bowl with plastic wrap (so that the plastic is literally touching the entire top layer of the guacamole) and refrigerate.
All images and text ©
If you make this recipe, be sure to snap a photo and hashtag it #gimmesomeoven. I'd love to see what you cook!
This post is sponsored by Garden of Eatin'.  I am partnering with them to bring you some fresh recipes to enjoy with their tasty chips this season, and all opinions are my own as always.  Thanks for supporting the brands that help make this site possible!