Pistachio Pesto Pasta Salad
This Pistachio Pesto Pasta Salad is the perfect make-ahead dish for summer gatherings, it's easy to customize with your favorite add-ins, and it tastes SO fresh and delicious.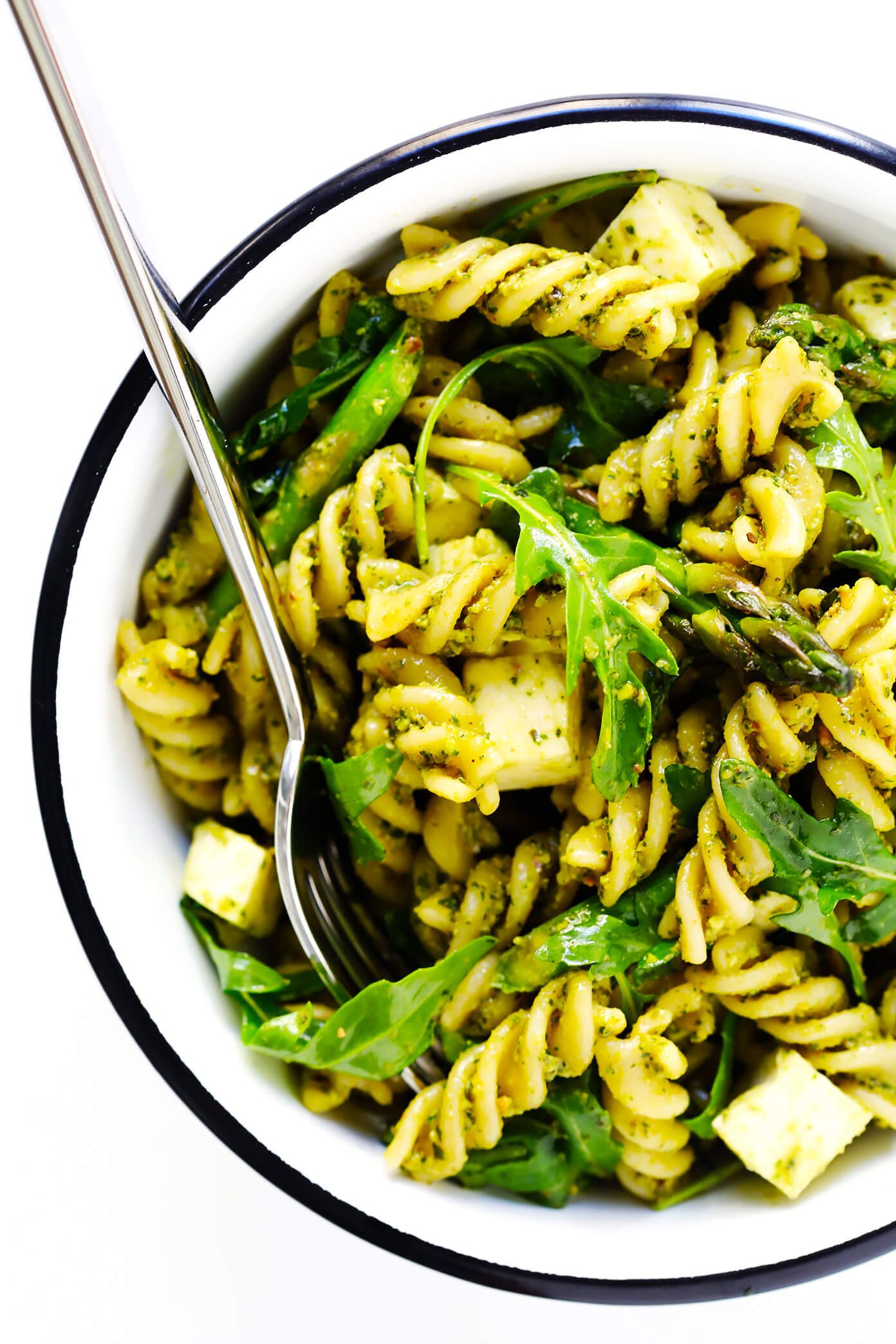 In the wintertime, most of my leftover veggies get tossed into a soup, stir-fry, roasting pan, or hot noodle dish.  But in the summertime?
It's all about grilling and pasta salads, baby! ♡
This season, I can't get enough of either.  I'm convinced that just about everything in life tastes better right now on the grill.  And when you need a winning side dish to go with that grilled chicken or sizzlin' burgers or veggie kabobs — or hey, also a quick dish to bring along to a potluck or picnic, or a make-ahead recipe for easy weekday lunches or dinners — this yummy pistachio pasta salad is sure to be a hit.
It's easy to whip up with whatever leftover veggies, greens and cheeses you might happen to have on hand.  It's made with the most heavenly pistachio pesto sauce.  And it's overflowing with all of those fresh, bright, seasonal flavors we all love, and downright delicious.
You're going to love it!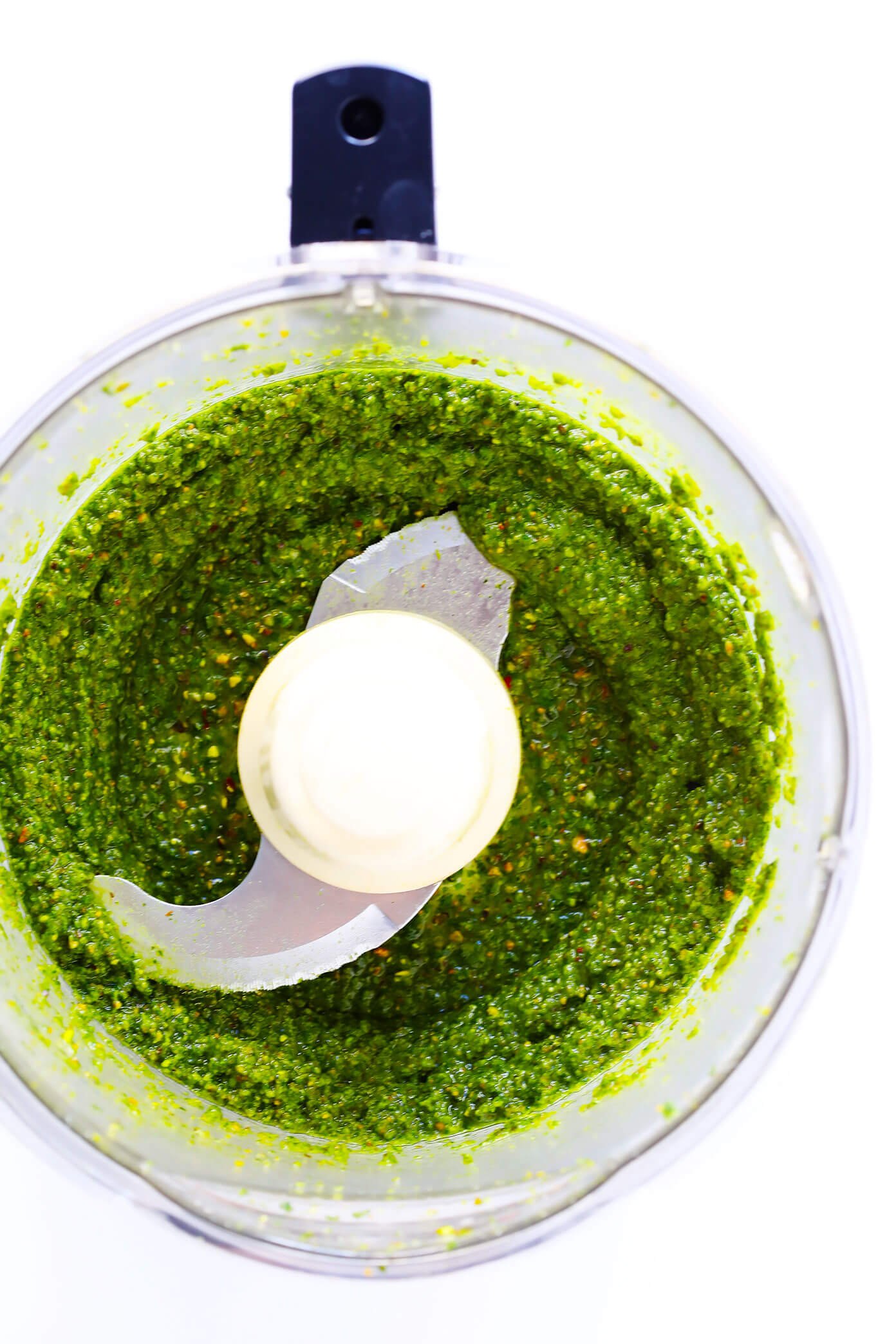 After being firmly on Team Pine Nut when it came to basil pesto recipes for years, I've been on a total pistachio kick with pesto this season.  The sweet, rich, irresistible flavor of pistachios pairs perfectly with the ingredients in traditional basil pesto, and is so tasty in this pasta salad recipe.  That said, feel free to use traditional basil pesto or any other kind that you might prefer or have on hand.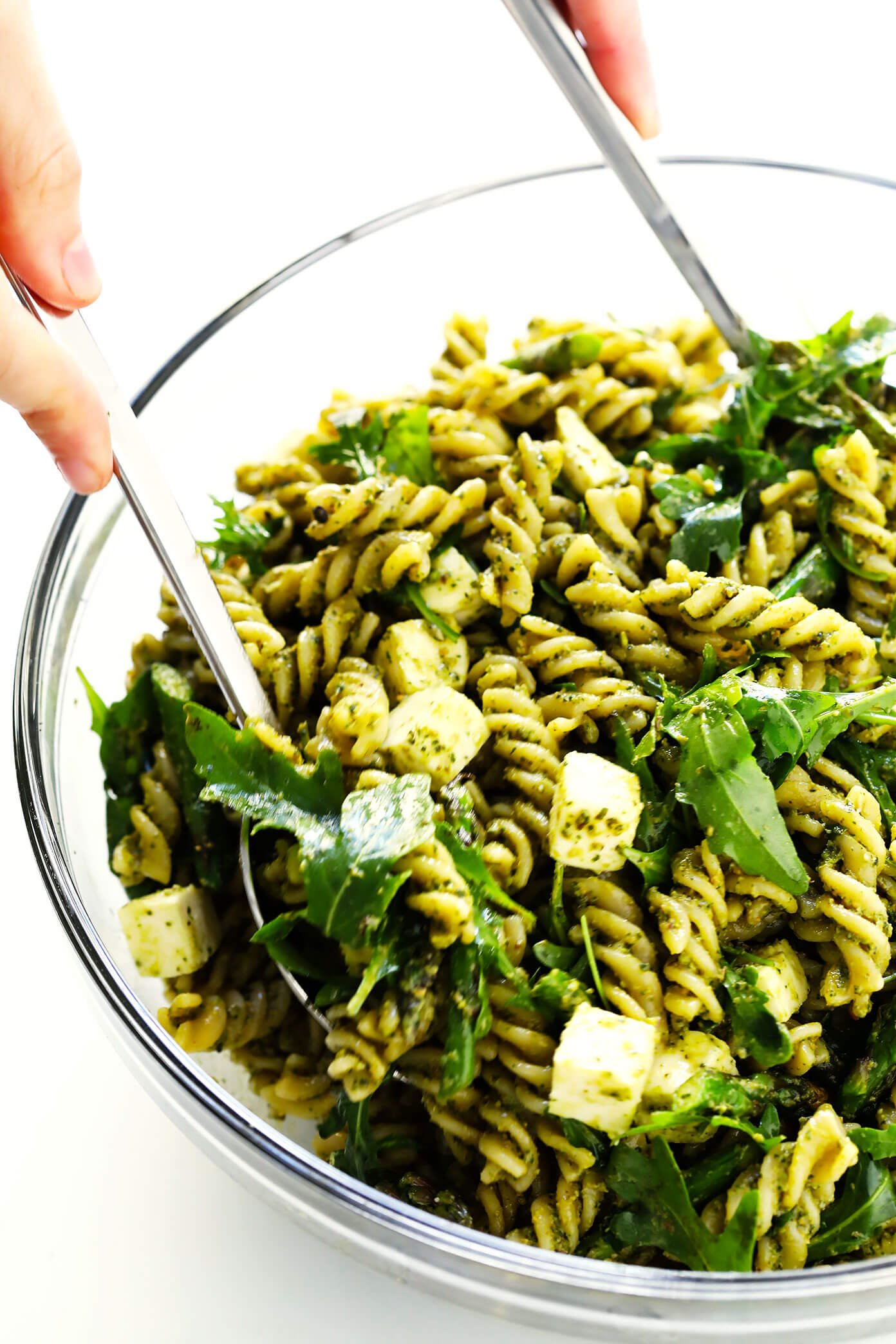 Pistachio Pesto Pasta Salad Ingredients:
For this pistachio pesto pasta salad, you will need:
Pasta: Any kind, any shape will do.  You just need a pound or so, cooked until al dente, then rinsed with cold water until it is chilled.
Veggies: I used sautéed asparagus, but really any cooked (or raw) veggies that pair well with pesto would be delicious here!  I've included lots of ideas in the recipe below.
Greens: I used baby arugula, but chopped fresh spinach, kale, or any other preferred greens would also do.
Cheese: I used fresh mozzarella, but soft crumbled cheeses like feta or goat would also be delicious.
Pesto: Pistachio pesto for the win!
Other fun add-ins could include olives, extra pistachios, fresh basil…whatever sounds good. :)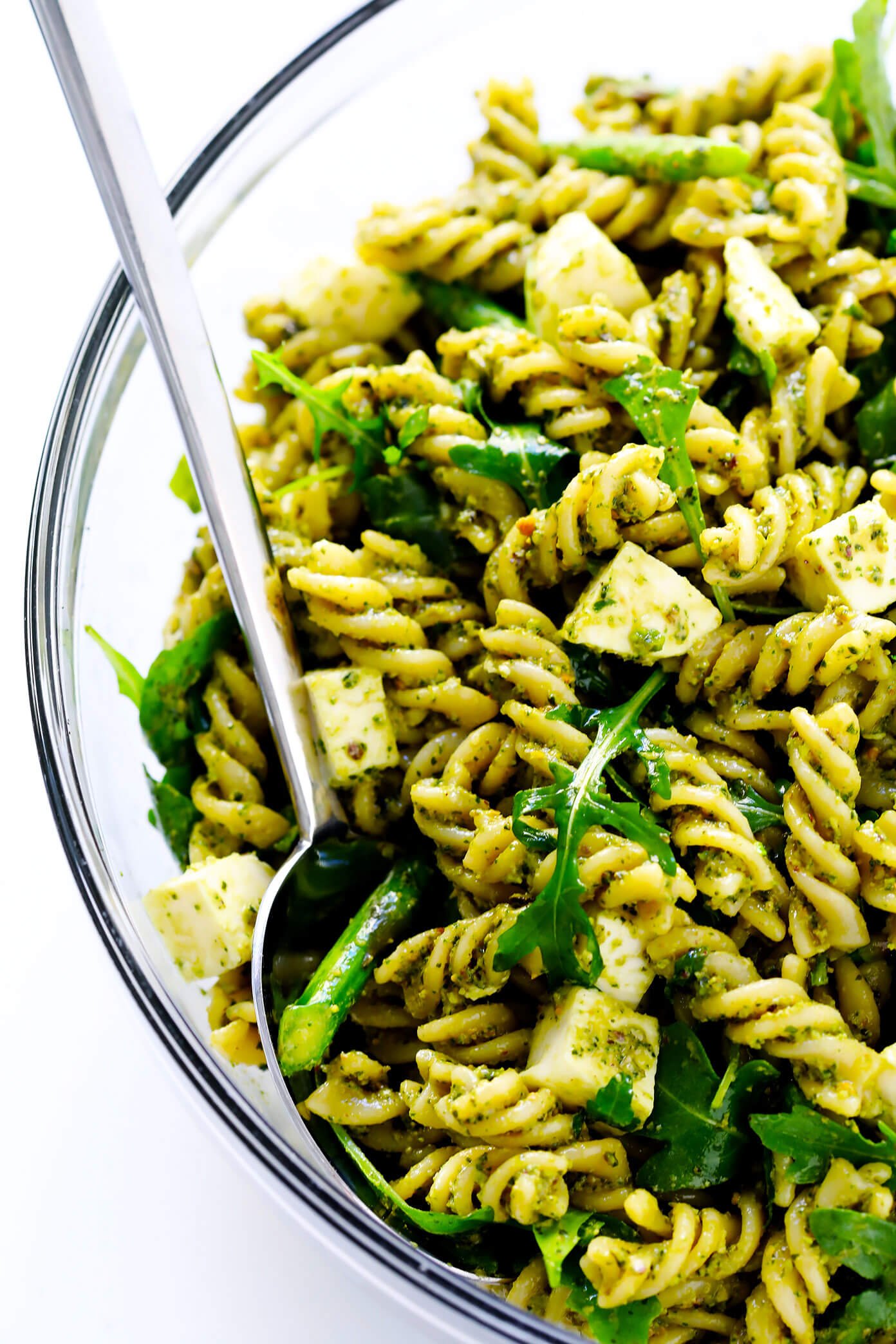 How To Make Pasta Salad:
Just toss everything together in a large bowl until combined.  Then serve, or refrigerate in a sealed container for later.  So easy!!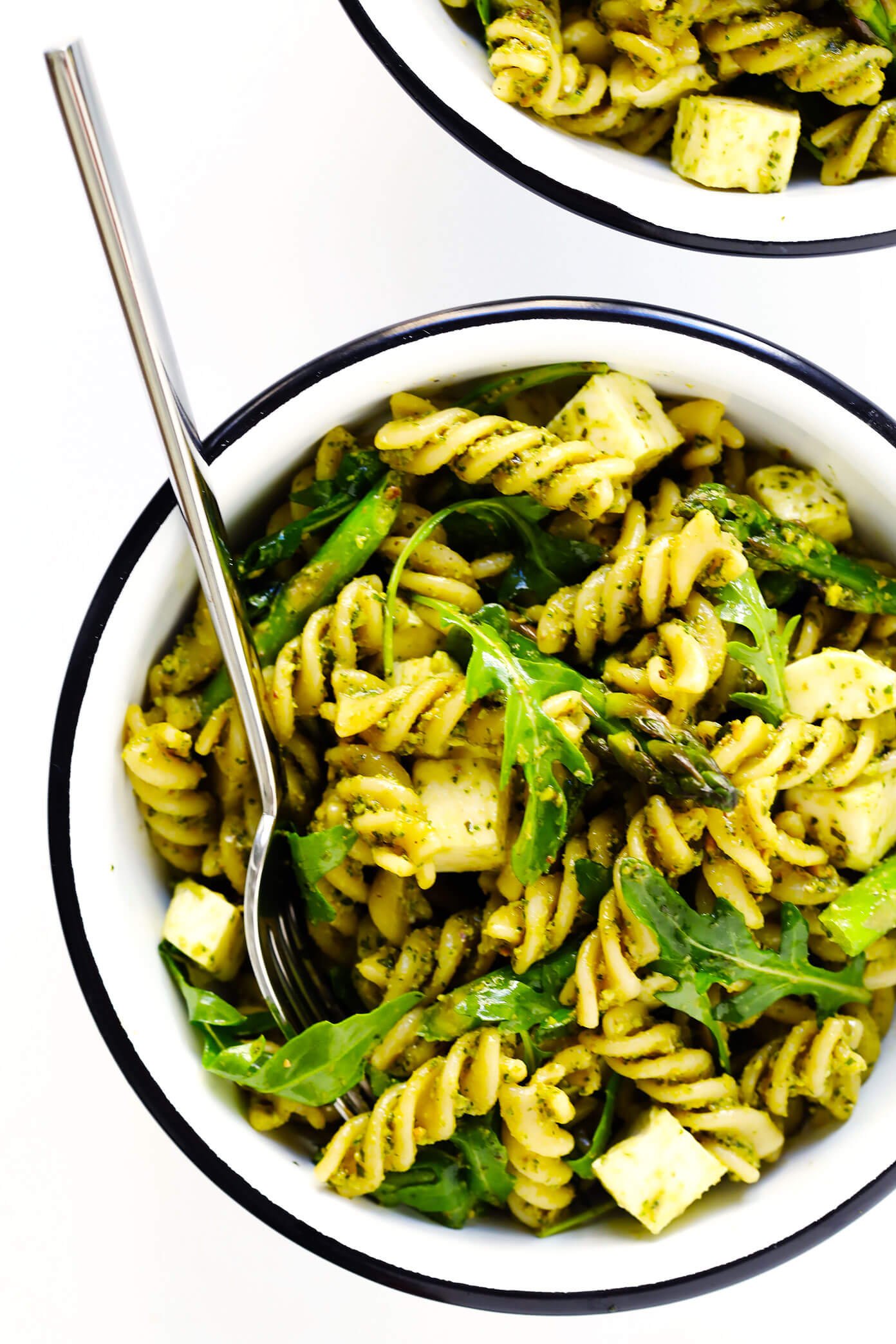 What To Serve With This Pasta Salad:
This pasta salad would be the perfect side dish for any BBQs or picnics or potlucks.  Or the perfect meal-prep for easy lunches, or a quick weeknight dinner!  If you happen to be grilling, baking, or sautéing some proteins to go with it, these recipes are my staples:
And of course, a big green salad would also go well with it too, such as this:
Enjoy, everyone!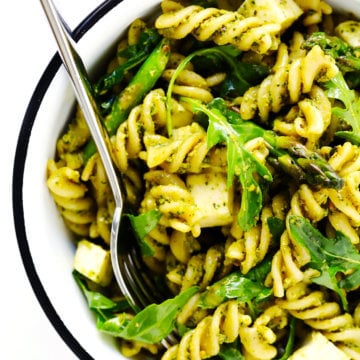 Pistachio Pesto Pasta Salad
This Pistachio Pesto Pasta Salad is the perfect make-ahead dish for summer gatherings, and tastes SO fresh and delicious.  Feel free to customize with your favorite greens or veggies.
Ingredients:
1 pound uncooked pasta (I used rotini)
2-3 cups cooked vegetables (I used sautéed asparagus, see below*)
2 large handfuls fresh baby arugula
1 ball fresh mozzarella cheese, diced
1 batch pistachio pesto (or traditional pesto)
Directions:
Cook pasta in a large stockpot of generously-salted water al dente, according to package instructions.  Drain the pasta in a strainer, then rinse with cold water until it is completely chilled.
Combine pasta, vegetables, arugula, cheese and pistachio pesto in a large mixing bowl.  Toss until evenly combined.
Serve immediately, or refrigerate in a sealed container for up to 3 days.
*Ideas for cooked veggies: Really, just about any sautéed, roasted, or fresh (if they don't need to be cooked) veggies would work with this recipe.  I used sautéed asparagus — basically a pound of asparagus cut into bite-sized pieces (ends trimmed), sautéed over medium-high heat with 1 tablespoon olive oil, salt and pepper until crisp-tender, about 4-5 minutes.  But some other delicious ideas could include (or a combination of the following):
broccoli
Brussels sprouts
cauliflower
cherry tomatoes (fresh or roasted)
eggplant
onions
red bell peppers
zucchini
All images and text ©
If you make this recipe, be sure to snap a photo and hashtag it #gimmesomeoven. I'd love to see what you cook!