Pluot (Plumcot) and Blueberry Crisp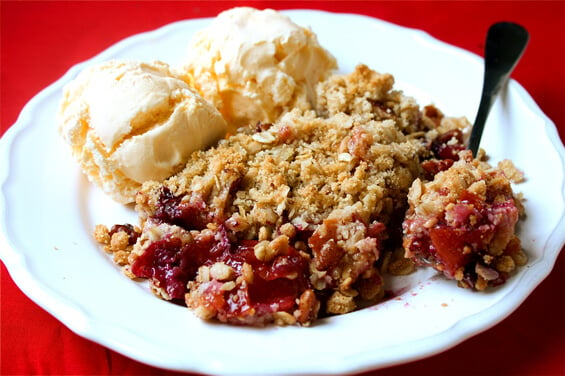 There's a new arrival in the produce department at my neighborhood grocery store this year.  Welcome….pluots!!!
Also called "plumcots", these cute little guys are a hybrid between (you guessed it) plums and apricots.  And they are absolutely delicious!!  The batch I picked up this week definitely more resembled plums, in both taste and appearance, but the week before they were more golden-colored and shaped a bit more like apricots.  Very fun!  So kudos to whatever biologists sat around and dreamed these little guys up.  This fruit-lover is a fan!
To put them to use in a dish, I decided to make a crisp to take along to a good friend's new place on "moving night".  (Thought it would be a fun way to "break in" a new oven.  And, the yummy smells filling the house turned out to be a good motivator as we sweated it out carrying in furniture and boxes galore! :-))
So instead of turning to some of my favorite crisp, crumble, or cobbler recipes that — while delicious — tend to be way overloaded with butter and sugar, I tried experimenting with slightly healthier proportions.  And thankfully, was pleased with how it turned out!  This still has a generous crumble on top, and the pluot+blueberry combo was de-lish. All the better, of course, served warm with a side of cool French vanilla ice cream.  YUM!!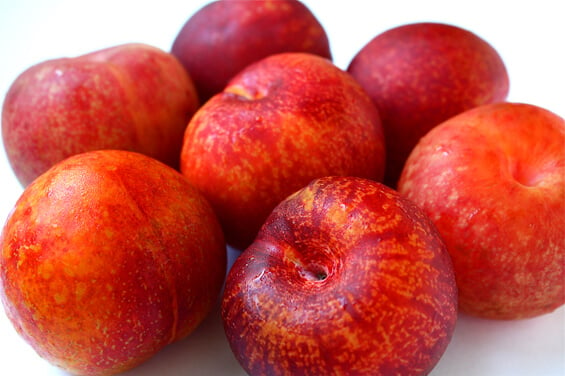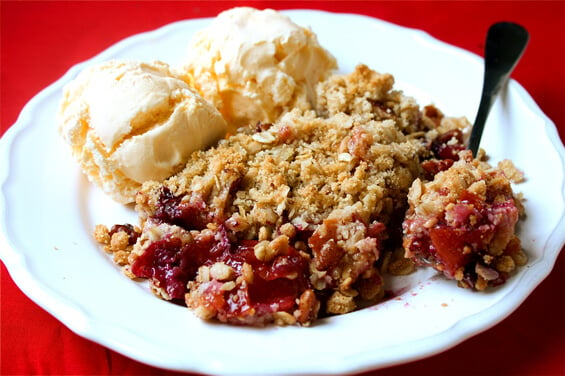 Pluot (Plumcot) and Blueberry Crisp
This pluot (plumcot) and blueberry crisp is one of my favorite summer desserts, and it will blow your mind!
Ingredients:
2 lbs. pluots, pitted and quartered
1 pint blueberries
1/4 cup light brown sugar, lightly packed
3 Tbsp. cornstarch
1 Tbsp. red wine or creme de cassis liqueur (optional)
1 cup all-purpose flour
1/2 cup light brown sugar, lightly packed
1/2 tsp. salt
1/2 tsp. cinnamon
1 cup old-fashioned oatmeal (or quick oats)
1/2 cup chopped walnuts or pecans
1/2 cup (1 sticks) softened unsalted butter, diced
Directions:
Preheat the oven to 375 degrees.
For the fruit, in a large bowl, combine the pluots, blueberries, (1/4 cup) brown sugar, cornstarch and the wine (or liqueur). Pour mixture into a 12 x 8″ shallow baking dish and level out.
For the topping, combine the flour, (1/2 cup) brown sugar, salt, cinnamon, oatmeal, and butter in a bowl. Work together with fingers until clumpy, and then stir in nuts. Scatter evenly over the fruit mixture.
Bake the crisp for 40-45 minutes, or until the fruit is bubbling and the top is browned. Serve warm or at room temperature, and feel free to pair it with ice cream.
I almost always sneak in some wheat germ or ground flax seed into desserts like this.  So feel free to add in a few tablespoons to make this slightly healthier!  :)
If you make this recipe, be sure to snap a photo and hashtag it #gimmesomeoven. I'd love to see what you cook!