Pork Fried Rice + $1000 visa giftcard giveaway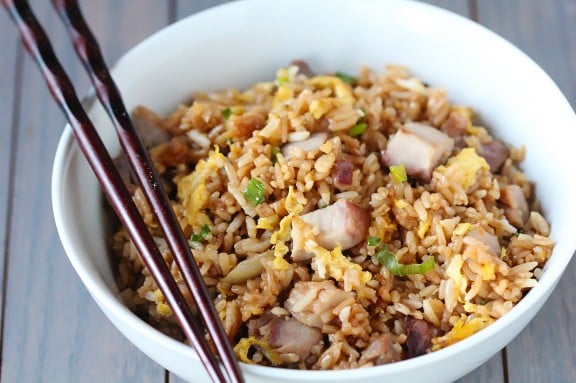 I am so excited about today's post because I get to chat it up with you about two of my childhood favorites — Kikkoman and pork fried rice!
I've mentioned on here numerous times before that our family had a tradition of eating lunch together every Saturday at our local neighborhood Chinese restaurant, Lotus Gardens. From the time when my sister and I were little tikes in booster seats, to elementary schoolers racing to complete math problems that my dad wrote on our paper placemats, to too-cool-for-school middle schoolers sporting (not-so-cool) huge glasses, to high schoolers bringing along the occasional teenage friends (and boyfriends), to college students who insisted on eating there within the first 24 hours of every visit home….so many of our family's best memories were made during those Saturday lunches.
And as is often the case with favorite restaurants, we each had our favorites meals. Dad ordered #7, Mom ordered #13 with no bamboo shoots, my sister Sarah ordered chow mein, and I ordered the same thing every week — a large bowl of egg drop soup and pork fried rice. But the meal was never complete without the "bottle with the red cap", our Kikkoman soy sauce. Our entire family always passed it around the table, and then it often went around again for seconds. We all love our soy sauce!
What's more, my mom would probably tell you that I once threw a small tantrum when she brought home the "off brand" soy sauce for us to use with a stir fry. I could tell it tasted different, and turned up my young little nose and complained until she went back to the store later that week to buy "the real deal." Today, I'm still partial to Kikkoman. But now I keep a host of their products in my pantry and fridge — from soy sauce, to teriyaki, to panko, to rice vinegars, to hoisin/plum/oyster/thai chili/black bean sauce and more. It has been amazing to watch the company grow over the years!
So I was completely excited when I heard that Lucy Walker (Academy Award nominee – look her up!) was going to be directing a new short documentary called "Make Haste Slowly: The Kikkoman Creed." I just had a chance to watch it, and it is absolutely beautifully done. I was completely unaware of the history of Kikkoman, but it turns out that the brand is over 300 years old, and that it was started by women in a time when women certainly did not start companies. Since the beginning, though, they've made a commitment to abide by an inspiring family creed passed down through nineteen generations, which they brought with them when venturing out as the first Japanese company to open in the United States in the 70's. Truly amazing to hear about the ways they honor their product and tradition, and even more so, how they have such a respectful track record to honoring those who make their products.
Really, whenever you are next sitting down with some Chinese takeout or are whipping up a stir-fry at home, take 24 minutes to watch "Make Haste Slowly". I guarantee you will never think about that little bottle with the red cap the same way again!
Finally, to celebrate Kikkoman, I am sharing with you my recipe for my favorite pork fried rice. AND, we are hosting a giveaway for one lucky reader to win a $1000 Visa gift card, to hopefully be used towards cooking classes so that you can build your own family traditions! Read below to enter.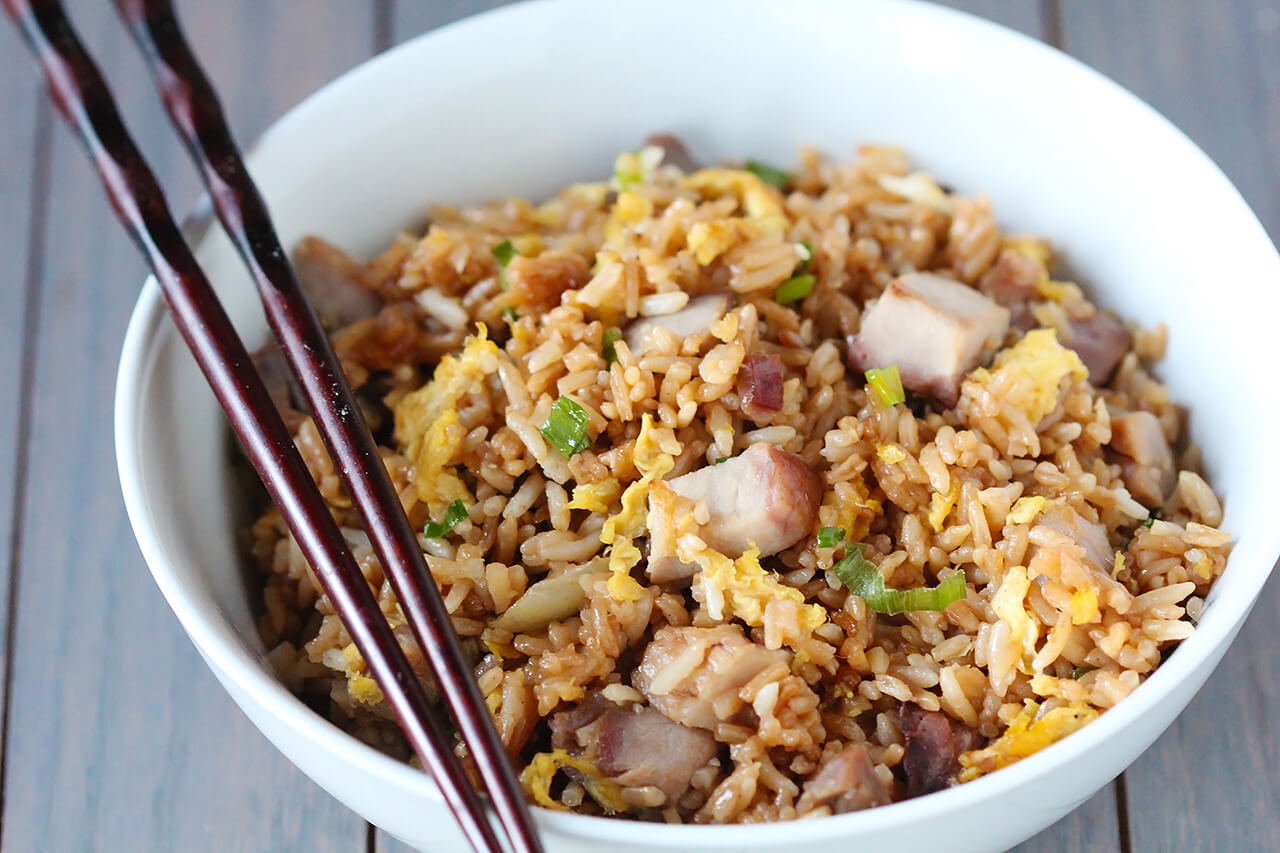 Pork Fried Rice
Homemade pork fried rice that tastes even better than at the restaurant!
Ingredients:
2 eggs
1 Tbsp. light soy sauce
1 1/2 tsp. sesame oil
3 Tbsp. vegetable oil
2 cloves of garlic, minced
4 c. cold cooked rice
2 spring onions, green and white parts separated then sliced
2 cooked Chinese sausages, quartered lengthwise then diced
2 carrots, diced and cooked
1/2 c. frozen green peas (optional)
1 tbsp. oyster sauce
Directions:
Beat the eggs with 1 tsp. light sauce and 1/2 tsp. sesame oil. Heat up a non-stick frying pan and add 1 tbsp. of oil. Pour in the eggs and swirl around to coat the bottom of the pan. As the egg cooks, push the edges towards the center and let the uncooked eggs ooze towards the edges. When set, flip over onto a chopping board and cut into small square pieces.
Heat up a wok and add 2 tbsps. of oil. Add the garlic and fry for 3 minutes. Add the rice and 2 tsps. of light soy sauce. Fry on high heat for about 5 minutes or until the rice is hot and fragrant. Transfer to a bowl and set aside. Clean the wok and heat again. Add 1 tbsp. of oil and the sausages and the whites of the spring onions. Stir fry for 2 minutes. Add the carrots (and peas), and oyster sauce. Stir fry for another 2 minutes. Put the rice back in and stir to mix. Stir fry for 3 minutes or until the mixture is piping hot. Add the eggs and the greens of the spring onions. Stir for a minute then turn the heat off. This is now ready to serve.
Slightly adapted from [Adora's Box|http://www.adorasbox.net/2011/11/yang-chow-fried-rice.html].

All images and text ©

If you make this recipe, be sure to snap a photo and hashtag it #gimmesomeoven. I'd love to see what you cook!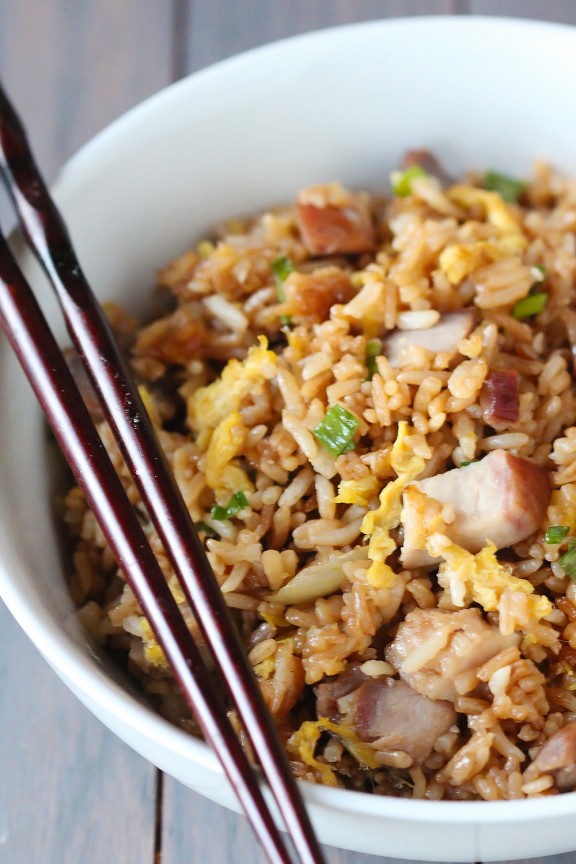 How To Enter The $1000 Visa Gift Card Giveaway
Entry Instructions:
You may receive (2) total entries by selecting from the following entry methods:
a. Leave a comment in response to the sweepstakes prompt on this post.
b. Tweet (public message) about this promotion; including exactly the following unique term in your tweet message: "#SweepstakesEntry"; leave the URL to that tweet in a comment on this post.
c. Blog about this promotion, including a disclosure that you are receiving a sweepstakes entry in exchange for writing the blog post, and leave the URL to that post in a comment on this post.
d. For those with no Twitter or blog, read the official rules to learn about an alternate form of entry.
No duplicate comments. This giveaway is open to US Residents age 18 or older. Winners will be selected via random draw, and will be notified by e-mail. You have 72 hours to respond; otherwise, a new winner will be selected.
The Official Rules are available here.
This sweepstakes runs from 1/7/2013 – 2/28/2013.
Be sure to visit the Kikkoman's brand page on BlogHer.com where you can read other bloggers' reviews and find more chances to win!