Presto Pesto Panini (with Prosciutto, Provolone & Peppers)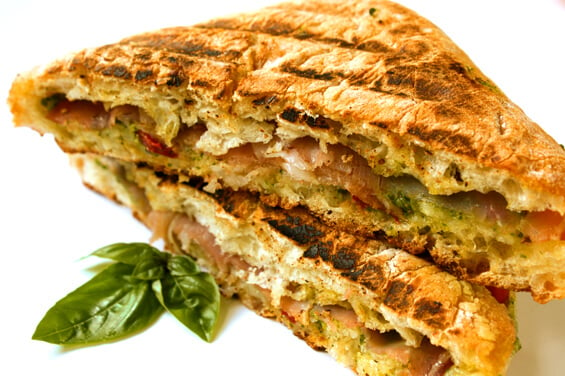 So apparently my love for alliteration translates to food as well.  :)
This is one of my favorite quick lunches to make.  Granted, I've never been a big "sandwich" person.  (May have been the only kid who grew up not crazy about PB&Js!)  But I have been known to get excited about a nicely-grilled panini.  So when I came across this lovely ciabatta roll this week, thought it was a good time to pull out the grill pan and make it happen.
While I tend to just throw in whatever meat, cheese, and fresh veggies (or sometimes fruits) I have onhand, I must say that I love-love-love making paninis with prosciutto!  It's my occasional splurge at the deli, and I dig the salty, mildly sweet flavor it adds.
And…when paired with provolone, pesto, and roasted red peppers, I can almost pretend like I'm enjoying a classic lunch in Tuscany…mmmm….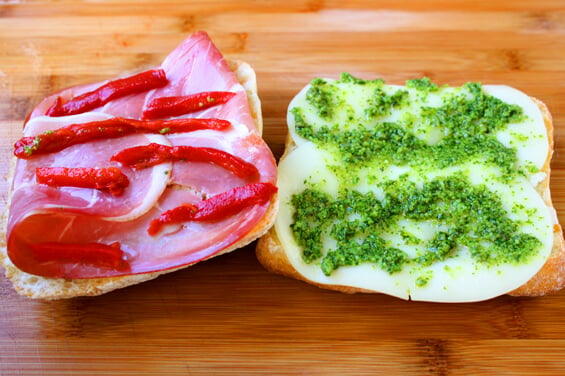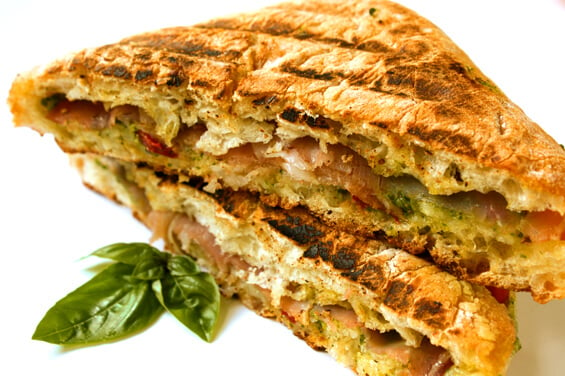 Presto Pesto Panini (with Prosciutto, Provolone & Peppers)
This presto pesto panini (with prosciutto, provolone & peppers) is the sandwich to end all other sandwiches!
Ingredients:
1 ciabatta roll, individual-sized
2 slices prosciutto
1 slice provolone cheese
1-2 Tbsp. your favorite pesto sauce (classic basil pesto recipe)
roasted red peppers (optional)
Directions:
Preheat panini grill (or grill pan, or George Foreman, or whatever you'd like to use!)
Slice ciabatta in half horizontally, and fill with layered prosciutto, provolone, pesto and red peppers. Fold together and grill for 5 minutes, or until bread is lightly golden and cheese is melted. Slice horizontally and serve.
This recipe is one of my favorite ways to use up all of the little "ice cubes" of pesto in my freezer!  In case you've never tried it, this is a wonderful way to freeze pesto.  (This way you can just pop out and thaw measured portions when you'd like!)  One "cube" tends to be plenty for me for a sandwich.  :)
All images and text ©
If you make this recipe, be sure to snap a photo and hashtag it #gimmesomeoven. I'd love to see what you cook!