Pumpkin & Black Bean Soup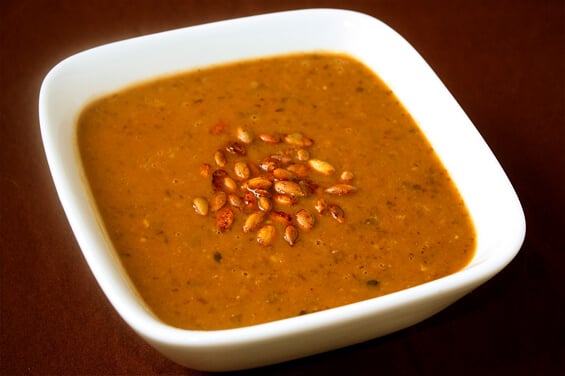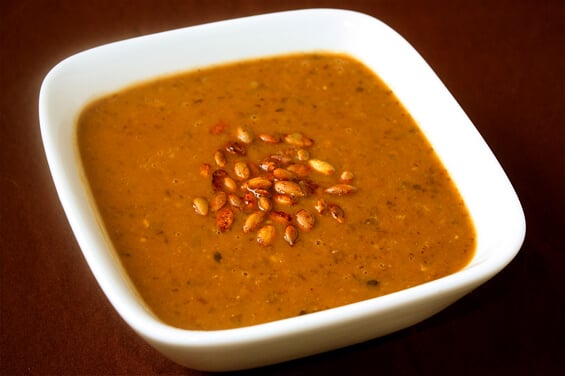 So…right in the middle of "Ode To Pumpkin Week", I found out today that the U.S. is in the middle of a massive pumpkin shortage!    Yikes!  Apparently pumpkin crops were seriously down this year, so the stores are having a difficult time bringing in canned pumpkin right now.  I had to drive to three grocery stores today to find what few cans they had left — tragic!
Still, for those that already had a few cans, or who can find some, (or who are reading this recipe months later when hopefully the supply is restored!) — today is pumpkin soup day!  But rather than do just a simple bisque, decided to raid my pantry and toss in some black beans that I'd been needing to use.  Yay for fiber.  :)
Thankfully, the combination turned out to be surprisingly delicious!  Definitely not the lovely orange color I'd hoped for, but still delicious!  The pumpkin flavor is actually fairly mild in this recipe, so feel free to add more for extra sweetness and pumpkin-y goodness if you'd like.  But otherwise, it's pretty much a simple black bean soup recipe.  So if you're looking for something different, give this one a go and see if you can get your family or friends to guess the "surprise" ingredient!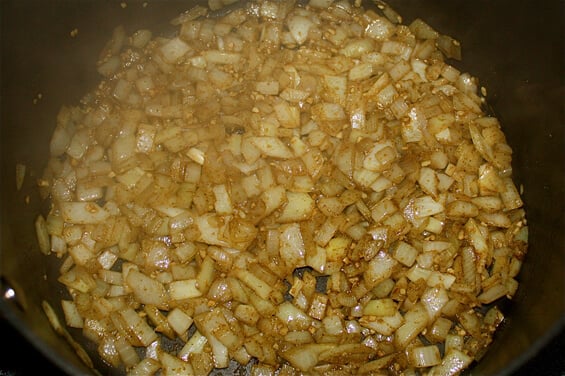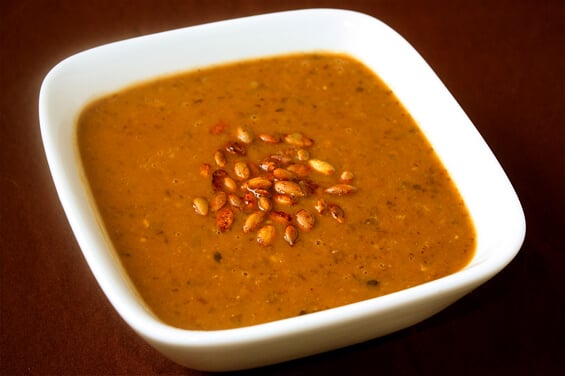 Pumpkin & Black Bean Soup
Black Bean Soup is kicked up a notch with the addition of some delicious pumpkin! Detailed recipe and photographs included.
Ingredients:
2 Tbsp. olive oil
1 1/2 cups chopped onion
4 garlic cloves, minced
1 Tbsp. ground cumin
1 tsp. chili powder
1/2 tsp. freshly ground black pepper
3 cans (15 1/2 oz.) black beans, rinsed and drained (about 4 1/2 cups)
1 cup drained canned tomatoes, chopped
4 cups beef broth
1 can (16 oz.) pumpkin puree (about 1 1/2 cups)
1/2 cup dry Sherry (or other dry white wine)
Garnish:
sour cream and/or lightly toasted pumpkin seeds
Directions:
In a 6-quart heavy kettle cook onion, garlic, cumin, chili powder, and pepper in oil over moderate heat, stirring, until onion is softened and beginning to brown. Stir in black beans, tomatoes, broth, pumpkin, and Sherry until combined and simmer, uncovered, stirring occasionally, 25 minutes, or until thick enough to coat the back of a spoon.
If you'd like a more chili-like consistency, serve as is. To puree, use an immersion blender to either partly or completely puree the hot soup. Or, puree the soup in a regular blender, working in batches. (Be careful not to fill too full, since the soup is hot!)
Serve soup garnished with sour cream and toasted pumpkin seeds.
If you'd like to add some meat to this, feel free to throw in some cubed (cooked) ham, or shredded chicken, or bacon.  Better yet, cook the bacon first, remove it from the pan, and then saute the onions in the grease.  Yum.  If I would have had some bacon on hand today, this would have totally happened!
If you make this recipe, be sure to snap a photo and hashtag it #gimmesomeoven. I'd love to see what you cook!