Pumpkin Cream Cheese Truffles
So, I know there are about a zillion (ok, Google tells me 2,800,000) recipes out there for pumpkin truffles.
But I really, really felt like making some pumpkin cream cheese truffles this week.
And when they turned out to be even more fabulous than expected, well, I wanted to post them.
So Google, you can make that 2,800,001.  :)
Seriously, though, these truffles were a total delight.  The filling is packed with delicious pumpkin spices, a bit of cream cheese, and lots of gingersnap crumbs (yum!).  Then the little filling balls are dipped in white chocolate, sprinkled with a few more gingersnap crumbs, and behold — these adorable little truffles are yours to enjoy.  Also, they only call for 1/3 cup of pumpkin, so this is another terrific recipe to bookmark if you have some leftover pumpkin to use up.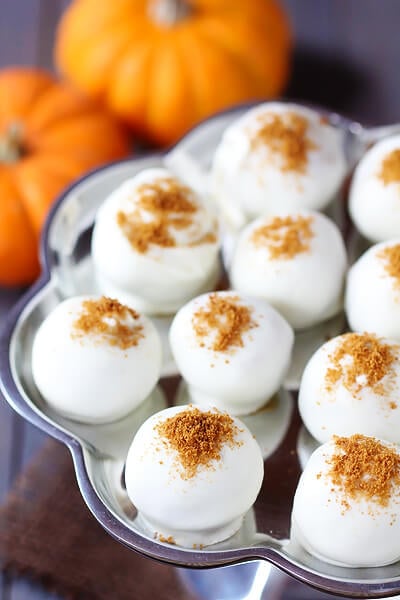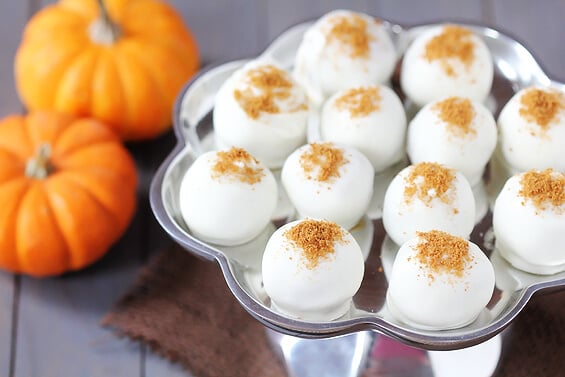 Pumpkin Cream Cheese Truffles
These adorable pumpkin cream cheese truffles are made extra-special with gingersnap crumbs and plenty of delicious pumpkin pie spices!
Ingredients:
For the filling:
1/3 cup pumpkin puree
1 1/2 cups finely-crumbled gingersnap cookies, plus an extra few tablespoons for the topping
3 Tbsp. powdered sugar
1/2 tsp. cinnamon
1/4 tsp. ginger
1/8 tsp. nutmeg
1/8 tsp. salt
4 oz. cream cheese (I used low-fat)
1 cup white chocolate chips, melted
For the chocolate shell:
14 ounces white chocolate (or vanilla almond bark), chopped
1 Tbsp. shortening or vegetable oil
Directions:
Combine all of the filling ingredients together in a food processor. Pulse until well-blended. Transfer the mixture to a small bowl, and freeze for 30-60 minutes, or until the mixture is fairly hardened.
Use a small cookie scoop of spoon to shape the filling mixture into a small ball, about the size of 1 tablespoon. Roll it in your hands to make it nice and round, and then set it on a plate or baking sheet lined with parchment or wax paper. Repeat with the remaining filling mixture. Place the plate of filling balls back in the freezer, and freeze for at least 2 hours, or until solid.
Once the filling balls are frozen, stir together the chopped white chocolate and the shortening (or vegetable oil) and use a microwave or double boiler to melt the mixture until smooth, stirring occasionally.
Use a small fork to dunk a filling ball into the melted chocolate until it is completely covered, then transfer the ball to a new baking sheet lined with parchment or wax paper. Remove the ball from the fork with a spoon, and then use the spoon to swoop the chocolate over the top if a spot of filling is showing. Sprinkle the top with a pinch of the remaining gingersnap crumbs. Repeat with remaining filling balls until all are coated in chocolate.
Serve immediately, or refrigerate for up to 1 week.
All images and text ©
If you make this recipe, be sure to snap a photo and hashtag it #gimmesomeoven. I'd love to see what you cook!