Pumpkin Streusel Muffins
Today when I woke up, it finally felt like autumn.
There has been a crisp breeze moving in over the past few days, but I have still been clinging to my iced coffees, sandals and open car windows in hopes of savoring just a few more days of summer.  But today felt different.  It felt like a new season had arrived, and the world was ready.
As much as I enjoy the comfort of warm meals, cute scarves and the holidays that autumn brings, what I most love is seeing the world slow down a bit and settle in for a new season.  It's as though the cold and drives us into hiding, where we burrow in with friends and family, reflect on where life has brought us since the last time we wore our winter coats, and share together in some of the favorite traditions of the season.
So today I celebrated one of my favorite "firsts" of autumn — baking with pumpkin.  For some reason, muffins felt like the perfect comfort food of the day.  So I made a simple batch of delicious spiced pumpkin muffins, and then topped them with a simple cinnamon streusel.  And since firsts are firsts, I thought it was only appropriate to go for it and top them with a light sugar glaze.  But then they seemed too perfect for sharing, so I took them around to our neighbors, and now our building is filled with the smell and flavors of pumpkin spice.  I love it.  And they all said to share with you that the muffins were delightful, and that you should give them a try.  ;)
Wishing you all a wonderful new season shared with those you love!  And of course, much more delicious baking with pumpkin!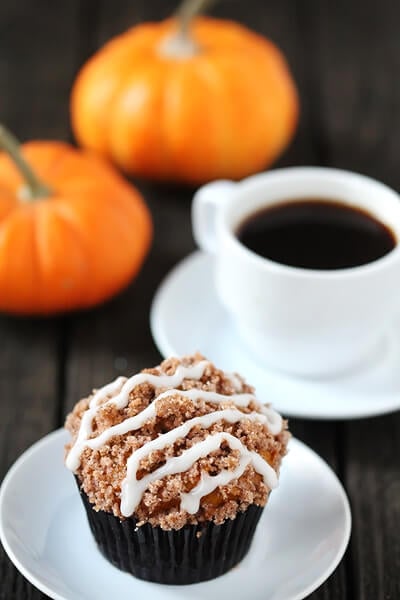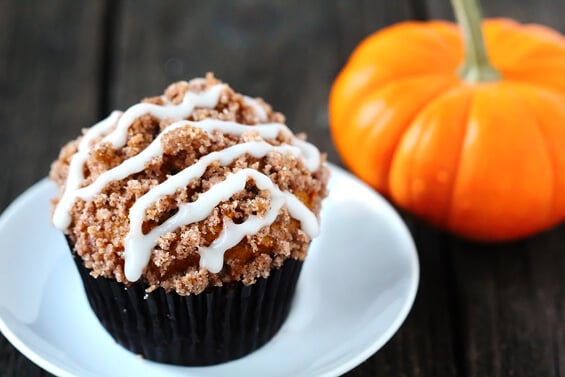 Pumpkin Streusel Muffins
Delicious pumpkin muffins topped with a cinnamon streusel and a light glaze.
Ingredients:
Pumpkin Muffin Ingredients:
2 cups white whole wheat or all-purpose flour
1 tsp. baking powder
1 tsp. baking soda
1 tsp. ground cinnamon
1/2 tsp. ground ginger
1/2 tsp. ground nutmeg
1/2 tsp. salt
1 cup sugar
1 (15 oz.) can pumpkin puree
1/2 cup (1 stick) butter, melted
2 large eggs
2 tsp. vanilla extract
Cinnamon Streusel Topping Ingredients:
2 Tbsp. butter, room temperature
1/4 cup sugar
1/4 cup flour
2 tsp. cinnamon
Glaze Ingredients:
1 Tbsp. butter, melted
1 cup powdered sugar
1-2 Tbsp. milk
Directions:
To Make The Pumpkin Muffins:
Preheat oven to 350 degrees. Prepare 16-18 baking cups with liners, or mist with cooking spray.
In a medium bowl, whisk together the dry ingredients (flour, sugar, baking powder, baking soda, cinnamon, ginger, nutmeg and salt) until blended.
In a different large bowl, whisk together all remaining ingredients (pumpkin, butter, eggs, vanilla) until well combined. Add this mixture to the dry ingredients, and stir until just combined.
Fill the baking cups with the batter until they are each 2/3 full. Top with a tablespoon or so of the crumbled streusel topping. Then bake for 15-20 minutes, or until a toothpick inserted in the middle of a muffin comes out clean. Let cool, then drizzle with the glaze.
To Make The Cinnamon Streusel Topping:
Use a fork or your fingers to mix together all of the ingredients until they are evenly combined and crumbly.
To Make The Glaze:
Whisk together the butter, powdered sugar and 1 tablespoon of milk until combined and smooth. Add additional tablespoon(s) of milk until the glaze is thin enough to drizzle. You can either drizzle by using a fork and swinging it back and forth over the muffins. Or transfer it to a pastry bag or a ziplock bag with a tiny corner snipped off, and drizzle it that way. OR, you can even just dunk the tops of the muffins straight into the bowl of glaze. Whatever sounds best to you!
All images and text ©
If you make this recipe, be sure to snap a photo and hashtag it #gimmesomeoven. I'd love to see what you cook!