Puppy Chow Brownies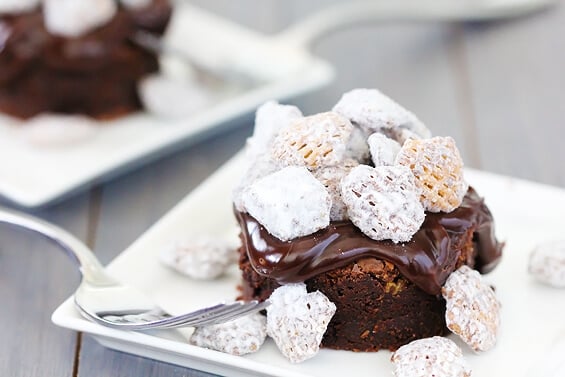 When life gives you puppy chow…you should totally make puppy chow brownies.
Served with warm, rich, hot fudge sauce.
And extra puppy chow on top.
Mmmmm.
Not quite sure why I never thought of this before.  The heavenly peanut-butter-chocolate combination from the puppy chow paired perfectly with the fudge brownies.  And the cereal gave each bite a surprise little crunch too.  So crazy delicious.  I'm pretty sure you should try these soon.  :)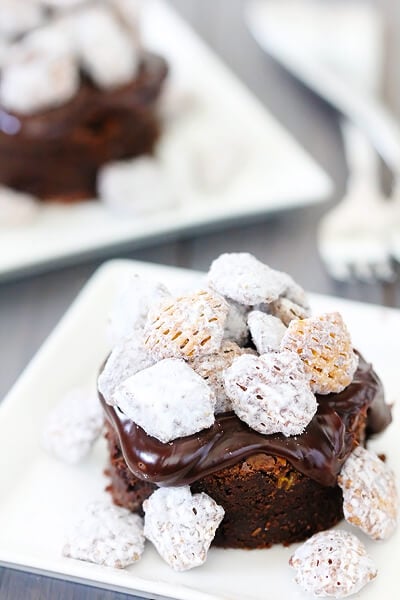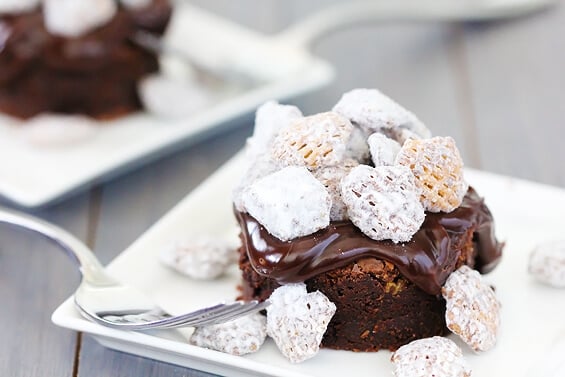 Puppy Chow Brownies
Puppy chow meets brownies. Get ready!
Ingredients:
Directions:
Preheat oven to 350 degrees F. Grease an 8×8 or 9×9 square baking pan with cooking spray, or line with parchment paper. Set aside.
Heat the butter in a medium-sized saucepan over medium-high heat until melted. Add the granulated sugar and vanilla extract. Stir well. Remove pan from heat and whisk in the cocoa powder.
In a separate bowl, lightly whisk the eggs. Continue whisking while pouring the chocolate mixture into the bowl. Whisk until combined. Stir in the flour and frozen puppy chow until just combined. (Do not overbeat.)
Pour batter into the previously prepared baking pan. Bake at 350 degrees F for 30-40 minutes. Cool on a wire rack (preferably for at least 20 minutes). Then cut the brownies into squares or use a biscuit/cookie cutter to shape into circles. Plate each brownie, then top with hot fudge sauce and additional puppy chow. Serve immediately.
*Ali's Tip:*
If you were in a pinch, you could also add this puppy chow to a boxed brownie mix. Just be sure to freeze it first so that the chocolate from the puppy chow doesn't completely melt into the mix.
If you make this recipe, be sure to snap a photo and hashtag it #gimmesomeoven. I'd love to see what you cook!
***Disclaimer: As I mentioned in my puppy chow recipe, please note that this recipe is NOT intended for consumption by dogs and puppies.  In fact, chocolate is very harmful for dogs!***