Puppy Chow (a.k.a. "Muddy Buddies")
This classic homemade Puppy Chow recipe (a.k.a. "Muddy Buddies") only takes about 10 minutes to make, and always tastes downright irresistible.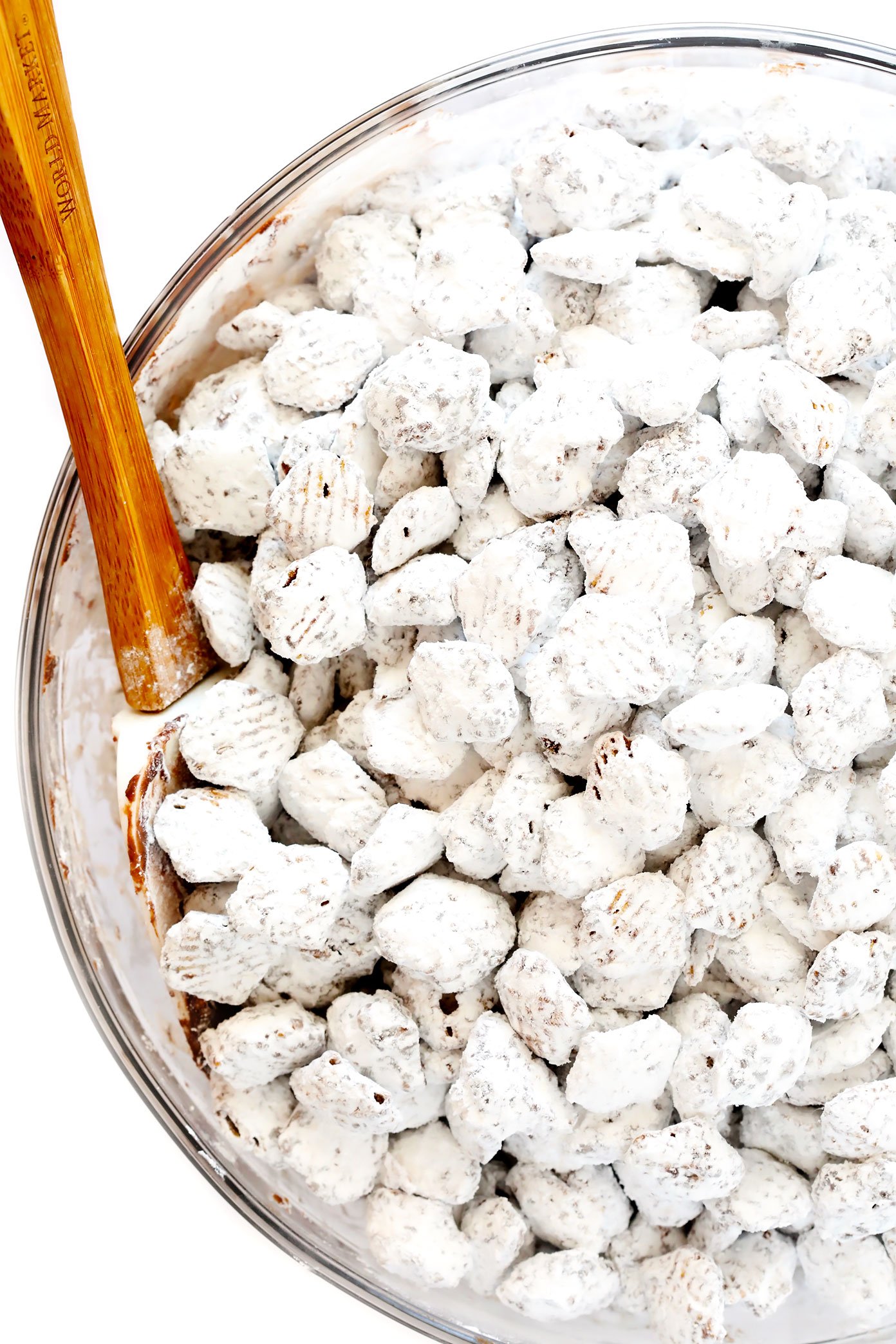 Yep.  Guilty pleasure of mine, right here. ♡
My love for puppy chow dates all the way back to the 90s, when my aunt taught my little sis and I how to shake up a batch during one of our annual trips to their lake house at Table Rock.  Nearly all of our waking hours there were either spent waterskiing all around the lake, floating by the dock, laying out in the sunshine, or practicing our endless flips and dives on the board.  Basically…being in the water as much as humanly possible, which is my happiest of places.
But every evening when we came home, my aunt and uncle would lovingly grill a meal for us.  And at the very beginning of our vacation, we would stand in the small lake house kitchen together and make an enormous batch of puppy chow to enjoy all week long.
And boy, did it always disappear fast.
Maybe it's the peanut butter and chocolate combo, maybe it's that salty savory cereal hidden in each bite, maybe it's the "kid" in all of us that comes out when licking that leftover powdered sugar off of your paws — but man, I'm convinced that puppy chow is one of the more irresistible treats ever.  And even nowadays when I make a batch of the retro snack to bring to a party, it seems as though I'm not alone.  The world loves some good puppy chow!  (<– Or if you're from the north, "muddy buddies"!)
And since it only takes about 10 minutes to whip up, I vote we all make a batch stat.  You know, to make the world a better place.  😉 Who's in?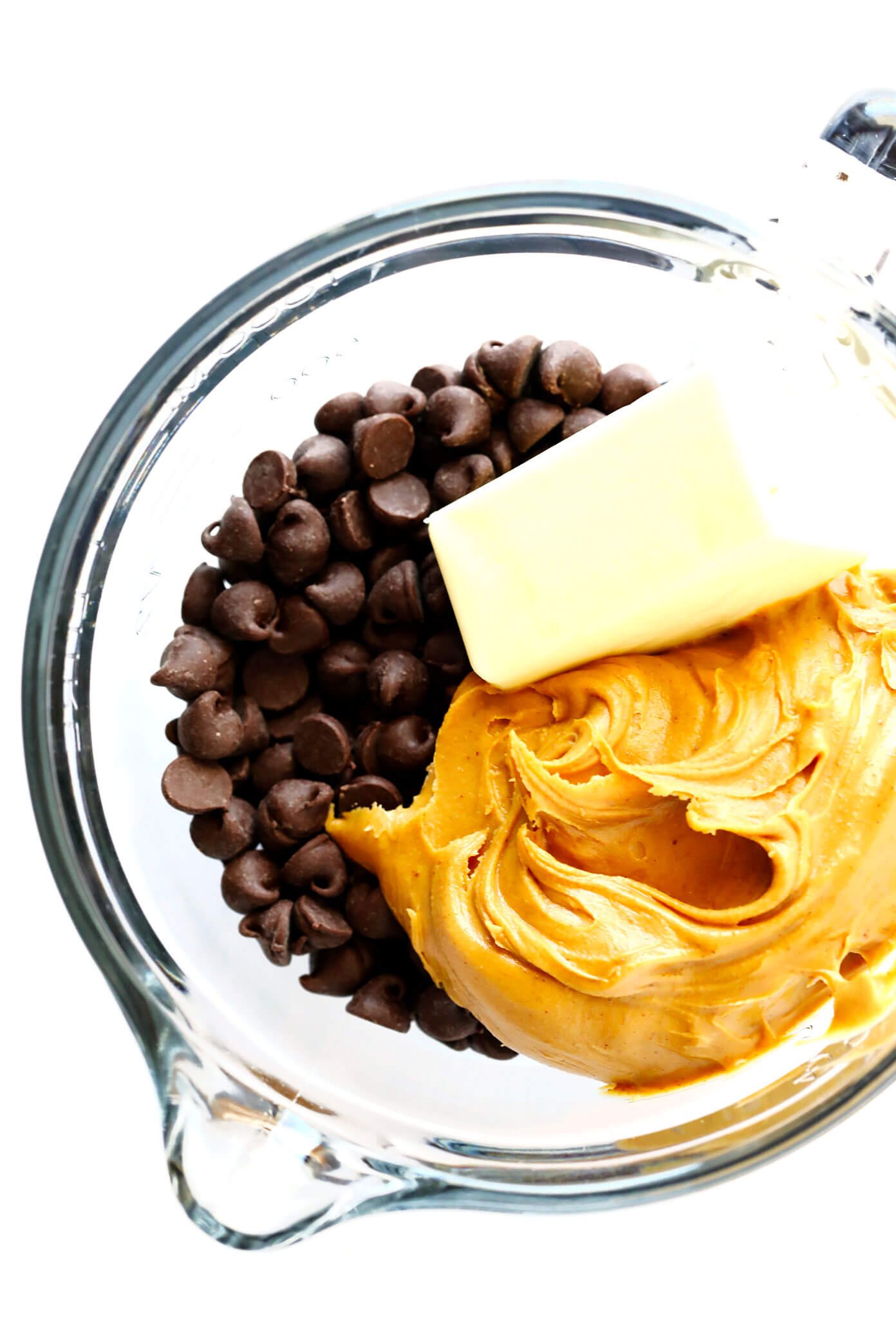 To make puppy chow, begin by mixing up your chocolate coating.  You could do this on the stove, but our family always did it in the microwave — your choice.  Just melt down some semisweet chocolate chips, butter, peanut butter and vanilla.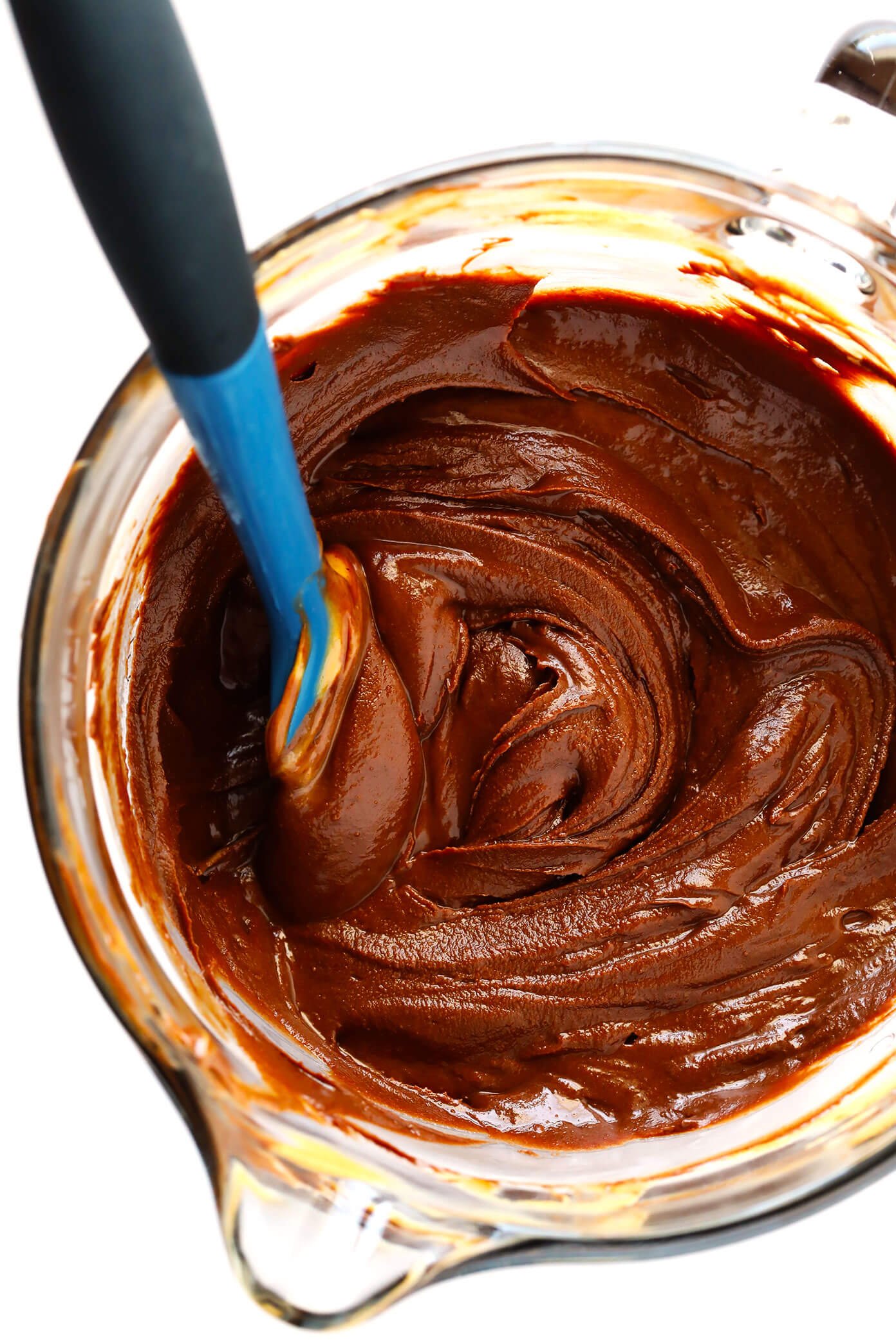 Stir until completely smooth.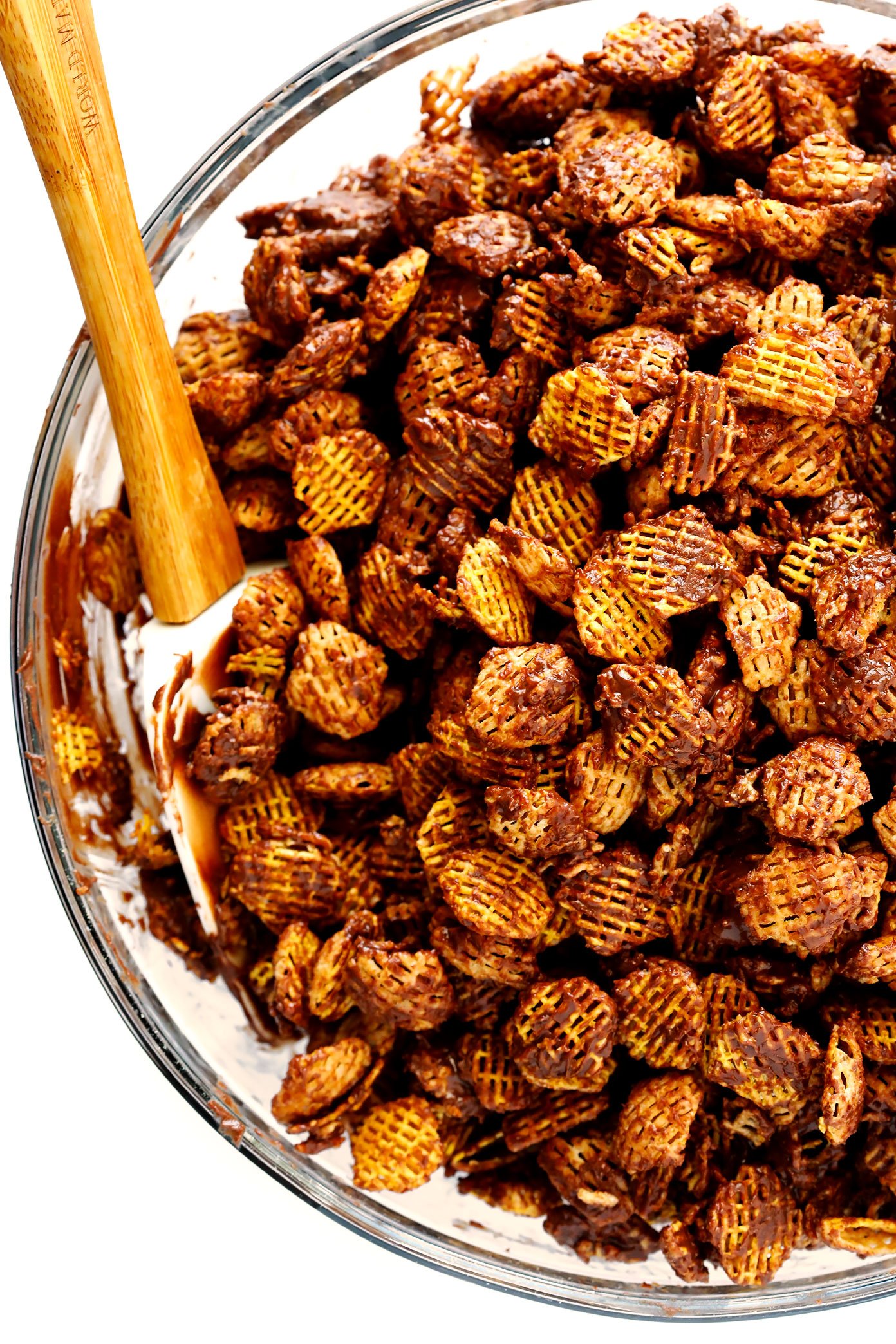 Then — very carefully — toss the chocolate mixture with the cereal until it is evenly coated.  (Chex are definitely the standard here, but our family grew up randomly always making puppy chow with Crispix, so whichevs!)  Just try hard not to crush the cereal as you mix.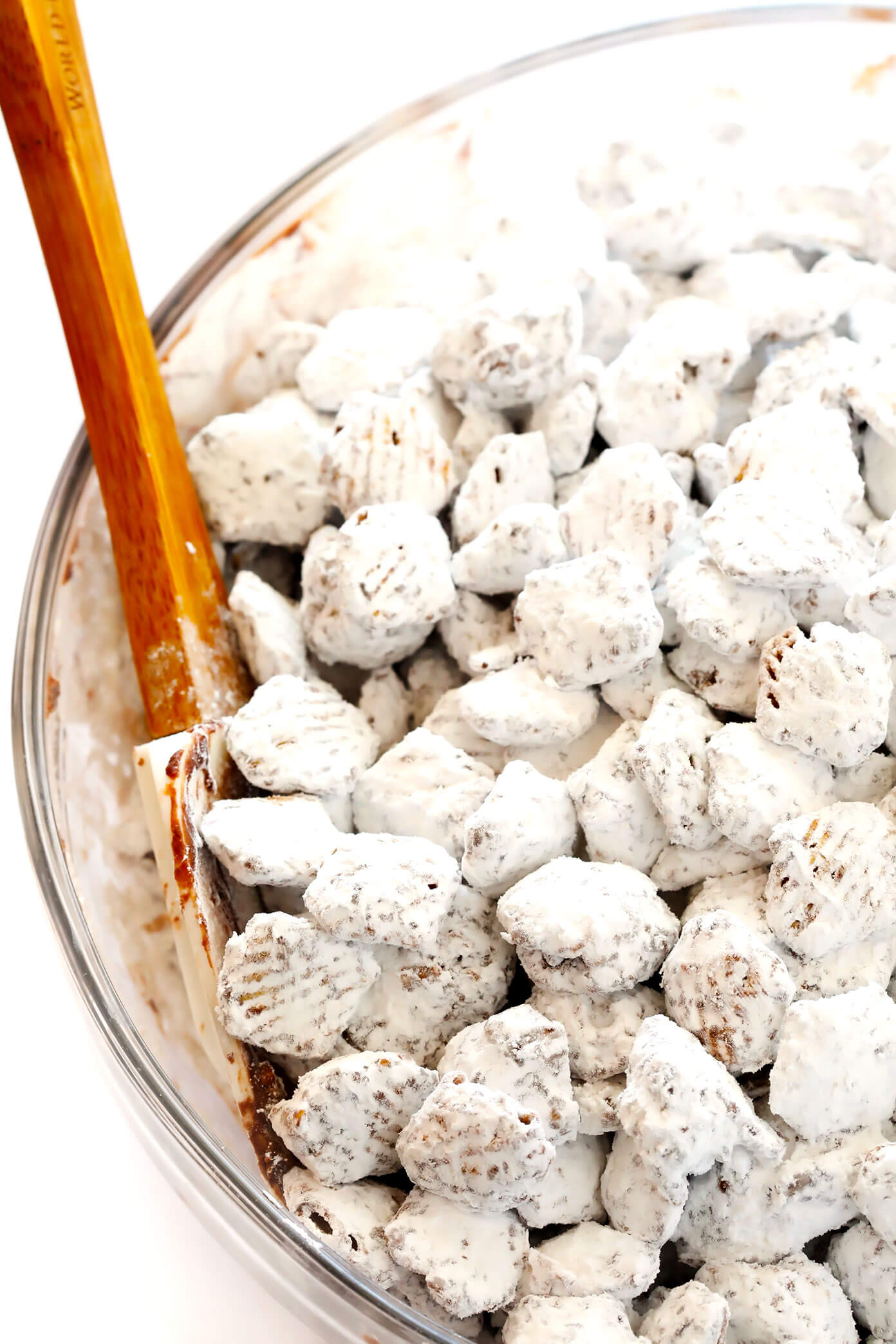 Then fill a large ziplock bag (or two) with some powdered sugar.  Add the chocolate-coated cereal, seal, and gently toss until the cereal is coated with the powdered sugar, breaking up clumps along the way.  (<– Although I recommend leaving at least a few — they're the best part!)  Then transfer the puppy chow to a parchment-covered baking sheet to cool to room temperature.
And…that's it!
See?  So simple.  And, as you'll see once you "chow" down on that first bite, it's also SO ADDICTIVE.
Enjoy, everyone!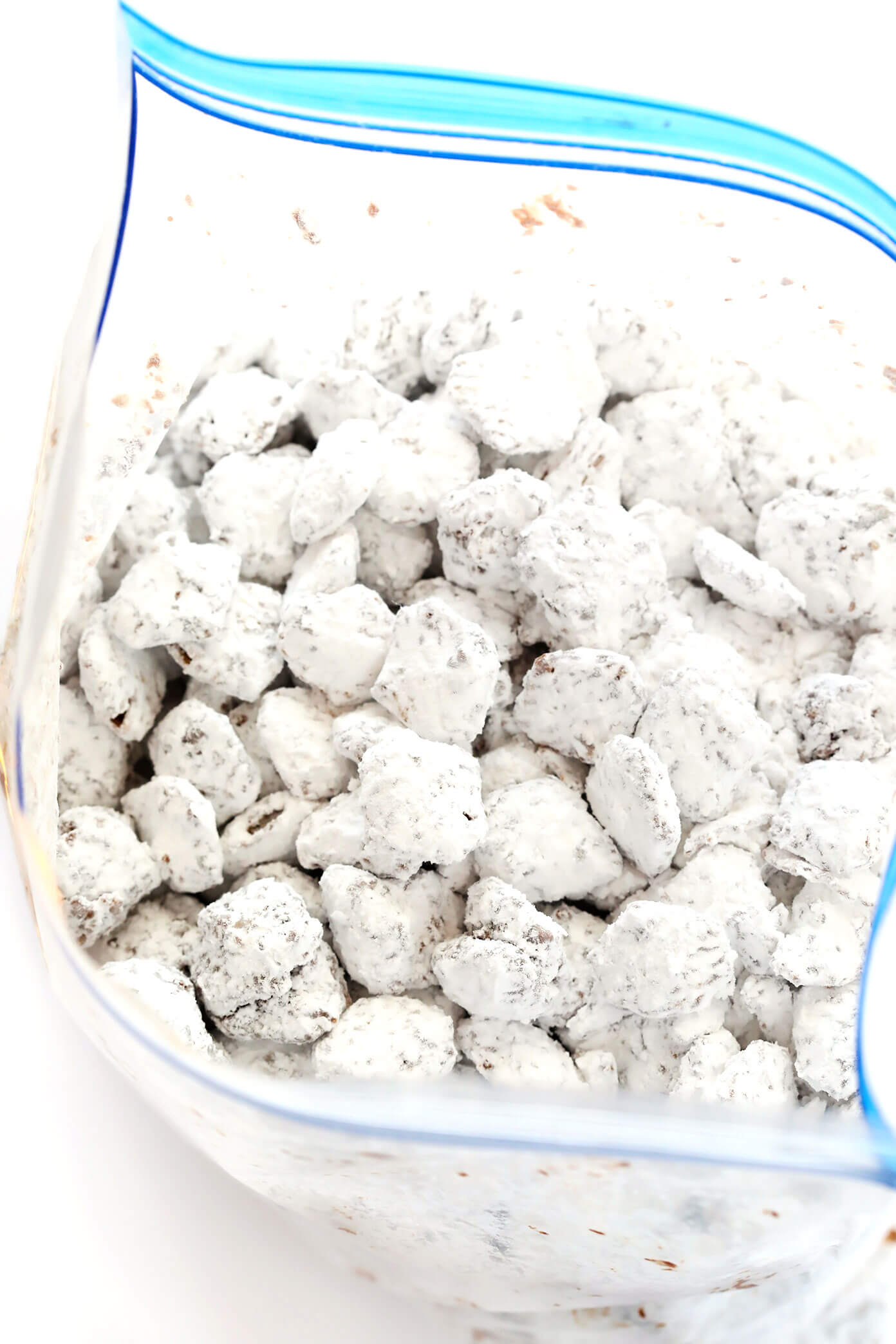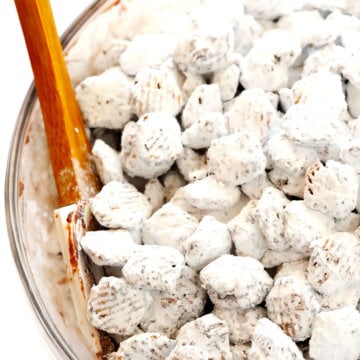 Puppy Chow (a.k.a. "Muddy Buddies")
This classic Puppy Chow recipe (<– a.k.a. "Muddy Buddies") only takes about 10 minutes to make, and it's downright IRRESISTIBLE.
Ingredients:
9 cups corn or rice Chex cereal
1 cup semi-sweet chocolate chips
1/2 cup peanut butter
1/4 cup butter
1 teaspoon vanilla
2 cups powdered sugar
ziplock freezer bags and parchment paper
Directions:
Into a large bowl, measure cereal; set aside.
In a microwavable bowl, combine chocolate chips, peanut butter and butter.  Microwave uncovered on "high" for 1 minute, then stir. Microwave for 30 seconds, and stir until smooth.  (If the mixture is still not completely melted, pop it in for an additional 15 seconds, then stir again.)  Stir in the vanilla extract.
Pour the chocolate mixture over the cereal, tossing until evenly coated.
Portion the chocolate-covered cereal evenly into two large ziplock bags, each filled with 1 cup powdered sugar.
Seal bags, and gently toss the cereal until it is evenly coated. Transfer to parchment paper to cool.
Store in airtight container or bag in refrigerator for up to 1 week.
***Please note that this recipe is for humans to enjoy only!!! Any form of chocolate is no good for puppies (and dogs). So buy them a fun little doggy treat to enjoy instead while you "chow" down on this.
Recipe ever-so-slightly adapted from Chex.
All images and text ©
If you make this recipe, be sure to snap a photo and hashtag it #gimmesomeoven. I'd love to see what you cook!