Puppy Chow (a.k.a. "Muddy Buddies")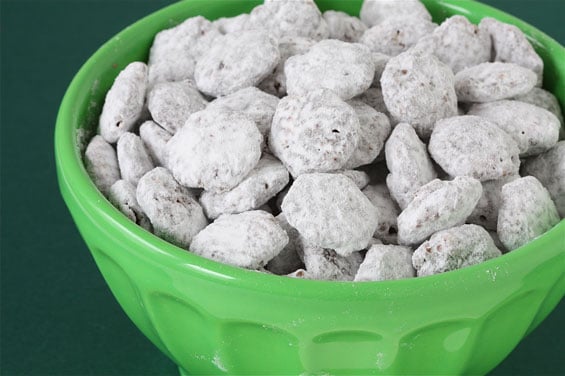 So after a few weeks of eating pretty healthy in the new decade, I totally caved to a craving this week.  One of my friends had mentioned making puppy chow to enjoy with some friends for her pup's first b-day party, and I couldn't seem to get it off my mind.
So pretty sure I woke up on my morning off and whipped this up…before breakfast.  And of course, enjoyed some of it…for breakfast.  :)  And enjoyed "chowing" on every bite.  Yum.
For a classic like this, no revisions to the recipe needed.  Just that yummy chocolate-PB-goodness, the crunch of Chex, and that fabulous powdered sugar that gets everywhere (and requires much licking of the fingers).  And in case you've never heard of it before, it is just for humans, and not man's best friend.  As much as my little puppy sniffed and sniffed while I was making it, his little tummy would not appreciate it!
Anyway, cheers to an old classic!  Enjoy!!
Puppy Chow (a.k.a. "Muddy Buddies")
Everyone will love this Puppy Chow ("Muddy Buddies") recipe! Perfect recipe for this fun, easy, and delicious snack!
Ingredients:
9 cups corn, rice, or wheat Chex cereal (or a combination)
1 cup semi-sweet chocolate chips
1/2 cup peanut butter
1/4 cup butter
1 tsp. vanilla (optional)
1 1/2 cups powdered sugar
Directions:
Into a large bowl, measure cereal; set aside.
In a 1-quart microwavable bowl, microwave chocolate chips, peanut butter and butter uncovered on "High" for 1 minute; stir. Microwave about 30 seconds longer or until mixture can be stirred smooth. Stir in vanilla (optional). Pour mixture over cereal, stirring until evenly coated. Pour into 2-gallon resealable food-storage plastic bag.
Add powdered sugar. Seal bag; shake until well-coated. Spread on waxed paper to cool. Store in airtight container or bag in refrigerator.
***Please note that this recipe is for humans to enjoy only!!! Any form of chocolate is no good for pups. So buy them a fun little doggy treat to enjoy while you "chow" on this. :)
If you make this recipe, be sure to snap a photo and hashtag it #gimmesomeoven. I'd love to see what you cook!
Ali's Tip:
This is also good frozen as well!!  A little extra crunch – still the same, great flavor!  :)