Quinoa Granola
Allow me to introduce you to the new rockstar of my morning breakfast parfait — quinoa granola!
Um, quin-whaaaaa, you might ask?
I know, I was a little confused when I first heard about the idea too.  But quinoa granola literally couldn't be easier!  All you have to do is add some uncooked quinoa to your favorite granola recipe, bake it up like usual, and voila.  Granola goes "ancient"!  (Get it — ancient grains?)  ;)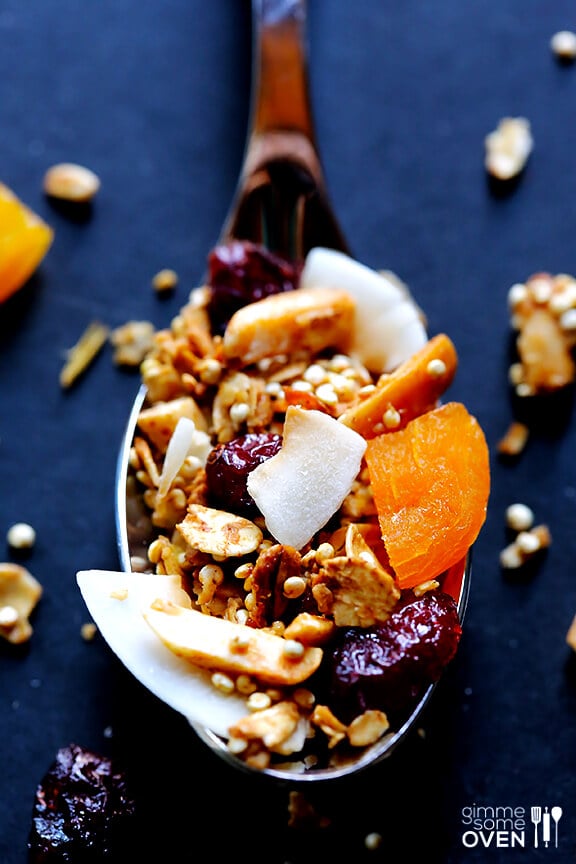 I heard from a friend that quinoa granola is actually one of the hits of Gwenyth Paltrow's new cookbook.  So you know, if Chris Martin and Apple and Moses are digging it, I figured it was worth a try.  ;)
So I whipped up a batch using my latest homemade granola recipe and decided to test it out on (I think) some even cooler rock stars — my friends.  So I brought a batch to an evening happy hour for them to try.  You know, summer beer and granola…the normal combo.  Still, my taste-testers were happy to oblige.  And we passed the big Ziplock bag full of granola around the table for everyone to try.  And then passed it again.  And then maybe one more time.
They loved it!

Everyone was super intrigued about the quinoa sprinkled throughout, and was curious (as I was) about how it would taste toasted instead of boiled.  It turns out that it pretty much tastes just like the oats!  But with quinoa, you get way more nutritional benefits.
In fact, did you know that the United Nations officially named 2013 The International Year of Quinoa?  I know that quinoa seems to be the hip health food in the United States right now.  But as someone trying to study up more lately on sustainable solutions to world hunger and clean water issues, I find its potential globally even more exciting.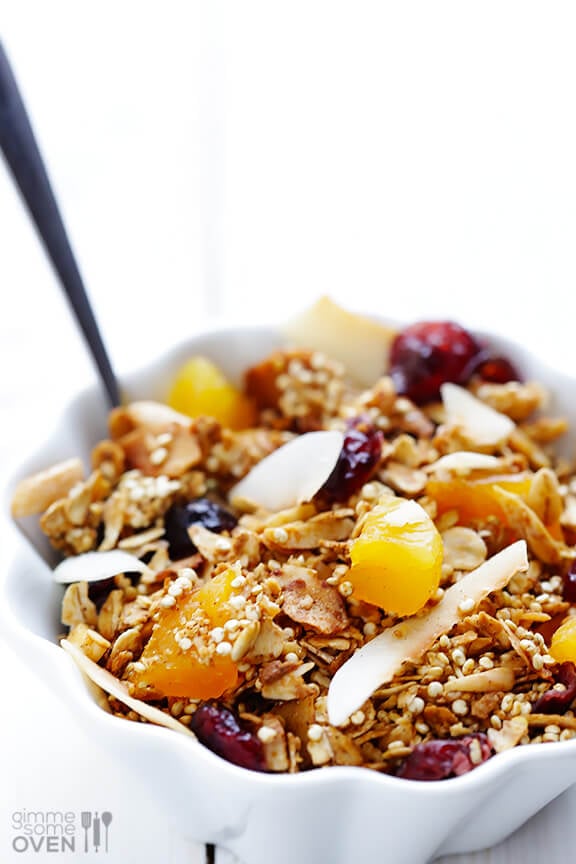 The facts make sense.  Quinoa is widely adaptable and has the potential to grow in diverse places around the world, thriving in temperatures ranging from -8 degrees Celsius to 38 degrees Celsius, at sea level or 4,000 meters above, and is not impacted by low moisture.  It is gluten-free, easy to digest, and cholesterol-free, and can be used in a wide range of diets.  It is rich in protein, fiber, iron, calcium, zinc, and all sorts of other vitamins.  And as someone who loves to develop recipes, I definitely appreciate that it is a super-versatile grain to mix with all sorts of flavors and ingredients, which is exciting when it comes to the hope of increasing its popularity around the world with different culture and cuisines.
So I share Secretary-General Ban Ki-Moon's hope that "this International Year will be a catalyst for learning about the potential of quinoa for food and nutrition security, for reducing poverty – especially among the world's small farmers – and for environmentally sustainable agriculture."
If you want to do some more reading about quinoa and its origin, history, cultivation, nutritional value, and more, I would totally recommend spending 10 minutes browsing the UN's website about the quinoa.  Really exciting stuff.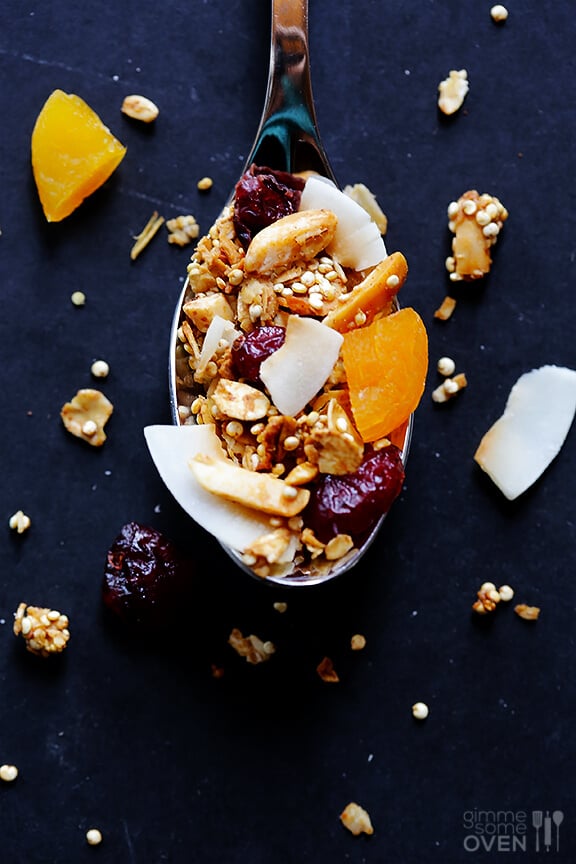 Anyway, that said, reading up on all of this good news about quinoa lately makes me even more excited to use more quinoa throughout my day.  And how better than to begin your day with an extra dose of quinoa?
So if you already have a favorite tried-and-true granola recipe, I'd recommend just taking out half of your oats and subbing in a cup or two of quinoa.  I tried my first batch with all quinoa, and have to admit that I missed a little of the texture that the larger oats gave the mixture.  But you can go either way.  I used some almonds, apricots and cherries — my favorite fruit and nut combination as of late.  But you can of course substitute in whatever extras you would like.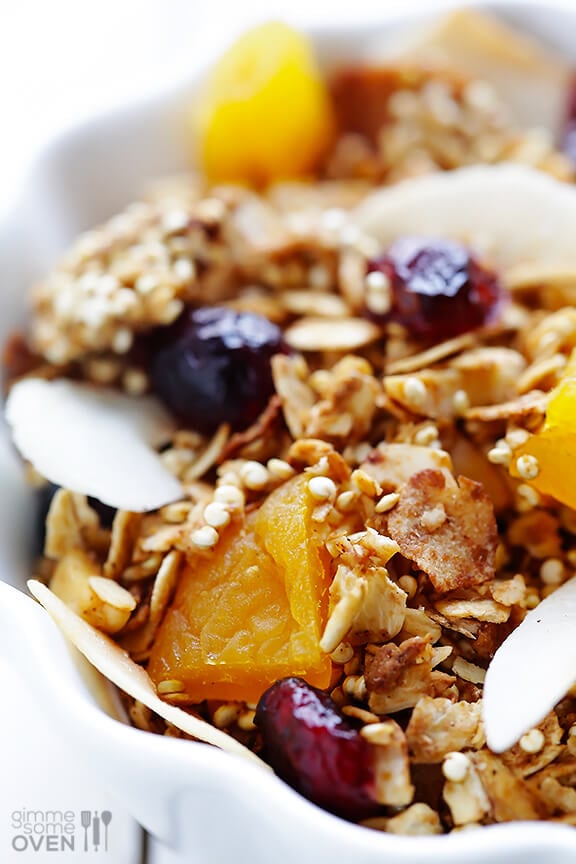 So cheers to all things quinoa!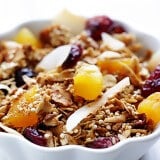 Quinoa Granola
Quinoa adds extra crunch and nutrients to this crunchy, tasty granola recipe!
Ingredients:
2 cups old-fashioned oats
1 cup quinoa (uncooked)
1 cup slivered or roughly-chopped almonds
1/4 cup honey
2 Tbsp. melted coconut oil
1 tsp. salt
1 tsp. ground cinnamon
1 cup shaved coconut (or 2/3 cup grated coconut)
6 oz. dried apricots
6 oz. dried cherries or cranberries
Directions:
Preheat oven to 350 degrees.
In a large bowl, stir together oats, quinoa, almonds, honey, coconut oil, salt and cinnamon until combined. Spread the mixture out on a foil- or parchment-lined baking sheet. Bake for about 20 minutes, stirring once halfway. Remove sheet and sprinkle the shaved coconut evenly over the top of the granola. Bake for an additional 3-5 minutes (watch closely) until the coconut is toasted. Remove and let cool, then stir in dried fruit and toss to combine.
Serve immediately or store in a sealed container for up to 2 weeks.
All images and text ©
If you make this recipe, be sure to snap a photo and hashtag it #gimmesomeoven. I'd love to see what you cook!