Rainbow Fish Taco Nachos
Oh man, I feel like this week has lasted a million years.
It's been a good one, but TGIF.  I'm ready for the weekend.
There's a huge (and very cool) music festival happening in Kansas City these next few days.  But I've been craving some downtime lately, so I actually opted to slip outside of town for three days to attend a small little yoga retreat that some friends are hosting.  I know, it sounds so trendy, but don't be fooled — I've never been very consistent with practicing yoga.  I tend to bounce back and forth between Barre3 and my elliptical and taking my pup for long walks, but have never seemed to have quite the patience for yoga, beyond maybe doing a class with my friends once a week.  Still, as someone with mega back problems, I'm slowly trying to make it a more regular part of my life.  So when I heard about this retreat that basically just centers around practicing yoga, eating meals with friends, and having some downtime to just be alone and be still and relax and think and pray and such, I signed up in a heartbeat.  Maybe this will be the magical weekend that turns me into a yogi.  If not, hopefully I'll at least come home having caught up on my zzz's (and my "oooohhhhmmmmm's").  :)
Before I take off for the weekend, though, I thought I would leave you with a fun recipe that you could make this weekend.  With Cinco de Mayo just around the corner, I'm taking the excuse to basically overwhelm the blog these next few weeks with a zillion Mexican recipes.  And I thought we'd kick things off today by combining two of my absolute favorite foods — fish tacos and nachos.
Actually, make that Rainbow Fish Taco Nachos, since I can never resist a colorful grocery cart.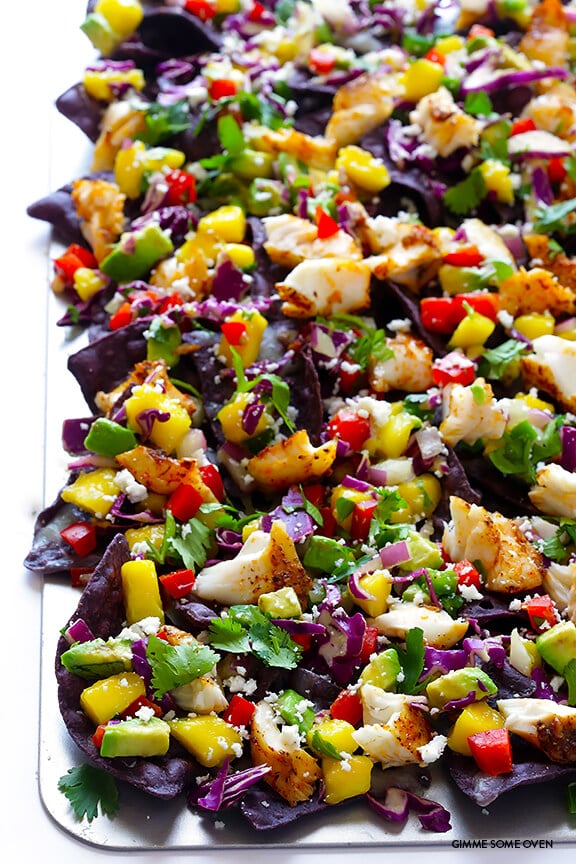 The inspiration behind this recipe mostly came from a huge bin of fresh and miraculously ripe mangoes that I stumbled upon at the market.  Since most of the mangoes we see in the Midwest arrive hard as rocks and tend to stay that way — and since they happen to be my favorite fruit — this was very exciting.
Naturally, I bought half a dozen.  :)
Most of them never made it past the peeling and diving-right-in-with-a-spoon stage.  But when some neighbors mentioned they were free for dinner earlier this week, I decided it would probably be a nice gesture to share the wealth.  So I decided to thaw some frozen tilapia and make fish tacos.
Scratch that.
Fish taco nachos.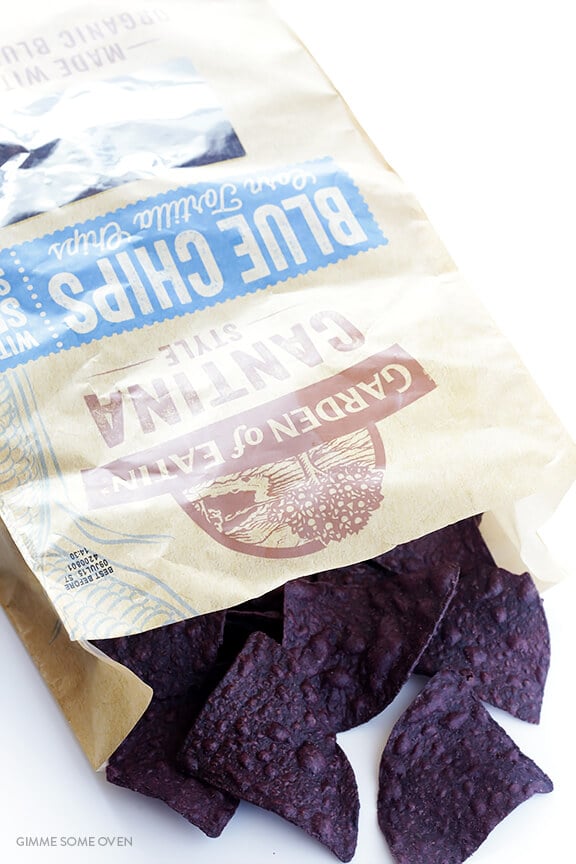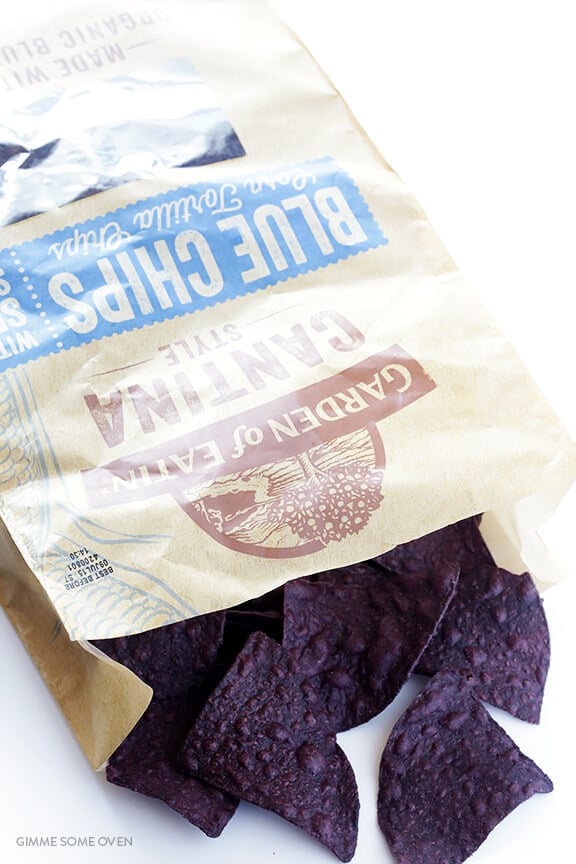 As many of you know, I have a thing for my 'chos.
I mean, who doesn't love chips and melted cheese, piled high with all of your favorite toppings, right?!  They are the perfect party food for Cinco De Mayo.  (Or Dos De Noviember, or Veinte-Siete de Julio, or any ol' day of the year!)  And with this particular recipe, I'm convinced that fish taco ingredient translate perfectly to a big plate of chips.
To make them, I recommend beginning with a big pile of my favorite chips — Garden of Eatin's Cantina Style Blue Corn Tortilla Chips.  They are the perfect "blue" for my rainbow nachos.  But I also love them because they're nice and sturdy for dipping, they're made with just three simple ingredients (organic corn, olive oil and salt), and they're certified gluten-free.  Oh, and delicious.
Pile those up on a baking sheet, sprinkle with some shredded Monterrey Jack cheese, and then pop them under the broiler for a second to melt the cheese.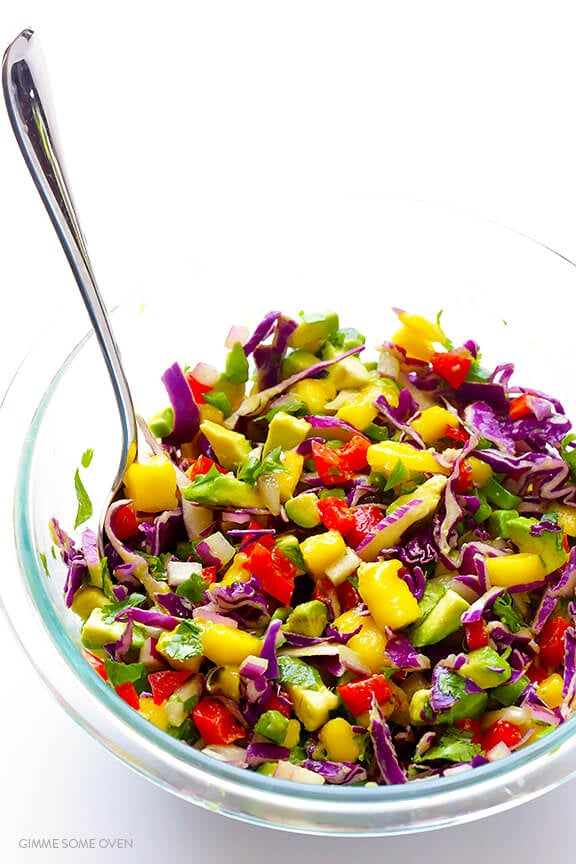 And then once the cheese is melted, pull out the pan and top the chips with this simple rainbow mango slaw.  It's basically my favorite mango salsa recipe with some extra red pepper and purple cabbage added in for flavor and an extra burst of color.  Delish.
Here's the step-by-step.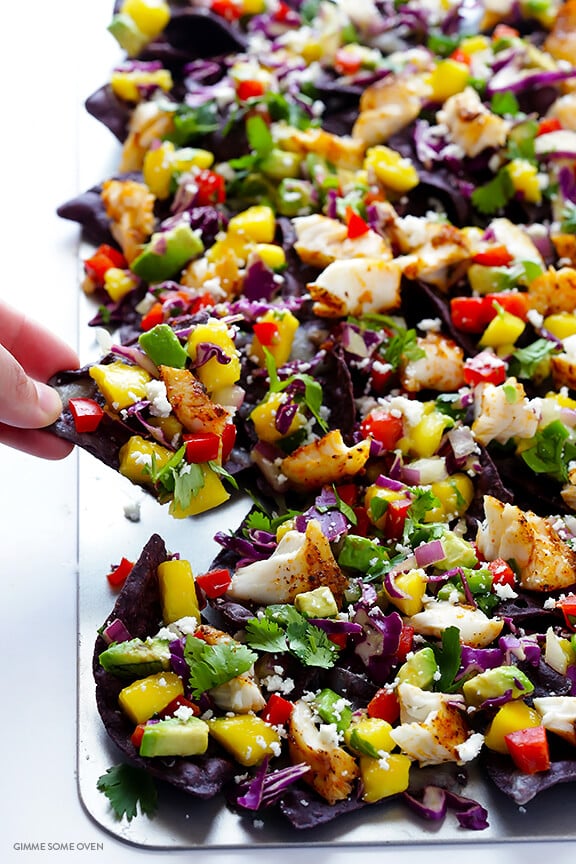 Then saute up some tilapia with some blackening seasoning (or a few pinches of cumin, chili powder, salt and pepper) until it's cooked through.  Then cut it into bite-sized pieces and pile it on top of the 'chos, along with a little crumbled cheese and cilantro for the grand finale.
Not-cho regular nachos, eh?
Get ready, though, because they're going to disappear off that plate in a heartbeat.  They are the perfect combination of salty and sweet, they're naturally gluten-free, bursting with fresh colors, and irresistibly delicious.  Oh, and they're ready to go and on the table in about a half hour.  Boom.
Enjoy!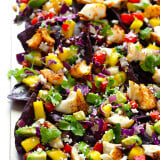 Rainbow Fish Taco Nachos
These Rainbow Fish Taco Nachos are easy to make, naturally gluten-free, full of fresh color, and absolutely delicious. Perfect for a party!
Ingredients:
Nacho Ingredients:
1 tablespoon olive oil
2 tilapia filets
2 teaspoons Cajun or blackening powder*
6 ounces (about 4 big handfuls) Garden of Eatin' Blue Corn Tortilla Chips
4 ounces freshly-shredded Monterrey Jack cheese
rainbow mango slaw ingredients (see ingredients below)
optional toppings: crumbled cotija cheese or queso fresco, extra chopped fresh cilantro
Rainbow Mango Slaw Ingredients:
1 avocado, peeled, pitted and diced
1 jalapeno, seeded and diced
1 mango, peeled, pitted and diced (about 3 cups)
half a red bell pepper, core removed and diced
half a small red onion, peeled and diced
1 cup shredded red cabbage
1/2 cup chopped fresh cilantro leaves, loosely packed
juice and zest of one lime
Directions:
To Make The Nachos:
Preheat your broiler.
Heat olive oil in a large saute pan over medium-high heat. Add tilapia and cook 3 minutes on each side, turning once, or until the fish flakes easily with a fork.  Remove from heat and transfer the fish to a separate plate to cool.  Use a fork to flake the fish into bite-sized pieces.
While the fish is cooking, spread the chips out evenly on a large baking sheet.  Sprinkle evenly with the cheese.  Place the sheet in the oven under the broiler until the cheese is melted, about 1 minute.  (Watch the oven carefully so that the cheese doesn't burn.)  Remove, then top the chips evenly with the mango slaw, bite-sized tilapia, and optional toppings.
Serve warm.
To Make The Mango Slaw:
Toss all ingredients together in a large bowl until combined.  Use immediately on the nachos.
All images and text ©
If you make this recipe, be sure to snap a photo and hashtag it #gimmesomeoven. I'd love to see what you cook!
This is a sponsored recipe post in partnership with Garden of Eatin.  I am collaborating with them to bring you fresh and delicious Mexican recipes this season, and all opinions are 100% my own as always.  Thanks for continuing to support the brands that help make this site possible.