Rainbow Salsa
This post is sponsored by Garden of Eatin.
Happy Cinco de Mayoooooooooo!
As this post goes live today, I will be fiesta-ing it up with some peanuts and pretzels on a flight to California, which means that I will regrettably miss all of the festivities in Kansas City with my friends on my favorite foodie holiday of the year.  BUT, have no fear, I have been hard at work making up for my impending Cinco de Mayo absence by eating Mexican food with friends nearly every day this past week.  So many tacos!  So many margaritas!  So many chips and salsa!!!
As many of you know, I kind of have a thing for chips and salsa.  So much so, actually, that I decided to turn my Dos De Mayo birthday party this year into a mega Dip-A-Thon.  I made a batch of (spicy) fresh pineapple margaritas, some restaurant-style salsa, skinny buffalo chicken dip, and Italian guac to share.  Then a few dozen friends all piled into my loft with surprise dips and drinks of their own in tow.
It was this chips and salsa lover's dream come true.
We had soooo many dips!!!  And you know how the birthday girl usually gets the first slice of cake?  Well, I had the even greater honor of sampling the first bite of nearly every dip.  And oh man, my friends can cook.  We had everything from hummus, to quesos, to guacamoles, to tzatziki, to salsas galore.  But my favorite dip of the night was actually made by my friend, Stacey, who brought the most gorgeous (and enormous) bowl of rainbow salsa to share.  As the night wore on, I found myself slipping back for seconds and thirds of the stuff — partly because it was just so fresh and delicious, but partly because I was madly in love with how gorgeous and colorful it was!
Ironically, I'd actually been meaning to try making a rainbow salsa of some sort for the blog this summer.  So I decided to take some inspiration from Stacey and whip up a second batch to give to some neighbors as a Cinco de Mayo gift before leaving town.  It was vibrant, it was easy, it was healthy, and good grief — it was GOOD.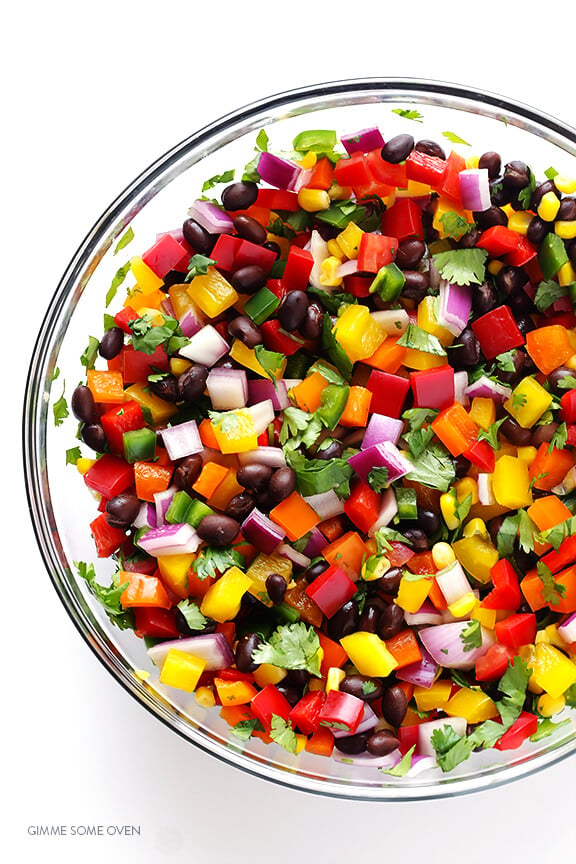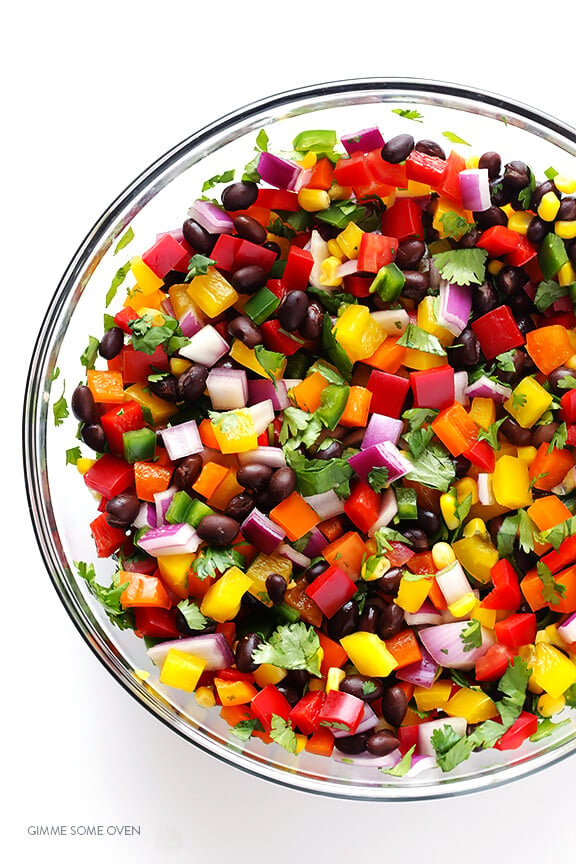 In order to hit up all of the colors of the rainbow, I decided to go with more of a black-bean-and-corn Southwestern salsa.  (Which I later came to find is known in the south as Cowboy Caviar, or something like that.  This Kansas girl had no idea!)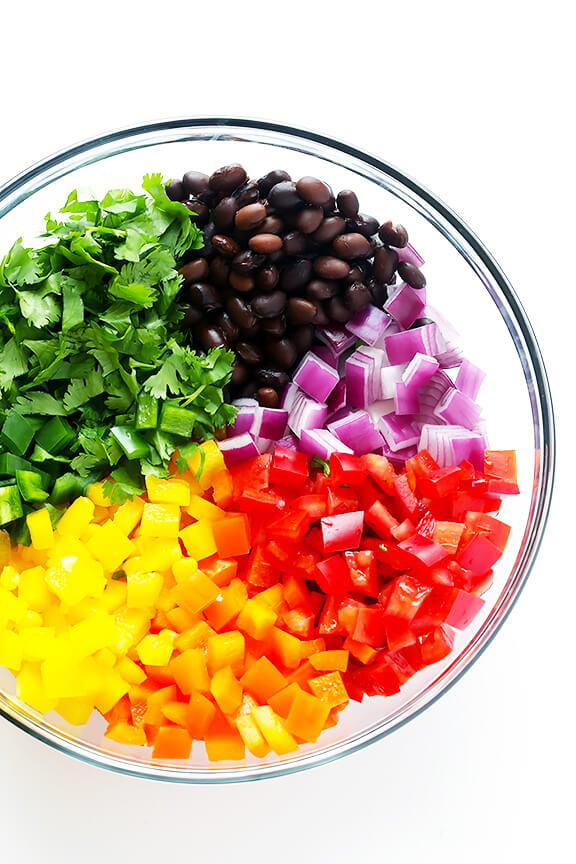 The base of my version was decided simply by going to the farmer's market and gathering as many colorful veggies as possible.  I landed upon:
Red: roma tomatoes and red bell peppers
Orange: orange bell peppers
Yellow: corn and yellow bell peppers
Green: jalapeno and fresh cilantro
"Blue": black beans (eh, close enough)
Purple: red onion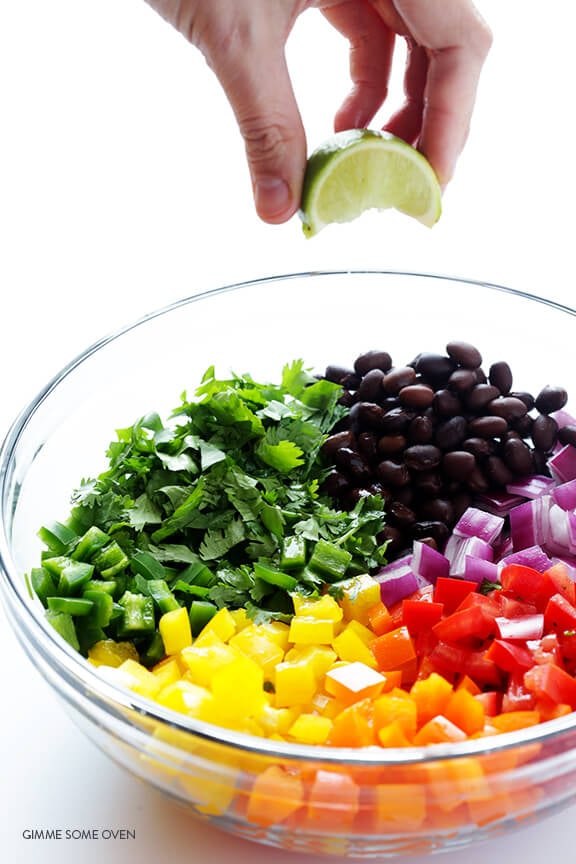 Simply toss them all together with some fresh lime juice and a few seasonings.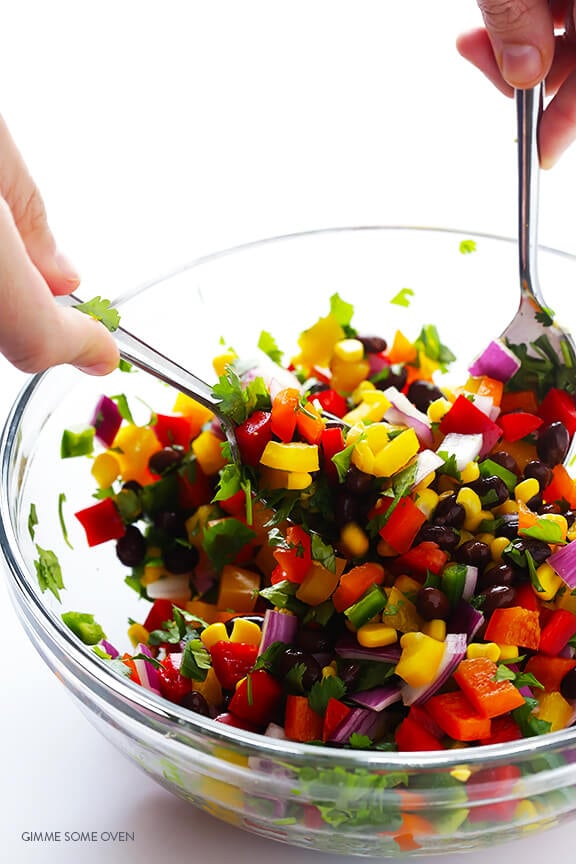 And within about 10 minutes (or however fast you can chop everything up), you'll be ready to taste the rainbow.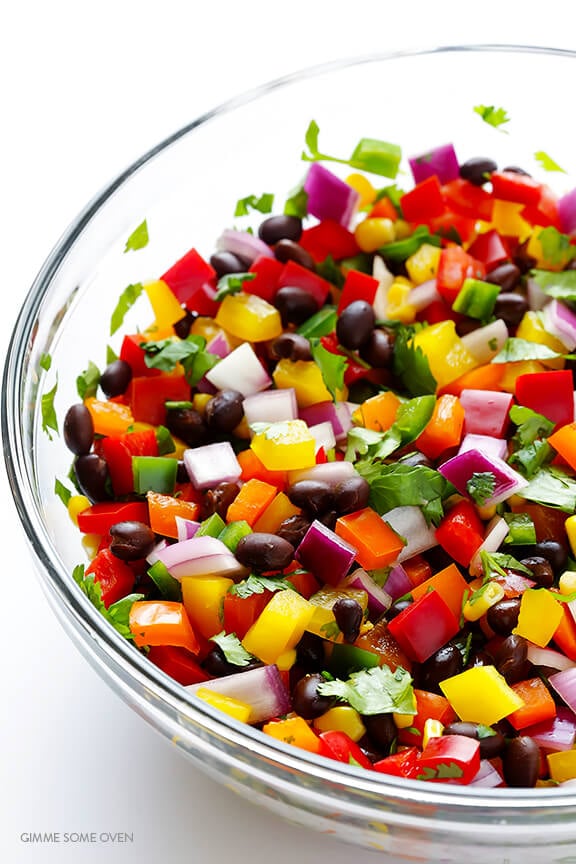 Isn't it gorgeous?!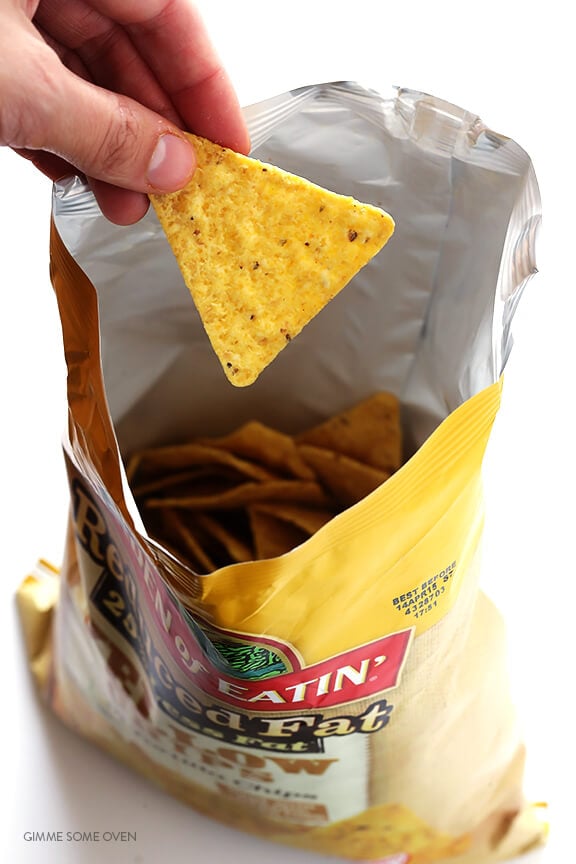 I served mine up with my favorite yellow corn tortilla chips from Garden of Eatin.  And actually, I tried their reduced-fat tortilla chips for the first time with this salsa, and they were fantastic!  I never would have guessed that they were lightened up.  So tasty, and I love how they have a clean label with basic ingredients.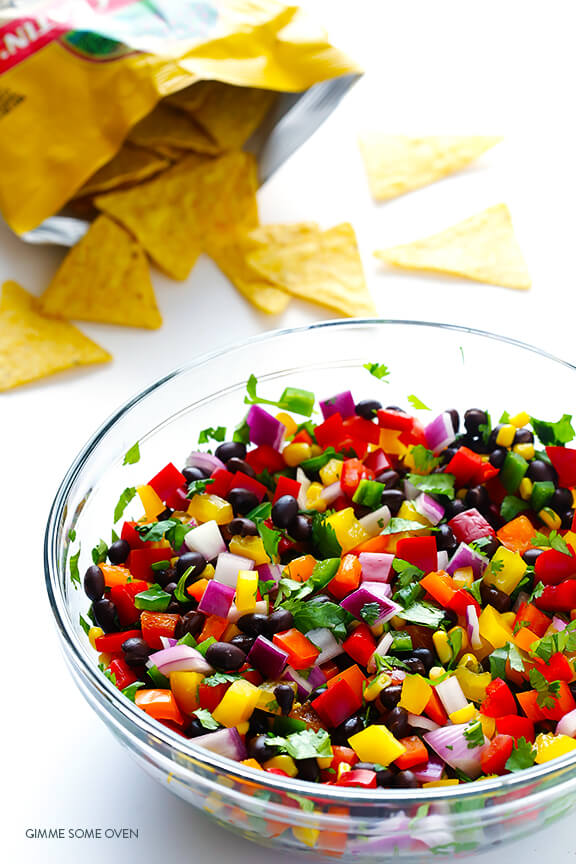 Sure enough, they were a match in chips and salsa heaven.
And I love that every time I make this salsa, now, I get to remember such a fun night shared with friends.  Thanks for the inspiration, Stacey.
And I wish you all a delicious Cinco De Mayo!  May the chips and salsa be ever in your favor.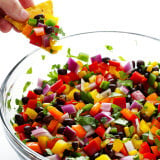 Rainbow Salsa
This rainbow salsa is overflowing with fresh and healthy and colorful ingredients that combine to make the tastiest dip!
Ingredients:
3 roma tomatoes, cored and diced
1-2 jalapeno peppers, stems removed, seeded and diced (add more/less to taste)
1 large red bell pepper, cored and diced
1 large orange bell pepper, cored and diced
1 large yellow bell pepper, cored and diced
1 (15-ounce) can black beans, drained and rinsed
1 (15-ounce) can whole kernel corn, drained
1 cup chopped fresh cilantro, loosely-packed
2/3 cup chopped red onion (about half of a small red onion)
2 tablespoons freshly-squeezed lime juice (about 1 large lime)
1/2 teaspoon garlic powder
1/2 teaspoon ground cumin
1/2 teaspoon salt
1 small bag Garden of Eatin tortilla chips (I went with Reduced-Fat Yellow Corn Tortilla Chips)
Directions:
Combine the tomatoes, jalapeno, bell peppers, black beans, corn, cilantro and red onion in a large bowl.
In a separate bowl, whisk together the lime juice, garlic powder, cumin and salt until combined.  Add the juice to the bowl of salsa.  Then toss everything until combined.
Serve immediately, or cover and refrigerate for up to 48 hours.
All images and text ©
If you make this recipe, be sure to snap a photo and hashtag it #gimmesomeoven. I'd love to see what you cook!
This post is sponsored by Garden of Eatin'.  I am partnering with them this Spring to create all sorts of fresh and tasty dip-able treats, and all chip-loving opinions are my own as always.  Thanks for continuing to support the brands that help make this site possible.