Reese's Peanut Butter Chocolate Mini Cheesecakes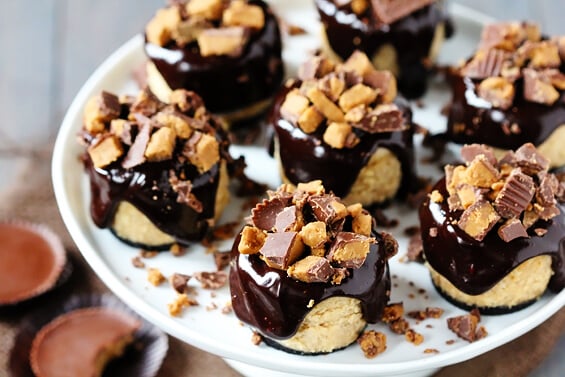 Earlier this week, I hosted a little birthday gathering for a beautiful friend who recently moved to England but is back home (yay for us!) for a few weeks.  And when I asked her what might "happen" to be one of her favorite desserts, she responded that she always loves cheesecakes, but then also really loves peanut butter and chocolate.  So I decided to bring together the best of both worlds and make these Reese's mini cheesecakes!
It was also a chance to use a new little kitchen purchase that I finally caved in to buy — this mini cheesecake pan.  Sure, you can make little cheesecakes in mini baking cups, but I had long admired the sleek vertical lines of this pan, so may have squealed in delight just a tad when I finally purchased one of my own.
But I was even more excited when the birthday girl and my friends gave these little cheesecakes rave reviews.  And then my Hallmark coworkers promptly finished off the leftovers and an additional batch of them today in a flash.  The feedback was unanimous — everyone loved them!  They are definitely on the decadent side, filled with the rich peanut butter cheesecake and topped with a simple dark chocolate ganache.  So trust that even one "mini" cheesecake is more than enough for a single serving.  But if your family and friends are like mine, they will happily do the hard work of polishing them off.  ;)
Also, if you don't have a mini cheesecake pan, you can make these in regular-sized or mini-baking cups, or the recipe will translate to an 8-inch springform pan.  However you make these little Reese's cheesecakes, I hope you enjoy them!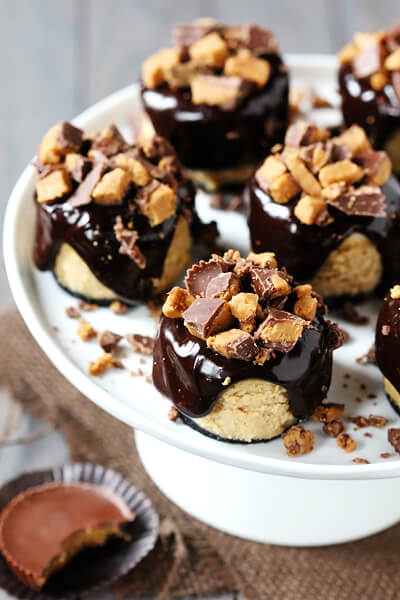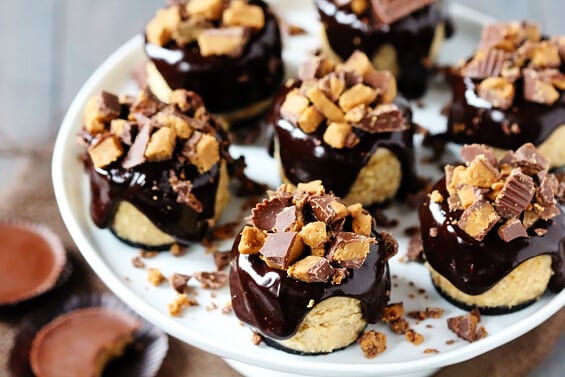 Reese's Peanut Butter Chocolate Mini Cheesecakes
Peanut Butter + Chocolate + Cheesecake = What could be better?!?
Ingredients:
Oreo Cookie Crust Ingredients:
1 cup finely-crumbled Oreo cookies
2 Tbsp. melted butter
Peanut Butter Cheesecake Ingredients:
16 oz. (2 bricks) cream cheese, softened
1/2 cup smooth peanut butter
3/4 cup light brown sugar, firmly packed
2 eggs, room temperature
1/4 cup heavy cream
1/2 tsp. vanilla extract
Chocolate Ganache Ingredients:
1 cup dark chocolate chips
3 Tbsp. heavy cream
1 Tbsp. powdered sugar (or more)
Topping:
Reese's Peanut Butter Cups, crumbled
Directions:
To Make The Oreo Cookie Crust:
Preheat oven to 350 degrees.
In a medium bowl, whisk together the finely-crumbled Oreo cookies and melted butter until blended. Press the mixture into your mini cheesecake pan (or other baking pan) in your desired thickness, press until flat, then bake for 5 minutes and remove. (**I placed 1/2 tablespoon of the crust into each mini cheesecake, and then patted it down with my spoon.**)
To Make The Peanut Butter Cheesecake:
In an electric mixer, add the cream cheese and peanut butter and beat on medium-speed until smooth. Add the sugar and continue mixing until combined. Blend in the eggs one at a time, then the cream and vanilla, using a spatula to scrape down the bowl between additions, and beat until just combined.
Use a spoon or cookie scoop to transfer the batter to your pan with the pre-baked crusts. Fill each mini cheesecake container to the brim, evening out the tops with a spoon. Then bake for 12-15 minutes, or until the cheesecakes are just set and no longer move when you jiggle the pan. Turn the oven off and crack open the door and let the cheesecakes cool off for 15 minutes. Remove and let sit until they reach room temperature, then refrigerate for at least 4 hours. Top with ganache and the crumbled Reese's.
To Make The Chocolate Ganache:
In a heatproof bowl, add the chocolate chips and cream. Heat over a bowl of simmering water, stirring until combined and the chocolate is melted. Or heat in the microwave in 10-second intervals, stirring between intervals, until the chocolate is melted. Add in a tablespoon of powdered sugar, or more to reach your desired consistency. Then spoon the ganache over the mini cheesecakes.
*If you make this in an 8-inch springform pan, you may want to double the crust recipe.  Up to you!
All images and text ©
If you make this recipe, be sure to snap a photo and hashtag it #gimmesomeoven. I'd love to see what you cook!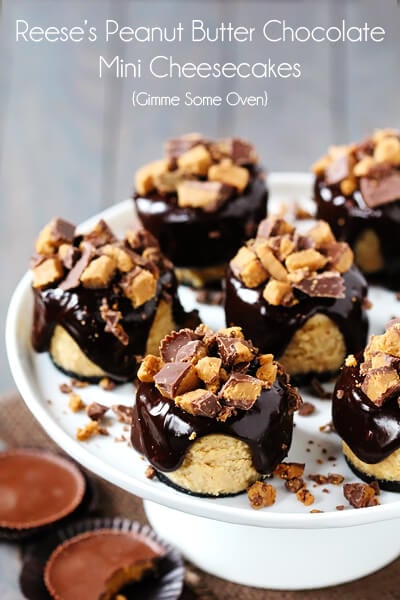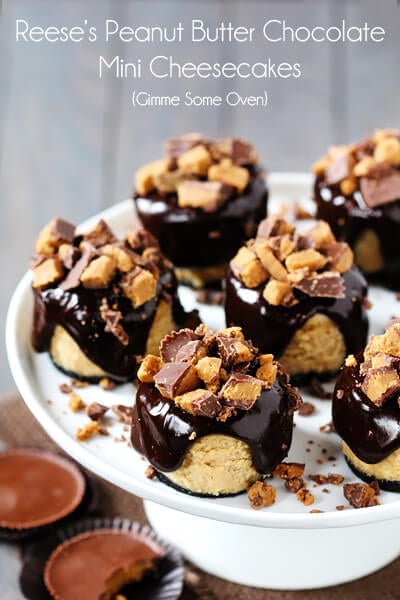 Disclaimer: This post contains affiliate links.