The BEST Salsa Recipe!
This Restaurant-Style Salsa recipe only takes about 10 minutes to make, it's easy to customize (to make it extra spicy, smoky or tangy if you'd like), and it's SO irresistibly delicious.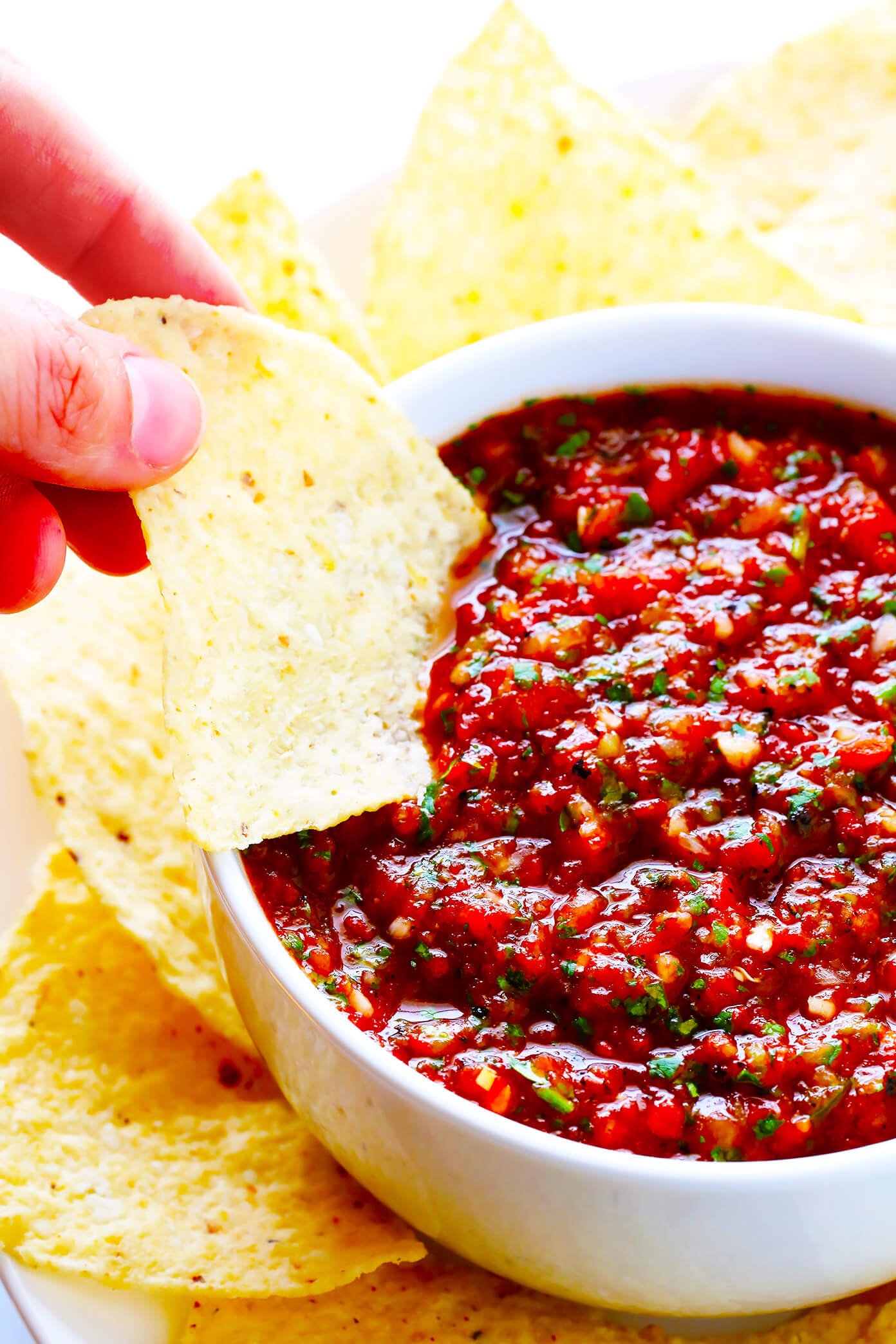 Happy Dos De Mayo!
Which also means…happy birthday to me!
My birthday feels a little extra-special this year because it also happens to mark exactly one more month until my wedding. (Can't wait!) But every year, my birthday also happens to conveniently fall on the week of Cinco De Mayo, which I must say I couldn't have planned better myself. Mexican food on my birthday for life! (Literally!)
Last year for my birthday, I had all of my friends over for an epic chips-and-salsa-a-thon, which was downright dreamy. Instead of cooking, Barclay and I drove around town all afternoon and picked up a dozen or so different salsas from our favorite Mexican restaurants. And then we whipped up an enormous batch of my classic margaritas, opened up a zillion bags of chips, and had all of our friends over for the most delicious taste test ever. Totally my kind of birthday.
This year's plans are TBD, thanks to my sweet fiancé who knows how much I love a good surprise. But I did go ahead and whip up a batch of this salsa recipe to have on hand for my bday and Cinco De Mayo this week, which I've already been putting to good use. And hey — since I don't eat many sweets or crave a traditional birthday cake anymore — this seemed like my kind of birthday treat recipe to share on the blog today. ?
Restaurant-Style Salsa Recipe | 1-Minute Video
Alright, so about this salsa recipe!
It's actually one that I shared on the blog a few years ago. But — like many of the recipes around here lately while I've been busy with wedding planning — it's one that I recently re-photographed and updated to share with those of you who might have missed it the first time around, because I'm convinced that everyone needs this recipe in their lives.
Seriously, it's been my go-to homemade salsa recipe for years. And for someone who makes homemade salsa nearly once a week, that's sayin' something.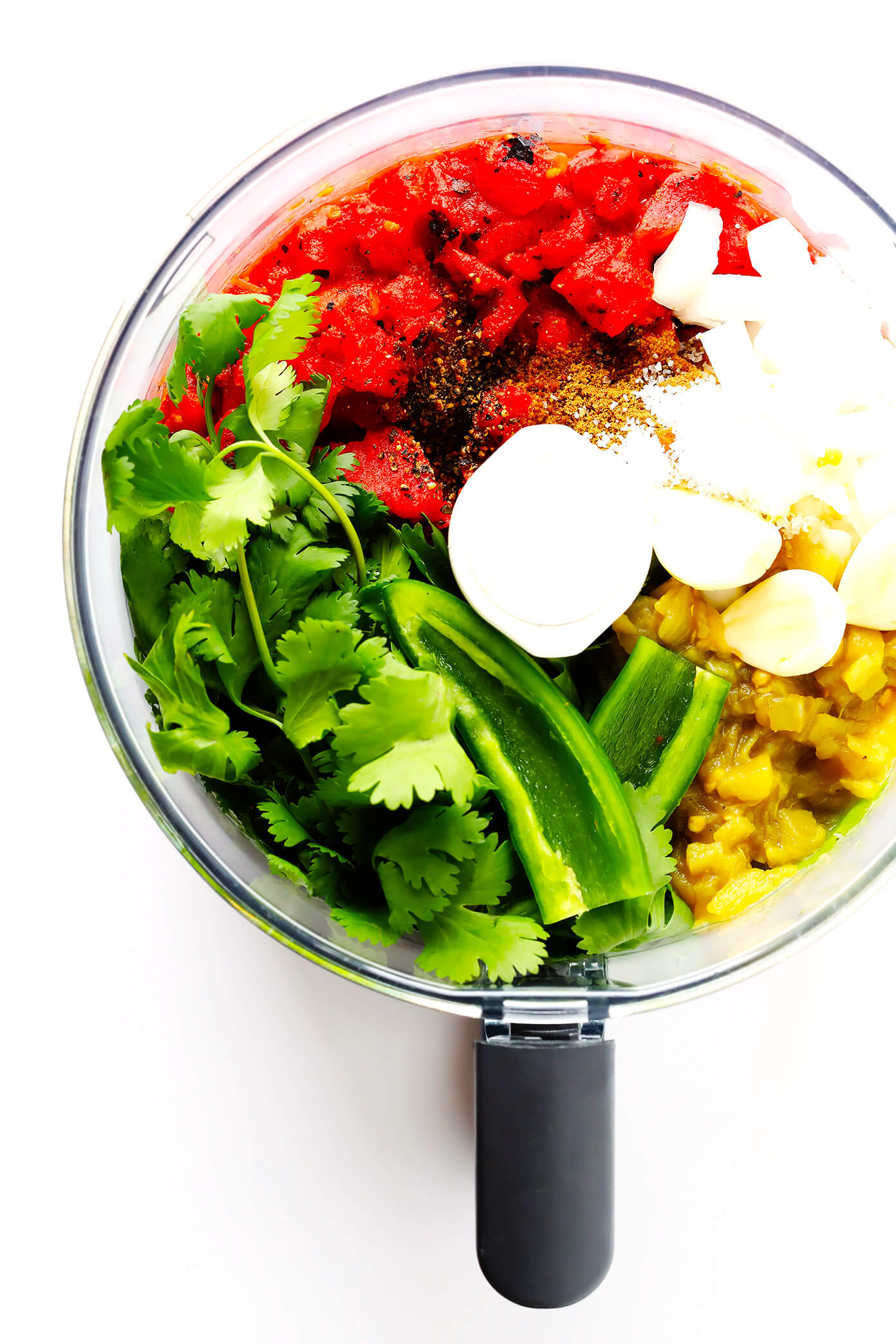 But the best part? It's incredibly quick and easy to make! Also, since it uses canned fire-roasted tomatoes (gotta use the fire-roasted), it's a really accessible recipe to make year-round, even beyond your regional tomato season.
To make it, simply toss all of your ingredients together in a food processor or blender…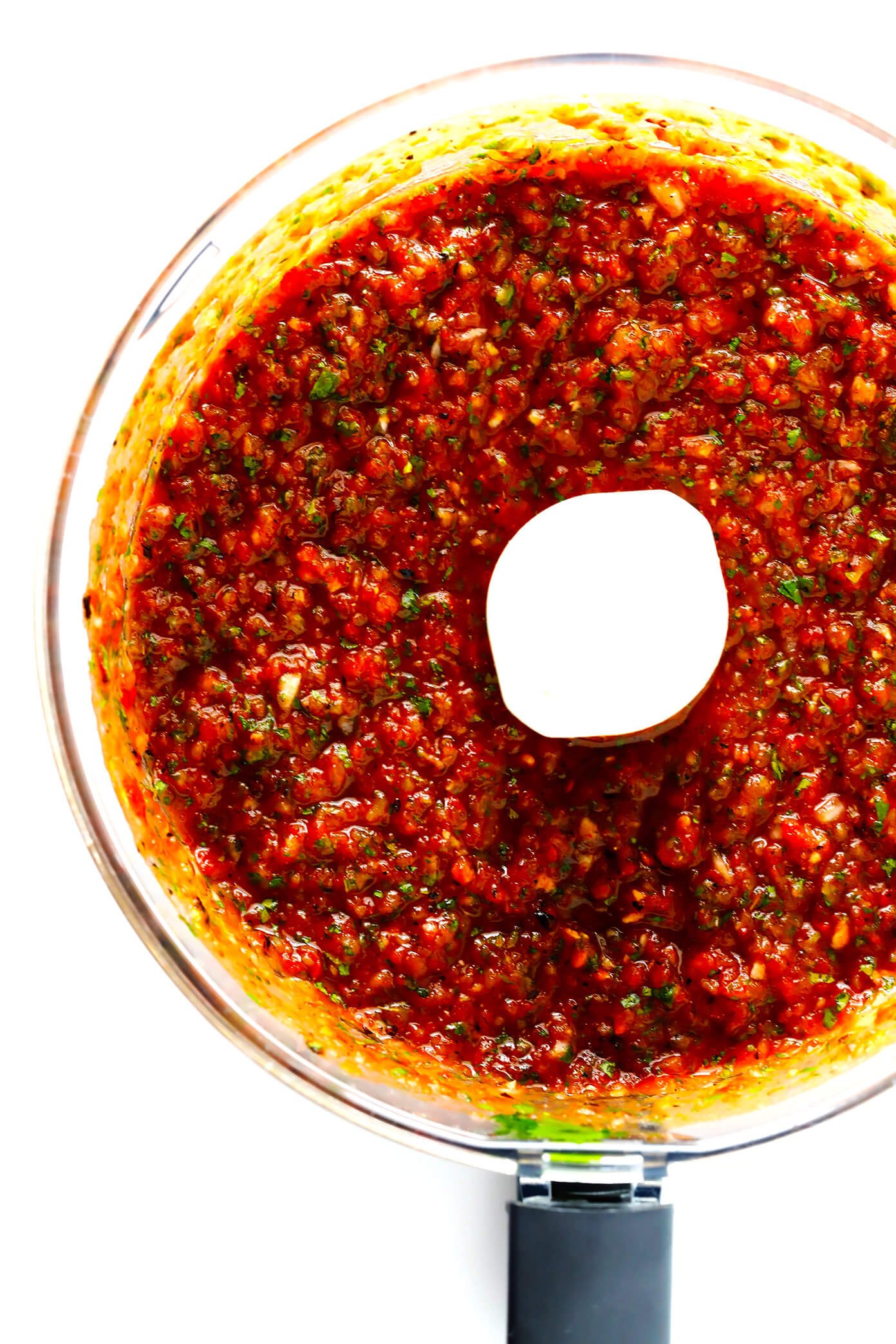 …puree until the salsa reaches your desired texture…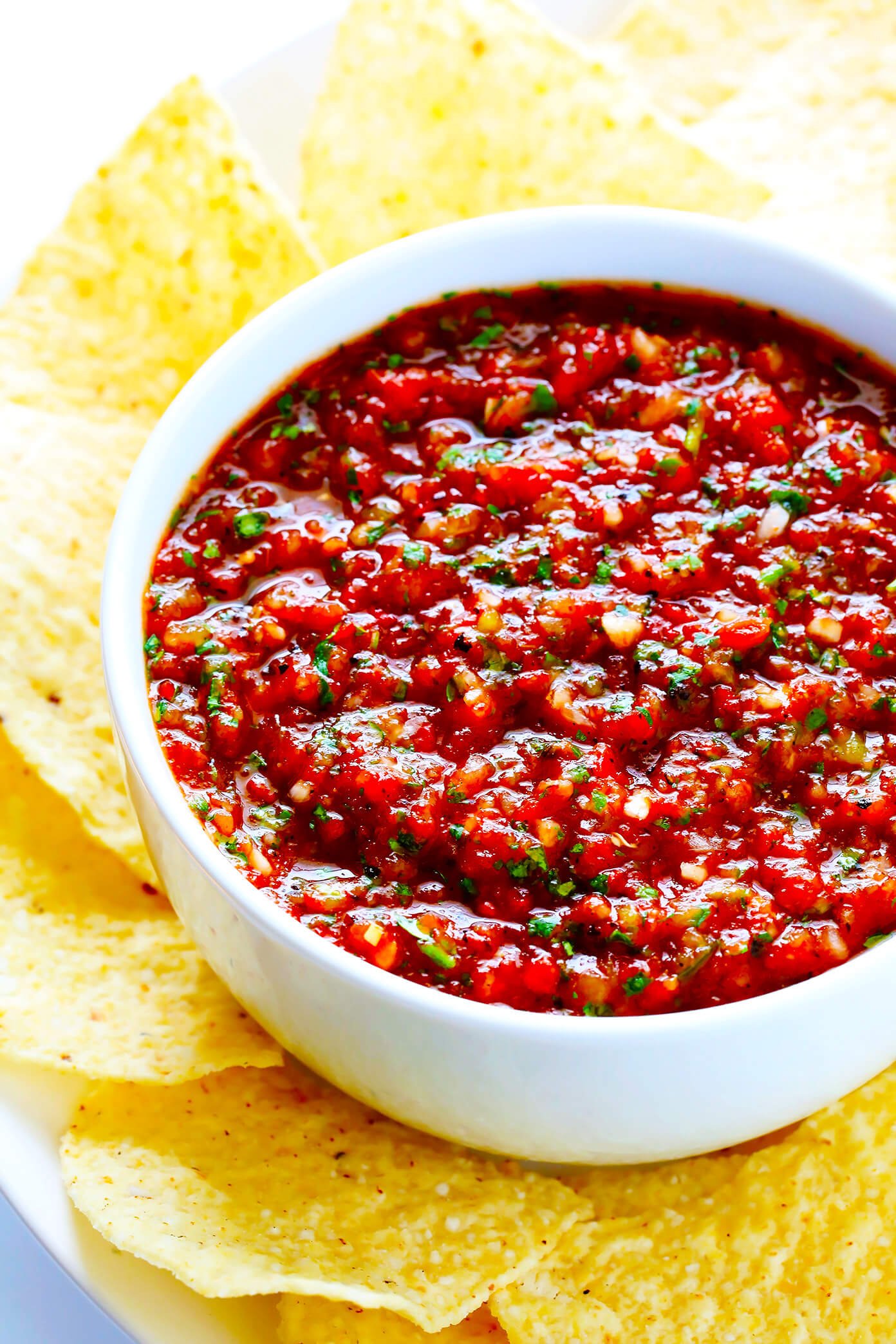 …then taste and season as needed.
If you'd like a smokier salsa, I strongly recommend adding in a chipotle pepper or two in adobo sauce. If you'd like a spicier salsa, you can add in an extra jalapeño (or just add in the seeds from the original one). If you'd like a tangier salsa, you can't go wrong with extra lime juice in my opinion. And as always, don't be afraid to add in extra salt to kick up the flavor if needed!
Then, once your salsa is all seasoned and ready to go, partay like it's yo birthday and DIVE IN.
Seriously, I've made this recipe probably hundreds of times, and still never grow tired of it. So if you need some chips and salsa in your life this week — as I believe everyone always does — I can't recommend it enough.
Enjoy, amigos!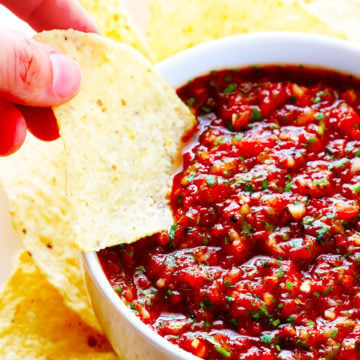 The BEST Salsa Recipe!
This restaurant-style salsa recipe is easy to make, and full of amazing fresh flavor.
Ingredients:
2 (14-ounce) cans fire-roasted tomatoes, drained if you like a thicker salsa
3 cloves garlic, peeled
1 (4-ounce) can diced green chiles
1 bunch (about 2 cups loosely-packed) fresh cilantro leaves
1 cup diced white onion
1 jalapeno, stem removed (and seeded, if you want less heat)
1 teaspoon ground cumin
1 teaspoon salt
1 teaspoon sugar (optional)
1/4 teaspoon black pepper
Directions:
Pulse all ingredients together in a food processor or blender until smooth, or your desired consistency is reached. Season with additional salt and pepper if needed.
Serve immediately, or refrigerate in a sealed container for up to 3 days.
Optional modifications:
If you want it extra spicy, add in the entire jalapeño with seeds, or even add in two jalapeños.  (Or if you want it less spicy, you can leave out the jalapeño seeds, or omit the jalapeño entirely.)
If you want it extra smoky, add in 1-2 chipotles in adobo sauce.
If you want it extra fresh and tangy, add in extra lime juice.
All images and text ©
If you make this recipe, be sure to snap a photo and hashtag it #gimmesomeoven. I'd love to see what you cook!