Roasted Garlic Chicken Pizza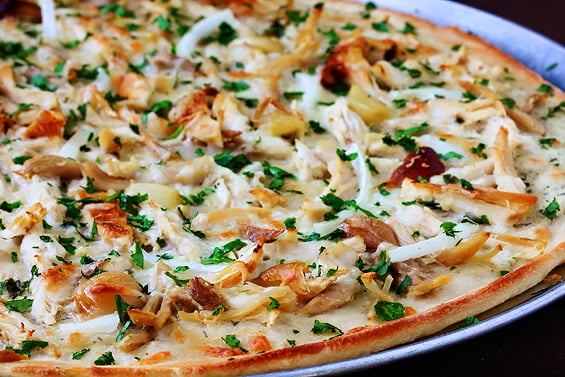 This is a sponsored review from BlogHer and Kraft.
I'm back again with the second recipe for Real Women of Philadelphia!  And oh my heavens.  Any of you pizza lovers out there won't want to miss this one…
Basically, this is my version of the beloved garlic chicken pizza kicked up a notch.  And it's simplified a notch too since — aside from roasting a head or two of garlic — this only took 5 minutes of prep!  Perfect for a busy weekday night.
All the recipe calls for are seven simple ingredients — a favorite pizza crust, shredded chicken (I used rotisserie), onions (whatever kind you like or you can nix them), shredded cheese (I accidentally bought Monterrey Jack instead of mozzarella, but ended up loving it!), fresh parsley, and lots of whole roasted garlic cloves (um…YUM).  But instead of making a cream sauce, I decided instead to try out the new line of PHILADELPHIA Brand Cooking Cremes as the base for this pizza!  I had noticed their arrival recently at my grocery stores, so decided to try the "Italian Herbs & Cheese Cooking Creme" in this recipe.
And holy cow — the results were amazing!! Honestly I would have never guessed this pizza just had seven ingredients.  The flavor was incredible, and I definitely loved the extra creaminess and herbs from the PHILADELPHIA Brand Cooking Creme.  I'll definitely be bookmarking this recipe, and trying new variations with other ingredients again very soon. :)
For more new and delicious recipes made with the new PHILADELPHIA Brand Cooking Cream and Cream Cheese, check out this roundup of some other BlogHer bloggers' recipes here, as well as the Real Women of Philadelphia website!  It's a great community offering dozens of delicious recipes.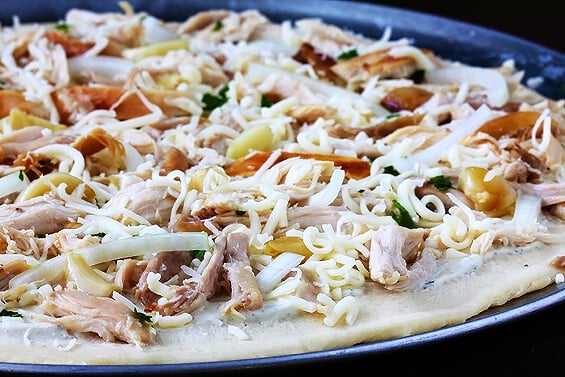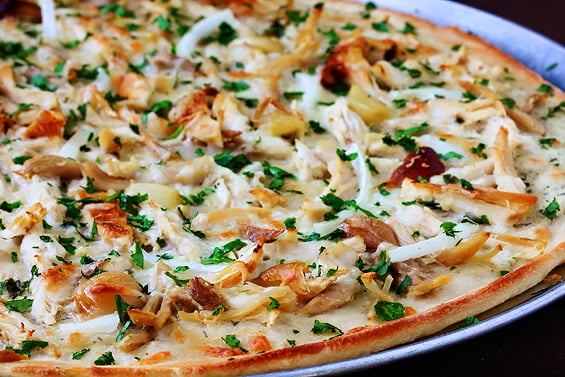 Roasted Garlic Chicken Pizza
Easy, fast and so flavorful — this Roasted Garlic Chicken Pizza recipe will have everyone going back for seconds!
Ingredients:
1-2 whole heads of roasted garlic(see directions here for [how to roast garlic|http://www.gimmesomeoven.com/how-to-roast-a-head-of-garlic/]
1 pizza crust, homemade or storebought (**see tip below**)
1/2 cup PHILADELPHIA brand Italian Herb & Cheese Cooking Creme
2-3 cups shredded cooked chicken
sliced white or red onions
1-2 cups shredded Monterrey Jack or Mozzarella cheese
1 handful Italian parsley, finely-chopped
Directions:
Begin by [roasting your head(s) of garlic|http://www.gimmesomeoven.com/how-to-roast-a-head-of-garlic/]. Once it is ready and cooled to room temperature, carefully squeeze the garlic cloves out of the skin and set aside.
Preheat your oven to 425 degrees (or the temperature specified on your pizza crust, if storebought).
Lay your pizza crust on a floured work surface. Spread the top with the PHILADELPHIA brand Cooking Creme, leaving a 1-inch border for crust. Sprinkle evenly with shredded chicken, onions, roasted garlic cloves, and about half of the chopped parsley. Top evenly with cheese.
Transfer to a pizza baking sheet and bake at 425F degrees for 12-16 minutes, or until the cheese is melted and the crust is golden brown. (Or you can bake it on a pizza stone, following the manufacturer's instructions if you'd like.) Remove pizza and let cool for 5 minutes before slicing. Garnish with the remaining chopped parsley, and serve.
All images and text ©
If you make this recipe, be sure to snap a photo and hashtag it #gimmesomeoven. I'd love to see what you cook!
Ali's Tip:
For a fun time saver, stop by a favorite local pizza restaurant and ask to buy (just) their dough for your pizza.
For more great recipes, check out the finalists of the Real Women of Philadelphia contest. The winners will be announced June 30th at The Live Event but until then, the recipes are worth perusing. Enjoy!