Roasted Pear, Blue Cheese & Arugula Salad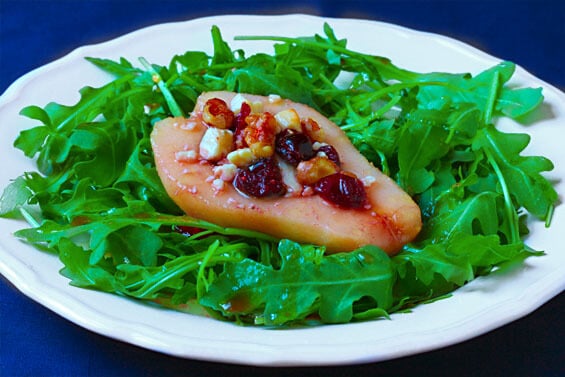 Last weekend I spent the most beautiful Friday night celebrating the birthday of my good friend, Sarah.  Instead of going out, though, we opted to enjoy a cozy fall night at home, and my friend Ally and I offered to cook.  She happens to be a big fan of the Barefoot Contessa, so amongst our menu of soup, bread, apps, and an improvised homemade apple pie…I loved that a salad from Ina also showed up on the menu.
Indeed…it was this roasted pear, blue cheese, cranberry, walnut and arugula salad.  (Only a few of those fit in the title!)  When I arrived, Ally already had the pears prepped and ready to go.  So while we finished cooking the rest of the food, these yummy creations roasted in the oven.  And minute by minute, the house began to filled with the most delicious smell.  Mmmm.  :)
Sure enough, Ina gave us another winner.  In addition to having such a classy (but oh-so-simple to create) presentation, this warm salad was completely yummy.  The combination of these sweet pears and cranberries, with the tang of the cheese, the rich walnuts, and peppery arugula — then drizzled with the port (or you could use red wine) and cider sauce — was perfectly balanced.  You could of course substitute in your favorite cheese, or greens, but I like this just as it is.
So cheers to great friends, great meals, and of course, the great Ina Garten.  Look forward to making this again soon!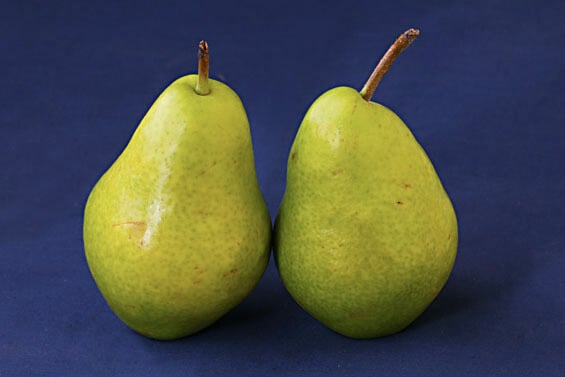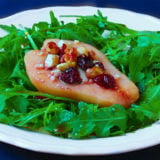 Roasted Pear, Blue Cheese & Arugula Salad
Ingredients:
3 ripe but firm Anjou pears (or I used Bartlett)
freshly squeezed lemon juice (3 lemons)
3 ounces coarsely crumbled sharp blue cheese
1/4 cup dried cranberries
1/4 cup walnut halves, toasted and chopped
1/2 cup apple cider
3 Tbsp. port (or red wine)
1/3 cup light brown sugar, lightly packed
1/4 cup good olive oil
6 ounces baby arugula
salt
Directions:
Preheat the oven to 375 degrees F.

Peel the pears and slice them lengthwise into halves. With a small sharp paring knife and a melon-baller, remove the core and seeds from each pear, leaving a round well for the filling. Trim a small slice away from the rounded sides of each pear half so that they will sit in the baking dish without wobbling. Toss the pears with some lemon juice to prevent them from turning brown. Arrange them, core side up, in a baking dish large enough to hold the pears snugly.

Gently toss the crumbled blue cheese, dried cranberries, and walnuts together in a small bowl. Divide the mixture among the pears, mounding it on top of the indentation.

In the same small bowl, combine the apple cider, port, and brown sugar, stirring to dissolve the sugar. Pour the mixture over and around the pears. Bake the pears, basting occasionally with the cider mixture, for 30 minutes, or until tender. Set aside until warm or at room temperature.

Just before serving, whisk together the olive oil, 1/4 cup of lemon juice, and 1/4 cup of the basting liquid in a large bowl. Divide the arugula among 6 plates and top each with a pear half. Drizzle each pear with some of the basting liquid, sprinkle with salt, and serve warm.

If you make this recipe, be sure to snap a photo and hashtag it #gimmesomeoven. I'd love to see what you cook!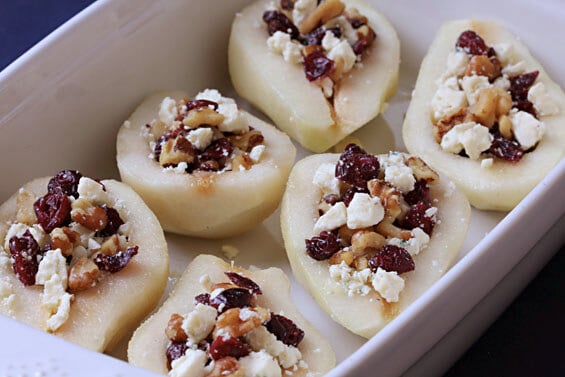 Ali's Tip:
Be sure to toss your pears with lemon immediately, or they will brown up before you know it!