Roasted Pumpkin Seeds (Pepitas)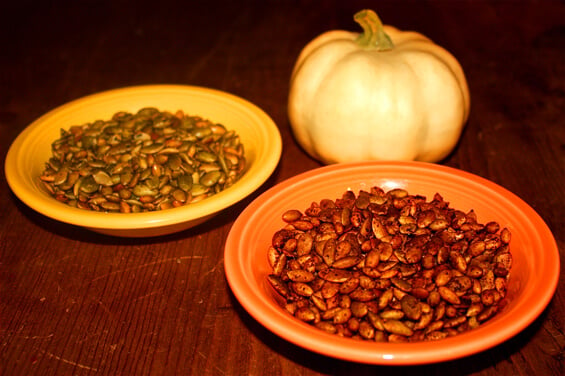 For the third post in "Ode To Pumpkin Week", we're paying tribute to the treasure found inside of the pumpkin — pepitas!  Yes, these little seeds are as fun to pronounce as they are to eat.  So no English-accented "pay-pee-tuhs", please — these are "peh-pee-tahs" (touch your tongue to the back of your front teeth to pronounce the soft "t").  Bueno.  :)
While I've never been a huge fan of the tough white seeds pulled directly from a pumpkin, I love these raw, hulled little green seeds (found inside the white ones)!  Always roast a few batches every fall to have on hand for snacking or to throw in salads, granola, Chex mix and such.  The seasoning options are endless, but I've listed a few below for ideas.  While at home visiting my folks today, we whipped up two quick batches to enjoy while watching "Glee" — a blend with chili, lime, and cumin powder (pictured on the right), and another with herbs de provence (left).  Both were quite delicious, and the combination of flavors coming from the oven was (surprisingly) appetizing!
So pay a visit to a local seed/nut merchant, and roast up a batch.  I assure you they're muy delicioso!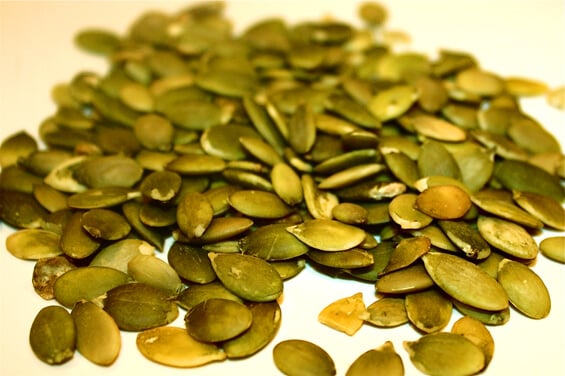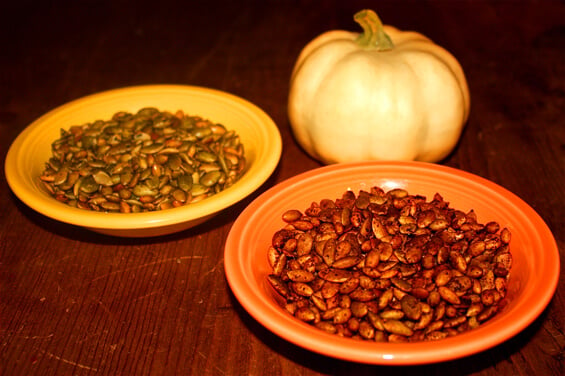 Roasted Pumpkin Seeds (Pepitas)
An easy and delicious recipe for roasting pumpkin seeds (pepitas). Plus, lots of seasoning ideas, detailed instructions, and helpful photos!
Ingredients:
pepitas (raw, hulled pumpkin seeds)
olive oil, melted butter or cooking spray (preferably olive oil)
salt
seasonings
Seasoning ideas:
salt
garlic salt
chili powder + lime juice
herbs de provence (or Italian seasoning)
smoked paprika
cinnamon + chili powder
worcestershire sauce + seasoned salt
Directions:
Preheat oven to 350 degrees. Grease baking sheet or line with aluminum foil.
In a bowl, mix pumpkin seeds with a small amount of olive oil (or butter, or lightly cover with cooking spray); use just enough oil so that they are just very lightly coated. Add salt and seasoning to taste, and mix so that seeds are fairly evenly coated.
Transfer seeds to cooking sheet, and bake for about 15-25 minutes (or until seeds are cooked and begin to lightly brown). Remove trays every 10 minutes to stir the seeds and check for doneness. Let cool and serve.
If you are just wanting to make a small batch of these (which is fun for experimenting with seasonings!), a toaster oven is a fantastic option for baking!  Just be sure to stir them a little more frequently, as toaster ovens tend to bake slightly more unevenly.
All images and text ©
If you make this recipe, be sure to snap a photo and hashtag it #gimmesomeoven. I'd love to see what you cook!