Roasted Veggie Wrap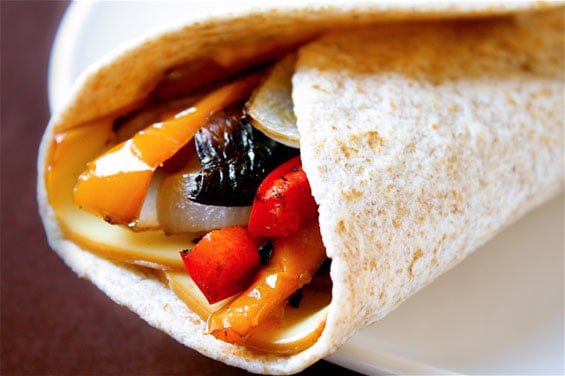 I have three words for you today.  Read very, very carefully.  You won't want to miss them.
Smoked.  Swiss.  Cheese.
Oh my goodness!!!  Up until this week, I had no idea of the deliciousness they represent.  I've long been a fan of smokey cheeses, but somehow had never had the fortune to run across smoked swiss.  But thanks to my lovely friend at the deli, who always has new cheese samples for me to try each time I visit (yay!), I finally had my first taste of it this week.  Suffice it to say, only about half of the slices I bought made it all the way home.  :)  Delicious!!!
I did manage a to show a little restraint, though, and save the rest for this yummy roasted veggie wrap which is the feature for day four of Cheap Eats Week. While it may be inexpensive, this little wrap is absolutely packed with great flavor!  The combination of the smokey cheese, paired with the balsamic-garlic roasted veggies (especially the portabello!) was absolutely amazing.  And, the entire prep time was less than 5 minutes.  Pretty sure I counted the minutes at work until lunchtime rolled around for this one.  :)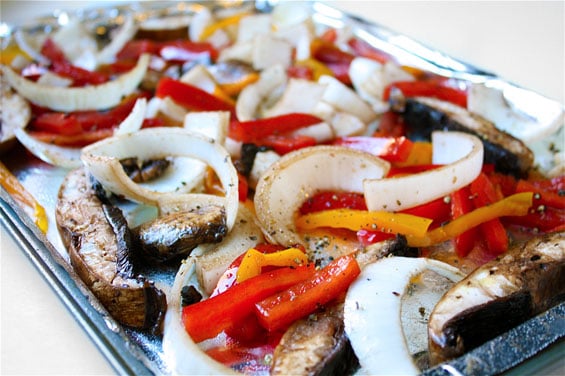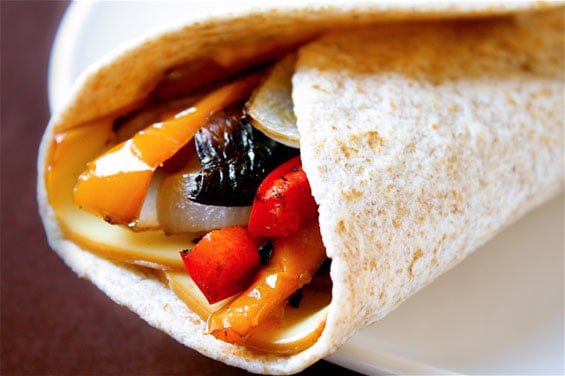 Roasted Veggie Wrap
You will love this Roasted Veggie Wrap Recipe! Delicious!
Ingredients:
whole-wheat tortillas
1 red pepper, sliced
1 yellow pepper, sliced
1 large portabello mushroom, or baby portabellas (about 8 oz.)
1 yellow onion
2 cloves garlic, minced (about 1 tsp.)
1 Tbsp. balsamic vinegar
1 Tbsp. olive oil
favorite cheese (3 cheers for smoked swiss!)
salt 'n pepper
Directions:
Preheat oven to 400 F degrees. In a large bowl, toss mushrooms, peppers, onions and garlic with olive oil and balsalmic vinegar. Spread on baking sheet, and sprinkle with salt and pepper. Then place in oven and bake for approximately 20 minutes or until vegetables are softening and starting to brown.
On a separate surface, place cheese in center of tortilla. Spoon roasted vegetables in center of wrap and on the cheese. Tuck both sides in and roll wrap like a big cigar. Serve whole, or cut in the center on a diagonal.
Ali's Tip:
In addition to veggies and cheese, feel free to also add in some pesto, hummus, or fresh salsa to the mix!
If you make this recipe, be sure to snap a photo and hashtag it #gimmesomeoven. I'd love to see what you cook!