Samoa Cheesecake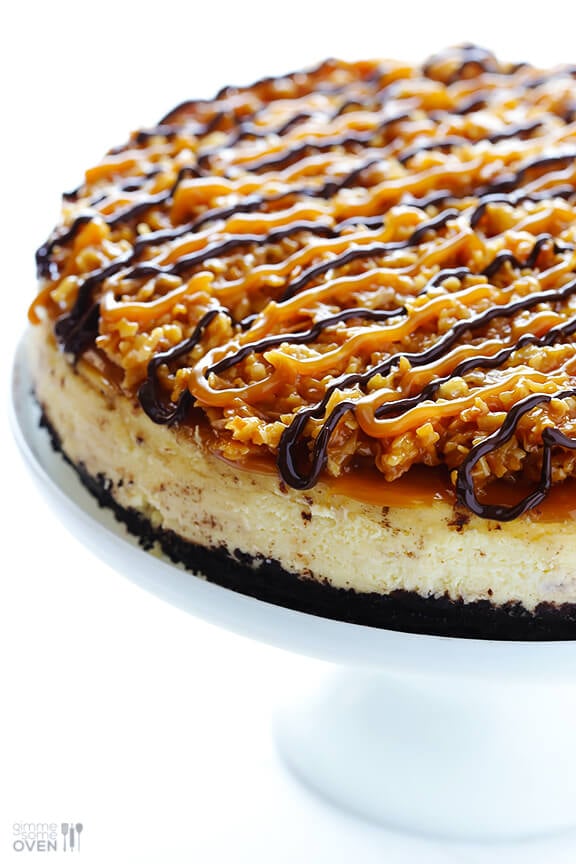 Samoa vs. Caramel DeLites.
Tagalongs vs. Peanut Butter Patties.
Trefoils vs. Shortbread.
Girl Scouts of America, why do you need to make the names of your cookies so confusing??  Yes, I know it's all about the different bakeries that bake for different regions of the country.  But I feel like life (and food blogging) would be much simpler if we could all unite around a common cookie name.
Case in point:
I served this fabulous cheesecake a few weeks ago to my parents and a bunch of friends.  But when I told them it was a Samoa cheesecake, every single one of them looked at me blankly.  Granted, that didn't stop them from diving in with a fork stat.  But once I told them it was a Caramel DeLite cheesecake, the lightbulb suddenly went off.  And then the stories began to flow as we all swapped stories about knocking on doors and using our best 7-year-old sales strategies to try and sell All Of The Cookies.  And then now, of course, we happily support those little 7-year-olds selling boxes by eating All Of The Cookies.
Anyway, whatever you call this cheesecake, my friends said to pass on word to the blogosphere that it definitely earned a badge of approval.  ;)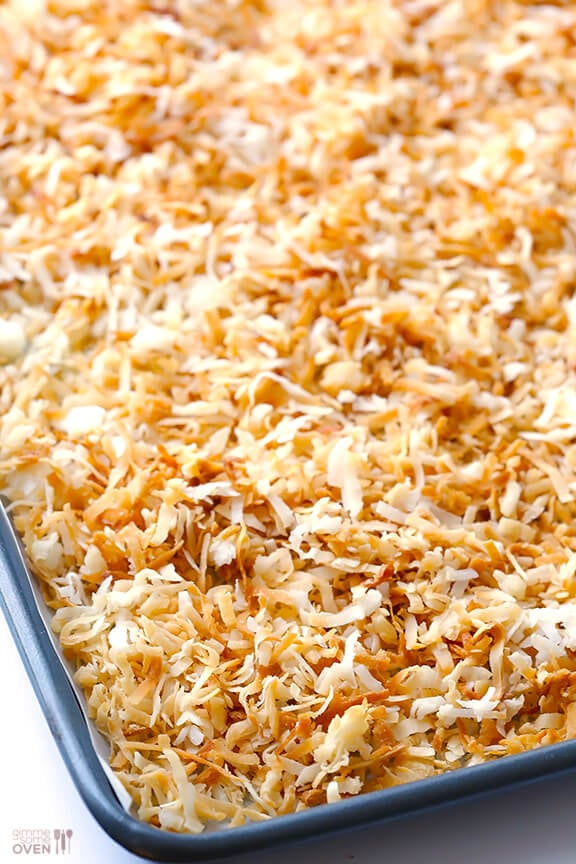 The idea for this cheesecake came when I realized that I had a surplus of coconut in my pantry.  5 bags of coconut!  This is probably a good indicator that it's time to — ahem — clean out and organize the ol' pantry.  And eat a lot of coconut.
I had actually thought of this idea a few months ago when Girl Scouts were out everywhere knocking on doors and successfully tempting me when I walked into a grocery store.  Gooey caramel-y coconut seemed like the perfect topping for a cheesecake.  And when paired with a yummy Oreo crust, and my favorite lower-fat Greek yogurt filling, the ingredient combo seemed like a match made in cheesecake heaven.
Turns out, I was right.  And it was actually pretty simple to make!
All you have to do is make the cheesecake base, with a chocolate cookie crust and a vanilla filling.  Then top it with some melted caramel.  (I cheated and used the stuff in the tub, but you could also make it homemade.)  Then stir together some more caramel with toasted coconut, and spread that out on top.  (I found it easier to drop a bunch of clumps on top, and then spread it out.)  Then drizzle it all with some extra caramel and melted chocolate — Samoa-style.  ;)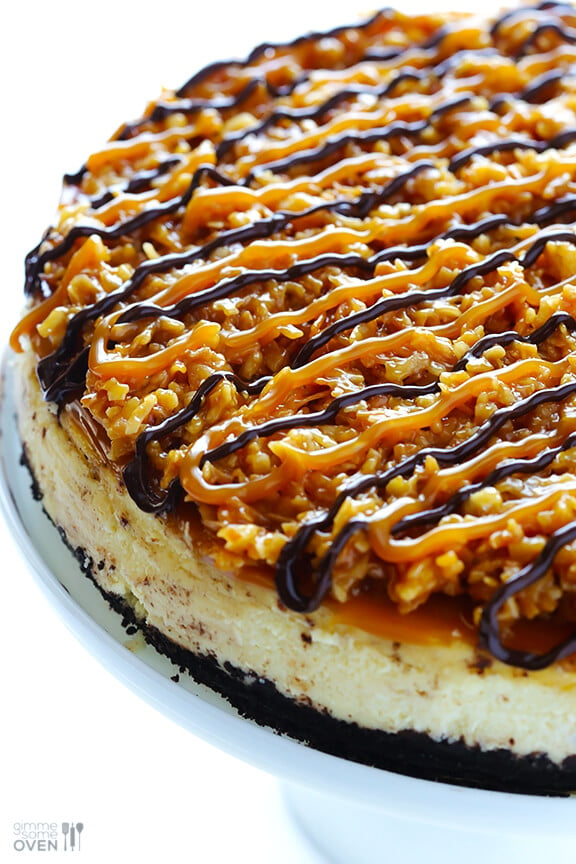 See?  So pretty!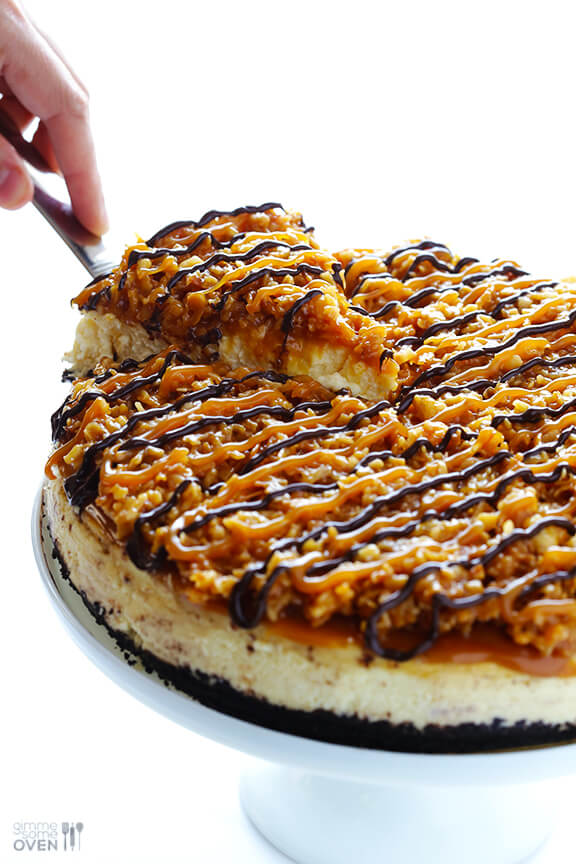 Then serve it up and give it the ol' taste test.  And enjoy every last bite.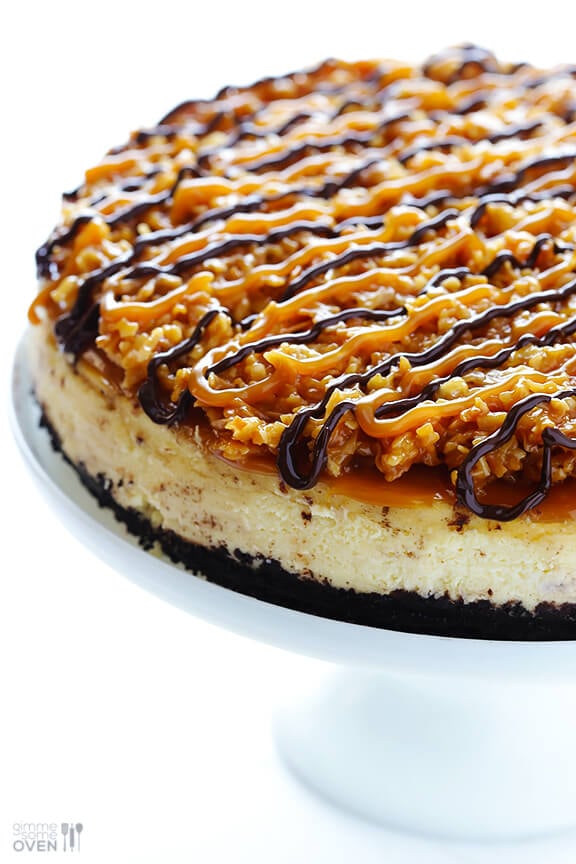 Samoa Cheesecake
This Samoa Cheesecake recipe is inspired by the famous Girl Scout cookies (a.k.a. "Caramel Delights"). It's a simple vanilla cheesecake base, made with an Oreo crust, and topped with caramel, toasted coconut and drizzled with chocolate.
Ingredients:
Cheesecake Ingredients:
24 Oreo cookies
4 Tablespoons melted butter
pinch of salt
3 (8-ounce) bricks neufchatel (low-fat) cream cheese, softened
1 cup granulated sugar
1 cup plain or vanilla Greek yogurt
2 tsp. vanilla extract, store-bought or homemade
3 eggs
Samoa Topping Ingredients:
Directions:
To Make The Cheesecake:
Preheat oven to 325°F, and grease a 9-inch springform pan. Carefully wrap the outside of the pan in 2 layers of heavy-duty aluminum foil, being sure that there are NO gaps where water could seep through.
Add Oreo cookies to the bowl of a food processor, and process until completely crumbled. (Or you can do this step by hand by crushing Oreos with a meat mallet inside a ziplock freezer bag.) Add in the melted butter, and stir or process until evenly mixed with the Oreos. Press the Oreo mixture evenly into the bottom of the springform pan. Then place the pan in a large roasting dish (or any pan larger than the springform), and bring a tea kettle or pot of water to boil in preparation for the water bath. Set aside.  (*If you don't want to place the pan directly in a water bath, you can skip this last step and just place a pan of water on the shelf beneath the cheesecake pan.)
Using an electric mixer, beat cream cheese on medium speed for 3 minutes until smooth. Add sugar and beat for an additional minute until well blended. Add Greek yogurt and vanilla, and beat for an additional minute, stopping partway to scrape the bottom of the bowl with a spatula. Add eggs, one at a time, beating on low speed after each addition just until blended. Do not overbeat! Pour into crust.
Place the double pans in the oven on a shelf on the bottom third of the oven. Very carefully use a tea kettle (or large measuring cup) to pour the boiling water in the larger pan to form a water bath around the springform, so that it comes up about 1-inch around the springform.
Close the oven door, and bake about 1 hour 30 min, or until center is almost set. (The cake should still jiggle ever so slightly.) Turn oven off, and open oven door slightly. Let cheesecake set in oven 1 hour. Then remove cheesecake from oven, carefully run a knife around the edges of the cake, and then let cool to room temperature. Refrigerate at least 4 hours or overnight. Remove springform rim, and top cheesecake with Samoa topping. Return the cheesecake to the refrigerator for at least 15 minutes for the topping to set. Then serve, or cover and refrigerate for up to 5 days.
To Make The Topping:
Preheat oven to 350 degrees F. Spread shredded coconut out in an even layer on a parchment-covered (or aluminum foil-covered) baking sheet. Bake for about 6 minutes, or until the top layer of coconut is toasted and lightly golden, then remove the tray and stir the coconut. Bake for an additional 3-4 minutes or until the new layer of coconut is lightly golden. (Keep a close eye on it so that the coconut does not burn.) Remove the pan, and pour coconut into a mixing bowl.
Add 1 cup caramel sauce to the bowl with the coconut, and stir to combine. (If your caramel is not very pour-able, heat it in the microwave or in a small saucepan until it is just slightly warmed.)
Using a spoon, spread a separate 1/2 cup of caramel sauce onto the chilled cheesecake. Then top with the caramel/coconut mixture, and press it down until the top of the cheesecake is covered.
Pour the melted chocolate into a piping bag or a Ziplock bag with the corner snipped off, then pipe it onto the top of the coconut/caramel mixture in even lines. Repeat in a separate bag with the remaining caramel sauce.
All images and text ©
If you make this recipe, be sure to snap a photo and hashtag it #gimmesomeoven. I'd love to see what you cook!