Sea Salt and Vinegar Kale Chips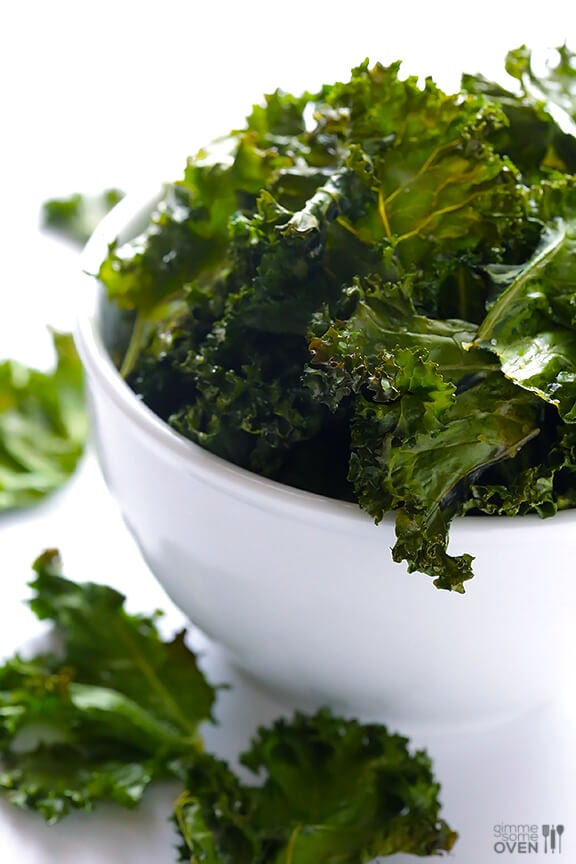 I have always been a snacker.  But for some reason, potato chips were never my thing…until I was introduced to sea salt and vinegar kettle chips from my favorite grocery store a few years ago.
Oh good grief, those chips are good.
I realized that I could easily make a bag disappear in a day or two if it's left in my house, so I never buy them anymore.  But somehow my friends are also obsessed with them, and they keep showing up at parties over the past few months.  And then the cravings start all over again.  I don't know what it is about that classic sea salt and vinegar combo, but I find it (literally) irresistible!!!
So, as you can tell by the title of this post, I finally had the bright idea to try a healthier alternative to see if it would satisfy the ol' chip craving.  4 ingredients, just a few minutes of prep time, and 20 minutes in the oven later….
craving : SO satisfied.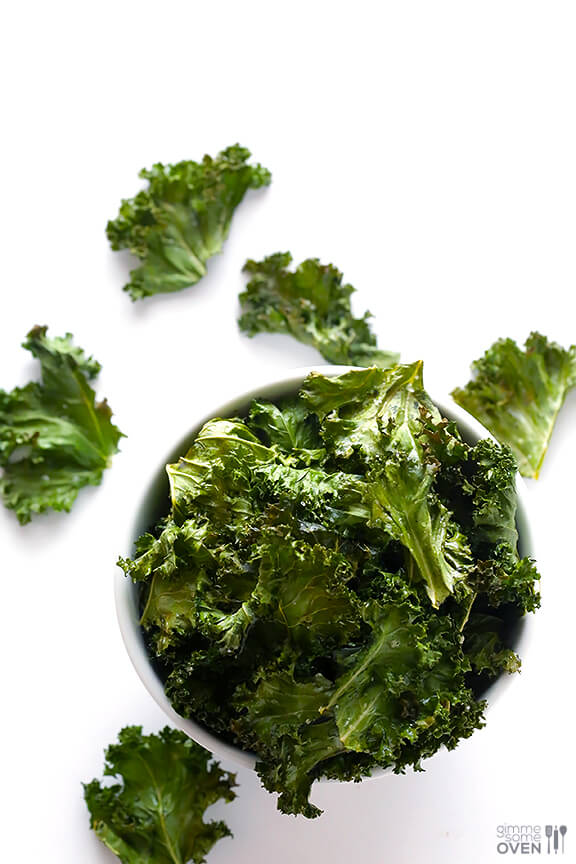 Seriously.  If you dig sea salt and vinegar chips as much as I do, you must (must!) give these guys a try.  I make kale chips pretty routinely in my kitchen, and usually tend to douse them in all sorts of seasonings.  But the recipe for these couldn't be easier.  All you need is some fresh kale, olive oil, and (yes) sea salt and vinegar.
Here's how to make 'em: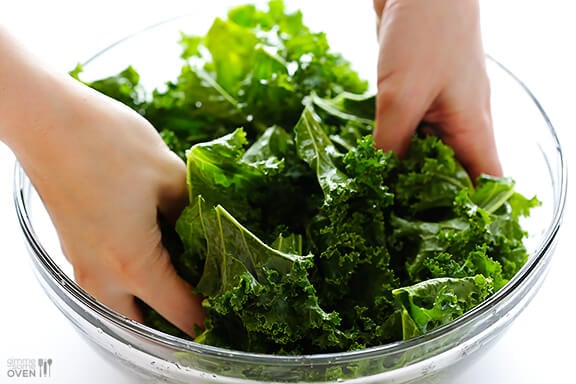 Start by tearing a bunch of fresh kale into bite-sized pieces.  Just about any variety of kale (minus baby kale) will work for these chips.
Add your oil and vinegar…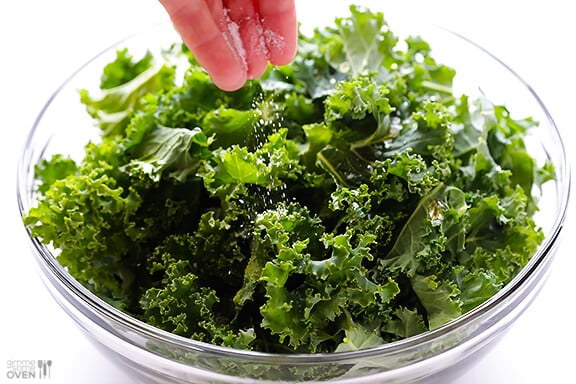 …and salt, and massage them into the kale for about 1-2 minutes until the kale is nice and soft and darkens a bit.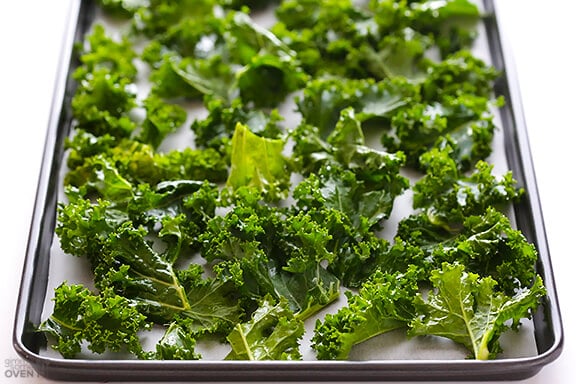 Then spread the kale out on a parchment-covered baking sheet or two (I used two) in an even layer.  You don't want the kale pieces to be on top of each other, otherwise they will not crisp up.  Then sprinkle with just a bit more salt if you'd like and bake them up until the pieces are nice and crispy.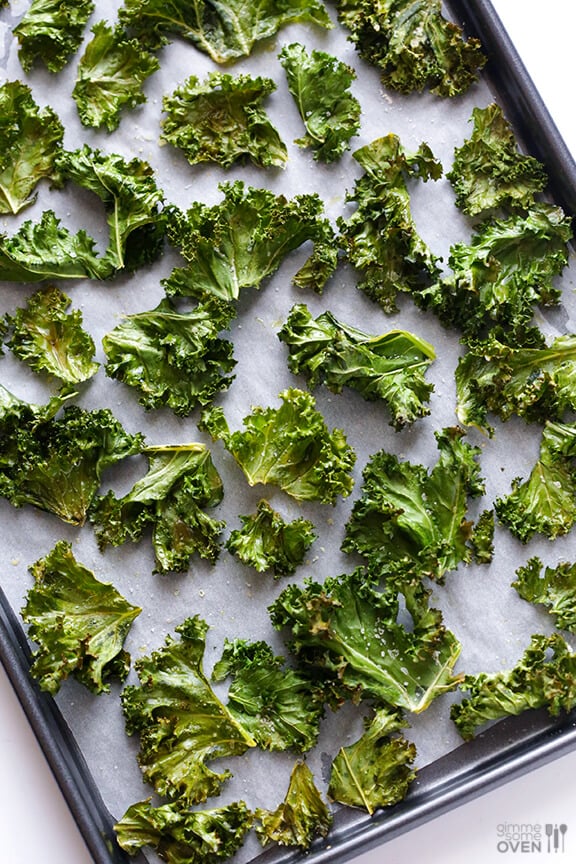 Then pull 'em out, and they are instantly ready to enjoy!
Superfoods made super easy and SUPER tasty.  And they are a much more guilt-free snacking option than the potato version.  Which means, I happily helped myself to a few more.  And then promptly made a second batch in one week.  :)
Hale the kale!!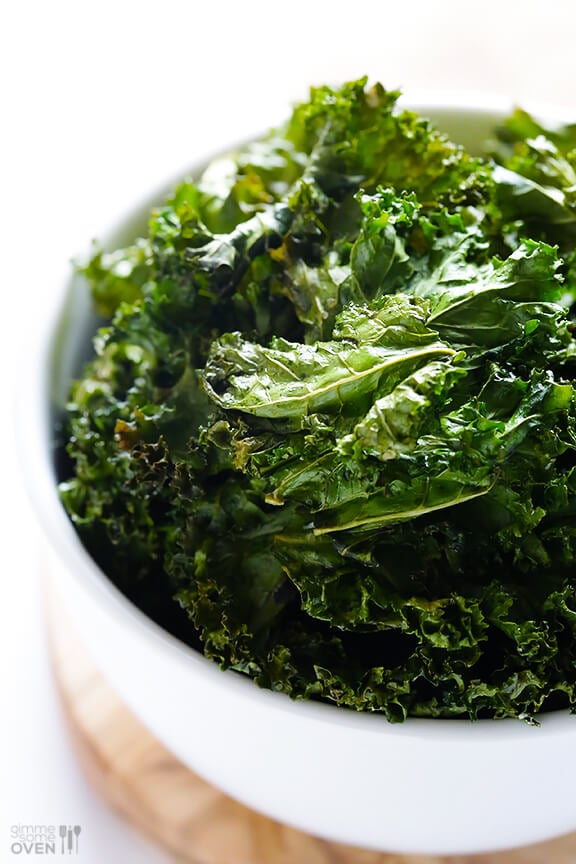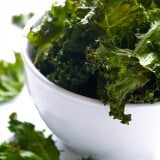 Sea Salt and Vinegar Kale Chips
These sea salt and vinegar kale chips are a healthy and delicious alternative to the potato chip version!
Ingredients:
1 bunch kale (I used curly kale, but Lascinato "dino" kale also works too!)
2 Tbsp. vinegar (I used apple cider vinegar)
1 Tbsp. olive oil
1/2 tsp. coarse sea salt, more/less to taste
Directions:
Preheat oven to 350 degrees F.
Wash and dry kale leaves. Using a knife, separate the green kale leaves from the thick ribs, and discard the ribs. Cut or tear the kale leaves into your desired size of chips, knowing that they will shrink a bit while baking.
Combine the kale leaves, vinegar, oil and 1/4 teaspoon of salt in a large bowl. Then use your hands to toss and massage the kale for 1-2 minutes until it is soft and slightly darker.
Spread out the kale in a single layer on a parchment-covered baking sheet (or two). Then sprinkle on the remaining salt. Bake for 7-10 minutes, or until the kale is crunchy and no longer soft. Remove and serve immediately, or store in a sealed container for up to 1 week.
All images and text ©
If you make this recipe, be sure to snap a photo and hashtag it #gimmesomeoven. I'd love to see what you cook!