Shrimp Pasta with Broccoli Pesto + Cuisinart Food Processor GIVEAWAY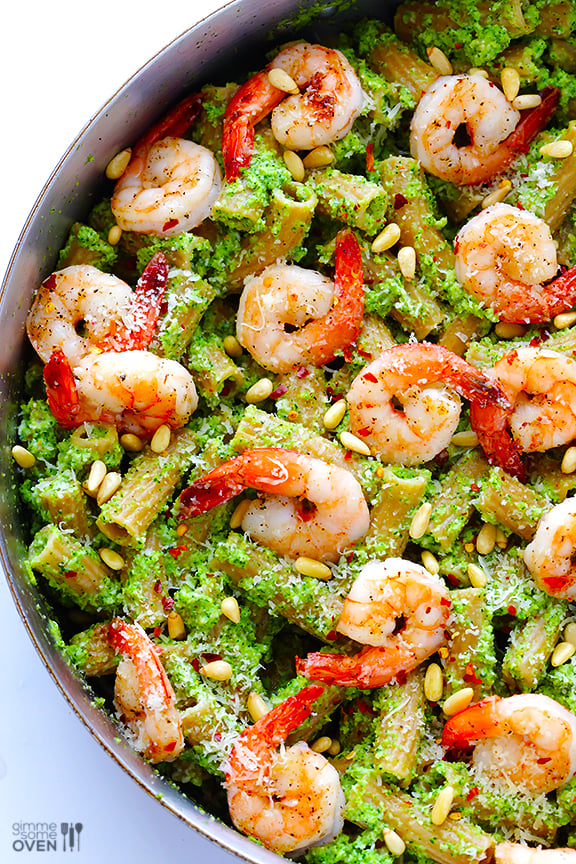 Do you all sing in the kitchen?
Um, I definitely do.  Constantly.  (I mean, I named this blog after a song, didn't I??)
Most of the time I'm jamming out to whatever is on Spotify.  Or watching Hulu and shedding a few tears to the Parenthood soundtrack (best tv soundtrack ever), or crossing my fingers to hear a Gunnar and Scarlett duet on Nashville (or the ridiculously talented Stella sisters), or feeling All The Feelings with those magical first few notes to the Friday Night Lights theme song (because who doesn't want to hang out in the kitchen with Tim Riggins).
But when I was choppin' broccoli over the weekend for this shrimp pasta with broccoli pesto, I have to confess…
…it was all Dana Carvey in my kitchen, all the way.
Really, let's be honest, choppin' broccoli will always = Dana.  Just like banana pancakes = Jack Johnson.  And peaches = The Presidents Who Have Way Too Long Of A Name.  And cheeseburgers = Jimmy Buffet.  (Time for me to write my ode to egg drop soup…) Today, though, I have a new use for choppin' broccoli that I think would make Dana proud. Broccoli pesto.
I was craving pesto this weekend, but basil season is over here and I was wanting to try something new.  So I peeked at my friend Kathryne's October Produce Guide and was reminded that these miniature green trees (as I like to think of them) are in season.  And then the idea occurred to me — why not toss it into a food processor and make a broccoli pesto?! I had recently been challenged by my friends at EatShrimp to come up with a new shrimp pasta recipe.  So since one of my all-time favorite entrees to make is shrimp pasta with pesto (like my Blackened Shrimp with Asparagus-Spinach Pesto recipe), I thought this might be a perfect way to experiment with broccoli pesto.
They had also recently sent me a new Cuisinart Elemental 8-Cup Food Processor to test out before I gave one away on the blog, and I'm happy to say that it pesto-ed the heck out of this broccoli like a charm. I decided to go somewhat classic with the pesto ingredients, adding in fresh broccoli (that I had pre-cooked for about 3 minutes), garlic, toasted pine nuts, freshly-grated Parmesan, lemon juice, salt and pepper.
And then I pureed it into a slightly-chunky pesto.  You can make yours completely smooth if you want, but I liked having it just a little chunky in honor of all that broccoli.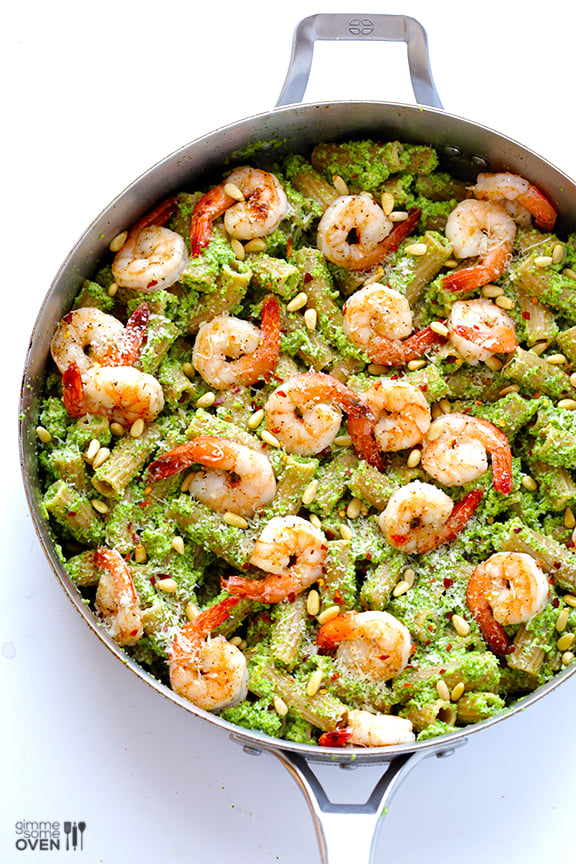 Then I tossed it with some simple sauteed shrimp, whole wheat pasta, and then sprinkled on some crushed red pepper, extra pine nuts and parmesan.
And a delicious, seasonal, and very green dinner was served. I had a few friends over for a little pasta party to sample the recipe and get their honest thoughts on the broccoli pesto.  And they were big fans!  Granted, they all liked broccoli.  And this pesto definitely tastes like broccoli.  So if you're trying to sneak it past some picky eating kids, there's a good chance they will spy with their little eyes that there is some floret-action happening.  But if you're a broccoli-"appreciater" or a broccoli-mega-fan, I'm pretty sure you will completely enjoy this one.  The lemon and Parmesan really help to balance and bring out the flavor of the broccoli, and the result is a delicious and hearty pesto that are packed with all of the good-for-you-ness of broccoli. And I must say, the shrimp on top absolutely make the meal.  I sprinkled my shrimp with a little extra Parmesan before serving, but frankly I loved how their simple flavor came through just seasoned with salt and pepper in this recipe.  The pesto is already full of some strong and complex flavors, so I thought the pairing was perfect.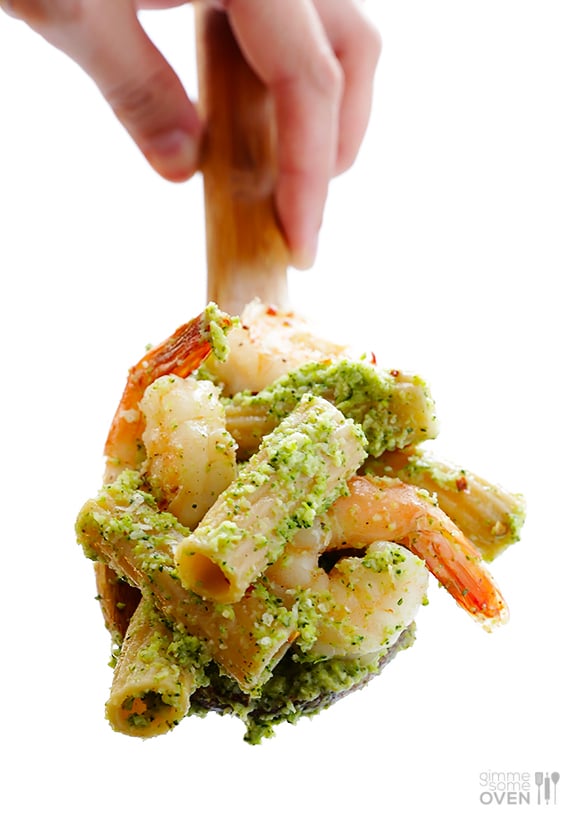 If you're looking for more great recipes to make with shrimp, pop over and visit the Eat Shrimp on their website, Facebook, and Pinterest where they are sharing even more recipes and prizes this month for shrimp and pasta parties. And also be sure to also scroll below to enter our sweet giveaway below for a chance to win a new Cuisinart food processor of your own. So tap into your inner Dana Carvey and get to choppin' some broccoli, friends!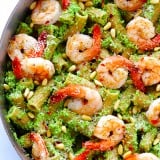 Shrimp Pasta with Broccoli Pesto
This shrimp pasta recipe is simple to make, and tossed with the most delicious broccoli pesto recipe!
Ingredients:
Pasta Ingredients:
1 lb. (16 oz.) dried pasta (I used DeLallo whole wheat)
salt and pepper
1 lb. jumbo raw shrimp, peeled and deveined
1 tablespoon olive oil
1/4 cup toasted pine nuts
optional toppings: crushed red pepper flakes, extra freshly-grated Parmesan, extra pine nuts
broccoli pesto (see ingredients below)
Broccoli Pesto Ingredients:
2 cups fresh broccoli florets (about 1 bunch or 1 pound)
4 cloves garlic, peeled
1/2 cup freshly grated Parmesan cheese
1/4 cup toasted pine nuts
3 tablespoons lemon juice
1/2 teaspoon salt (or more to taste)
1/8 teaspoon black pepper
1/2 cup extra-virgin olive oil
Directions:
To Make The Pasta:
Cook the pasta in a large pot of generously-salted boiling water al dente according to package instructions.
Meanwhile, season the shrimp on both sides with a few generous pinches of salt and pepper. Heat olive oil in a large saute pan over medium heat. Add shrimp and saute for 5 minutes, turning occasionally, until the shrimp are cooked through and pink and no longer translucent. Turn off the heat, and transfer shrimp to a separate plate and set aside.
When the pasta is al dente, reserve 1/2 cup of the pasta water and then drain the pasta. Return the pasta either to the stockpot where it was cooked, or to the saute pan (with the stove heat turned off). Add the pesto to the pasta, and toss until evenly coated, adding in a bit of the reserved pasta water if needed to thin the pesto. Then stir in the shrimp and pine nuts, and serve immediately sprinkled with optional toppings if desired.
To Make The Pesto:
Fill a separate large saucepan or stockpot with water, and bring to a boil over high heat. Add the broccoli and cook for 2-3 minutes, until the broccoli is bright green and tender. Remove the broccoli with a slotted spoon and transfer to the bowl of the food processor fitted with the blade attachment..
Add the garlic, Parmesan, pine nuts, lemon juice and salt to the food processor, and process until combined. Then, with the motor running, drizzle in the olive oil until it is incorporated. As mentioned above, if the pesto seems too thick, you can add in a bit of pasta water to thin it out once the pesto is tossed with the pasta.
All images and text ©
If you make this recipe, be sure to snap a photo and hashtag it #gimmesomeoven. I'd love to see what you cook!
#EatShrimp Cuisinart Food Processor GIVEAWAY
Giveaway Prize: To help you whip up some of your own broccoli pesto, Eat Shrimp and Cuisinart are sponsoring a giveaway for one of our readers to receive a Cuisinart Elemental 8-Cup Food Processor. Some of its features include:
350 watts for powerful food prep performance
8-cup work bowl with measurement markings
Reversible shredding and slicing discs – medium to fine
Stainless steel chopping/mixing/dough blade
Easy-to-clean, removable parts are dishwasher safe
BPA free
I love it because it's remarkably quiet for a food processor, it feels really sturdy and durable, and it's backed by the Cuisinart warranty.  You'll love it! To Enter The Giveaway: Follow the Rafflecopter instructions below. Winner will be posted on the Rafflecopter widget once he/she has been randomly selected. Best of luck, everyone!
a Rafflecopter giveaway
This is a sponsored post in partnership with Eat Shrimp.  It's no secret that I'm a big fan of shrimp, so all opinions are my own and I'm happy to be partnering with them this year.  Thanks to them and Cuisinart for sponsoring this giveaway.  And thanks to you readers, as always, for supporting the brands which help make this site possible!