(Skinny!) Creamy Chicken Noodle Soup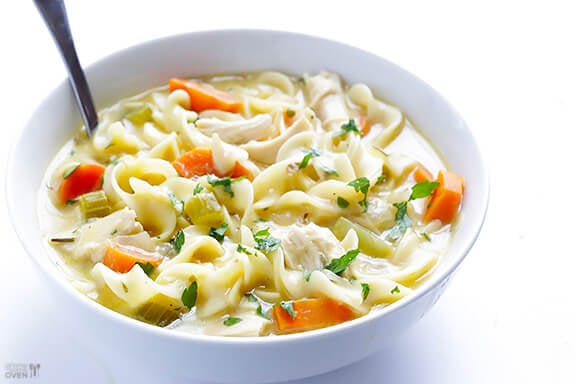 I always seem to catch colds at the most inconvenient times.
I know — getting sick is never really convenient.
But seriously!  I caught a little cold last week four days before heading to Wisconsin for the Kohler Food & Wine Experience, which I figured would be NBD because four days is a totally reasonable amount of time to kick a cold.  Right?  Oh no.  A day after returning home from an amazing weekend of said eating and drinking, I'm still sniffling away.
I even ended up being "that girl" on the plane ride home who conveniently fell into a 5 minute coughing fit just as the plane landed.  You know — that tense moment when everyone is stuck sitting in their seats without any portable electronic handheld devises to keep them company, itching to stand up and grab those bags that might have shifted during takeoff, while the seatbelt sign is clearly illuminated — barring me from getting up to grab a drink of water, Sprite, anything that would stop the coughing?!?  Oh yes.  I don't think even screaming babies get shot as many dagger looks as that girl who is clearly going to infect the entire plane with nothing less than The Plague.
But alas, the one convenient thing about this cold was that I had been craving some creamy chicken noodle soup, and actually had all of the ingredients ready to go on the day that I felt the worst.  And some of those leftovers were conveniently still waiting for me when I arrived home.  It must have been meant to be.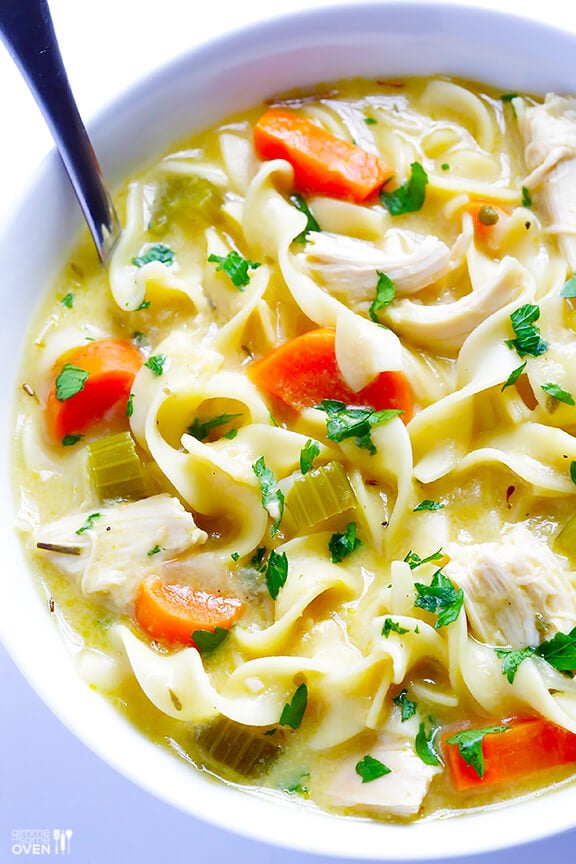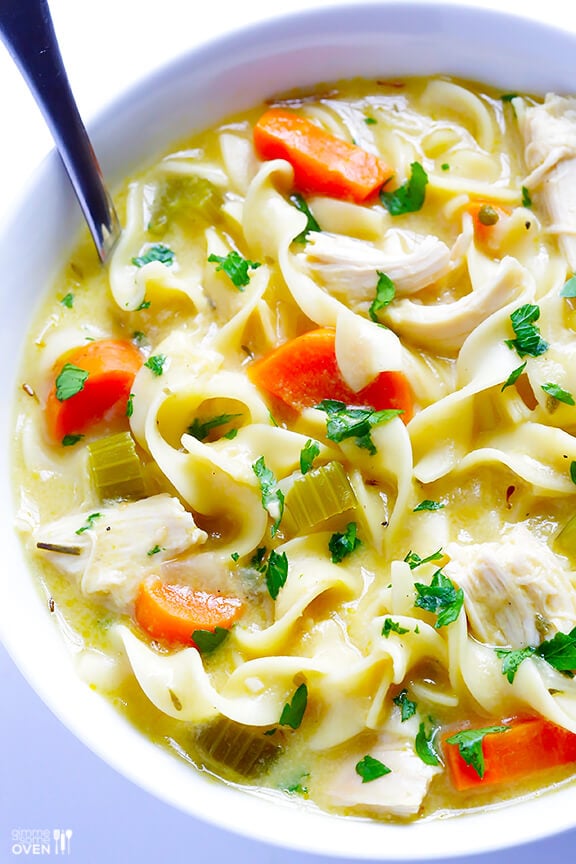 For years, I had been looking for a way to "lighten up" creamy chicken soup.  I had tried versions using milk or half and half, with so-so results.  But when I saw that my friend Monica made a version with evaporated milk, I knew it was brilliant!  I have been using evaporated milk to lighten up macaroni and cheese this past year, so was stoked to try it in a soup.  Sure enough, the "skinny" version of this creamy chicken noodle soup recipe was a total success!  The broth was wonderfully creamy and flavorful, and definitely hit the spot.
And speaking of "convenience", it's ready to go in about half and hour.  Can't beat that on a day when you're rushed and not feeling well.
Comfort food at its best.  :)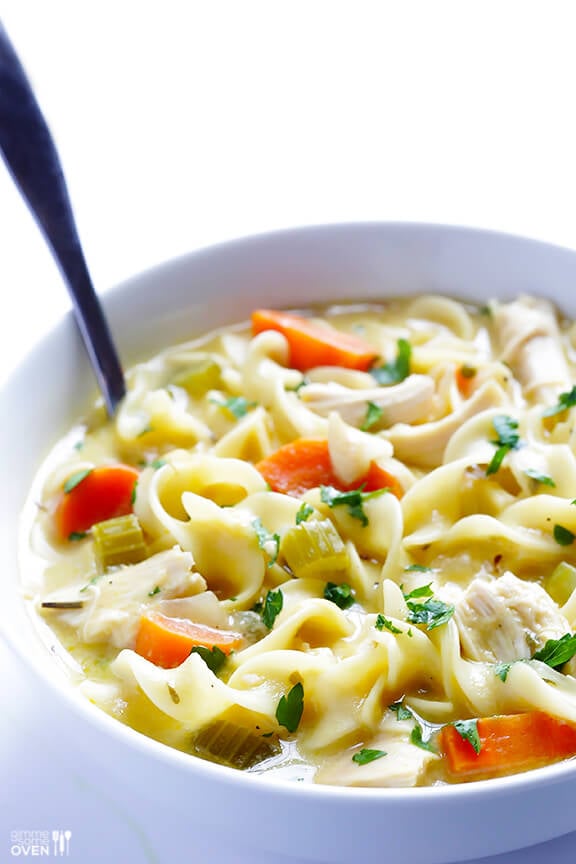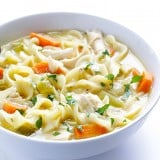 (Skinny!) Creamy Chicken Noodle Soup
This "skinny" creamy chicken noodle soup is the perfect comfort food — lightened up!
Ingredients:
1 Tbsp. olive oil
1 small white onion, diced
2 carrots, peeled and diced
2 celery stalks, diced
2 cloves garlic, minced
1/3 cup flour
8 cups chicken broth
3 cups cooked shredded chicken
2 cups uncooked egg noodles or pasta (I used "wide" egg noodles)
1 (12 oz.) can evaporated skim milk
1 tsp. salt
1/2 teaspoon dried oregano
1/2 teaspoon ground black pepper
1/4 teaspoon dried thyme
(optional garnish) chopped fresh parsley
Directions:
Heat oil over medium-high heat in a large stockpot or Dutch oven. Saute onion, carrots, and celery for 7 minutes. Add garlic and cook for an additional minute. Sprinkle flour over vegetables, and cook and stir for an additional minute. Gradually stir in broth and bring to boil. Reduce heat and simmer, partially covered, for 10-15 minutes.
Add remaining ingredients, and stir to combine. Cook for 10 minutes or until noodles are al dente. Season with additional salt and pepper or seasonings if needed.
Serve warm, garnished with fresh parsley if desired.
If you make this recipe, be sure to snap a photo and hashtag it #gimmesomeoven. I'd love to see what you cook!