Skinny Fettuccine Alfredo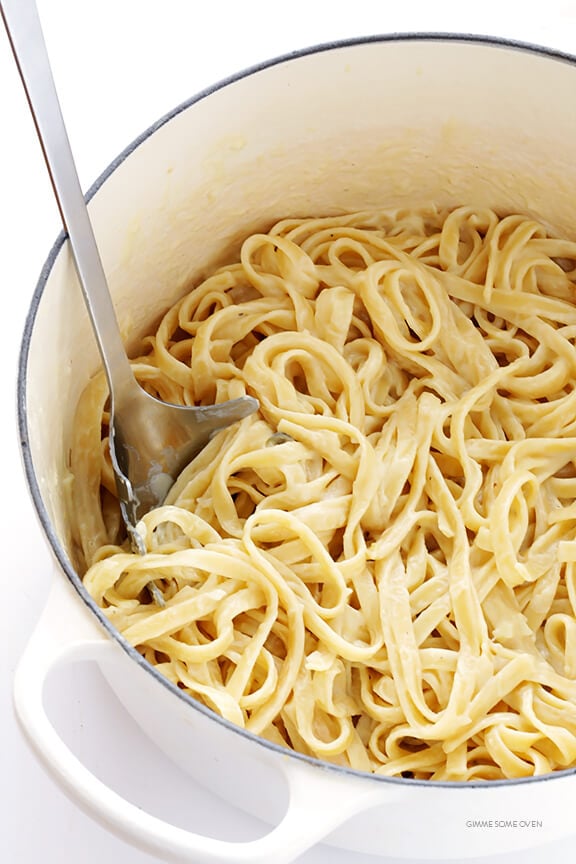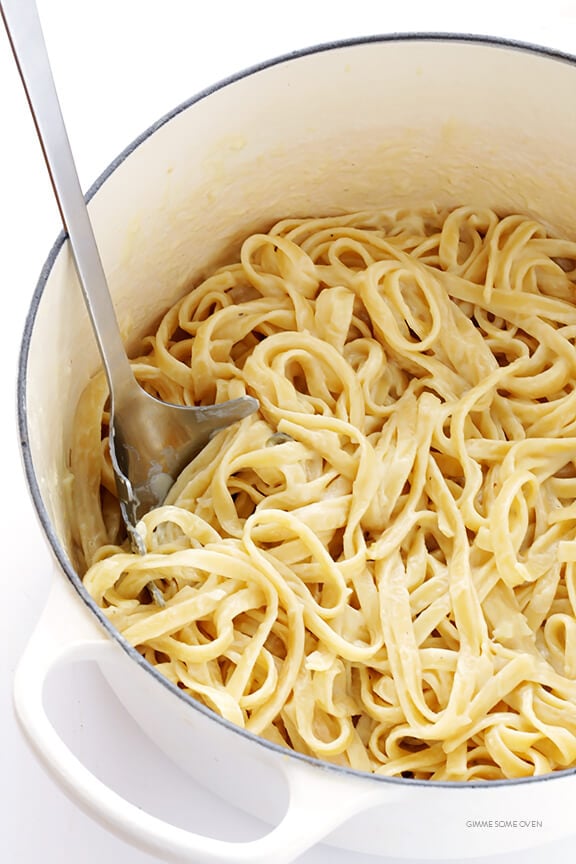 Mmmmm, fettuccine alfredo.
I don't know about you, but this rich and creamy and oh-so-decadent pasta is pretty much the ultimate comfort food in my book.  It has long been a favorite dish of mine, and one that I always looked forward to ordering out at some of my favorite Italian restaurants on special occasions.  But I made the mistake of peeking at the nutrition facts for fettuccine alfredo a few years ago.  And after seeing just how much (hint: so much) extra butter and heavy cream restaurants usually toss into this dish, I felt like it was probably time to swear it off for good.
But let's be real — a girl needs her favorite fettuccine alfredo every now an then.
So I set to work a few years ago experimenting and tweaking with ways to lighten up this classic dish.  I stuck with the traditional ingredients (no cauliflower sauce here), although I completely nixed the heavy cream in place of low-fat milk with a roux.  And lo and behold, it actually worked!!!  Turns out you can have rich and creamy and oh-so-decadent fettuccine alfredo made at home — bonus, in just 20 minutes! — with this lightened-up easy recipe.  And I'm obsessed with it.
And today I thought I would bump it back to the top of the blog to re-share it with those of you who might have missed it and need some healthier fettuccine alfredo in your lives.  :)  I went ahead and updated the pictures from the original post that I shared about 3 years ago, but the recipe is the same and just as good as ever.  So put on some water to boil, and let's make some pasta!
Skinny Fettuccine Alfredo Recipe | 1-Minute Video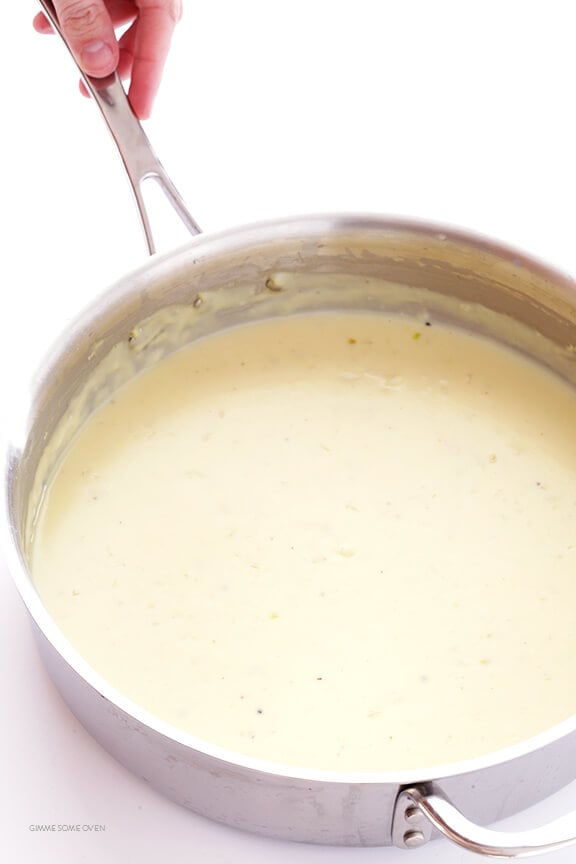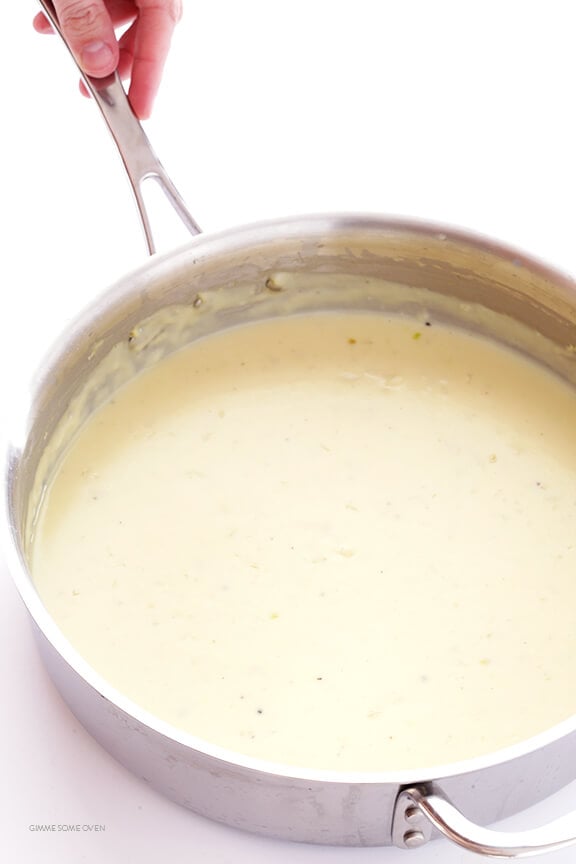 This recipe, of course, centers around its two namesake ingredients — fettuccine and alfredo sauce.
You're welcome to use any kind of pasta you'd like for this recipe — traditional semolina, whole-wheat pasta, gluten-free pasta (if so, check out my gluten-free alfredo sauce recipe), totally up to you!  My one tip as always is just to be sure that you generously salt the water before adding the pasta.  This is your one opportunity to kick up the flavor in the actual pasta itself, so don't skimp!
But the sauce — this magical sauce — is the rockstar of the recipe.  As I said, no heavy cream or cream cheese is used in this recipe.  All you need are:
olive oil (a healthier fat, or you're welcome to use butter for the flavor)
fresh garlic (a must!!)
flour (to thicken)
chicken broth (more flavorful than milk; you can also sub in veggie stock)
low-fat milk (you can use any milk, even soy)
Parmesan cheese (if you freshly grate it, it will be more flavorful)
Both the sauce and pasta cook quickly.  So when you're ready, drain your pasta and then add in the alfredo sauce.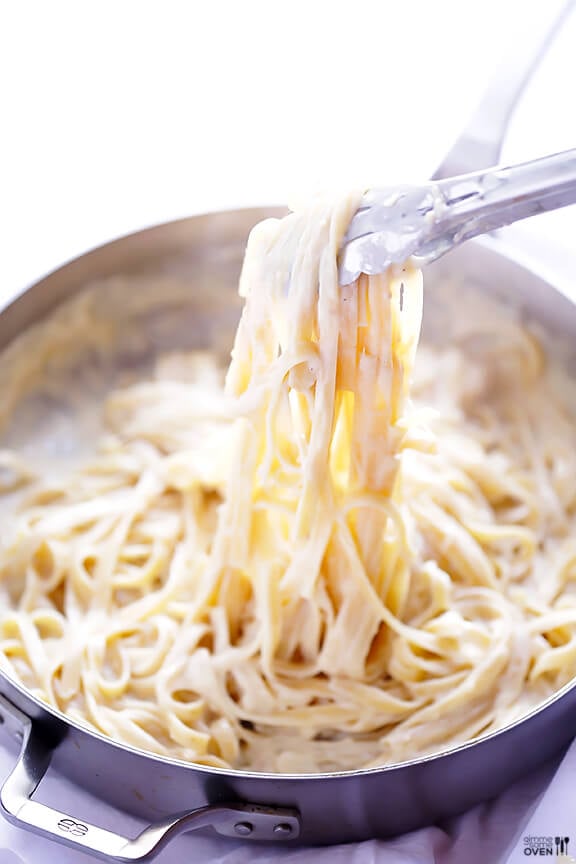 Then toss them together until everything is nice and creamy and evenly coated.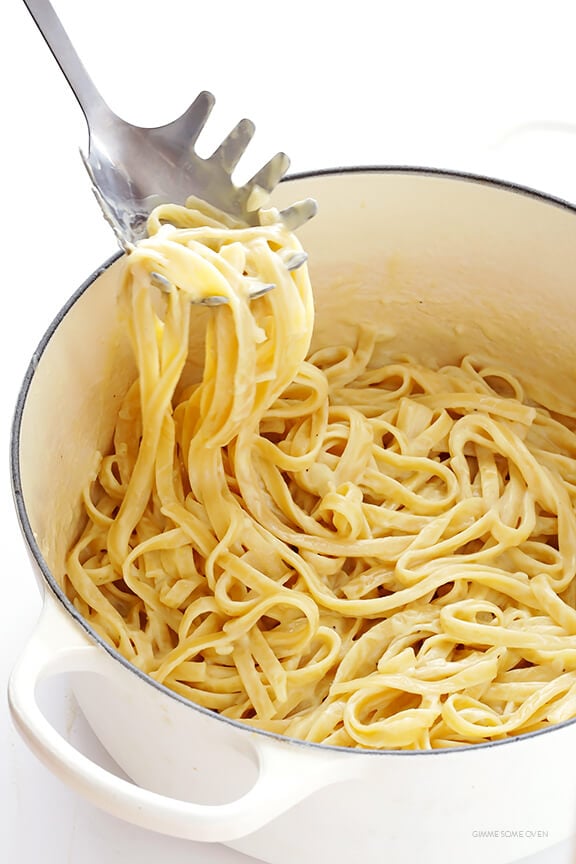 Then a delicious pan of fettuccine alfredo is yours to enjoy!  You're welcome to just serve it plain…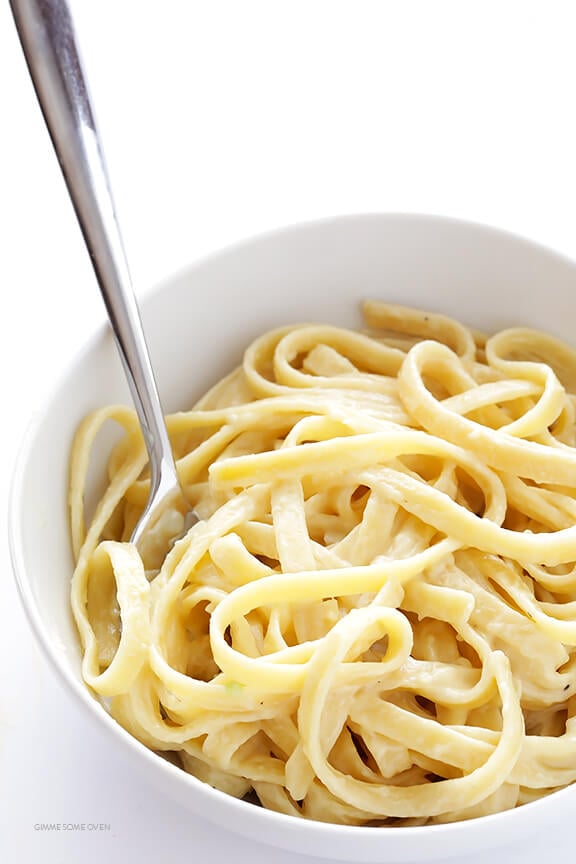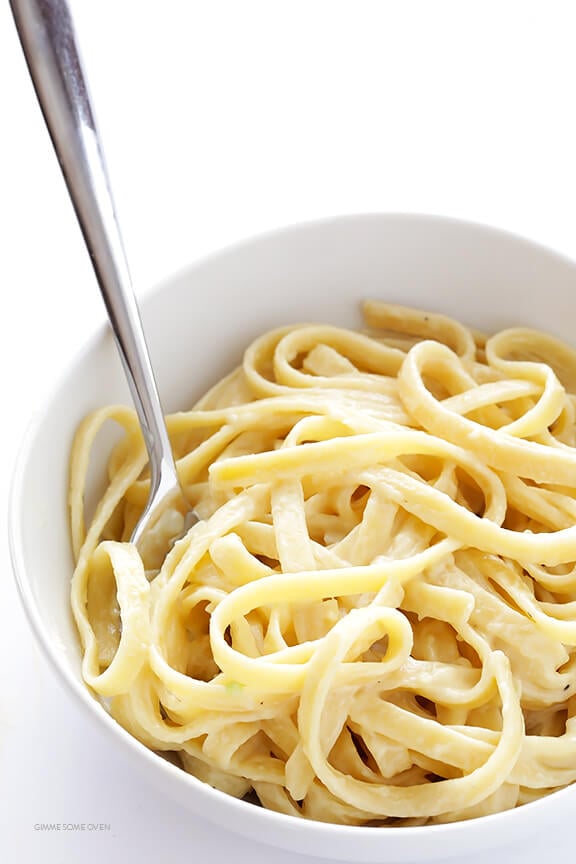 …or you can top it with a little extra Parmesan, some fresh parsley or basil, or whatever sounds good.  :)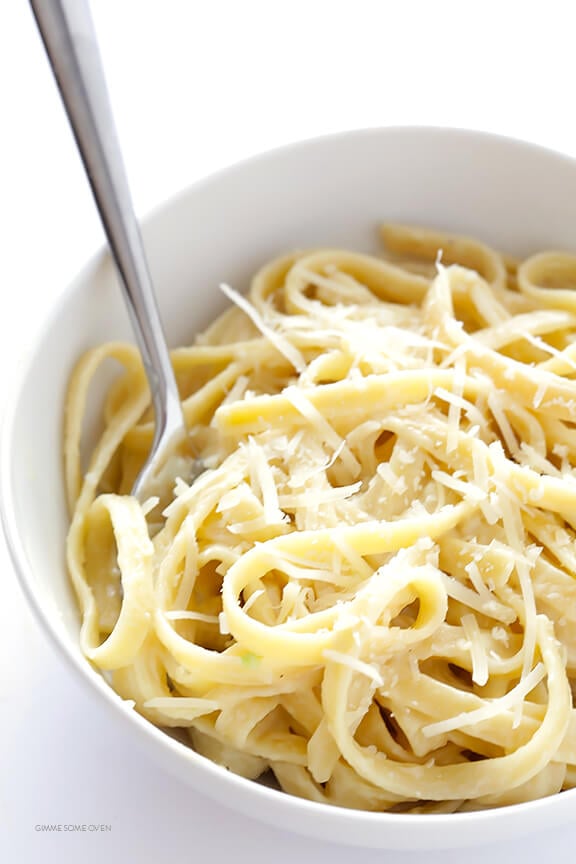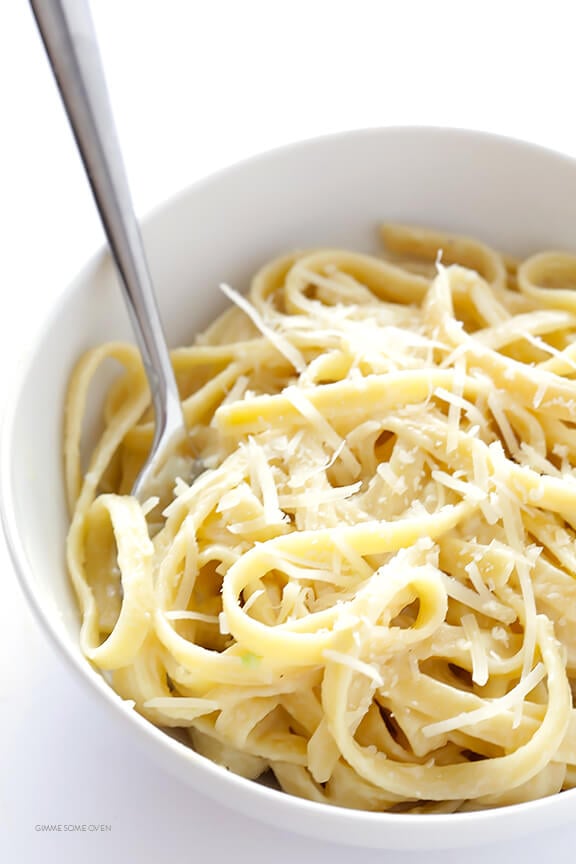 But the best news?  As opposed to the fettuccine alfredo recipe from Olive Garden, which clocks in at a whopping 1220 calories a serving, one serving of this alfredo sauce clocks in at 141 calories, and when combined with the fettuccine it is 450 calories a serving.  Not too shabby for a thick and creamy pasta.  Perfect when served with a light salad like this one.
Enjoy!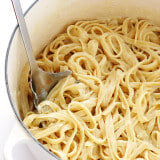 Skinny Fettuccine Alfredo
This easy fettuccine alfredo recipe is made "skinny" with a lighter alfredo sauce recipe — but it's as delicious and creamy and flavorful as ever!
Ingredients:
12 ounces fettuccine (or any pasta shape)
1 Tablespoon extra virgin olive oil or butter
4 cloves garlic, pressed or finely-minced
3 Tablespoons all-purpose flour
1 cup chicken stock
1 cup low-fat milk (I used 1%)
3/4 cup freshly-grated Parmesan cheese
1/2 teaspoon salt
1/4 teaspoon black pepper
(optional toppings: chopped fresh parsley, extra Parmesan)
Directions:
Cook pasta al dente according to package directions, in generously-salted water.
Meanwhile, heat olive oil (or melt butter) in a large saute pan over medium-high heat. Add garlic and saute one minute, stirring occasionally, until fragrant. Sprinkle with flour, and stir to combine. Saute for an additional minute to cook the flour, stirring occasionally.
Slowly add chicken broth, whisking to combine until smooth. Whisk in milk, and bring the mixture to a simmer. Let cook for an additional minute until thickened, then stir in Parmesan cheese, salt and pepper until the cheese melted. Reduce heat to medium-low until pasta is cooked.
Drain pasta, then immediately add pasta to the saute pan with alfredo sauce. Toss to combine. Serve topped with chopped fresh parsley if desired.
All images and text ©
If you make this recipe, be sure to snap a photo and hashtag it #gimmesomeoven. I'd love to see what you cook!
*Nutrition facts calculated with My Fitness Pal.