Skinny Margarita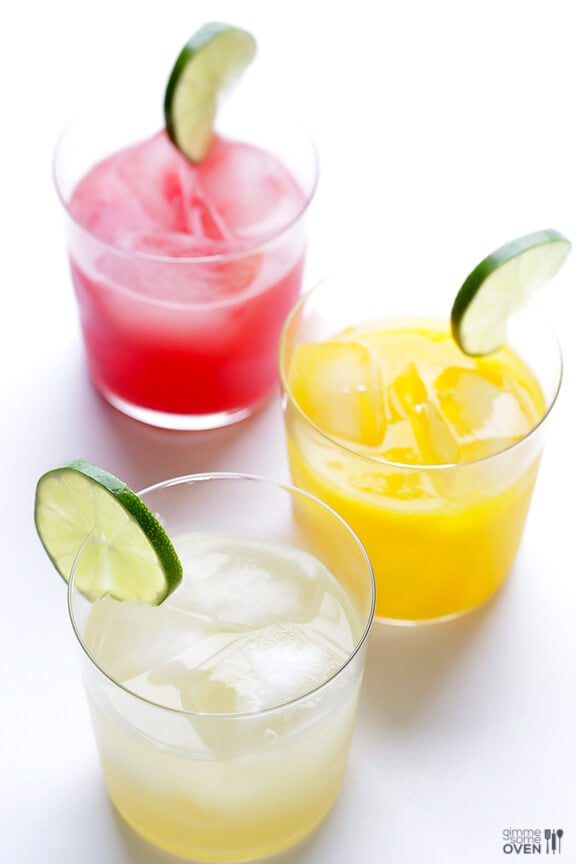 This spring, I finally had the chance to meet a local style blogger whose site I had been crushing on for years — the lovely Julie of Coordinately Yours.
This girl is my total kindred spirit when it comes to entertaining.  She loves welcoming friends and family into her home every chance she gets, and enjoys creating beautiful meals and memories that make her guests feel extra welcome.  But when it comes to the actual home part of entertaining, I have tons to learn from her because Julie is a rockstar at decorating and making her actual house feel beautiful and welcoming as well.  From designing every room in her house, to thinking up all sorts of thoughtful gifts and DIY projects, and of course, whipping up signature cocktails and lovely recipes for all sorts of occasions, this girl knows how to make her friends and family feel special.  And the best part?  She doesn't just blog about it; she actually lives it.
So of course, after meeting out a few times, we both decided it would be fun to get together someday and do what we love best — spend time in the kitchen!  My loft, beyond my new kitchen, is still in serious need of decorating help.  So Julie graciously offered to drive to downtown KC and spend the day at my place, where she gave some amazing advice about putting some finishing touches on my space.  (My first time having an actual factual decorating expert look at my home — such a treat!)  And then together we worked on making a "signature cocktail" of the day that is a healthier version of my favorite drink:
Skinny Margaritas.
Julie was actually the one who requested we try the idea, especially after she was served a skinny margarita this month that she said tasted unbelievably fresh and yummy.  So since she's the queen of dreaming up fun "bar" ideas for entertaining — see her mojito bar, sugar cookie bar, lemonade bar, hot chocolate bar, even a sugar scrub bar — we decided it would be fun to come up with a fresh and simple skinny margarita bar that we could create for our friends.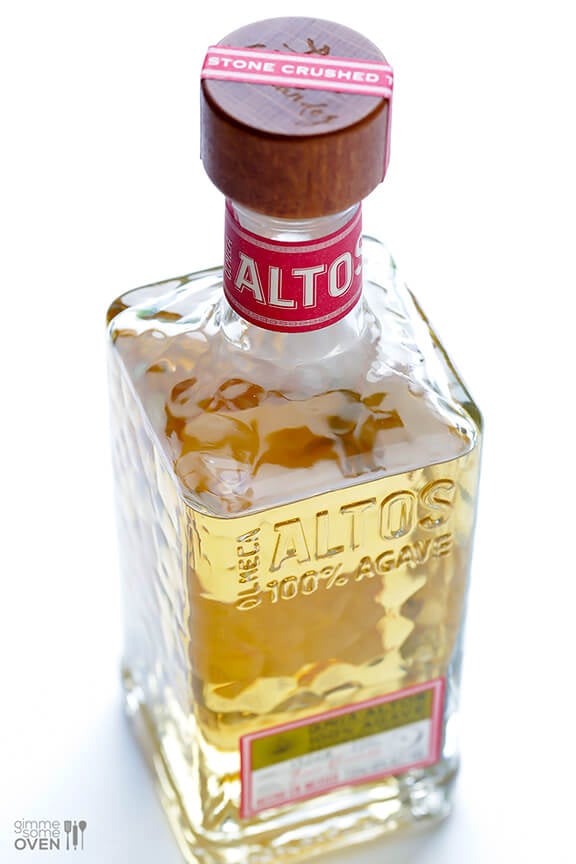 She brought over the most beautiful bottle of tequila to get our little party started.  (Which I promptly went out afterwards and bought a silver and anejo bottle for myself — they are too pretty!!)
And then we got to taste-testing.  We decided to create a base recipe that was made with four simple ingredients:
fresh lime juice
fresh orange juice
agave nectar
tequila
One of the little secrets Julie learned when she tasted the skinny margarita at a restaurant was that they used a squeeze of fresh orange juice instead of orange liqueur, which cuts down (big time) on extra calories.  But even better, it adds a very noticeable burst of freshness and sweet orange taste to the margarita.  So good!
We taste tested and taste tested with different amounts of all of the ingredients, trying to use minimal agave in order to cut down on calories.  But we still couldn't quite seem to get the ratios right until we finally tried something out that we now consider our super stellar secret ingredient.  Can you guess it??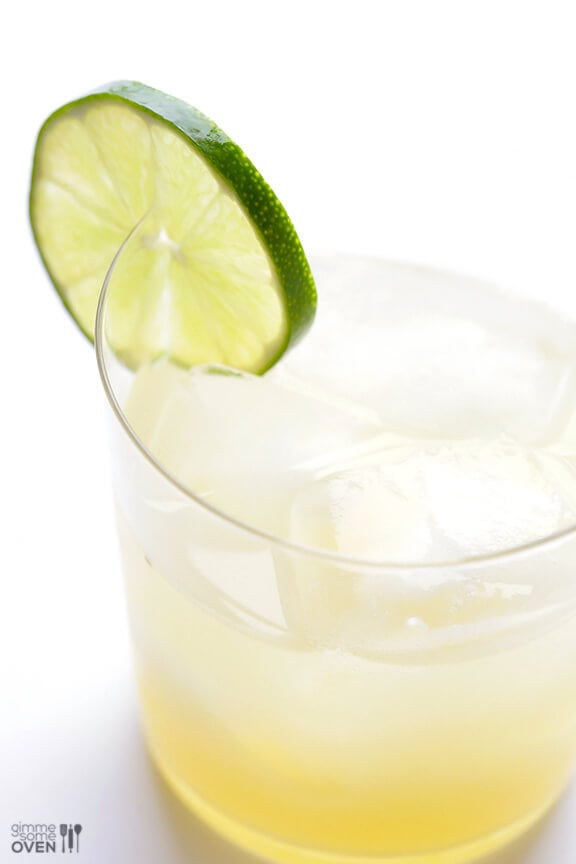 Um, water.
I know, it sounds so lame in a cocktail.  But we finally just added a little splash of water to our cocktail, and then the angels started singing.  It was just the extra "something" that we were looking for in order to balance out all of the flavors.  And bonus, it happens to be calorie free too.  ;)
So once we had our base recipe ready to go, we decided to puree some fresh fruit to also add to our margarita bar.  Julie brought over a huge watermelon, and I had a bunch of mangoes on hand.  So we popped them in the food processor until smooth…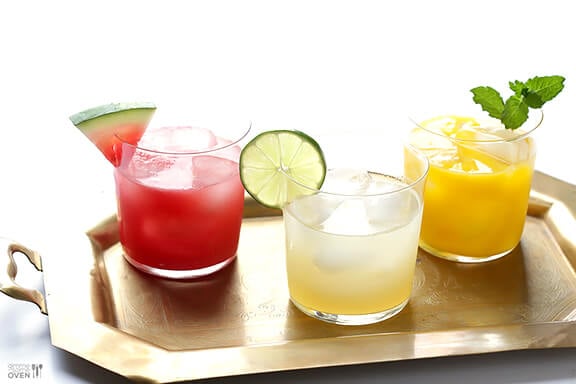 …and then stirred them into our drinks!  Voila!
They turned out so well!!!  We both agreed that all of that fresh fruit made them taste perfectly sweet and light and refreshing.  And the best part is that the classic margaritas clock in at under 160 calories a serving.  So you can enjoy a second…or, um, have restraint and just sip that first one.  :)
These would also be fantastic with other kinds of pureed fresh fruit, like strawberries, kiwi, blueberries, pineapple, raspberries, or pears.  We also muddled a few with mint, which made them taste all the fresher as well.
And then of course, Julie worked her decorating magic and made the presentation look just as lovely as the drinks tasted.
Skinny margarita bar for the win!
Be sure to check out Julie's posts today as well — Skinny Margarita Bar — for more tips on the entertaining side of this idea.  You will love her site, I promise!  Grateful to now call her a friend as well.  And to all of my other friends, I give fair warning because I'm pretty positive this is going to be the summer of skinny margarita bars at my house.  ;)
Cheers everyone!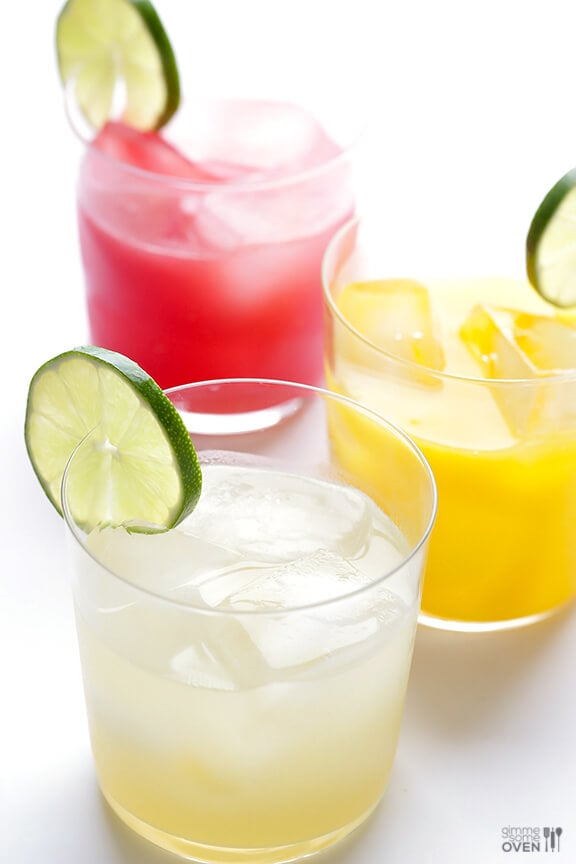 Skinny Margarita
This skinny margarita recipe is lighter on calories, but bursting with fresh and delicious flavor.
Ingredients:
1 1/2 ounces (1 shot, or 3 tablespoons) tequila
1 1/2 ounces (3 tablespoons) lime juice
1/2 ounce (1 tablespoon) freshly-squeezed orange juice
1/2 ounce (1 tablespoon) water
2 teaspoons agave nectar
ice
(optional fruit purees: mango, watermelon, pineapple, berries, etc.)
(optional garnishes and muddlers: fresh lime or other fruit slice, fresh mint sprig, coarse sea salt to rim the glasses)
Directions:
For a classic skinny margarita, add tequila, lime juice, agave, orange juice, and water to a cocktail shaker (or a glass), and shake (or whisk) for about 10 seconds to combine. Strain and serve over ice. Add a garnish or two if desired.
If using a fruit puree, reduce agave to 1 teaspoon, omit the water, and add in 3 tablespoons of the fruit puree. Shake/whisk to combine, then taste. If the mixture is too tart, add in an additional teaspoon of agave.
All images and text ©
If you make this recipe, be sure to snap a photo and hashtag it #gimmesomeoven. I'd love to see what you cook!