Skinny Orange Chicken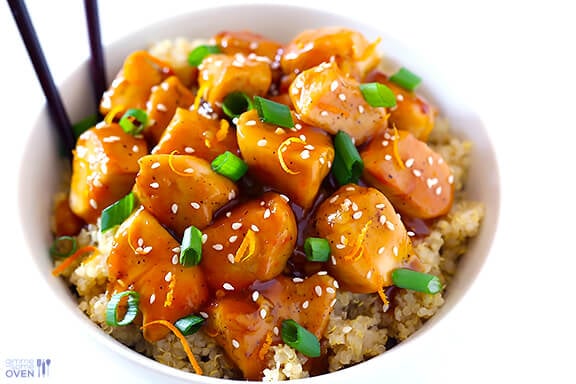 Happy New Year's, everyone!
I hope that your 2014 is off to a terrific start.  And hopefully, a delicious and healthy start!
So for all of you new years resolution folks who are out there scanning the world wide webosphere looking for lighter recipes after a holiday season full of sweets, you've come to the right place.  Because I am dedicating the entire month of January this year to sharing healthy recipes with you.  And I am stoked to kick things off with a lightened-up Chinese food classic — Skinny Orange Chicken.
This version packs all of the amazing sweet and savory orange flavor of the restaurant-style version, but with only a fraction of the calories and fat.  And it is naturally sweetened with honey.  And it can be served over rice or (my favorite) quinoa.  And it can be made in just 20 minutes from start to finish.
Interested?  You should be.  :)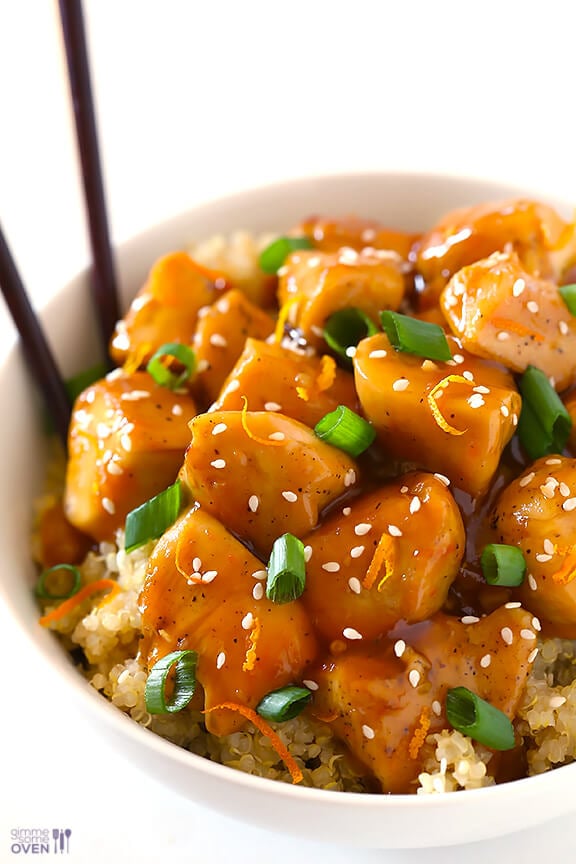 The main key to lightening up this restaurant classic is that we simply saute the chicken instead of fry it.  The chicken is sauteed until golden and drenched in an orange chicken sauce anyway, so I guarantee you won't even miss the frying!  Plus, it saves us lots of unnecessary fat and calories in an already delicious dish.
And as I said, this skinny orange chicken recipe can literally be made in about 20 minutes.  So here's what you need to make it happen.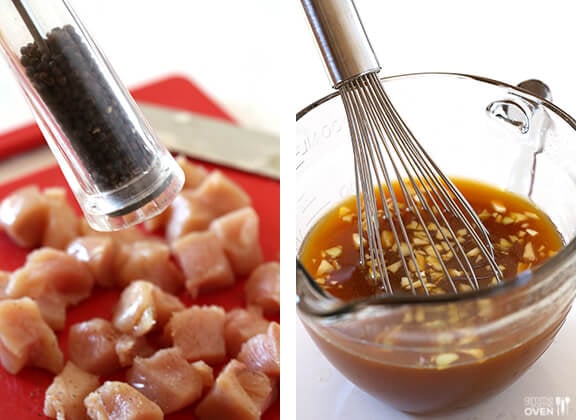 First, begin by cutting your chicken breasts into bite-sized pieces.  Mine were roughly 1-inch cubed.  Then season them with lots of salt and pepper for extra flavor.
Next, we make the rockstar of this recipe — the orange chicken sauce.  This sauce really could not be simpler.  Simply whisk all of the ingredients together along with some cornstarch (for thickening), and you're ready to go.
Chicken + Sauce.  Done.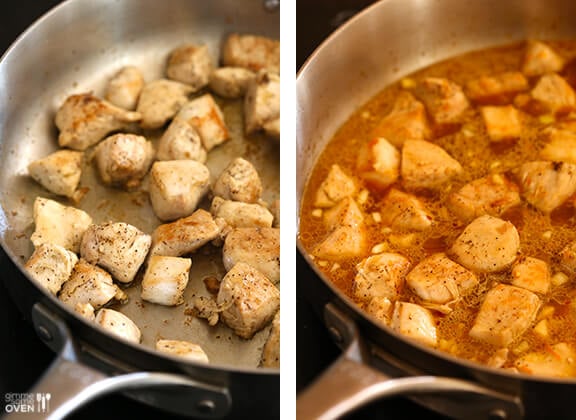 Next, saute the chicken in some olive oil until it is nearly cooked through.  Be sure to let it rest in the pan a bit while cooking so that the sides can get nice and browned.
Then pour in the sauce, which should come to a boil within a minute or so.  Let it boil for about 1-2 minutes, or until it's nice and thickened.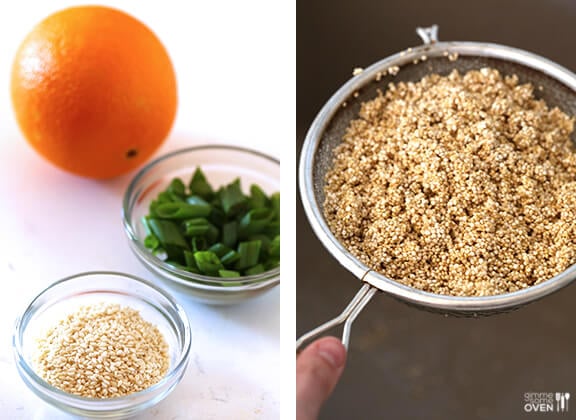 Then top the chicken with some extra orange zest, green onions and toasted sesame seeds, and you're good to go!
If you want to go the traditional route, you can serve this orange chicken recipe over rice.  But I'm a big fan of eating stir-fry recipes with quinoa.  So I whipped up a quick batch for this recipe, made (as always) with chicken broth for extra flavor.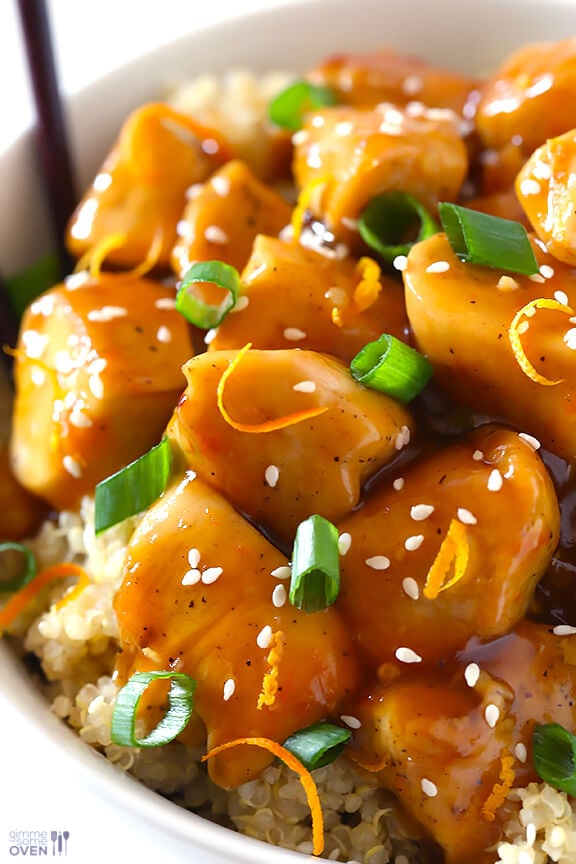 I mean, really, just look at that gorgeous dish!
So much great flavor, and so little unnecessary fat and calories from frying the chicken.  I'm pretty positive that even your friends or family members who usually prefer the fried version will go "poco loco" over this dish.  :)
Stay tuned for more healthy recipes to come this month on Gimme Some Oven.  And cheers to a great 2014 ahead!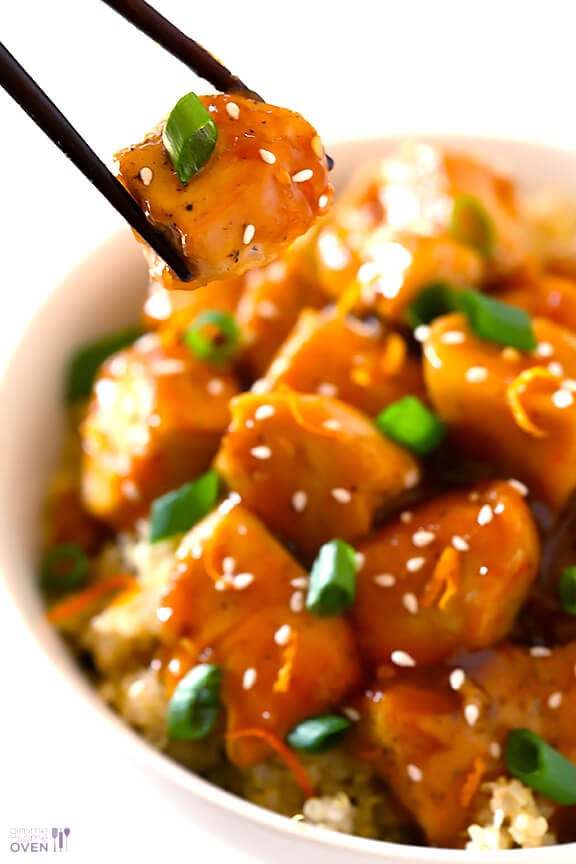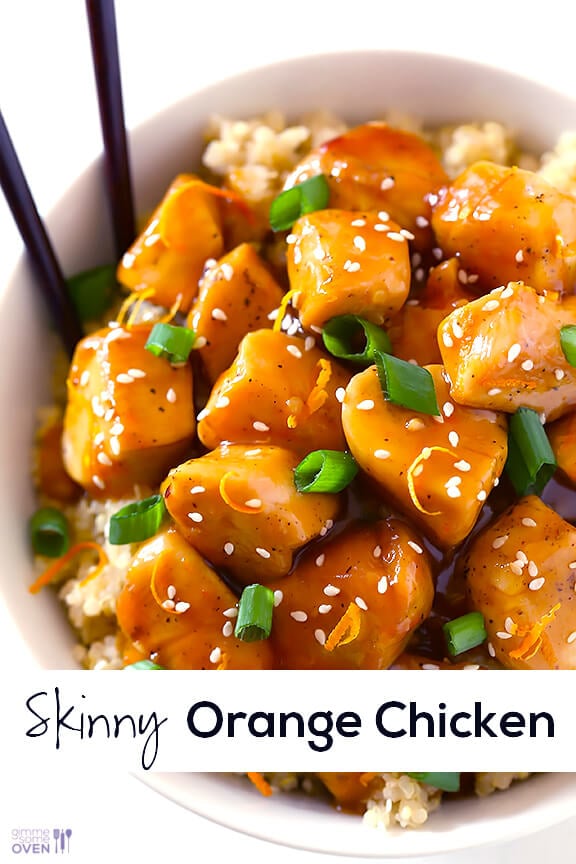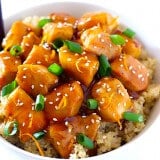 Skinny Orange Chicken
This homemade orange chicken recipe comes together in just 20 minutes, and is a crazy delicious! (And healthier than the restaurant version!)
Ingredients:
Orange Chicken Ingredients:
2 lb. boneless, skinless chicken breasts, cut into bite-sized pieces
salt and pepper
2 Tbsp. olive oil
orange chicken sauce (ingredients below)
toppings: thinly-sliced green onions, toasted sesame seeds, orange zest
Orange Chicken Sauce Ingredients:
3 cloves garlic, minced
1/2 cup orange juice
1/2 cup honey
1/3 cup soy sauce
1/4 cup rice wine vinegar
3 Tbsp. cornstarch
1/2 tsp. ground ginger
1/2 tsp. white pepper
zest of one orange
pinch of crushed red pepper flakes
(Optional: Quinoa Ingredients)
1 cup dry quinoa
2 cups chicken broth
Directions:
To Make The Orange Chicken:
Season chicken generously with salt and pepper.
Heat oil in a large saute pan over medium-high heat. Add chicken and saute for about 4-6 minutes, stirring occasionally, until the chicken is browned and nearly cooked through.
Pour in the orange chicken sauce, and stir to combine. Let the sauce come to a boil, then boil for an additional minute or two until thickened. Remove from heat and serve immediately over quinoa or rice. Garnish with green onions, sesame seeds and additional orange zest.
To Make The Orange Chicken Sauce:
Whisk all ingredients together until combined. If you would like the sauce to be even sweeter, add an extra 2-4 tablespoons of honey.
To Make The Quinoa:
You can see my step-by-step photo tutorial for how to cook quinoa here http://www.gimmesomeoven.com/how-to-cook-quinoa-recipe/.
All images and text ©
If you make this recipe, be sure to snap a photo and hashtag it #gimmesomeoven. I'd love to see what you cook!
Be sure to also check out these related recipes: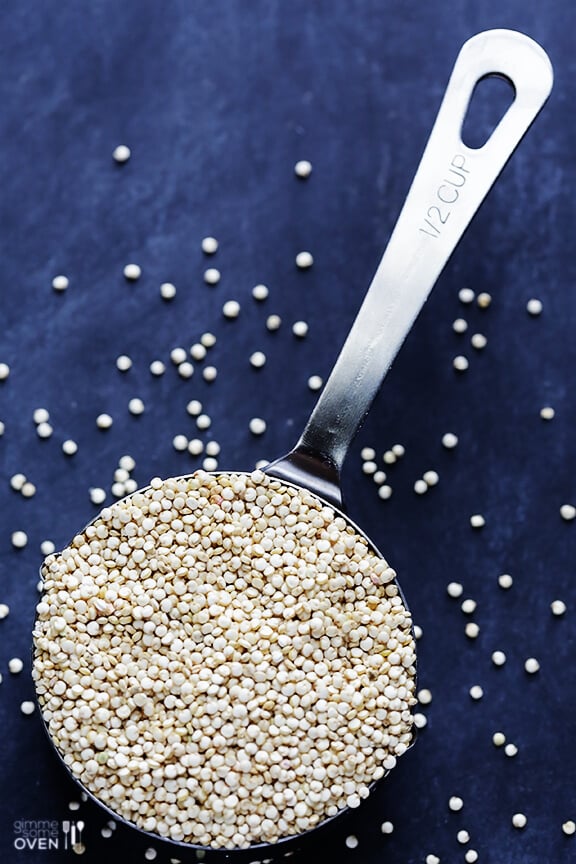 How To Cook Quinoa (A Step-By-Step Tutorial)