How To Cook Quinoa
This post may contain affiliate links. Please read my disclosure policy.
Cooking with quinoa is so healthy, easy and delicious!  Here is a simple tutorial for How To Cook Quinoa.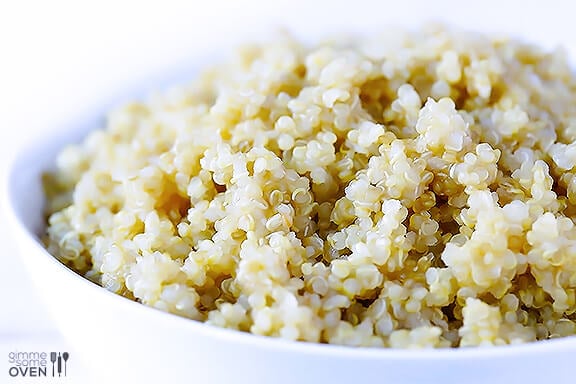 It has been far too long since I have posted a tutorial on Gimme Some Oven.  So today's the day.  We're talking QUINOA!
I imagine many of you already know how to cook quinoa.  But for those who are new to this ancient grain, and those who might just need a little reminder about how to make quinoa (was that darn ratio 2:1 quinoa to water, or water to quinoa?), hopefully this little tutorial will be helpful.
After all, 2013 has been named the International Year of Quinoa.  And what's not to love about quinoa?  We all know that it is super delicious, versatile and packed with protein, fiber, and other great nutrients.  But I especially love serving quinoa when I am entertaining friends with special diets or allergies, as it's gluten-free and cholesterol-free (and of course, vegetarian and vegan).  Such a great grain!
But I especially love how simple it is to cook a batch of quinoa.  All you need to remember is a simple ratio, and then the sky is the limit if you'd like to customize with your own flavors and extra ingredients.  Here's the how-to!
Ingredients Needed:
There are two basic ingredients that you need to cook quinoa: dry quinoa and water (or broth).
Quinoa: There are countless varieties of quinoa available at grocery stores now.  Most people stick with a basic white quinoa, although red and black varieties are also very popular.  Always rinse your quinoa before cooking to help remove the bitter taste.  If desired, you can also toast the dry quinoa (after it has been rinsed) for an extra toasty flavor.  Just saute the quinoa in a skillet with a little oil (2 tsp. per 1 cup quinoa) over medium-high heat for about 5-8 minutes, stirring often, until it turns slightly golden and fragrant.  Be careful not to burn the quinoa when toasting.

Water or Broth: Quinoa just need to be cooked in some sort of liquid.  Water is perfectly good, and will let the pure quinoa flavor come through.  (Although I definitely recommend adding salt if using just water.)  I usually prefer to cook my quinoa with a broth — chicken, vegetable, beef, you name it.  You can also use wine, although since wine can partially evaporate I typically only substitute in wine for half of the liquid.  Whatever your liquid, just be sure to check how salty your broth is, and adjust your amount of additional salt if needed.
Salt: I typically add in a good pinch of salt (about 1/2 tsp.) per cup of dry quinoa that I am cooking.  It will help bring out the flavor, but salt is definitely not required.  (And definitely leave it out if you are on a low-salt diet.)
(Optional) Additional Seasonings: Just like in a soup or rice broth, you can add all sorts of other seasonings.  Fresh or dried herbs,
Equipment Needed:
Fine-Mesh Strainer: Quinoa always needs to be rinsed with water prior to cooking.  A fine mesh strainer is my favorite way to rinse the quinoa.

Saucepan or Rice Cooker: If cooking quinoa on the stove, you need a saucepan.  If cooking quinoa in a rice cooker, you need a rice cooker.
Fork: You can use a fork to stir the quinoa while cooking, and then again to fluff the quinoa once it is cooked.
Cooking Methods:
Quinoa can either be cooked on the stove or in a rice cooker.
On The Stove: Stir together the quinoa and water/broth in a saucepan, then bring to a boil.  Reduce heat to medium-low, cover, and simmer for 15-20 minutes or until the liquid is absorbed.  Remove from heat and let sit, covered, for 5 minutes.  Fluff with a fork and serve.

In A Rice Cooker: Stir together the quinoa and water/broth in a rice cooker.  Then cook according to the rice cooker instructions, as if cooking rice, until liquid is absorbed.  Fluff with a fork and serve.
[amd-zlrecipe-recipe:337]
Here is also a little handy photo tutorial, in case you'd like to pin it to jog your memory!
What do you think?  Are you ready to go make quinoa?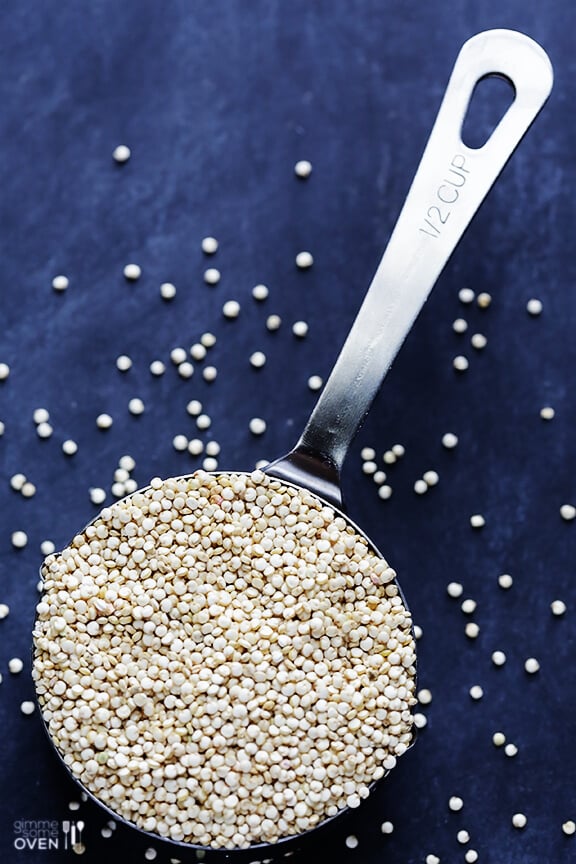 Happy quinoa cooking!