Slow Cooker Apple Cider
This Slow Cooker Apple Cider recipe is easy to make from scratch, and full of the best sweet cinnamon apple flavors!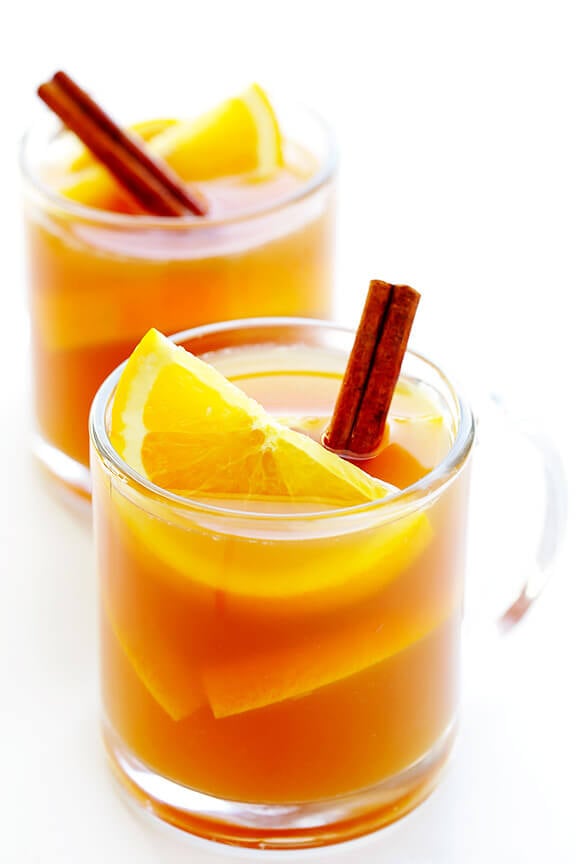 Sometimes I wonder if I get a little too excited about recipes I love on the blog.
Reason tells me that I should tamp down my enthusiasm, that I can become the "girl who cried delicious" if I sing the praises of too many recipes, and that people will start to doubt my sincerity.  But you know what, I have come to accept that I'm just naturally one of those people who tends to get really excited about just about anything I love in life!  Be it an innovative new band, a challenging editorial, a new restaurant, a perfect winter moisturizer, you name it — if I find something I love, I want to shout its praises from the rooftops.  Because good things are meant to be shared, right?!  :)
Well, that said, today's recipe for homemade slow cooker apple cider might not seem like the most exciting "new" recipe.  But it is one that makes me so — like, so — happy.  It's made 100% from scratch, and has been one of my favorite entertaining recipes over the past few years.  So since I have been given this blog which is the proverbial modern "rooftop", I'm giving it the modern shout-out.  Here's why it's my fav…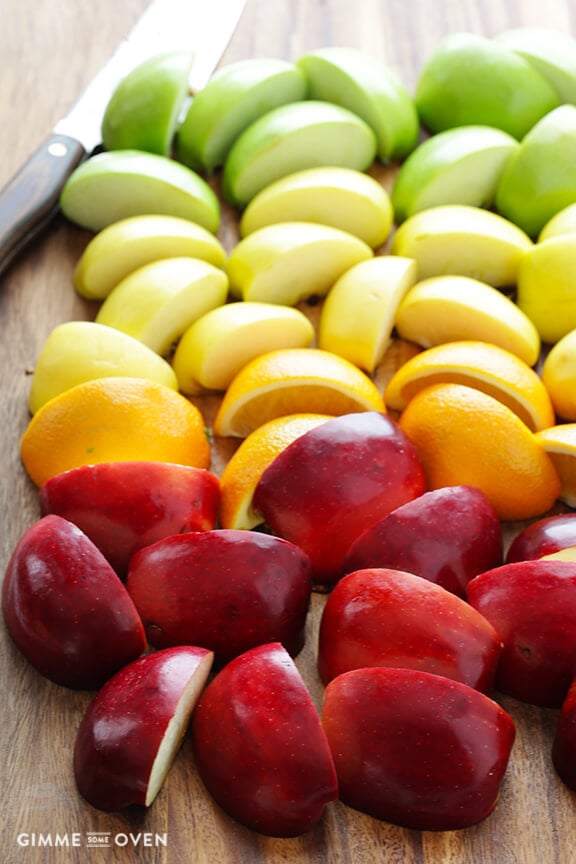 First off?  This homemade apple cider recipe is made 100% from scratch, which means that it's made with real apples.  Lots and lots of colorful, crisp, fresh, keep-the-doctor-away, delicious apples.  I like to use a mix of varieties, partly for the variance in flavor, but mostly to create a literal rainbow of apples for my cider (with a few oranges thrown in there for mulling).  Beautiful.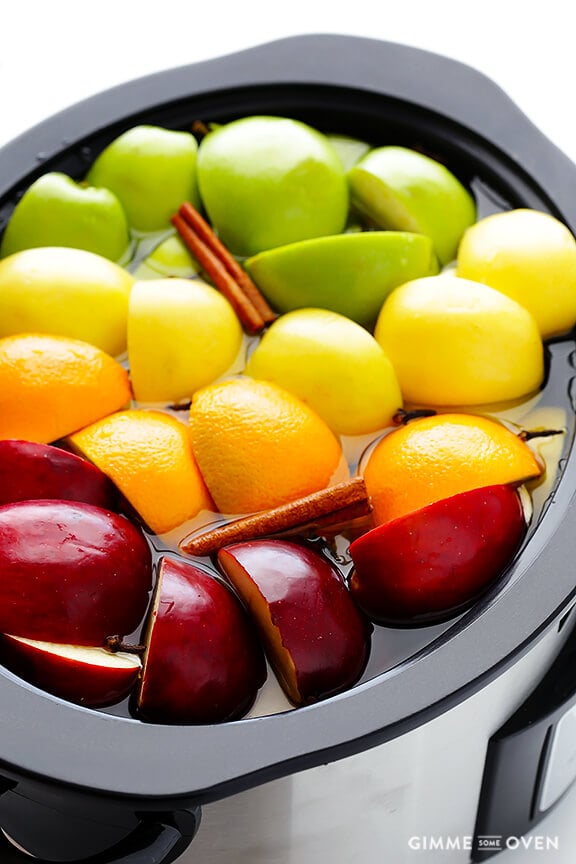 Second, I love that this particular recipe is made in the slow cooker.  I have a recipe for homemade apple cider that is made on the stove, and I made it for winter parties for years and years.  But then the lightbulb finally went off that the recipe would be made even easier in the slow cooker!  And sure enough, it works like a charm.  Simply add your apples, a few oranges, and some mulling spices to a slow cooker and let it cook for a few hours.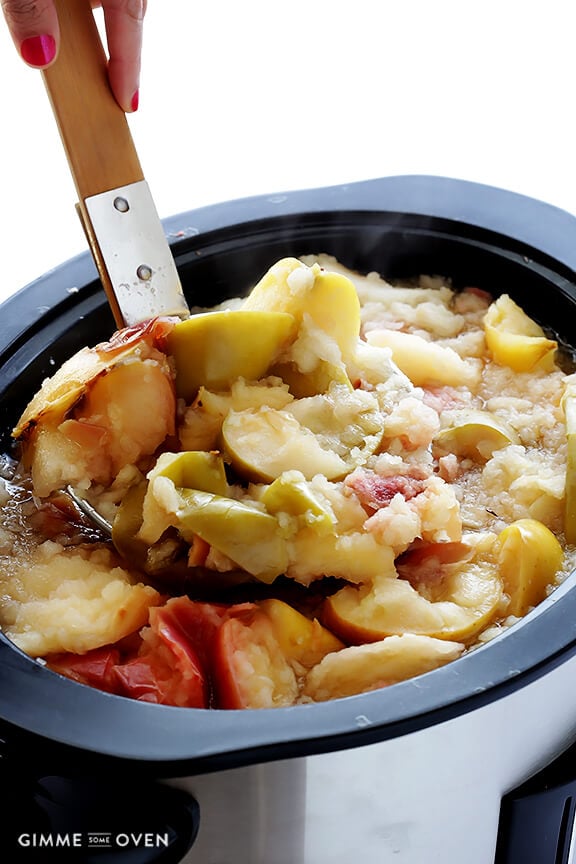 Then once the apples are soft, mash them up with a spoon or a potato masher, and let those juices seep even more into the cider.  Then strain out all of the pulp and and seasonings until there is only broth left, and then sweeten it with your desired kind and amount of sweetener.  (I like a mix of brown sugar and maple syrup.)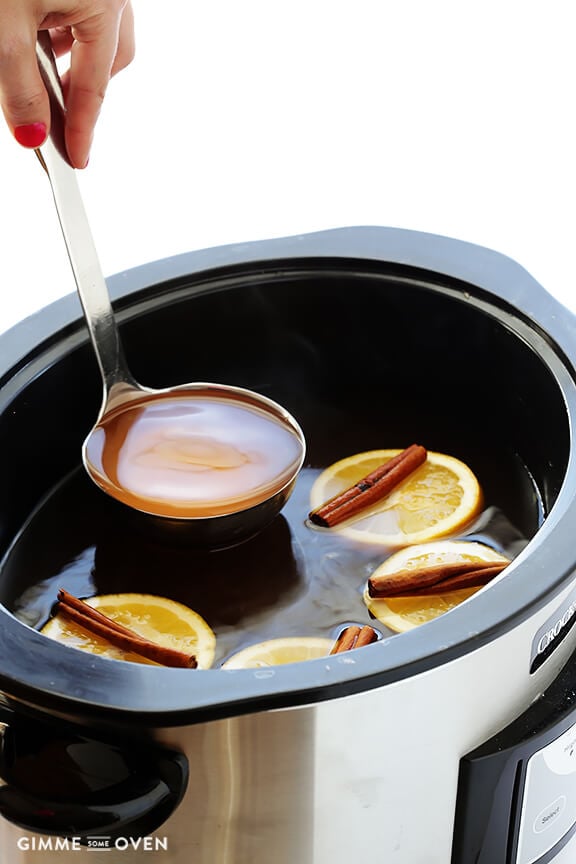 And then two amazing things will happen:
1) Your home will smell absolutely amazing at this point.  I made a batch last night for a party, and the first thing that all 20 or so people said when they walked in was how incredible the place smelled.  (Fall candles…you don't hold a "candle" to the amazing smell of this cider!)
2) A delicious batch of 100% homemade apple cider will be ready to ladle up and serve…and enjoy.  Some of my friends love it best garnished with a cinnamon stick and a few orange slices.  Some of them love to spike it with some bourbon or rum.  Some love a steaming cup completely plain.  But I'm telling you, everyone who tries this cider unfailingly loves it.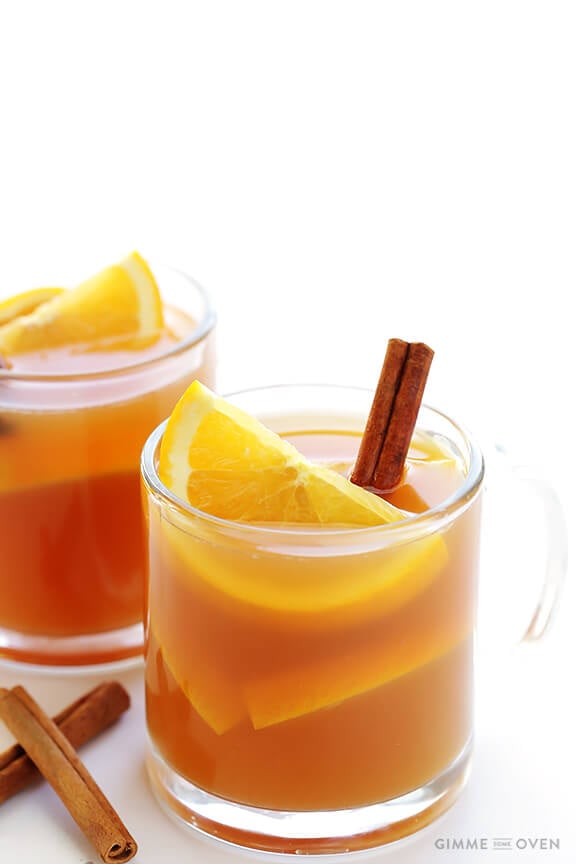 I love it because it genuinely is so surprisingly simple to make completely from scratch.  But even more, I think I love it because there's something comforting knowing that countless generations of people who came before us also made and enjoyed this same drink.  It's nothing fancy, nothing new.  (Well, the slow cooker part is new, and cheers to that!)  But it's autumn at its best, and I have no doubt that generations after us will be toasting warm glasses in the company of friends for years and years to come too.
So yes, as Molly Shannon would have said, "I love it, I love it, I love it!"  And I hope you do too.  :)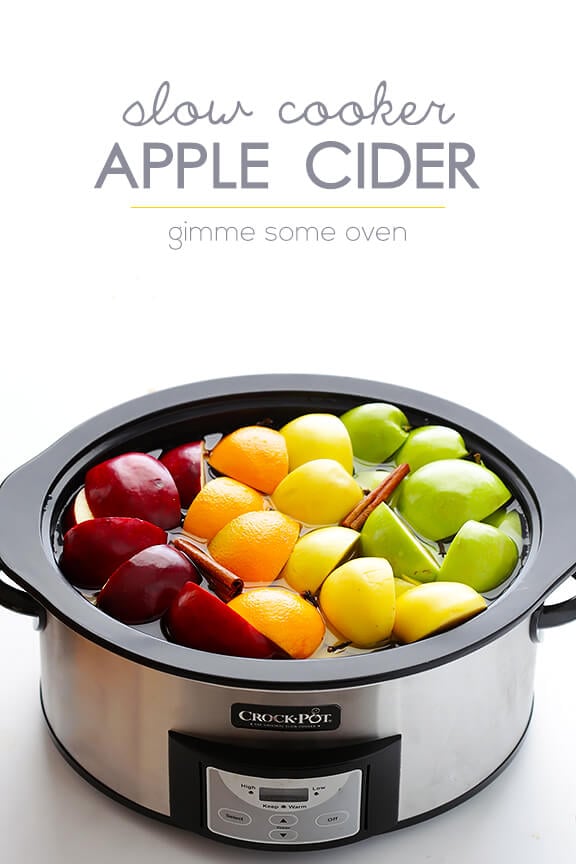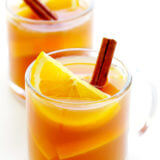 Slow Cooker Apple Cider
This Slow Cooker Apple Cider recipe is surprisingly easy to make from scratch and so delicious!
Ingredients:
9 medium apples, assorted types (I used a mixture of red, yellow and green apples)
1 orange
3 cinnamon sticks
1 whole nutmeg
2 teaspoons whole cloves
1/2 teaspoon whole allspice (optional)
12-16 cups water
1/3 – 2/3 cup brown sugar (or your desired sweetener*)
Directions:
Wash apples and the orange, and then roughly cut into quarters. (Don't worry about removing peels, seeds, or stems.)  Place in the bowl of your a large cooker.  Add cinnamon sticks, nutmeg, cloves and allspice.  Cover with water, filling the slow cooker until it is nearly full. (I left about 1/2 inch of space at the top of my pot.) Cook on high heat for 3-4 hours, or on low heat for 6-8 hours.
About an hour before the cider is done cooking, use a potato masher (or tongs or the side of a spoon) to mash the apple and orange slices once they are soft.  Finish cooking for one more hour.
Strain out the apple cider juice into a clean pitcher or pot.  To get the maximum juice out of the apples, you can press them through a fine-mesh strainer or strain through a cheese cloth.  Stir in your desired amount of sweetener until it is dissolved.
Serve hot.  (You can also transfer the cider to a heat-safe sealed container and refrigerate for up to 5 days.  Just rewarm the cider to serve.)
*I like to use half brown sugar and half maple syrup for my sweetener.  But you can use any combination of brown sugar, white sugar, maple syrup, cane sugar, coconut sugar, or whatever other sweetener you might like.  Just add to taste.
All images and text ©
If you make this recipe, be sure to snap a photo and hashtag it #gimmesomeoven. I'd love to see what you cook!