Smoked Gouda Grilled Cheese with Apples and Bacon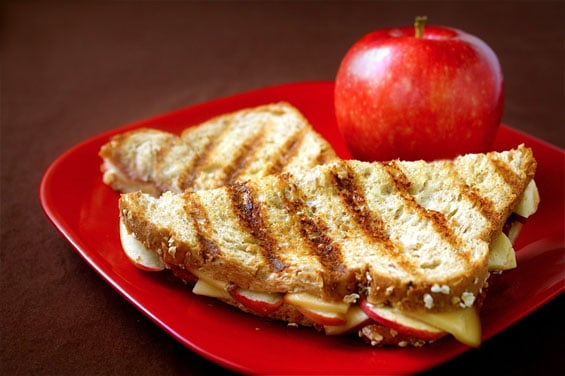 For some random reason, I realized a few weeks back that I've literally never made a grilled cheese sandwich before.  It's true!  I grew up eating them, and I actually order them fairly often at the happy hour of a favorite restaurant in town.  But somehow I couldn't recall ever buttering up the bread, layering on the cheese, and cooking one up in the skillet myself!  So of course, needed to remedy that.  Especially when I had a serious grilled cheese craving after making this yummy tomato soup…
While I was initially bound and determined to make a sandwich with just the classic slices of American cheese, I was sidetracked (as often happens) in the produce department while en route to the bread section at the store.  And couldn't help but pick up a few slices of my favorite cheese at the deli.  And then…a delicious, crisp Fuji apple.  And then…some turkey bacon (which I'm convinced makes everything better).  And thus…my simple grilled cheese turned into this little sandwich experiment.  :)
But oh my heavens — this sandwich is fantastic!!!  I could hardly wait to snap a photo before digging in.  The apples were a wonderfully crisp and sweet, and contrasted nicely with the delicious, salty bacon.  And while I'll always enjoy a classic grilled cheese with American, the warm, melted, smoked gouda definitely took this 'wich to a whole new level.  Delish!!
I promise I will make my very first "classic" grilled cheese soon.  But for now, this one is definitely my new "fav"…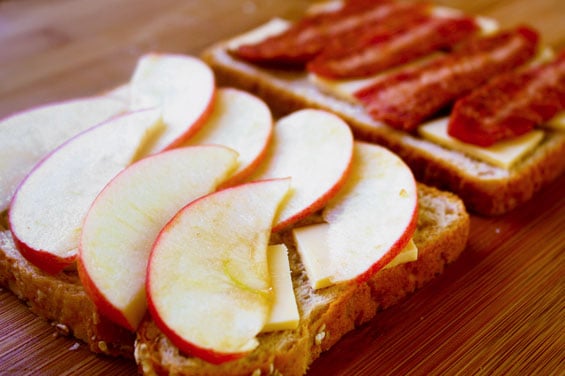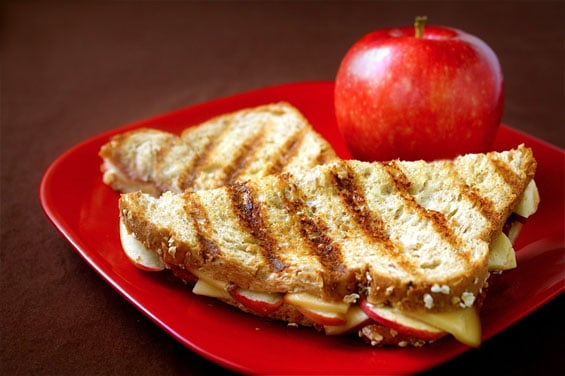 Smoked Gouda Grilled Cheese with Apples and Bacon
My twist on the classic grilled cheese recipe – Smoked Gouda Grilled Cheese with Apples and Bacon! Be sure to try it out.
Ingredients:
smoked gouda cheese (optional: cut into small pieces)
apples, cored and very thinly sliced
favorite bread
3 strips of turkey (or regular) bacon, cooked and cut in half
butter (whatever kind you prefer – I used Smart Balance)
Directions:
Preheat grill pan or skillet over medium heat.
Butter one side of each slice of bread. Arrange half of the cheese slices on the un-buttered side of once slice of bread. Then layer on the bacon, sliced apples, and finally the other half of the cheese carefully on top. Top with the other slice of bread, and gently transfer to the skillet.
Cook sandwich on both sides until golden brown and the cheese has begun to melt, about 2-3 minutes per side.
For additional flavor, feel free to sprinkle some cinnamon (a classic favorite with apple sandwiches) or Italian seasoning onto the cheese inside of the sandwich.
All images and text ©
If you make this recipe, be sure to snap a photo and hashtag it #gimmesomeoven. I'd love to see what you cook!