S'mores Pie
Even food bloggers have little kitchen disasters.  :)
Recently on a day off, I decided to make a recipe I have been wanting to try forever — s'mores pie.  Love s'mores.  Love pie.  Brilliant idea.  Right?
Well, I made the chocolate part of the pie, which was a breeze (and ridiculously delicious when I sampled the batter).  Then afterwards I laid out all of the marshmallows beautifully on top, and stuck the pie under the broiler tand set the timer for the allotted two minutes to give them that golden "toasted" look.  After about 45 seconds though, I turned around to take a peek at the pie and saw flames!  HUGE flames!
You know how when you stand over a campfire a marshmallow can go from soft and white to a flaming fireball in a matter of seconds?  Yeah, multiply that by about 20!  The entire pie was engulfed!!  My roommate happened to be in the kitchen at the time, and after we both stood frozen for a second in disbelief, she ran for the fire extinguisher, and I ended up filling up the mixing bowl quickly with water and then dousing the entire oven!  Thankfully, the fire went out right away, but the house smelled like a campfire (for at least a day) and the pie was…well…you'll have to see the picture below.
Of course my roommate's husband returned home an hour later, excited about the pie we had promised him, and I sadly apologized for the charred mess.  To which, without missing a beat, he immediately asks if the chocolate part was still ok.  I told him I imagined it was, but there was at least an inch of charred-to-a-crisp marshmallow layer on top!  He responded that we girls must have "never lived in a frat house".  So sure enough, being the surgeon (and guy!) that he is, he spent the next ten minutes carefully flaking off the top layer until the beautiful chocolate part shone through.  He then topped it with some new marshmallows, and voila — not only was it salvaged, it was incredible!!!
I did end up making another round of the pie to photograph all lovely and golden for you all, of course watching it like a hawk this time under the broiler!  (It definitely can be done successfully, although you can also just bake it or use a kitchen torch.)  And it was fantastic.  All of that rich chocolate, the graham cracker crust, and toasted (not charred!) marshmallows made for the perfect dessert that's a definite crowd-pleaser.
Live and learn!  And then eat pie.  :)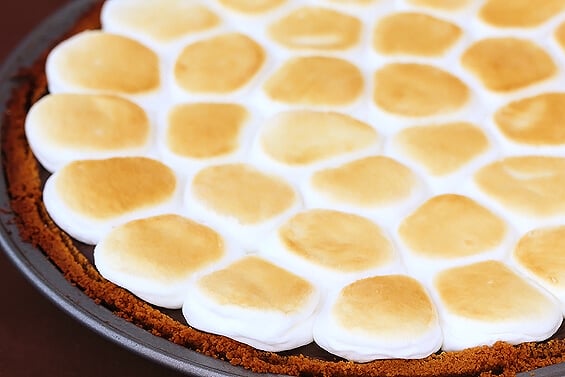 S'mores Pie
You will love this delicious S'mores Pie recipe. It's chocolate-y, marshmellow-y deliciousness presented in the form of a decadent pie.
Ingredients:
Crust Ingredients:
2 cups graham cracker crumbs
1/2 cup (1 stick) butter, melted
Filling Ingredients:
3/4 cup heavy cream
3/4 cup milk
10 ounces semisweet chocolate, chopped
1/2 tsp. vanilla extract
Pinch of salt
2 eggs, whisked
20-30 large marshmallows
Directions:
To Make Crust:
Preheat oven to 325 degrees F (160 degrees C).
In a medium mixing bowl, stir together the graham cracker crumbs and melted butter until evenly coated. Press mixture into a greased 9-inch pie plate. Bake for 8-10 minutes.
To Make Pie:
In a medium saucepan, whisk together cream and milk. Warm over medium-low heat. Add in chocolate and stir until chocolate has completely melted and is smooth. Slowly add in vanilla and whisked eggs, and whisk until smooth.
Pour chocolate filling into baked pie crust. Bake for 15-20 minutes, or until chocolate filling is set and does not jiggle when pie is lightly shaken. Remove from oven.
Using a kitchen shears or a knife, cut marshmallows in half. Place halves in concentric circles over the top of the pie until covered.
Lower oven rack to the middle position, and set oven to the lowest broil setting. Place pie on the rack and lightly toast the marshmallows. (I recommend pulling them out the second you see them beginning to turn slightly golden.) You can also use a kitchen torch to toast the marshmallows instead.
Chill pie in the refrigerator to set for 2-3 hours. Or it can also be served slightly warm. Drizzle with chocolate sauce if desired.
Ali's Tip:
To give your graham cracker crusts an extra kick, I recommend using the cinnamon graham crackers.  A little extra flavor, and a little extra sweet!
If you make this recipe, be sure to snap a photo and hashtag it #gimmesomeoven. I'd love to see what you cook!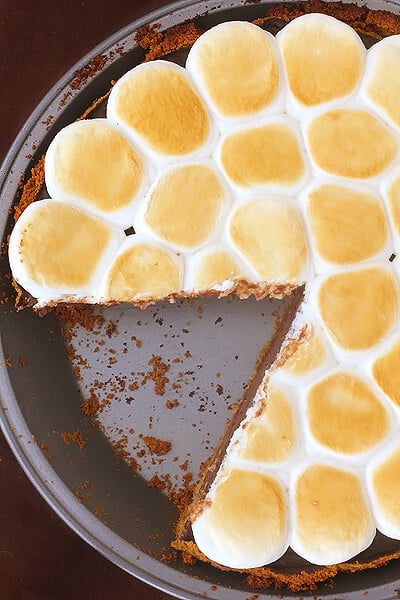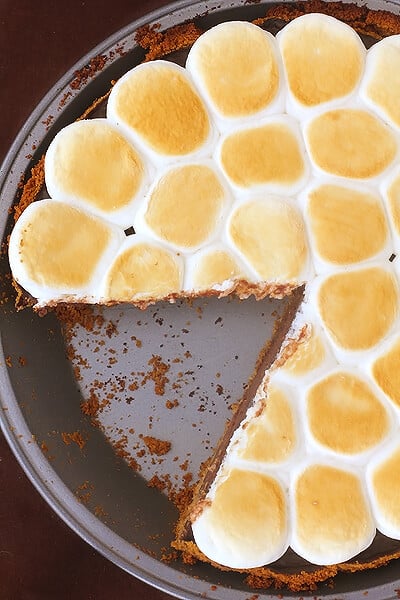 And a glimpse into Round One…