Spiced Cocoa Roasted Almonds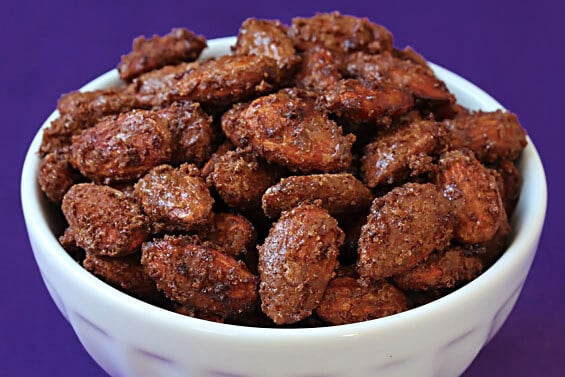 Brief disclaimer: These nuts are 100% irresistible.
Oh my word.  I made them for the first time with my parents on Thanksgiving, thinking they might be a nice snack to keep out for the holiday weekend.  But….I'm pretty sure they disappeared by the end of the day.  Even with everyone's stomachs full from our Thanksgiving meal — they were still irresistible!!
Like making most spiced nuts, these are also a breeze to pull together.  Just whip the spices and vanilla (I used extract, since we didn't have vanilla bean paste on hand) together with an egg white, mix in the almonds (or whatever nuts you'd prefer), and voila — within 45 minutes, your house will smell amazing and a sweet and savory batch of almonds will be yours to enjoy!
Also, if you don't have whole almonds on hand, this recipe would also be great with walnuts or cashews.  Just keep an eye on the cooking time for nuts of different size/density to be sure that they don't burn.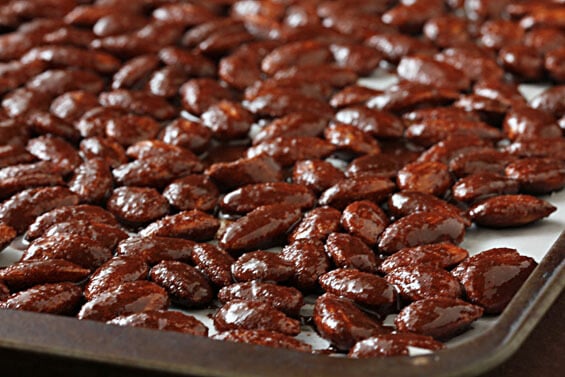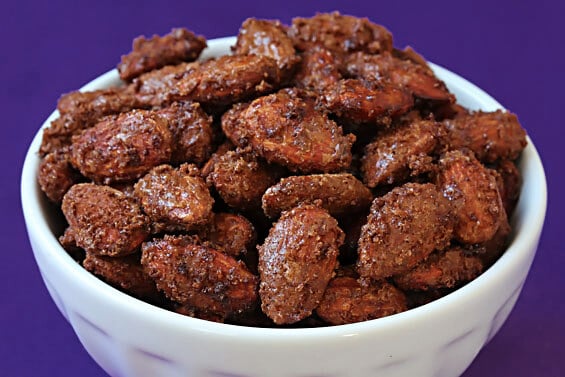 Spiced Cocoa Roasted Almonds
You will love this Spiced Cocoa Roasted Almonds recipe! So simple to prepare these absolutely irresistible treats!!!
Ingredients:
3 cups whole almonds
1 egg white
1 Tbsp. vanilla bean paste
Few drops of water
1/3 cup granulated sugar
1/3 cup brown sugar
2 Tbsp. cocoa powder (I prefer dark cocoa powder, but whatever works!)
1 tsp. cinnamon
1/2 – 1 tsp. cayenne pepper (**see tip below**)
1/2 tsp. salt
Directions:
Preheat the oven to 275°F. Line a baking sheet with a silicon baking mat or with parchment paper. Set aside.

Whisk together the egg white, vanilla bean paste, and a few drops of water in a mixing bowl. Beat mixture until it is light and frothy. Add the almonds and toss to evenly coat with the egg white mixture.

In a separate bowl, combine the sugars, cocoa powder, cinnamon, cayenne, and salt. Whisk together very well, being sure to remove any lumps. Add the almonds, and toss to coat. Spread the coated almonds out on the prepared baking sheet. Roast for 30 – 40 minutes, stirring every 10-15 minutes. Keep a close watch on the almonds because they will burn quickly.

Once the almonds are done, spread them out on a large piece of parchment or waxed paper until they have cooled completely. Store in an airtight container.

If you make this recipe, be sure to snap a photo and hashtag it #gimmesomeoven. I'd love to see what you cook!
Ali's Tip:
Feel free to also control how spicy you would like them to be.  I added the full teaspoon of cayenne, and they definitely had a little kick.  So if you're not a fan of spicy, I'd just add the 1/2 teaspoon.