Stained Glass Jello
As I was thinking of recipes for Memorial Day this year, I remembered this fun recipe that I actually made and photographed for the 4th of July last year, that somehow never made it to the blog.  It's basically a classic stained glass jello recipe — red, white and blue style!
I know that Jello won't win you any points in the healthy and natural category, but everyone had a blast with this last year.  So fun, and festive, and versatile (if you ever want to mix other colors for other holidays, or sports teams, etc.).  I will point out, though, that this recipe took significantly more time than I expected.  It's not difficult, but it requires multiple hours in between steps for chilling, so plan ahead.
Definitely a fun recipe to have on hand for a celebration of our country and all those who have served it selflessly.  Happy Memorial Day!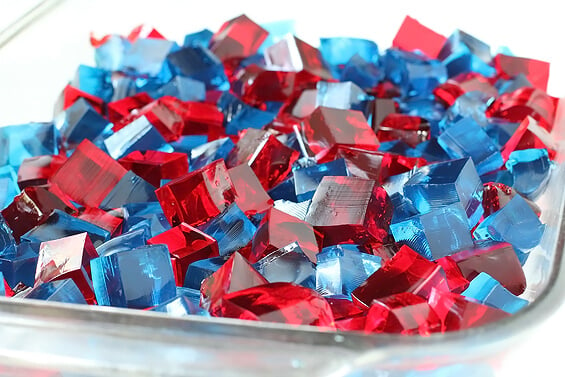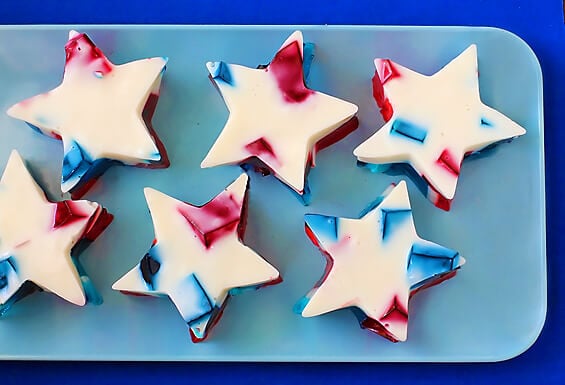 Stained Glass Jello
Such a fun, and festive, and versatile idea, you will love this Stained Glass Jello recipe! (You can mix colors for the holidays, or even sports teams, etc.)
Ingredients:
4 small (3 oz.) boxes of Jell-O or store brand "gelatin dessert" in different colors (I used two packages each of strawberry and blueberry)
1 (14 oz.) can sweetened condensed milk
2 envelopes unflavored gelatin (such as Knox)
Directions:
Make a double batch of each flavor of Jello (a double batch using the two boxes of strawberry, and a double batch using the two boxes of blueberry) according to package instructions in two 9×13-inch pans. Refrigerate until completely chilled.
Remove the jello and use a knife to cut each batch into small squares (mine were about 1/2-inch). Carefully remove all squares from the pans, then mix and layer the blocks into a new 9×13-inch pan.
In a separate bowl, sprinkle 2 envelopes unflavored gelatin into 1/2 cup cold water and let it sit for 3 minutes. After the gelatin blooms, add 1 1/2 cup boiling water and stir to dissolve. Stir in the can of condensed milk. Then refrigerate mixture for 20-30 minutes until cooled. Pour cooled milk mixture evenly over jello. If need be, use a toothpick to pop any bubbles that have arisen to the surface (just to make it look smooth). Chill overnight.
Use a knife to cut the jello into squares, or use cookie cutters to cut into fun shapes. Serve.
If you make this recipe, be sure to snap a photo and hashtag it #gimmesomeoven. I'd love to see what you cook!
Ali's Tip:
Source: Adapted from Brown Eyed Baker and The Food Librarian.