Strawberry Banana Smoothie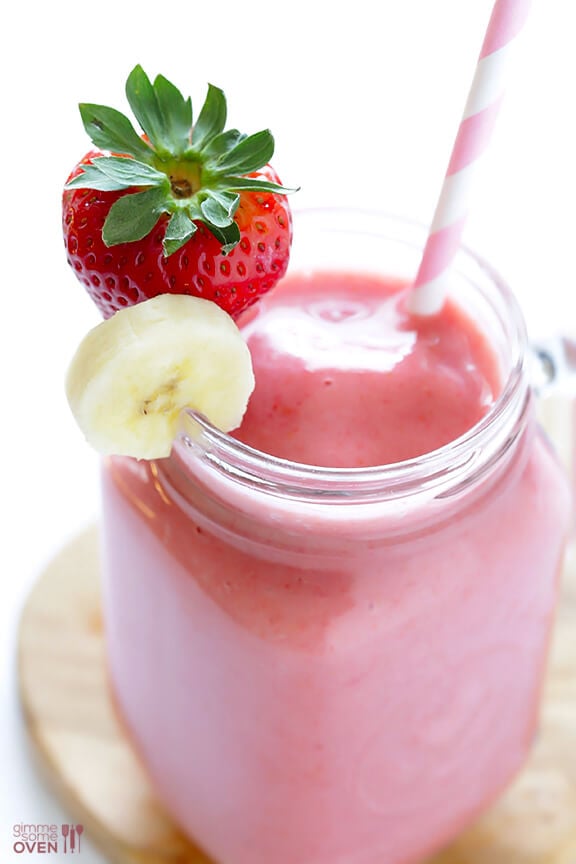 I'm going through one of those times lately when I'm totally conflicted about living in the Midwest.
Don't get me wrong — I love it here.  I love living in a place that has four very intense seasons.  I love being close to family.  I love the thousand little reasons why Kansas City feels like home.  I love that most of those thousand reasons have to do with the amazing people I know and love here.  I love that I can't imagine my life without them.
But good grief, I don't know if I can do more of these long winters!  I can get all nostalgic and appreciate winters and hot chocolate and fuzzy slippers and cozy fireplaces to a point.  But usually that point arrives squarely on December 26.  Then I'm ready for the snow to clear out and the sunshine to hurry and warm everything up already!!   No such luck in Kansas City, where it snowed the last week of April this year after a few 80-degree day teasers.
C'est la vie in the wild Midwest.  :)
The kicker is that I notice this most not in the midst of winter (although I do my fair share of whining and thermostat-cranking when shivering my tail off).  Nope.  I notice how ridiculously, bubbly, undeniably happy I am once warm weather finally arrives to stay.  I'm serious you guys, I have been downright giddy this week!  It's like life is just 100x better when I can wear sundresses and take my dog for walks without shivering and sit out on the back patio and soak up the sunshine.  I love, love, love it.
But that said, this is still home for me.  And I have zero intentions of moving, and couldn't imagine life away from my friends.  But I do sometimes dream about living in a place where winters didn't last quite as long.  Must mean I just need to soak up these warmer months all the more.
When I'm feeling the need for some sunshine though, one of the guilty pleasures I often cave into is buying strawberries year-round (even when they're out of season — yes) to make this nostalgic, favorite smoothie that reminds me of warm summer nights.  Yes, I'm talking about this classic — a strawberry banana smoothie.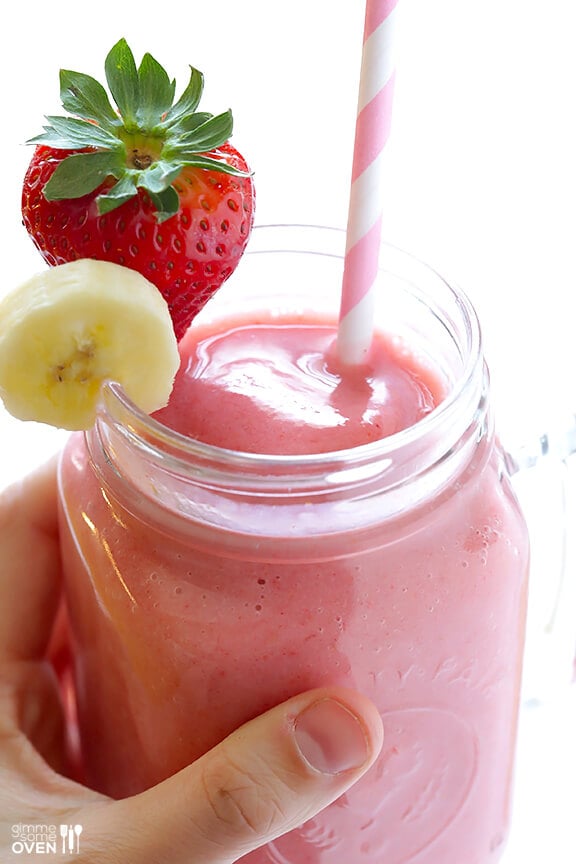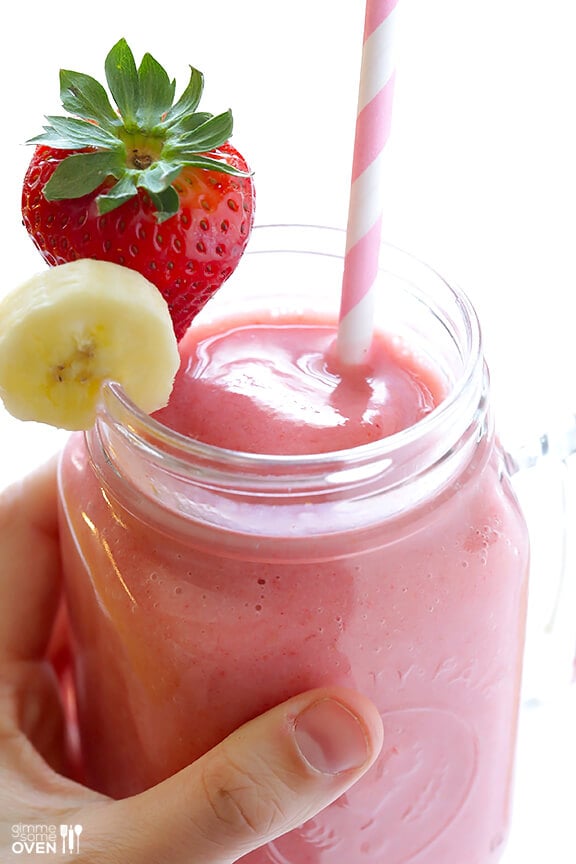 I'm pretty sure that this was the first smoothie I ever made back when I first heard the word "smoothie".
Oh yeah, do you remember the days before "smoothies" were a thing?!?  I remember when the first smoothie store opened in my hometown of Wichita, Kansas and smoothies were suddenly all the rage.  My friends and I would drive across town on summer break and blow our allowances spending a whopping $5 on these drinks made by the most powerful blenders we had ever seen.  There were no green smoothies back in the day.  Everything was red or pink or orange or white, and without a doubt, the most popular drink that everyone would order was also the most popular item on the menu — the Strawberry Banana Smoothie.
This also happened to be the first smoothie I ever made homemade way back in high school.  And it has been a loyal companion over the years as I have thrown every food trend imaginable into that blender with it.  Wheat germ?  Check.  Spinach?  Check.  Fancy protein powders?  Check.  Coconut everything?  A very recent check, check, check.
Miraculously, the mighty strawberry banana smoothie has always managed to taste good with all of the random additives.  But on the days when I'm craving healthy comfort food — especially comfort food that sings of summer and warmth — I go back to the original.  And it never fails me.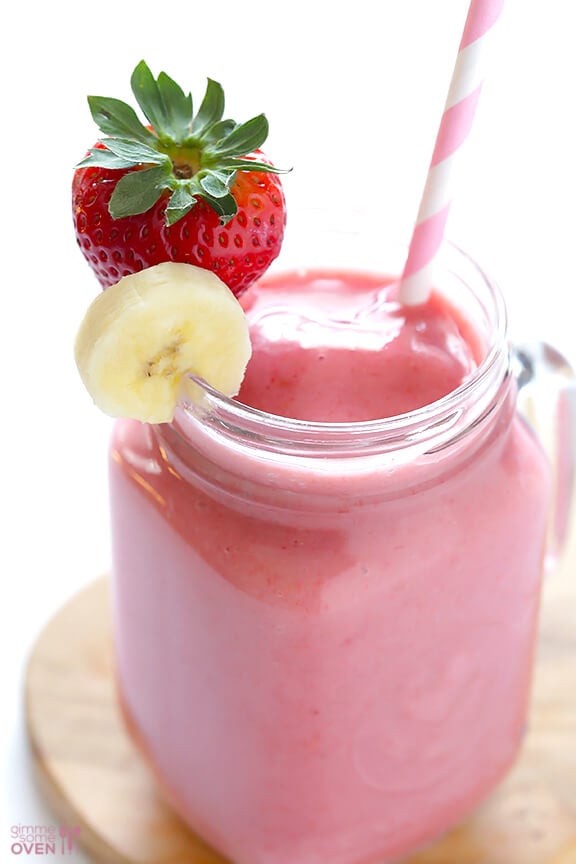 I do try and buy organic ingredients for this nowadays.  But otherwise, my base recipe is the same: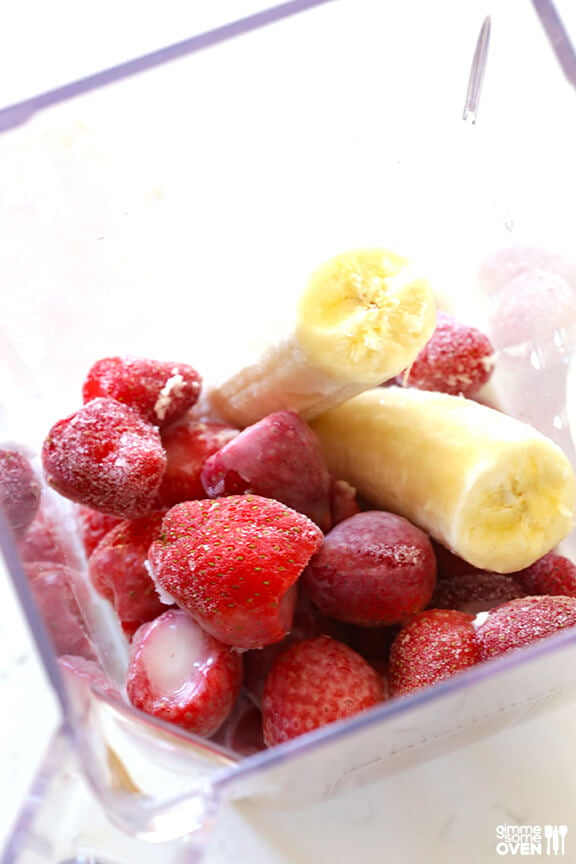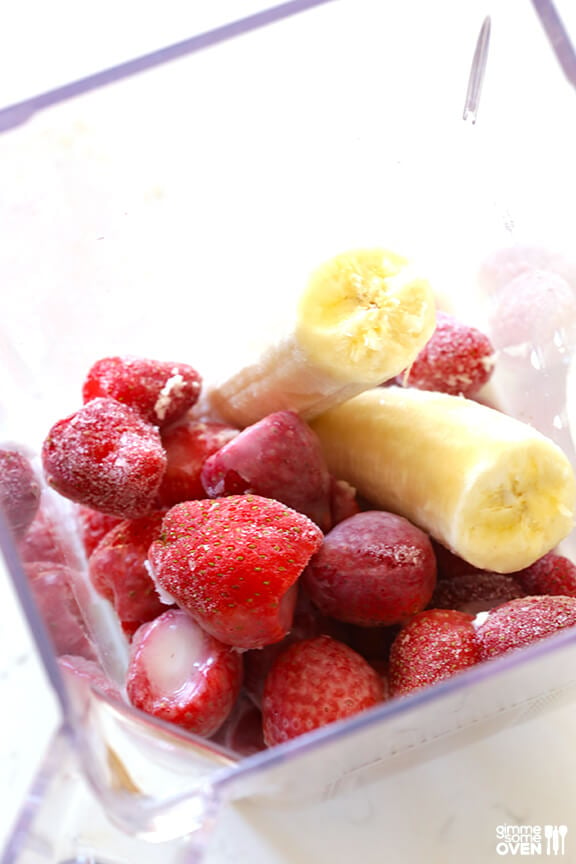 Fill a blender with frozen strawberries, fresh bananas, milk (any kind), a splash of vanilla, ice, and some honey to sweeten if needed.
If I have Greek yogurt on hand, I will often toss some of that in.  And occasionally I will sub in orange juice (or some other fruit juice) for the milk.  And of course, over the years I have also tossed in everything from wheat germ, to flax, to chia, to greens, to protein powders, to coconut milk and more.  But if you're going for the classic version, this is my base.  (And it happens to naturally be gluten-free and vegan.)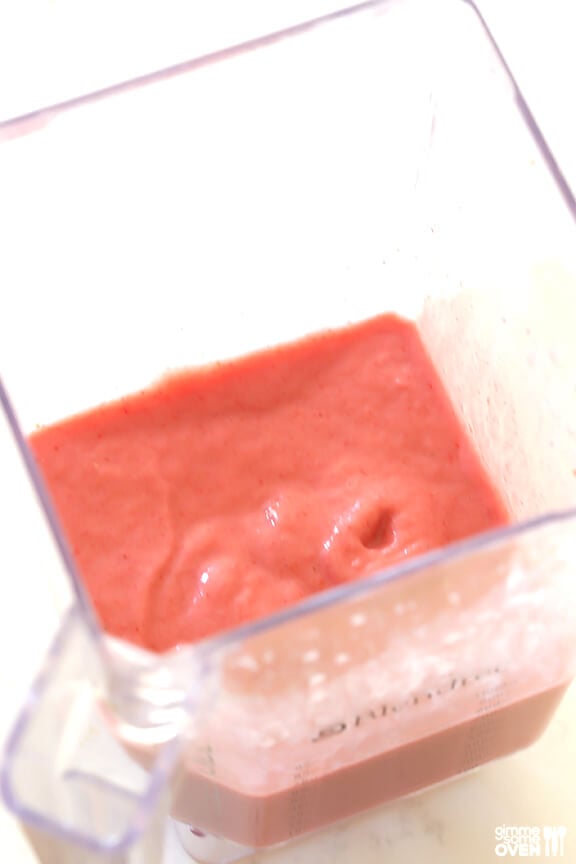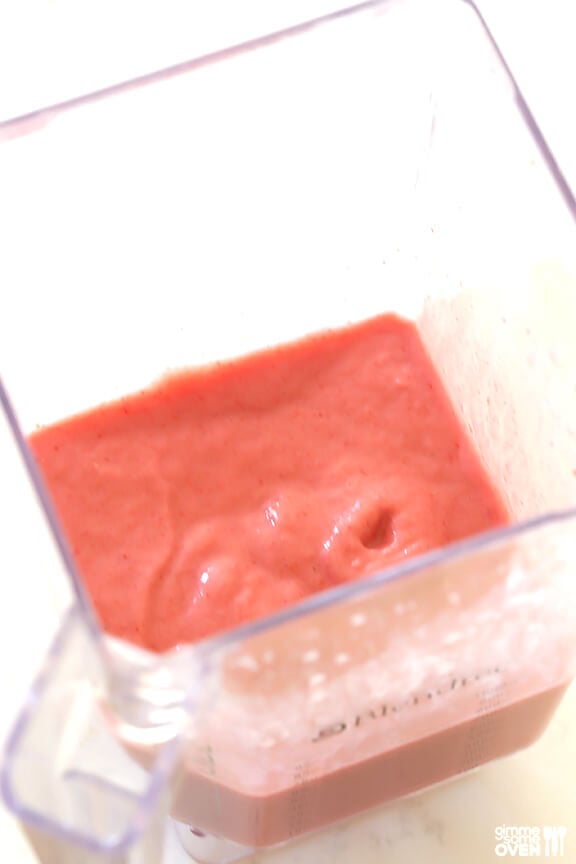 Blend it up until combined.  (Note: I think my 16-year-old self would be amazed that I now own one of those magic blenders I used to admire at the smoothie stores!!)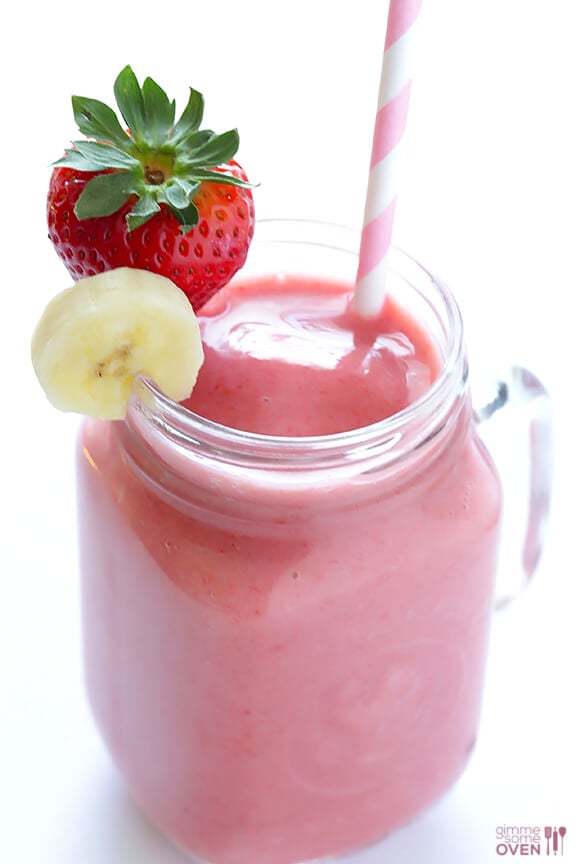 Then serve and enjoy.
I can't even imagine how many smoothies I have made since my first taste of a smoothie back in the day.  But while fads and flavors may change over the years, I have to say that this strawberry banana smoothie still tastes just as good as the first time I tried it.  And as long as I'm living in the Midwest, I'm pretty sure it will forever be my favorite "summer-y" comfort food to get through those winters and soak up the sunny summers.  And that's ok with me.  :)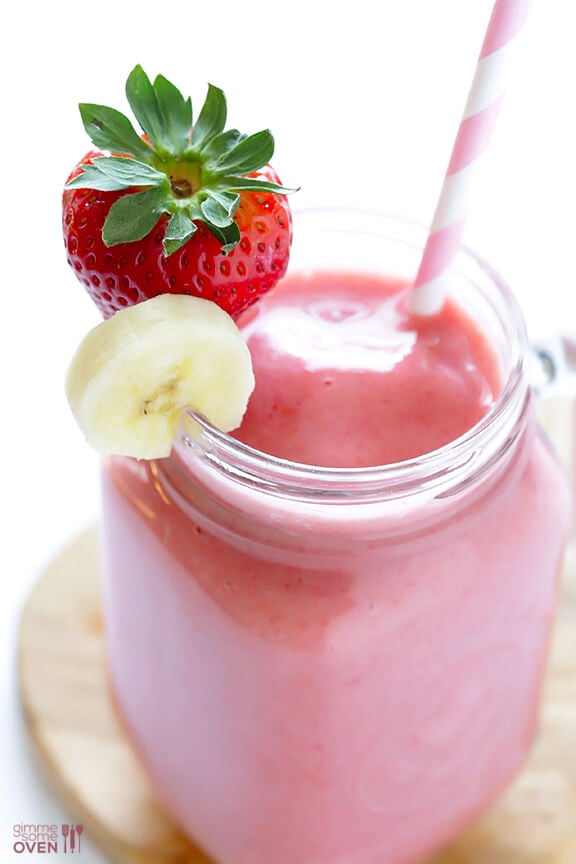 Strawberry Banana Smoothie
The classic strawberry banana smoothie recipe is hard to beat. It's sweet, it's fresh, it's good for you, and it's always tasty.
Ingredients:
2 cups frozen strawberries
1 fresh banana, peeled
1 cup milk (I prefer almond milk in this one)
1 cup Ice
1 tablespoon honey, if needed to sweeten
Directions:
Add all ingredients to a blender, and pulse until combined. Serve immediately.
(If the smoothie is too thick, add more milk. If it is too thin, add more fruit and/or ice.)
All images and text ©
If you make this recipe, be sure to snap a photo and hashtag it #gimmesomeoven. I'd love to see what you cook!