Summer Vegetable "Ribbon" Salad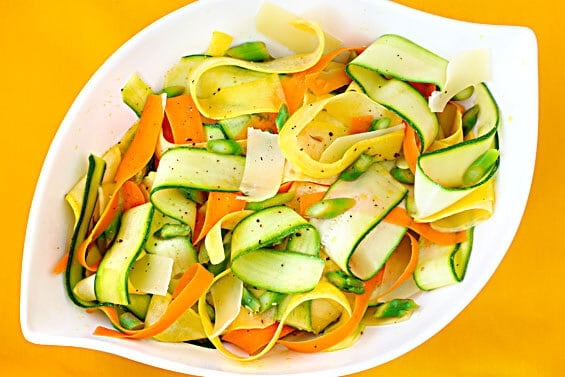 A few years ago, I made the decision to bid farewell to having cable in the casa.  And I have to say, I've never looked back!  Nearly any show I want to watch is now online, and if not (like "Mad Men"…tear…), I've made my peace with waiting til DVD.  :-)
But of course, the one thing I miss dearly is the Food Network.  I feel like everyone around me is always talking about the great recipes, techniques, and favorite chefs they watch regularly.  So I sigh and watch what clips I can on Hulu, and learn what I can reading books and blogs.  But while hanging at a friend's recently, Giada came on as we were changing channels, and we ended up watching an episode for kicks.  Loved it!  :)
That day, she happened to be making this yummy zucchini crudi recipe.  I still don't have a mandoline, but she used a simple vegetable peeler to create these beautiful strips of zucchini, tossed with some asparagus and a simple lemon dressing, and finished with Parmesan.  I immediately came home to give it a try, and also threw in some yellow squash and carrots to add color.  (And blanched the asparagus to give it even more color!)  And voila — a gorgeous summer vegetable salad!
I'm happy to say that it tasted just as wonderful as it looks!  I was a little curious about the raw ("crudi" in Italian) zucchini/squash, and the simplicity of the lemon dressing.  But both were light and fresh — perfect for summer!  So grab your vegetable peeler, and have fun making this beautiful dish.  Thanks, Giada!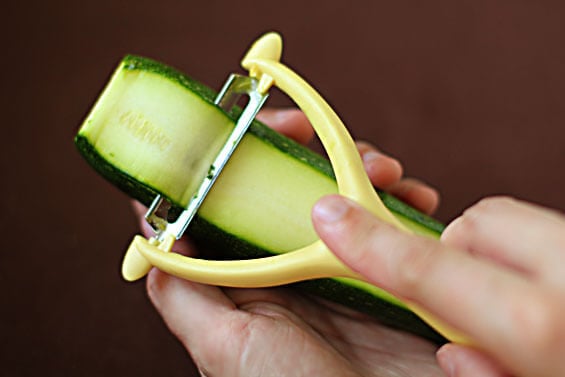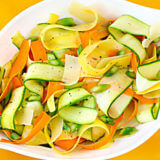 Summer Vegetable "Ribbon" Salad
All you need is a vegetable peeler to make this Summer Vegetable "Ribbon" Salad recipe, which is just as delicious as it is beautiful.
Ingredients:
1 zucchini, ends cut off
1 yellow squash, ends cut off
1 small bunch asparagus, tough ends removed
2 large carrots, peeled and ends cut off
1/4 cup extra-virgin olive oil
2 Tbsp. lemon juice
1/2 tsp. salt
1/4 tsp. freshly ground black pepper
2 ounces shaved Pecorino Romano or Parmesan, for garnishUsing a vegetable peeler or mandoline, shave the zucchini, squash, and carrots into long thin strips ("ribbons").
Directions:
Using a vegetable peeler or mandoline, shave the zucchini, squash, and carrots into long thin strips ("ribbons"). Thinly slice the asparagus on a diagonal.

Fill a small saucepan with water, and bring a boil over high heat. Carefully add in the sliced asparagus, and boil for 1-2 minutes, until the asparagus turns bright green. Using a slotted spoon, remove the asparagus and immediately place in a bowl of ice water to stop the cooking process. Let sit for a minute, then drain the water, and toss the asparagus with the zucchini, squash and carrots in a large bowl.

In a small bowl, combine the olive oil, lemon juice, salt, and pepper. Stir to combine and drizzle over the vegetables. Toss to coat. Garnish with the pecorino or parmesan shavings. Serve.

If you make this recipe, be sure to snap a photo and hashtag it #gimmesomeoven. I'd love to see what you cook!
Ali's Tip:
Make sure that your vegetables are nice and dry before trying to shave them.  Otherwise, you could accidentally slip and cut your hand with the vegetable peeler!  Feel free to also hold them in one hand with a towel, while peeling with your other hand.