Sweet Pea & Ricotta Crostini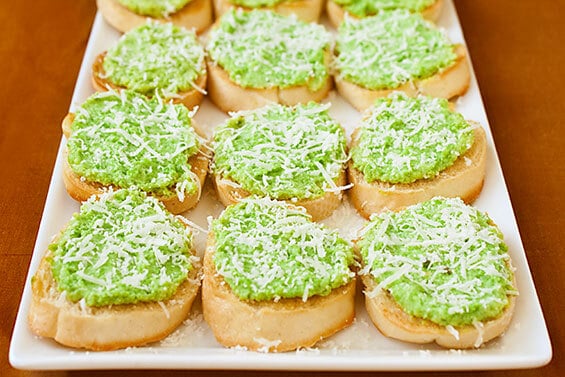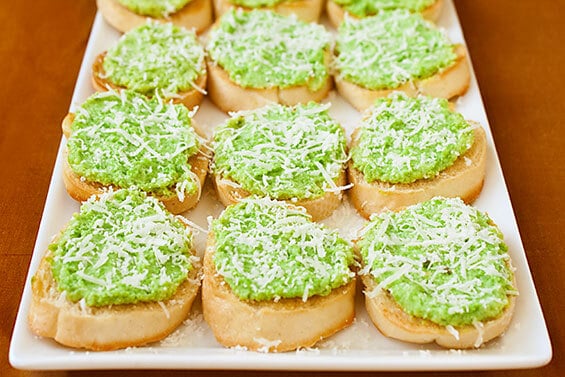 It's spring!  It's spring!  It's spring!!!!!!!
Oh my word, after what seemed like the longest, grayest, snowy-est winter in history, spring has finally arrived!  Oddly in Kansas City, we had 9″ of snow decide to fall on the official first day of the new season.  (I know…ser-i-ous-ly.)  But as of today, all of the white has melted away, and we were able to see the beautiful green crocuses and buds beginning to show, that promise such beauty to come.  I love it!!!
So to celebrate all things "green" and fresh and new, I actually wanted to try out another recipe (I know – two in one week!) from the latest issue of Real Simple. The method is easy peasy.  ;)  Basically throw everything in a food processor, and voila!  A vivid, fresh, creamy, and completely addictive spread is yours to be enjoyed.  I loved it on the crostini, but excited to try the leftovers on a panini tomorrow, as well as a dip for other fresh veggies or crackers.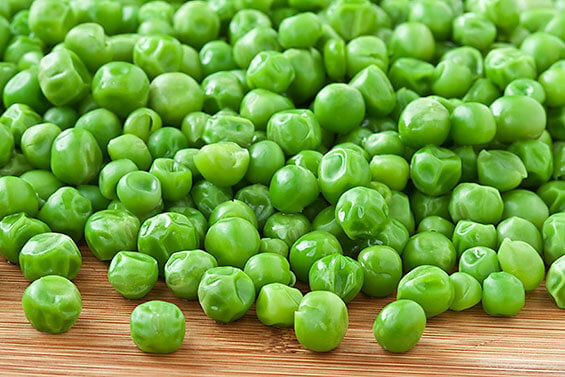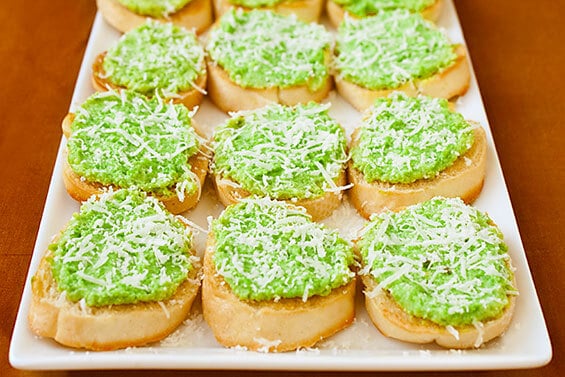 Sweet Pea & Ricotta Crostini
Voila! A vivid, fresh, creamy, and completely addictive spread is yours to be enjoyed! You'll love this Sweet Pea & Ricotta Crostini recipe!
Ingredients:
1 baguette (sliced thin on a diagonal)
4 Tbsp. olive oil
1 (10 oz.) package frozen peas, thawed
1/2 cup ricotta (I used low-fat)
1 scallion (green onion), cut into 1″ pieces
1 ounce Parmesan, cut into pieces (plus more grated Parmesan for topping)
one squeeze of fresh lemon juice (optional)
salt and pepper
Directions:
Heat oven to 375 degrees F. Place the baguette slices on a baking sheet and brush with 2 tablespoons of the oil. Toast until golden, about 10-12 minutes. (Watch carefully so they don't burn!)
Meanwhile, in a food processor fitted with the metal blade, puree the peas, ricotta, scallion, and Parmesan with the remaining 2 tablespoons of oil, lemon juice, salt (about 1/2 tsp.), and pepper (about 1/4 tsp.), scraping down the sides of the bowl occasionally, until the Parmesan is broken down and the mixture is nearly smooth.
Spread the pea mixture on the crostini and top with grated Parmesan, if desired.
All images and text ©
If you make this recipe, be sure to snap a photo and hashtag it #gimmesomeoven. I'd love to see what you cook!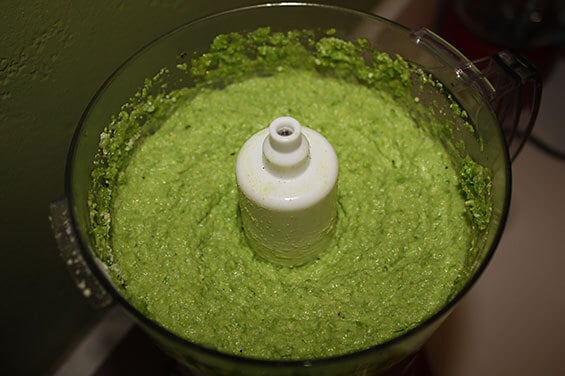 Ali's Tip:
Love the method!  Love the green!  I imagine this would work well too with asparagus, edamame, or a number of other veggies!  :)