Sweet Potato Chip Chicken
I have to admit that I've never been a fried chicken girl, which I credit to my mom.
Growing up, we never owned a fryer.  We never went to KFC.  And even when my extended family went to the most famous fried chicken restaurant in Wichita, little 10-year-old me always ordered a big juicy steak, thankyouverymuch.  (Midwestern through and through.)
But every now and then, my mom would make some oven-fried potato chip chicken fingers for us, which we happily devoured.  And the method has been one of my favorite recipes to make ever since.  However, instead of the Ruffles that we used as a kid, I always love subbing in whatever sorts of chips or pretzels I had on hand.  My favorite in college used to be those crazy-addictive lime chips.  But my recent and slightly healthier favorite has been to make oven-fried chicken with sweet potato chips!  My favorite brand of sweet potato chips is actually is from (surprise!) Aldi, and they are awesome in this recipe!  It's everything I love — salty, sweet and simple.  :)
I happen to be on a big chicken drumsticks kick lately, but this sweet potato chip chicken recipe would also go well with breasts, wings or thighs.  Or the method is also super yummy on a filet of fish like cod or tilapia.
So if you see a bag of sweet potato chips anytime soon, give this one a try!  My friends and I love it!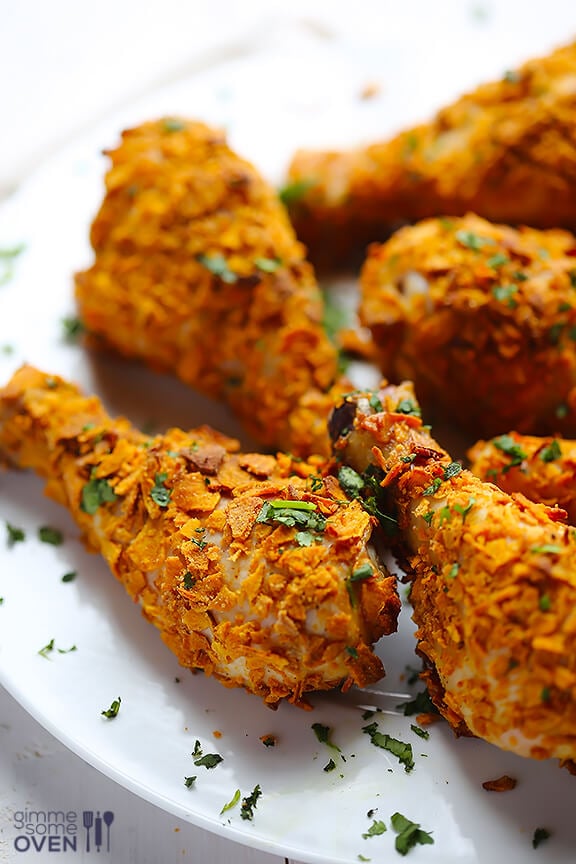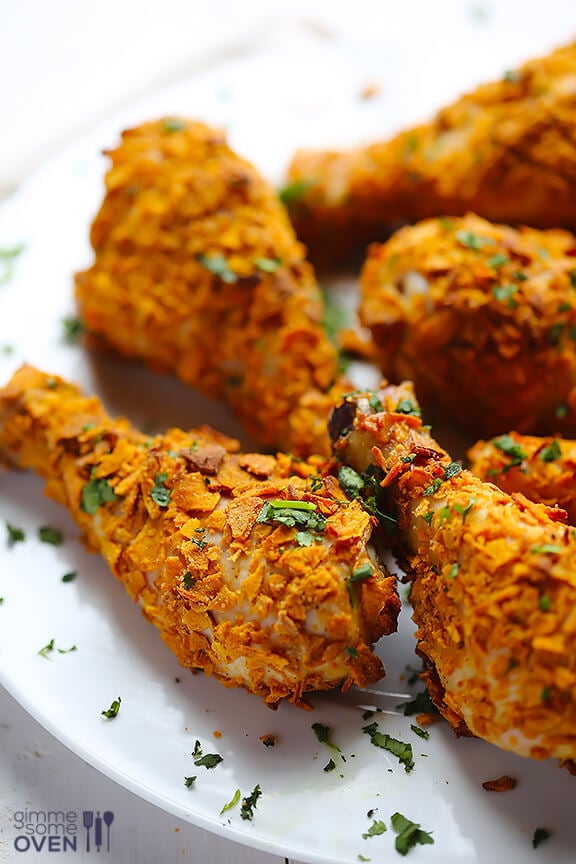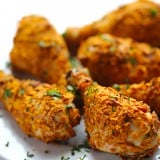 Sweet Potato Chip Chicken
Sweet potato chips make the perfect crispy topping for this oven-fried chicken.
Ingredients:
1 egg
2 Tbsp. milk
2 cups crushed sweet potato chips
8 chicken drumsticks, or 6 chicken thighs, or 4 boneless skinless chicken breasts
salt & pepper
cooking spray or olive oil mister
(optional) chopped fresh cilantro or parsley for garnish
Directions:
Preheat oven to 375 degrees F. Line a baking sheet with aluminum foil, then place a wire rack on top of the baking sheet for even cooking. (If you do not have a wire rack, you can just turn the chicken once halfway through baking.) Spray the wire rack with nonstick cooking spray. Set aside.

Prepare your dipping assembly line. In one shallow bowl, whisk together the egg and milk. In the second shallow bowl, add the crushed sweet potato chips. After that, place the prepared baking sheet with the wire rack.

Season chicken generously with salt and pepper. Then dip one piece of chicken in the egg mixture until completely coated. Then let the excess egg drip off, and transfer to the sweet potato chip mixture. Press the chicken into the chips gently until the entire piece is evenly coated, then lay on the prepared baking tray. Use cooking spray or an olive oil mister to give the chicken a final light coat of oil. Bake for 40 minutes or until the chicken is cooked through and juices run clear.

Remove and serve immediately with optional garnish and dipping sauce.

All images and text ©

If you make this recipe, be sure to snap a photo and hashtag it #gimmesomeoven. I'd love to see what you cook!