Dole Taste of Spain Salad Summit
This post may contain affiliate links. Please read my disclosure policy.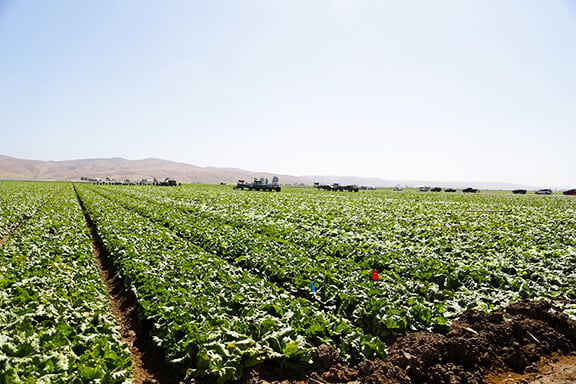 A few weeks ago, I had the chance to travel to California with a group of some wonderful bloggers for the Dole Taste of Spain Salad Summit. We spent about 3 days together in beautiful Monterey following lettuce from farm to table, learning about healthy eating trends, eating all sorts of crazy good fresh food, and of course — enjoying time shared with some delightful new and old friends.
Here are a few of the highlights!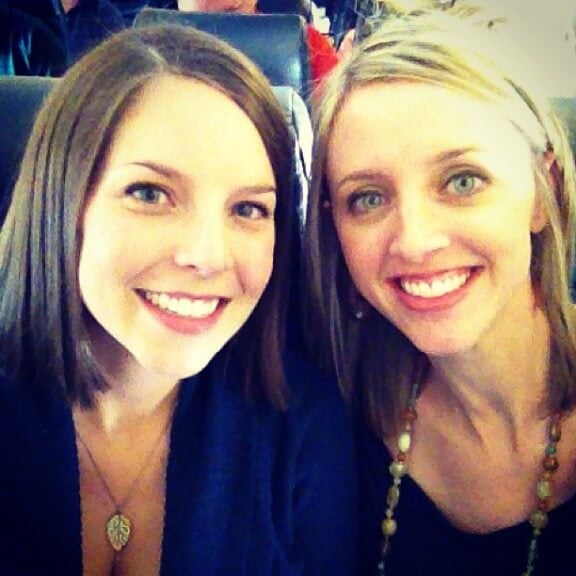 My trip kicked off with a 6am flight – rise and shine! After a few cups of coffee and a long layover in Phoenix, I was excited to meet up with a handful of bloggers for our final flight to Monterrey. It turned out that my friend and "neighbor" to the north, Kristin, and I also got to be seat buddies! Love this girl and the conversations we get to have. (And I can't wait for her sweet little boy — Iowa Baby Eats! — to arrive soon!!)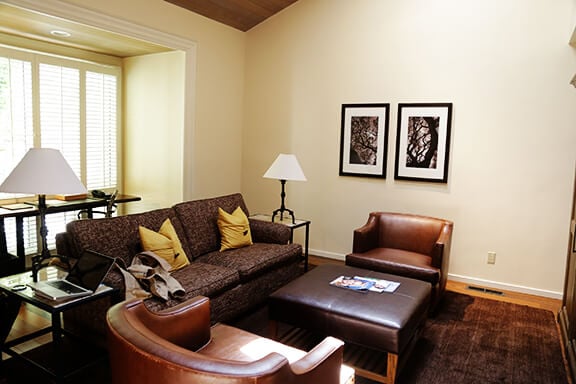 Once we arrived in Monterrey, we met up with a few more bloggers and took a shuttle to our home for the summit — Carmel Valley Ranch. Oh my goodness. I was seriously ready to make this place my home.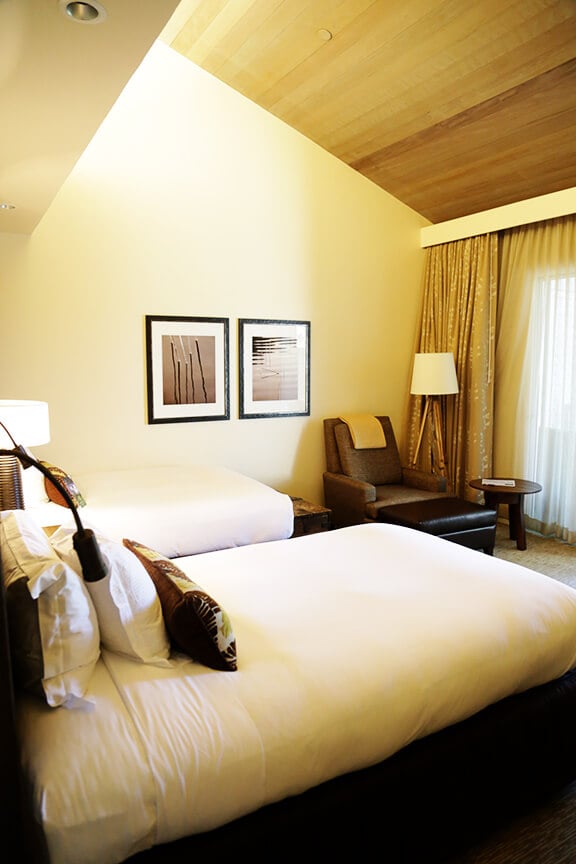 My "cabin" where I stayed was bigger than my loft in Kansas City, yet so cozy and welcoming in every way. Every tiny detail was thoughtfully designed — from the inviting living rooms, to the beautiful bedrooms (with fireplace that I loved turning on each night while I read), to gorgeous bathrooms with inviting bathtubs and perfect white robes, to the incredible view from the balcony, and lavender soaps, lotions, and even cute bundles of dried lavender decorating the cabin.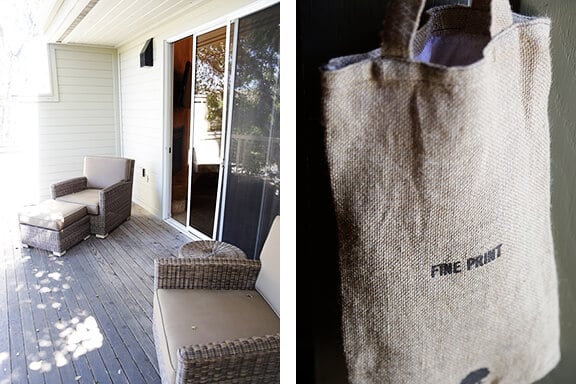 The newspaper even arrived each morning in this cute burlap bag, which went perfectly with the coffee from my personal Keurig!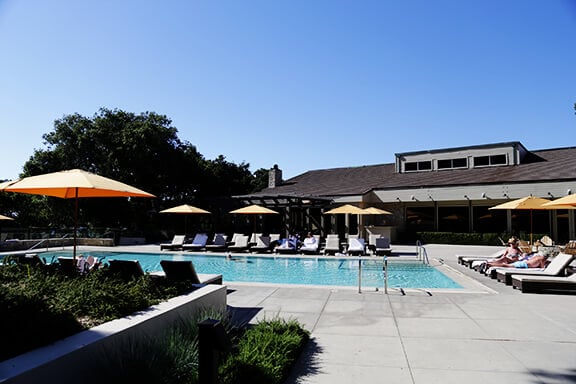 And then outside, of course, it was California. Warm, wonderful, California.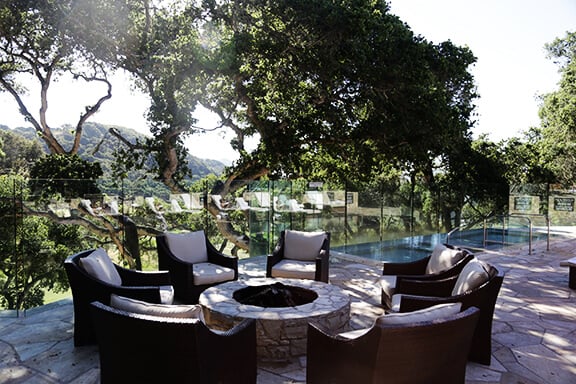 There were beautiful pools to enjoy, lounge chairs to lay out (and learn Lightroom tricks from Heidi), and a sunny outdoor restaurant to eat lunch!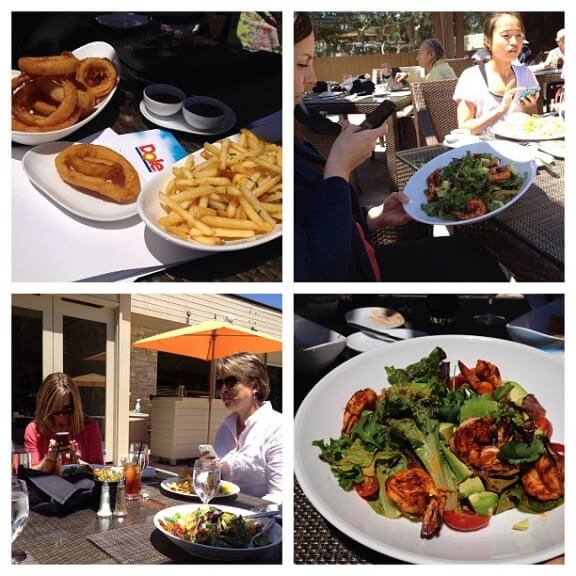 As food bloggers, lunch was of course a top priority. So we met up with some more blogging friends and enjoyed a leisurely lunch together. (And as you'll notice, per usual, everyone took lots of photos of their food.) If you ever visit, you must try the prawn salad and the truffle fries. HEAVEN.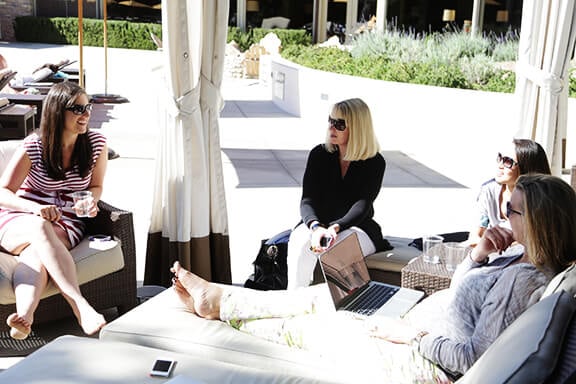 After lunch, we got to enjoy some time in the sun catching up with new and old blogger friends, while drinking fresh fruit water by the pool.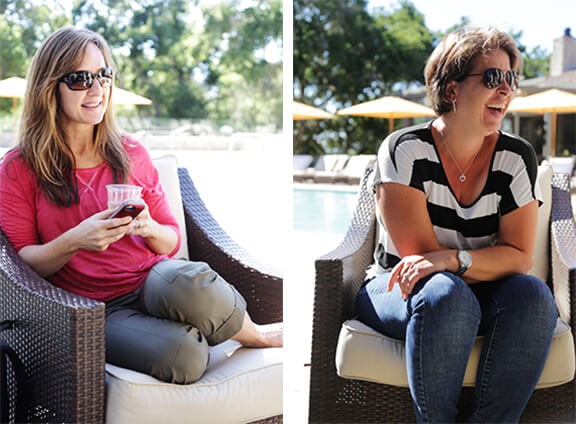 I always love getting to meet bloggers in person whom I have followed online for years, especially when they are so warm and fun to be around! The farmgirls (Brenda and Heather) definitely fall into that category!
And then some of these bloggers, I have the good fortune to keep running into at events, like the delightful Chung-Ah. Isn't she gorgeous??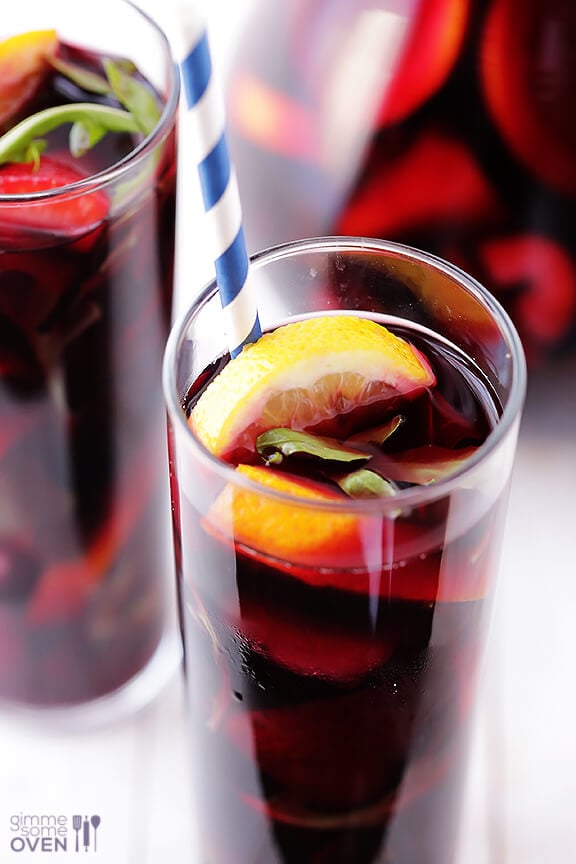 Once all of the bloggers had arrived, we kicked off the event with a delicious happy hour and dinner. This is where I was introduced to what I like to (you know, undramatically) call The Best Sangria Ever. The brilliant folks at Dole had the idea to muddle a bunch of fresh arugula into the red sangria, and I was sold. And then had to promptly come home and make it for my friends. So good!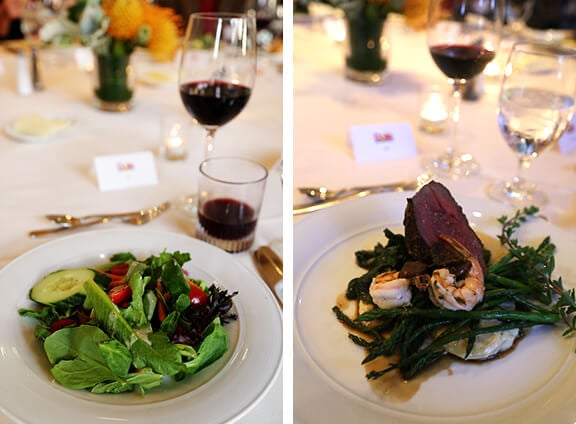 We then had the chance to hear from some of the movers and shakers at Dole over a beautiful gourmet meal, filled with all sorts of Dole fresh greens, fruits and veggies. (Yes, I even snuck a little glass of the sangria into dinner!)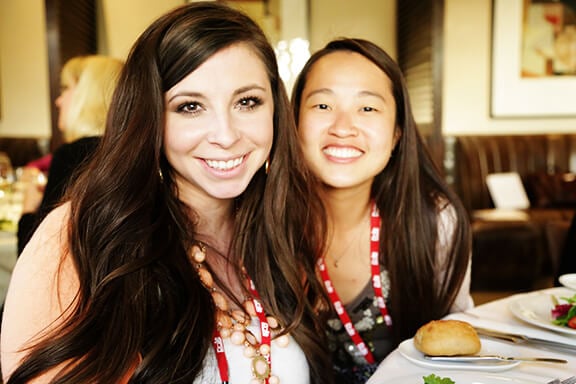 I was placed at a table with Chung-Ah and Nikki, as well as one of the CFOs of Dole who filled us in on all sorts of neat new developments happening at the company, including the push one step beyond the organic standard to an even cleaner line of produce. I'm really excited and curious to see how this develops!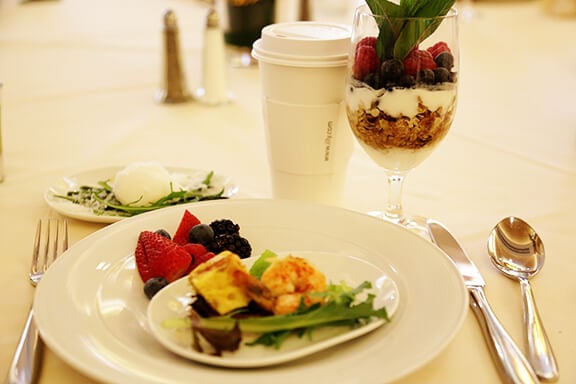 The next morning we had something new to me — salads for breakfast! As we learned from the editor of Eating Well who spoke later that day, Americans currently do not eat many vegetables/greens for breakfast. So to spark some ideas, they served us some delicious salad-based tapas, including this a Poached Egg, Arugula & Parmesan breakfast salad, as well as a spicy Spanish shrimp salad. I'm totally going to try this more!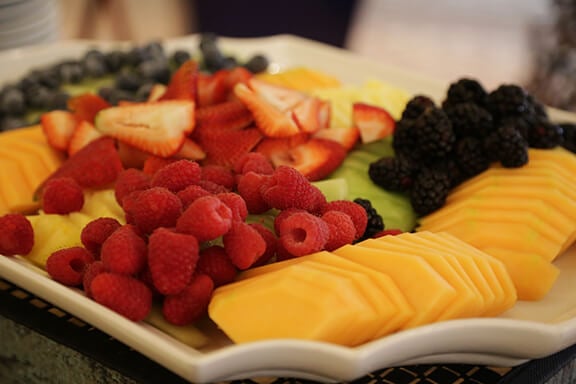 Of course, we also had lots of Dole fruit. Since very few of these are local to the Midwest, it was a total treat to dive in!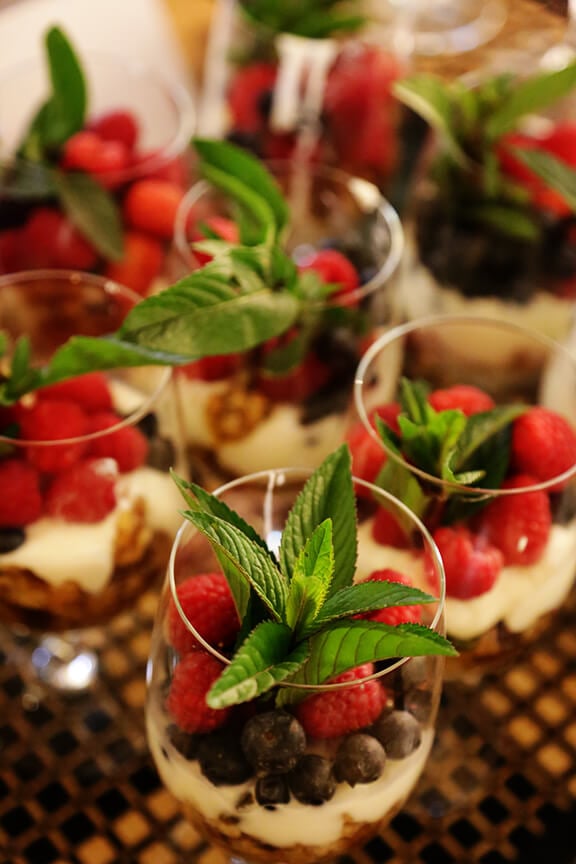 I also couldn't resist having the standard breakfast that I make nearly every day at home — a fruit, yogurt and oatmeal parfait.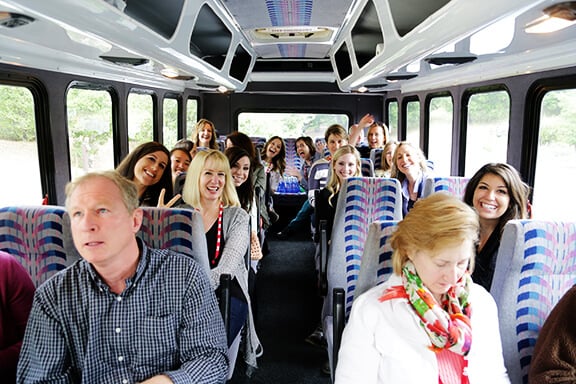 After breakfast, we loaded up in a little mini bus and headed out to the farm. But the farms in Cali are a little different than the wheat fields in my neck of the woods.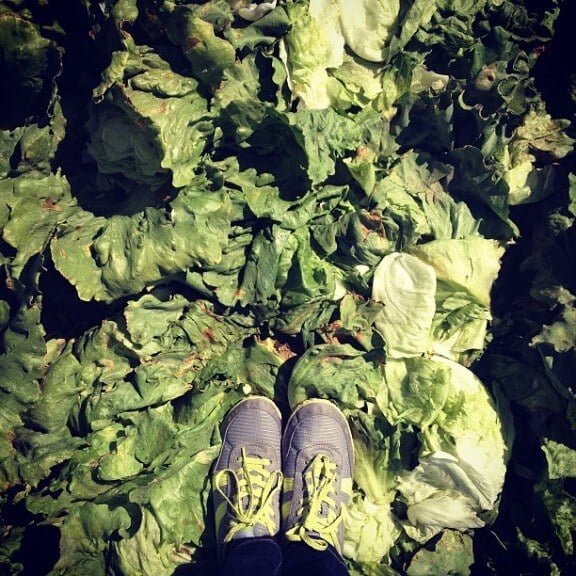 We went to visit a lettuce farm!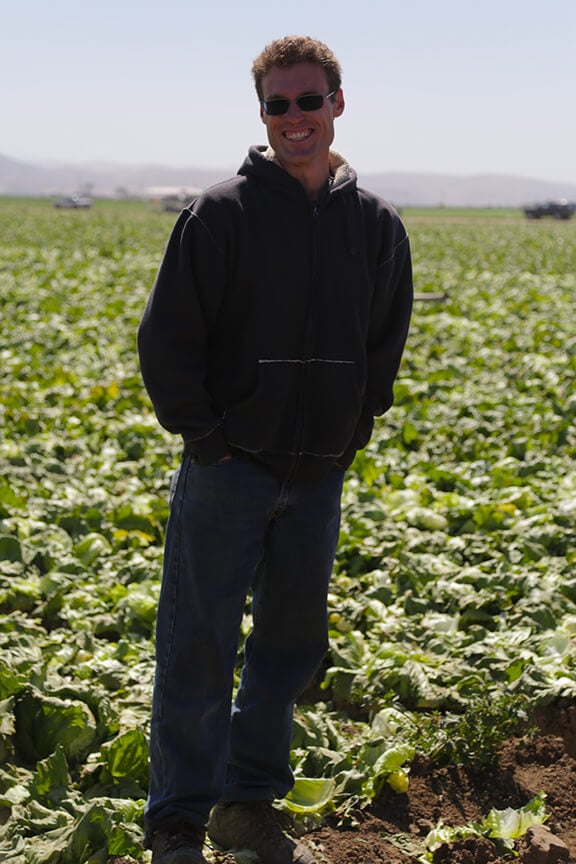 There to greet us was the farmer himself, Mark Pisoni!
I am always inspired to spend time with farmers, and Mark was no exception. He currently farms about 500 acres of icebery lettuce, romaine lettuce, celery, broccoli, and cauliflower on the same land that his family has been farming for 100 years. So cool. He went away to school at UC Davis and then Cornell to pursue a bachelor's and then a master's degree in agriculture. But he came back to the family farm, and now hopes to raise his kids to continue the family business.
More than anything, I just loved seeing the way his face lit up when he talked about his love for the farm. And how much he enjoyed taking a bite out of a fresh head of iceberg lettuce, which we all then tried. I have to admit that I always thought iceberg was kind of the boring green when it came to lettuce. But man — fresh off of the field, it was so fresh and flavorful!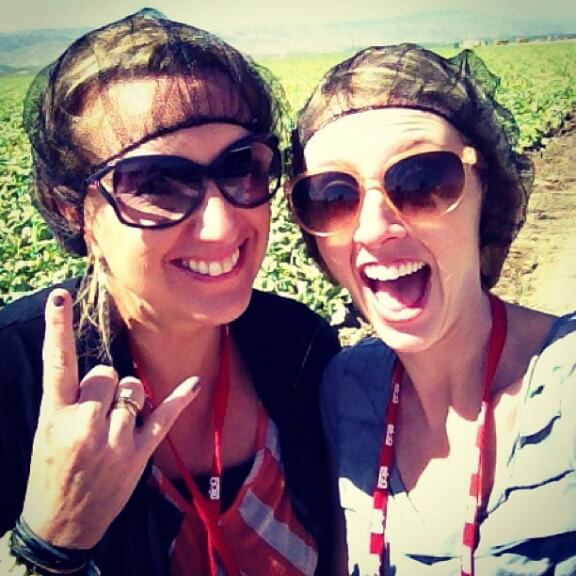 After our talk with Mark, it was time to tour the lettuce field. My wonderful, inspiring, hilarious, and freaking awesome friend Heidi donned our sexy hairnets (food safety first!), and were ready to go.
Much to our surprise, though, our tour didn't take us on a little path around the fields….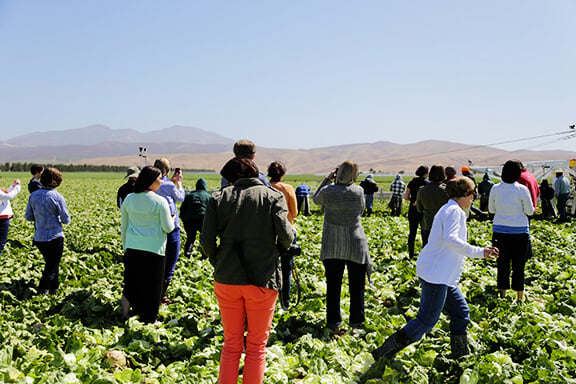 Instead, we walked right through them! Don't worry, the fields had already been harvested, so we weren't trampling the lettuce that was going to be in your salad.
It was amazing to watch the harvest in process. Just by feel, the workers can tell which heads of lettuce are perfectly ready to be picked, and which ones are duds. Quite the slick operation, and they harvest these fields multiple times a year!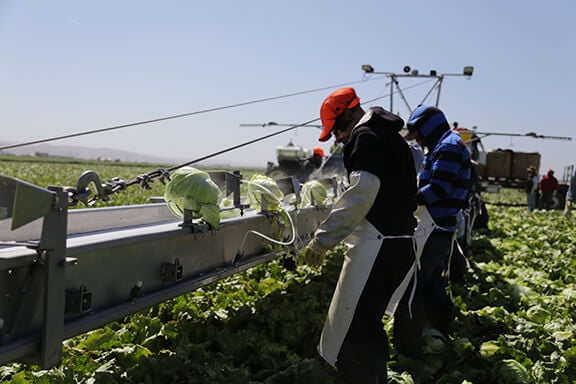 Dole also works quickly and carefully so that the lettuce can literally go from farm to table (even to my table in the middle of the country!) within a few days. Pretty incredible.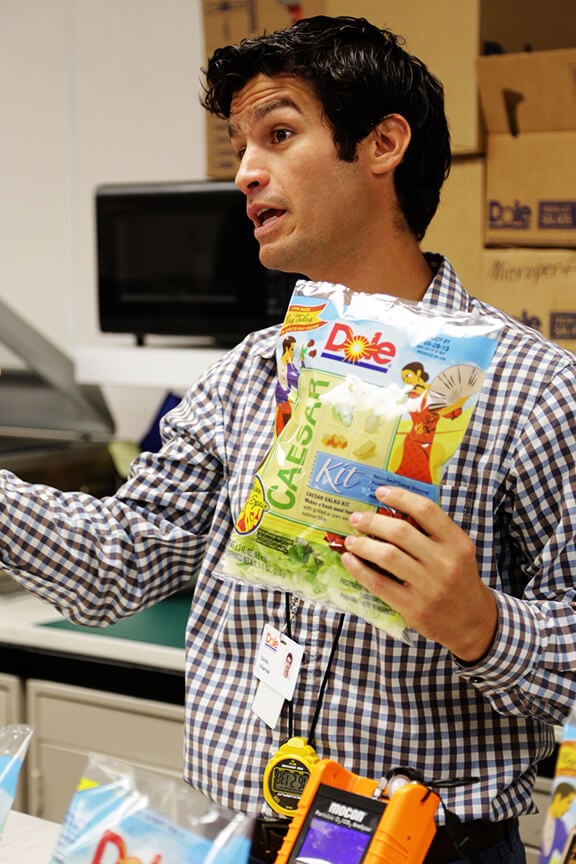 After touring the field, we went on a tour of the Dole washing and bagging facility, where we got to see "triple-washed" produce in action. The facility was pretty impressive, and SO clean. One of the things I learned along the way is that it is totally unneceesary to wash bagged produce. In fact, the germs and bacteria in our tap water are usually dirtier than what comes out of the bag. They really take food safety seriously.

After our tour, we headed to R&D for a Lettuce 101 class with our guide, Emilio.
It turns out that Dole uses 35 types of greens and veggies in their salad blends.
So for a bit of fun, they gave our big group of food bloggers a pop quiz to see how many greens we could correctly identify. Um, let's call this humbling. I feel like I eat a lot of greens, but there were so many I didn't recognize! (Who knew there were so many "baby" varieties, like red baby kale??)  Still, thanks to a bit of luck, I somehow was one of the winners along with my new nutritionist friend, Dawn. We came home with bottles of California wine, which made for a happy pre-happy hour later that night with our blogger friends.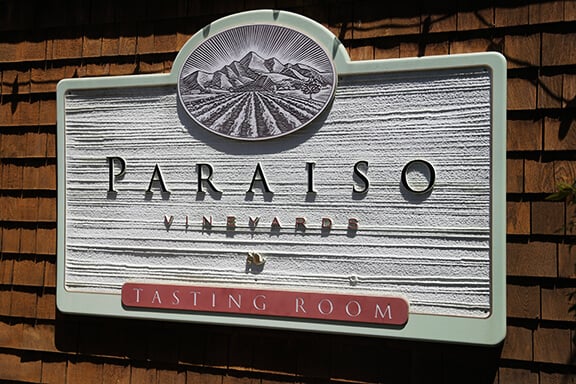 After our tour, we were treated to an amazing lunch at a local winery — Paraiso Vineyards.
This place was breathtaking. Located on the southern end of the Saint Lucia Highlands, this lovely estate is situated in the heart of 400 acres of vineyards that have been in the family for generations.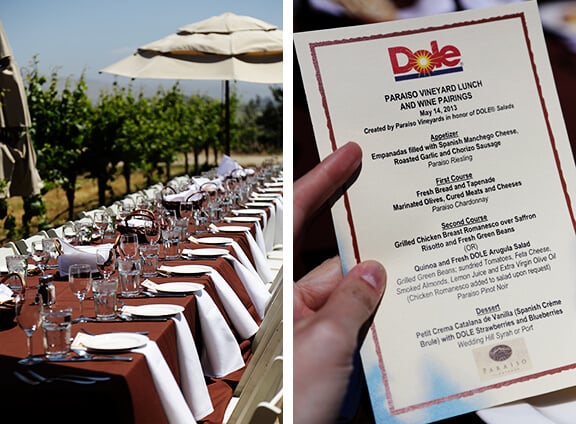 Like nearly all of our meals, we had the treat of being able to enjoy lunch outside under the California sun. And what an amazing lunch it was!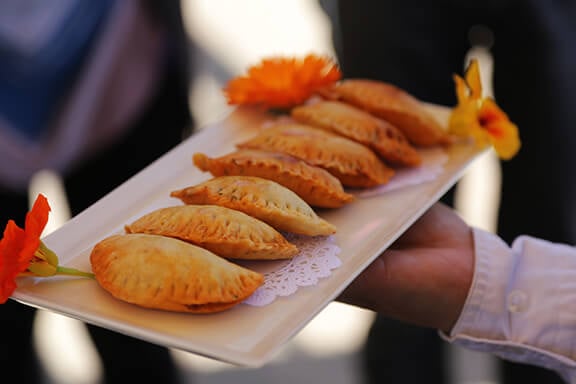 From delicious appetizers…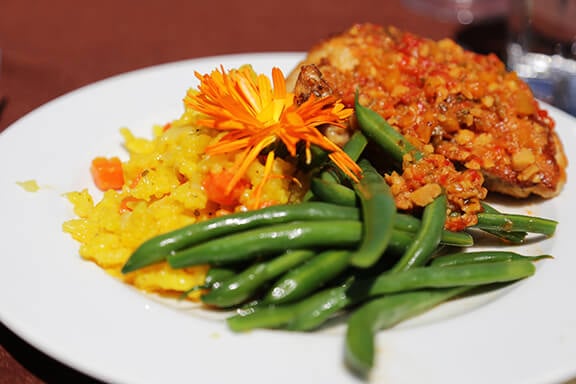 …to grilled chicken with the most amazing saffron rice…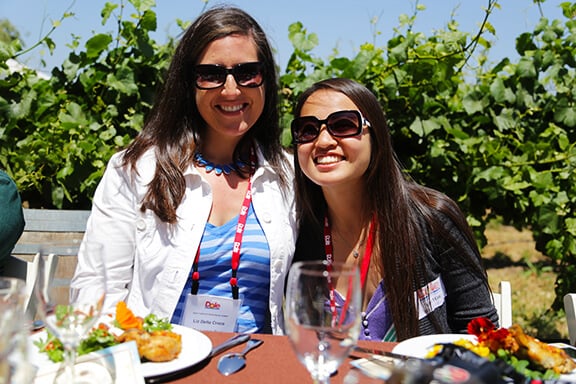 …it was the perfect place to enjoy a meal with good friends, like Liz and Chung-Ah.
I also loved that everyone went around the table and introduced their blogs, and shared their favorite vegetable. I wasn't sure if this counted as a vegetable, but everyone agreed that it was — arugula!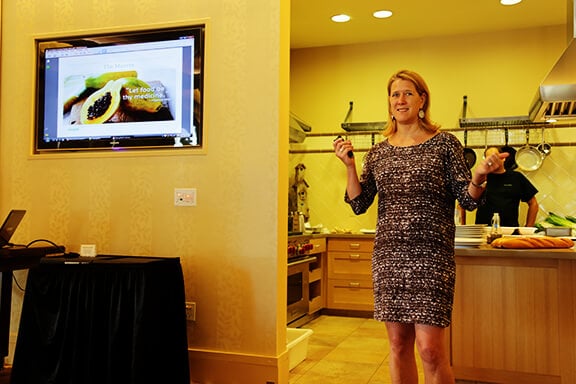 After lunch, we returned to the ranch where we enjoyed a session on culinary food trends from the editor of Eating Well magazine, Lisa Gosselin. I was so impressed that she came to California just to visit with our group!
And my goodness, I completely geeked out on her presentation. Here 10 of the facts she shared that I found most fascinating:
1) 44% of meals are now eaten alone.
2) 51% of Americans are now making more meals at home.
3) Among Millenials, 40% think that eating together is important.
4) 1% of U.S. has celiac disease, 6% are gluten-intolerant, but 29% are cutting back on or avoiding gluten.
5) Quinoa is the "Food of 2013" – $2.4 million to $43 million industry in ten years
6) Only 1 in 3 eats the recommended 2.5 servings of fruits and vegetables a day
7) America's favorite vegetable is asparagus.
8) 78% of U.S. adults say they are now buying organic.
9) Request for "international" recipes is now #2 after "healthy" recipes.
10) 30% of deaths from heart disease can be prevented by a Mediterranean diet, according to 2013 Spanish study in NEJM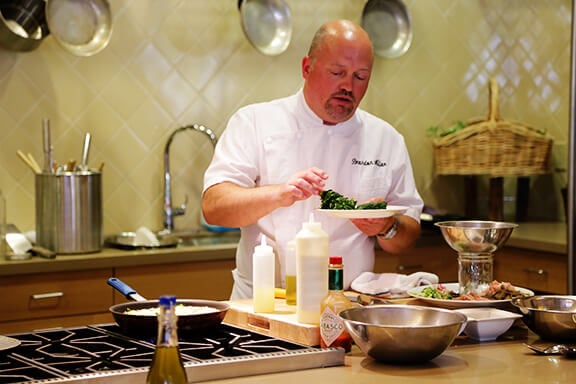 Speaking of the Mediterranean diet, our next visit was from the head chef and owner from a local Spanish restaurant, Mundaka. The chef gave us a demo on making his amazing black beluga lentil salad, layered with smoked ham, shaved brussels sprouts, pickled cauliflower and a lemon vinaigrette in a cute little Mason jar.
And then he said it was our turn to cook! Everyone numbered off and divided into four groups, where we were each asked to create a tapas of our own. We had a spread of ingredients of everything from prosciutto to anchovies to roasted red peppers and more. And as you can see, the creativity definitely flowed.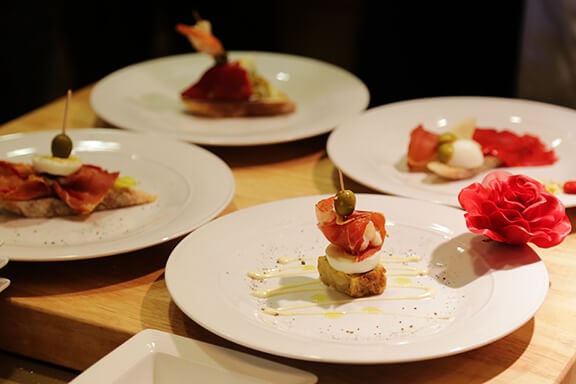 The chef was prepared to give out nice awards, like "most authentic" and "most creative", but he quickly learned that food bloggers can be a little competitive. :)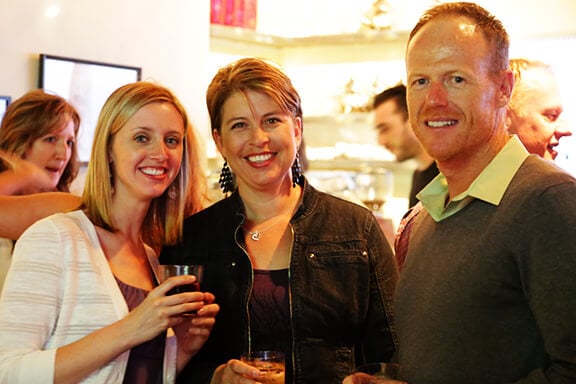 After our session, we had the treat of driving to the real Mundaka restaurant, and enjoying a wonderful evening together with their amazing Spanish food.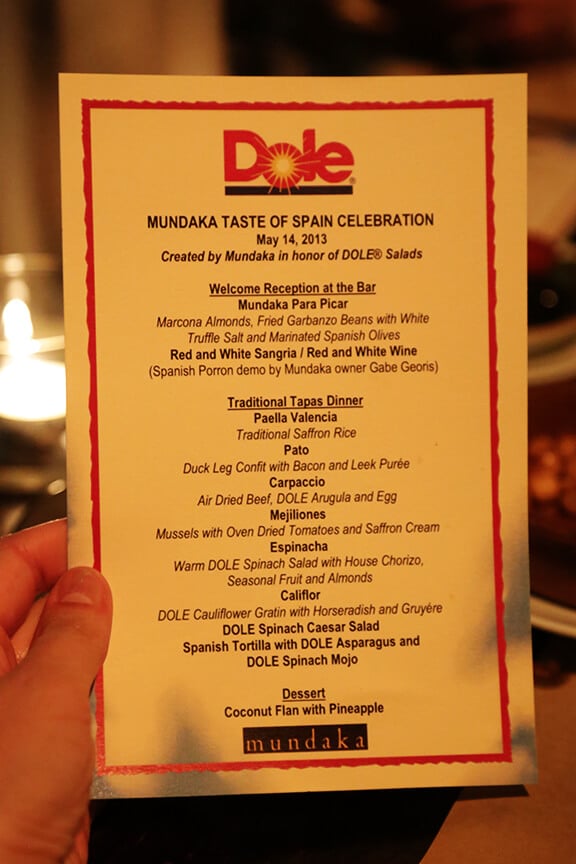 You know, just a normal 10-course meal. :)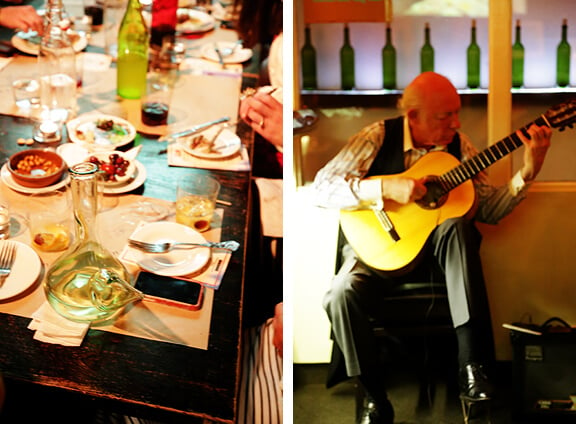 Great friends, great food, great music…it really doesn't get any better.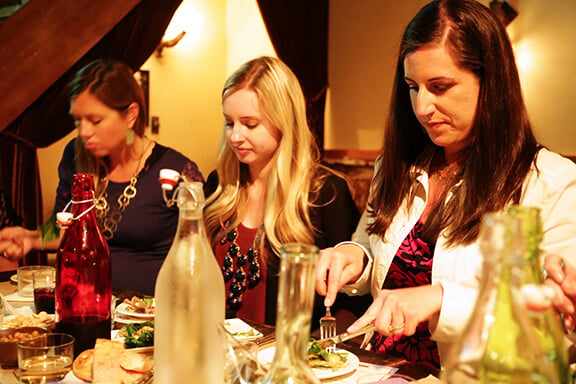 And of course with a group of food bloggers, sampling every single course was serious business. :)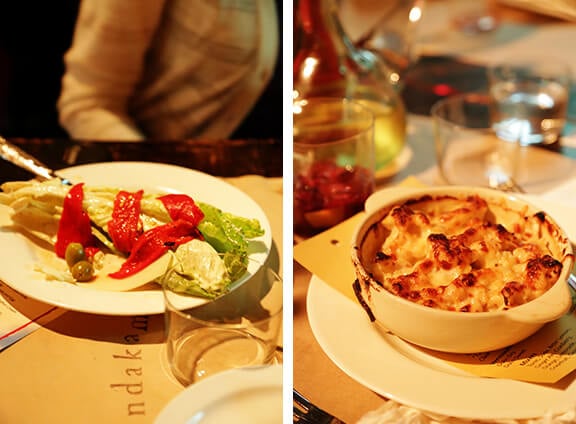 The cauliflower mac and cheese (on the right) was a definite crowd favorite.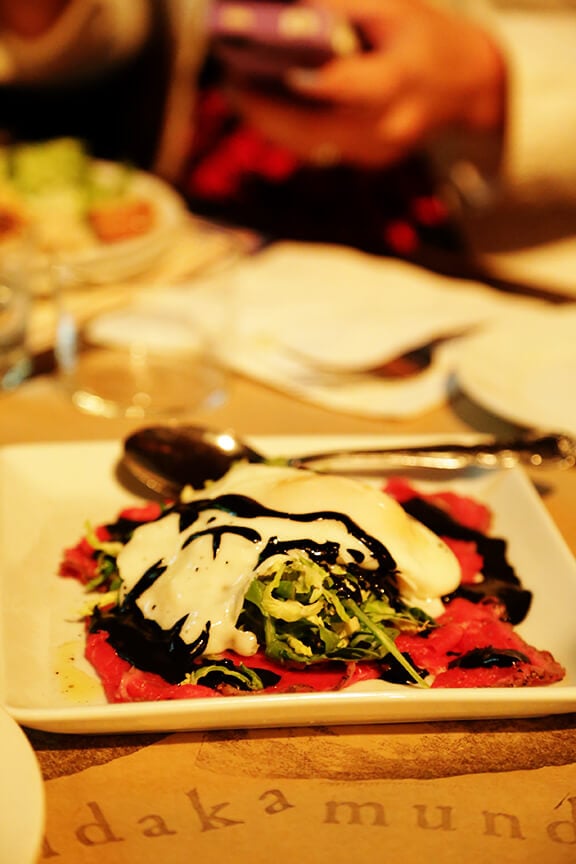 The jury's still out with me on anything eel-related (that's not sushi!).
But I always love a good paella. Brought me back to my trip to Barcelona!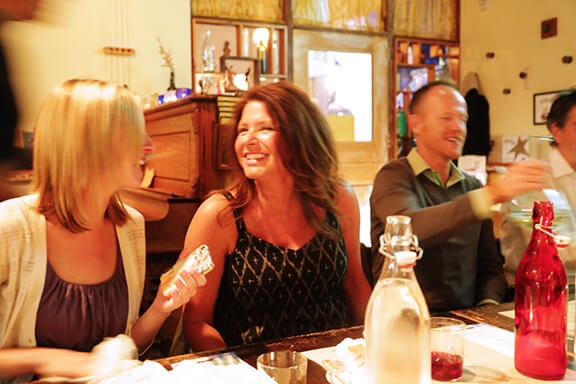 I had the pleasure of sitting next to one of my favorite-ist of favorite people during dinner, the beautiful Sandy, who also brought along her husband Paul. She just radiates joy and warmth and love. I am always a better person for being around her!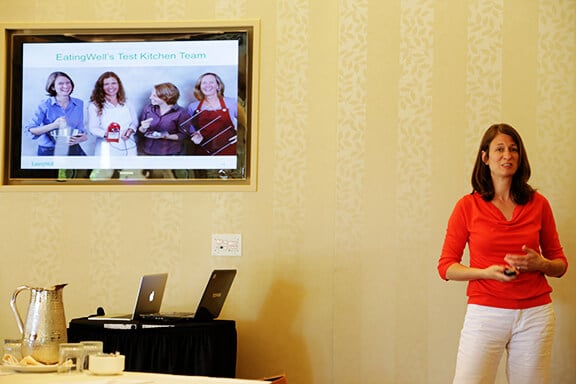 The next morning, we had a final presentation from the director of the Eating Well test kitchen about recipe writing. Lots of great tips!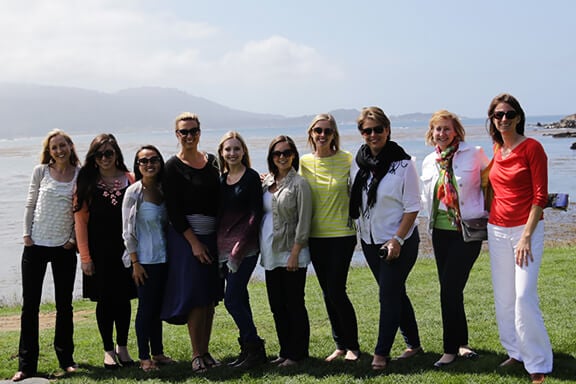 Afterwards, we hopped back in our trust little bus and took the famous 17-Mile Drive around the Monterrey peninsula. Love these girls!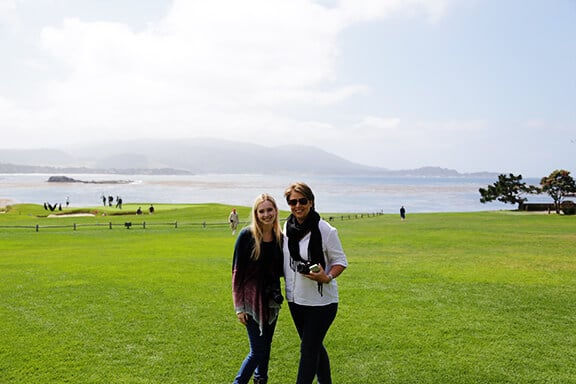 The scenery was absolutely beautiful, as were the bloggers. (Smile, Tessa and Heather!)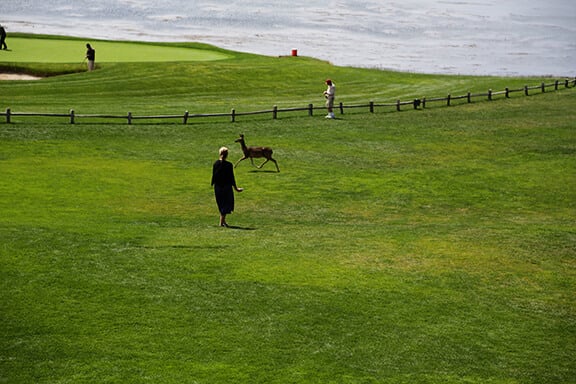 We found out that Heidi is a deer-magnet.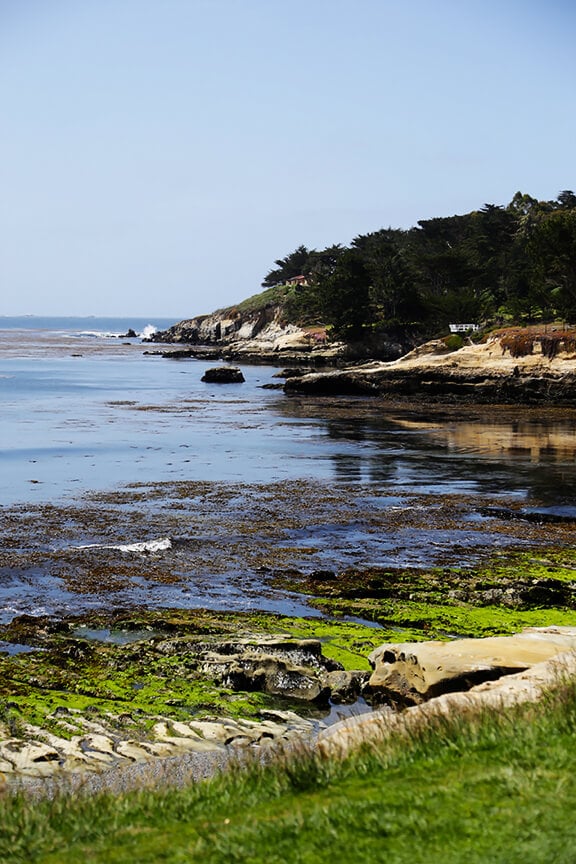 Cue the traveling question of why I choose to live in a landlocked state again?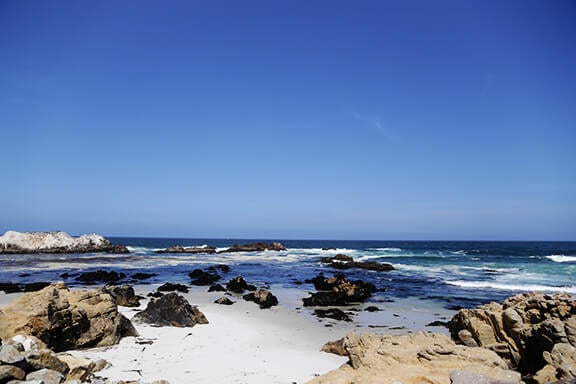 The ocean was stunning.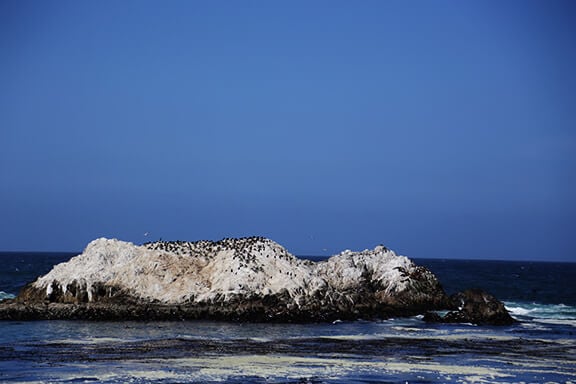 There were even otters!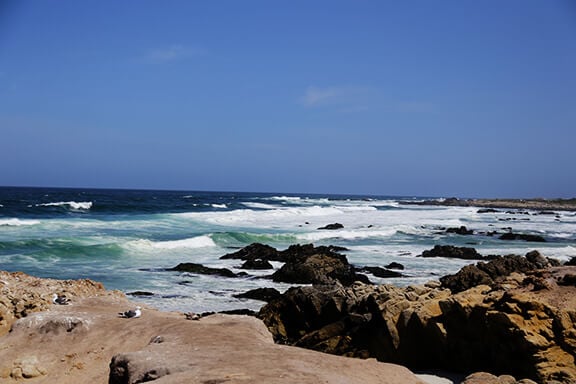 Definitely a beautiful end to a beautiful trip.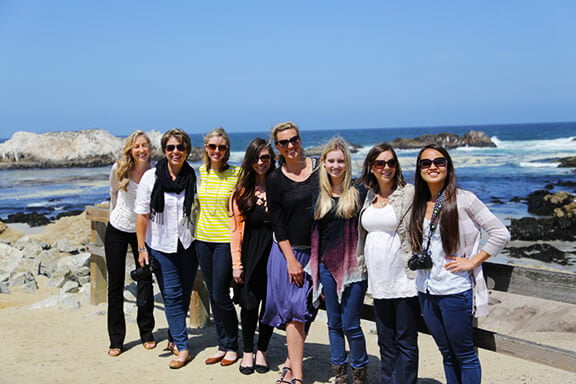 Shared with some of the best people I know. Look at all of those smiles!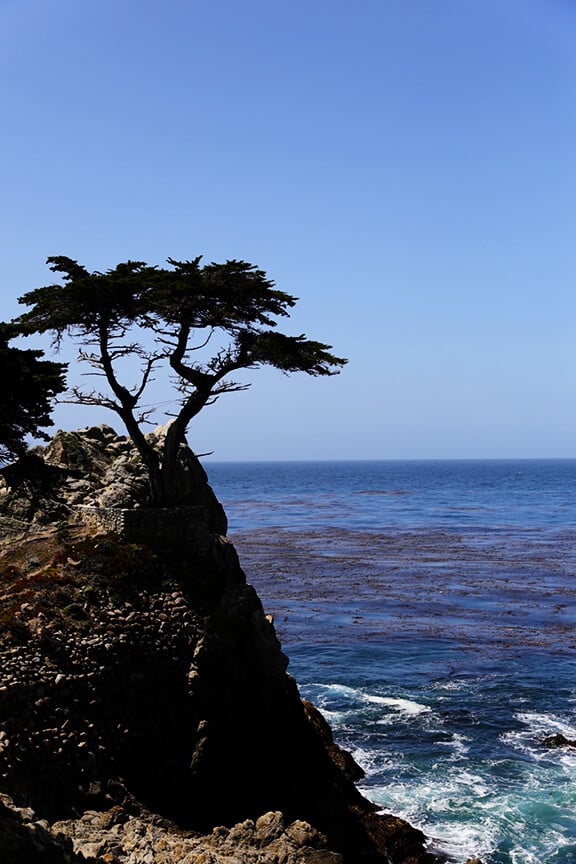 Dole, you chose a good place to live. :)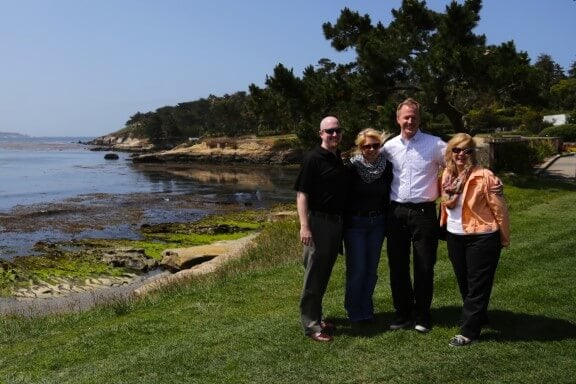 Overall, such a wonderful "Taste of Spain" trip, made possible by our rockstar organizers. They are the best!!!
Also, love and hugs to the wonderful group of bloggers who shared this time together. So many memories made with these great women! Be sure to visit their lovely blogs below!