Tequila Lime Chicken Kabobs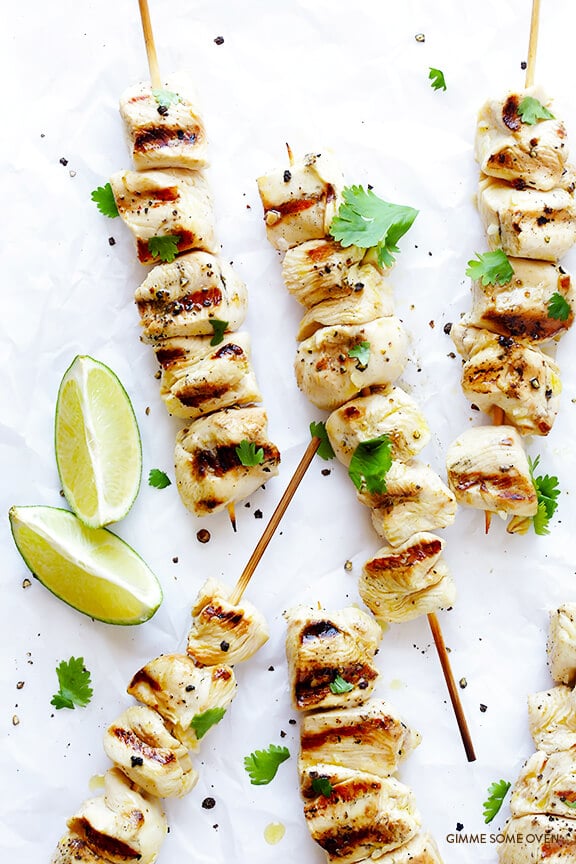 G-g-g-gimme some…..recipes that do not call for an oven, please.
That's right.  I don't know about the weather lately where you all live, but our blazing summer temps have finally arrived to stay in Kansas City.  Which makes this sunshine-lover exceedingly happy.  Which also means that it's time to switch off those stuffy ovens inside and take out food to cook on the grill outside.  Which is also all the better, of course, with a cold beverage of some sort nearby.
Mmmm, summer.
I have already put our building's grill to excellent use this summer, experimenting with new recipes and revisiting old favorites and popping on lots and lots of easy veggie burgers in between.  But my favorite thing to do is always skewer up any leftover protein or veggies that I have on hand, and toss them on the grill in addition to whatever else I'm making for leftovers.  Turns out that grilled proteins and veggies go with just about anything — quinoa, pasta, salad, wraps, you name it — and they also freeze beautifully.  Plus, they're easy to season however you'd like!
One of my favorite random skewer recipes I've loved is a throwback to an old-school favorite recipe from Applebees — tequila lime chicken!  Anyone else remember ordering that back in the day?  (Seemed so scandalous when I was 12!)  It's essentially chicken just marinated in a margarita mixture, then tossed on the grill to cook up to tender, juicy, flavorful perfection.  It's super easy, very versatile for serving (or leftovers), and absolutely perfect for grilling.
Let's make some!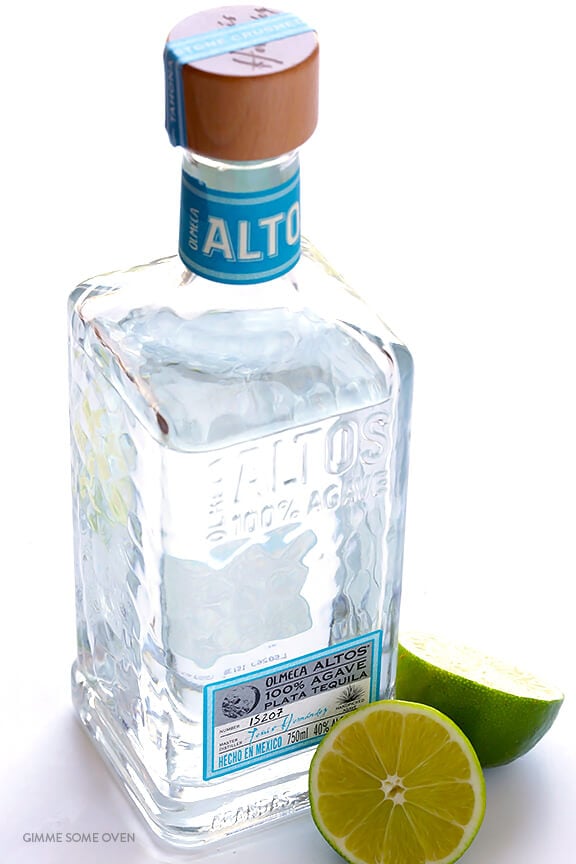 Of course, we begin with the main ingredients.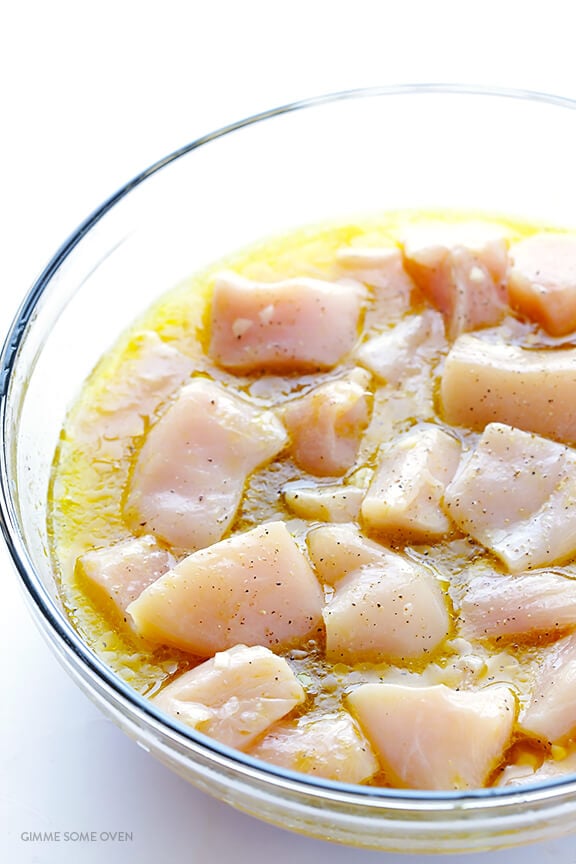 Then mix them into a marinade, which is tossed with chicken, and then left to sit and soak together for up to 8 hours.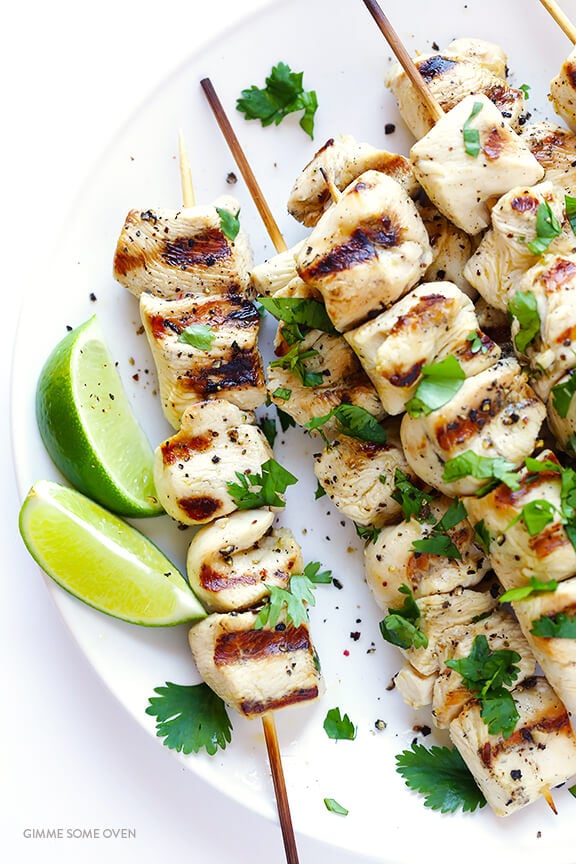 Then once it's grill-time, thread the chicken onto some skewers and sprinkle with a little extra salt and pepper.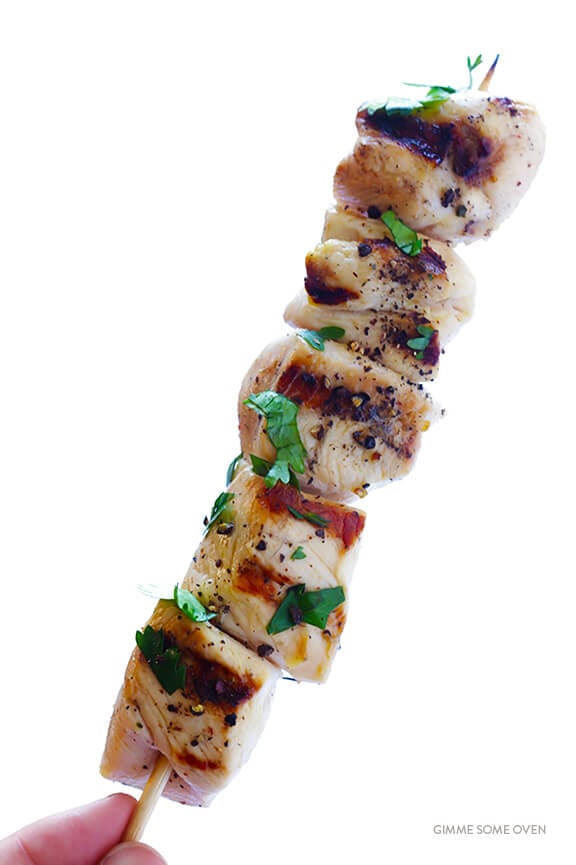 And then cook them up to grilled, delicious perfection.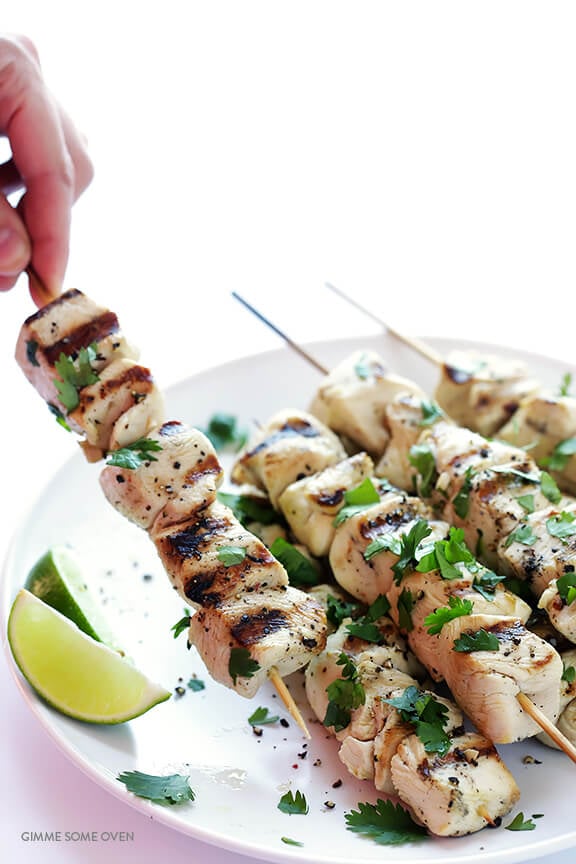 I like to serve mine with some fresh cilantro and extra lime wedges, but the sky's the limit for how you'd like to use this chicken.  Toss it with some black beans and Mexican rice for a simple dinner, or roll it up with some grilled veggies and tortillas to make street tacos, or mix it with some quinoa and salsa, or just serve it plain as it is.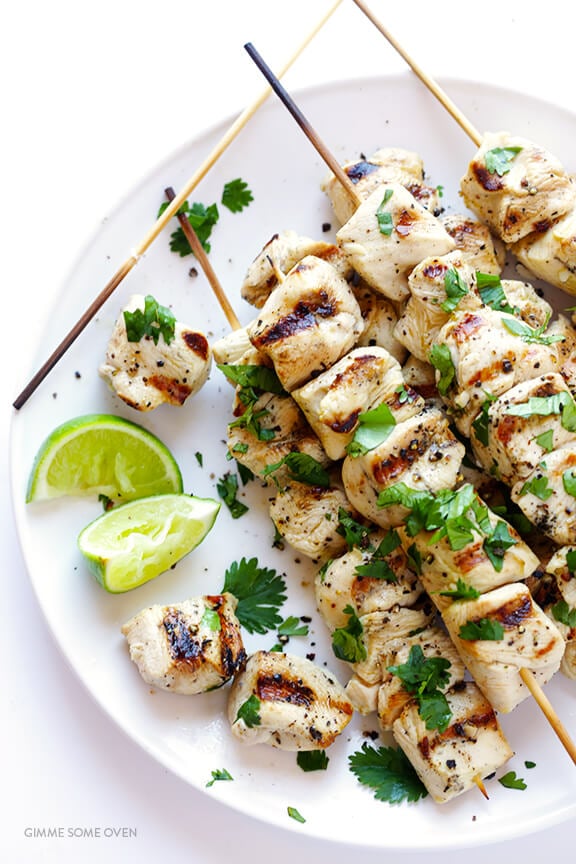 The chicken is plenty flavorful on its own, yet will also compliment just about any Mexican dish well.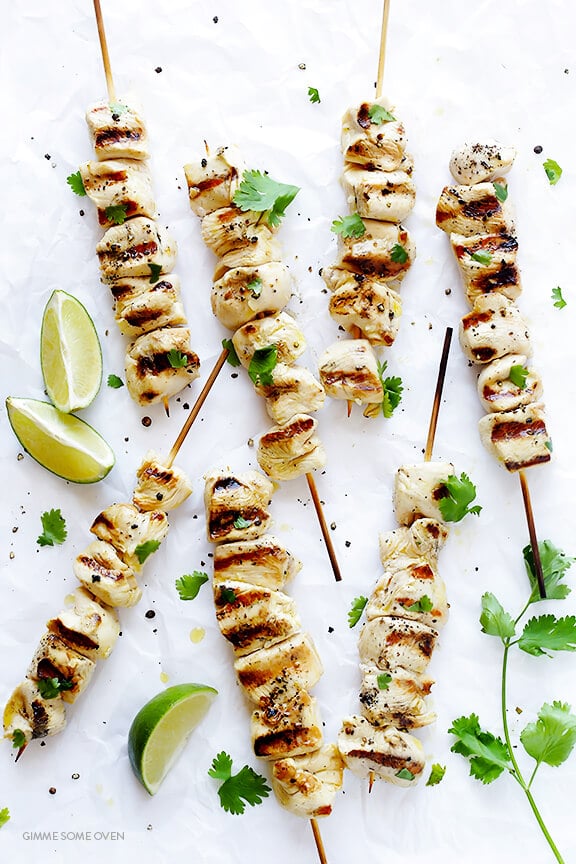 So get grillin'!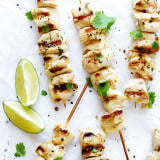 Easy Tequila Lime Chicken Kabobs
These delicious tequila lime chicken kabobs are quick and easy to make, perfect for cooking on the grill or in the oven, and so tasty!
Ingredients:
3 cloves garlic, minced
1/3 cup freshly-squeezed lime juice
1/3 cup tequila
2 tablespoons vegetable or canola oil (or any high-heat oil)
1/2 teaspoon freshly-cracked black pepper, plus extra for sprinkling
1/2 teaspoon ground cumin
1/2 teaspoon salt, plus extra for sprinkling
2 pounds boneless, skinless chicken breasts
wooden* or metal skewers
salt and freshly-cracked black pepper
(optional topping: finely-chopped fresh cilantro leaves)
Directions:
In a large bowl or ziplock bag, mix together garlic, lime juice, tequila, oil, black pepper, cumin and salt until combined.  Add chicken breast pieces, and toss until evenly coated.  Cover or seal, and refrigerate for 30 minutes, or up to 8 hours.
Preheat grill to medium-high heat.
Remove chicken from bag, and discard the leftover marinade.  Thread chicken onto skewers*, then season the chicken with a few extra pinches of salt and pepper.  Place skewers on the grill and cook for 6-8 minutes, turning once, until the chicken is cooked through.  Remove and serve immediately, garnished with fresh cilantro if desired.
*If using wooden skewers, be sure to completely soak them in water for at least 10 minutes before threading on the chicken.  This will help prevent them from burning.
All images and text ©
If you make this recipe, be sure to snap a photo and hashtag it #gimmesomeoven. I'd love to see what you cook!